wow, 2007, i wish my jeep was still in that good of shape lol
honestly i have no idea where it came from....My dad bough that flag back in the 70s when he went to silver lake and it has been in the garage for years....I decided one weekend i was going to go there so i stole it lol.
It was jut a l bracket with a couple holes....Pretty easy to make. If you make one, either make it long enough to put 2 bolts in it (though the bumper) or use one bolt then weld it on (what i did) What happened is eventually the bolt worked loose and the mount spun and the flag kinda fell over lol.
Like chad said, David allen can hook you up with something im sure....Do you have tow hooks in the front? I know they sell mounts to bolt onto those....it doesn't really matter how you mount it as long as its not going of break off. If you do make a bracket made sure you drll the hole for the flag the right size. I dont know what it is but i can measure it for you tomorrow if you want. Then take 2 adjustable wrenches with you....Buy a flag there (around 16 bucks) and bolt it on...
Other than that, as far as jeep prep, just make sure all your fluids are topped off. it gets hot there and it will put the test on your cooling system. Since you are driving it so far home, i would stop at te first car wash you find and spray the sand out of everything. Especaily your front brakes, unit bearing areas, ball joints ect.
Updated pics for fun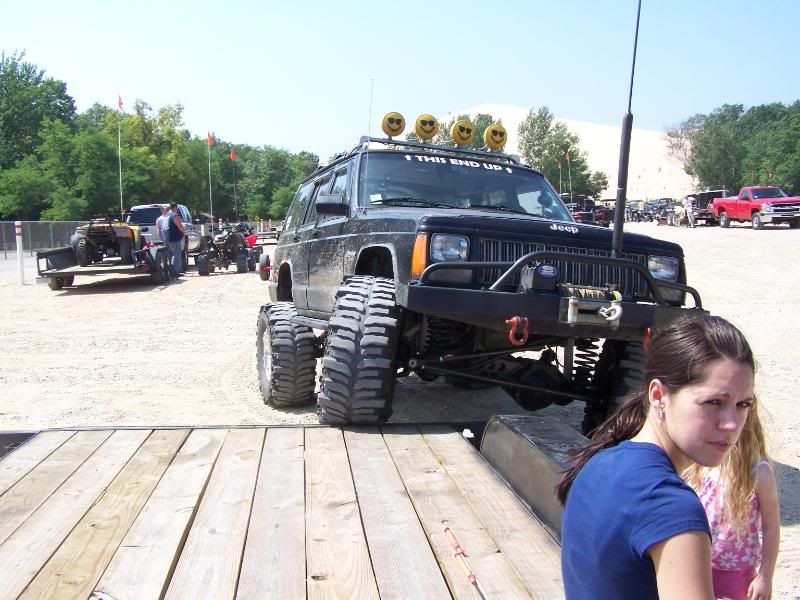 Any questions just ask...More than happy to help. Im going to guess between me and chad we have been to silver lake at least 30-40 times in the past couple years, so we know a little about it.
BTW: i read your blogs and seen this
Quote:
This is sad I have nooooo friends on her, nor do I know anyone else that has a jeepspace... lol. Maybe someday that will change? : P
So i sent you a friends request....at least you will have one friend
---
Last edited by Arcticcat843; 08-07-2009 at

02:14 AM

.
Registered User
Join Date: Mar 2009
Location: Hammond IN
Posts: 96
Quote:
articcat843, I like your xj mounting bracket for the flag, where did you get it? and how much? I am going down to silver lake sand dunes, and this will be my first every jeeping experience in my XJ, it's completely stock, and Im sort of stressed wanting to be prepared but I haven't a clue where to get a 10 ft flag except for down there... and I was hoping to have a mount read so I could just pop her in... driving like 6 hours to get there.. any help or tips or anything from anyone would be awesome : )

headed down there aug. 26th
from the looks of his bracket it looks like you can just use some angle iron and bolt it up
or nock off the front bumper end cap and there is a hole in it this is what i did the first time at badlands
best pic i could find
buy the flag there cause it will be long enough i used my badlands flag and the kept giving me crap about it (too short and mesh) i modafied it enough to get me through the weekend next time i will just buy one
---
I caught the jeep thing..........
now my wife wont give my wallet back
Currently Active Users Viewing This Thread: 1

(0 members and 1 guests)
Posting Rules

You may not post new threads

You may not post replies

You may not post attachments

You may not edit your posts

---

HTML code is Off

---