6000 obo 1999 Jeep Grand Cherokee WJ
I would be interested in trades for a wrangler YJ or TJ, or any lifted XJ's or ZJ's, no junk.
Bought the Jeep Stock in July with 128k from original owner in Sea Isle New Jersey, Inspection good until July 2014.
Lifted in October.
Barely wheeled, no rust.
I am just looking for something different, there is nothing wrong with my jeep. It runs strong with no issues. 136k 4.0
4.5" Rustys coils, Teraflex Adjustable short arms, Iron rock offroad heavy duty adjustable track bar. Iron rock offroad shocks.
4x4 works flawlessly
Magnaflow glasspack (sounds mean)
Custom built front Carolina drive shaft.
Rough Country quick disconnects
Rough Country dual front steering stabilizers
1.5" wheel adapters/spacers
33" Dakota definity tires 30% remaining.
15" rock crawler steel wheels
Recently tuned up.
Recently replaced items:
Tps
Crankshaft positions sensor
Camshaft sensor
All new spark plugs
Fuel Filter
k&n air filter
Fan relay.
oil changed in the past 300 miles.
Jeep is very solid and reliable and capable. Starts up first crank every time. I also have a brand new iron rock offroad front long arm kit and solid diff cover that I can install or include for more cash. Please don't waste my time or yours I know what my jeep is, and if you do not like it move on. Call or text 484-653-88three4 for more pictures and information. I will most likely respond immediately.
http://philadelphia.craigslist.org/cto/4248403035.html
[URL=http://s1274.photobucket.com/user/Gbernhard/media/Bigalsjeep_zps555a9f22.jpg.html]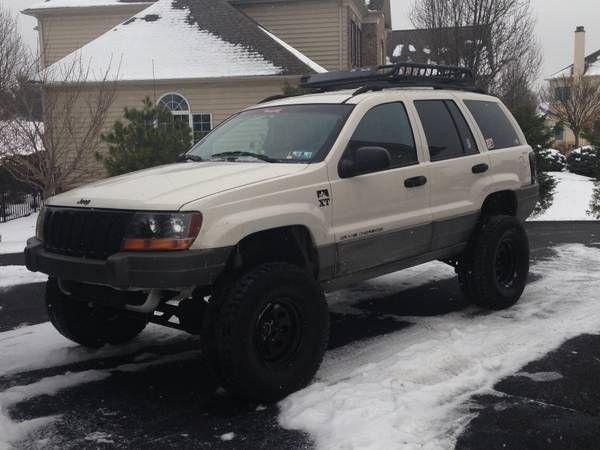 [/URL