Sadly its time to sell my TJ. I've owned this Jeep for the past 6 years, but haven't been wheeling in it in the past 5. I drive it occasionally so that it does not just sit, but its mostly just been in my garage. I am the second owner, purchased in San Marcos. I drove it back to Denton that same day with zero issues. I haven't had any issues with this thing at all since purchasing it. But now with a newborn and even less time to potentially go wheeling, I have to let it go.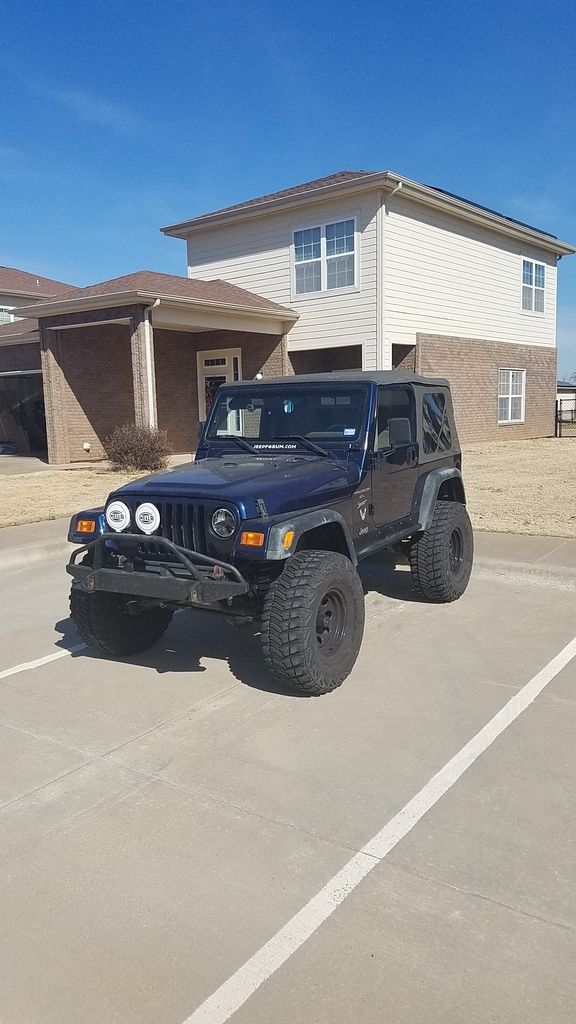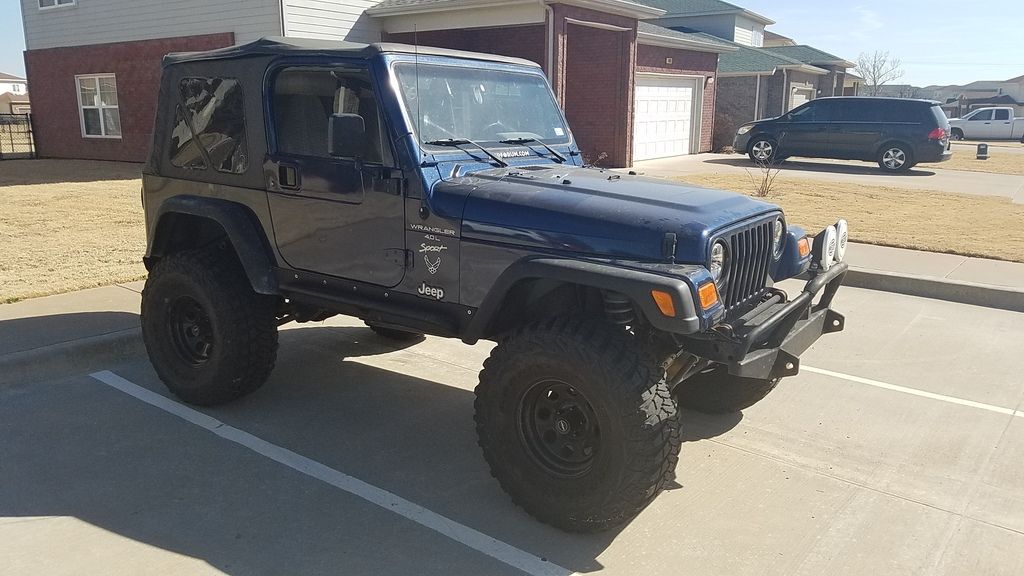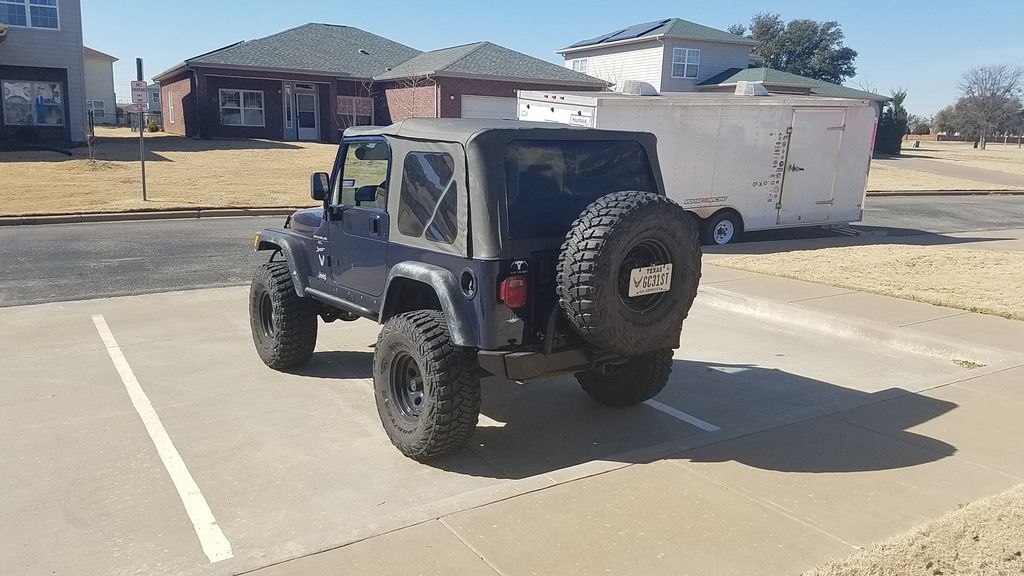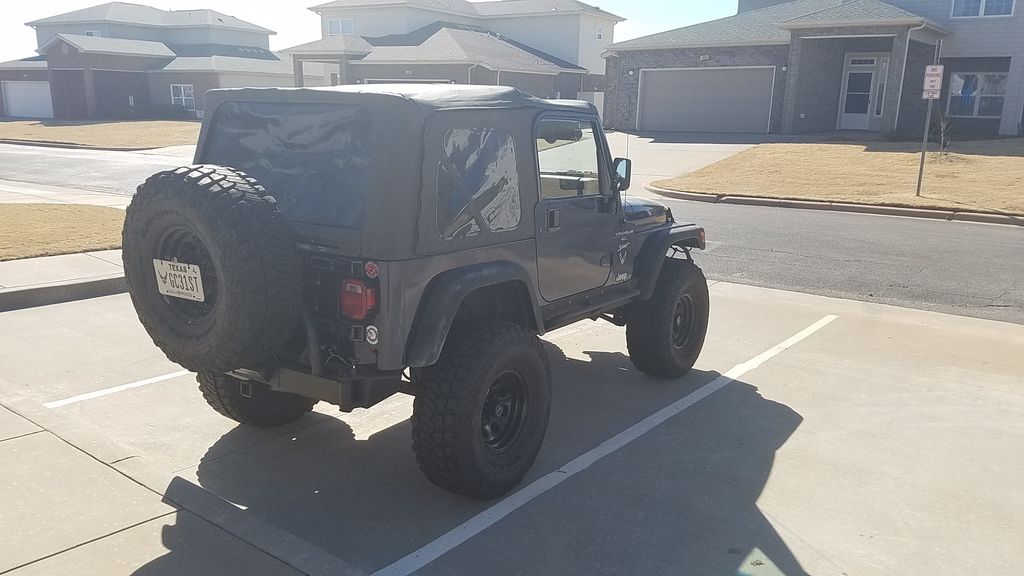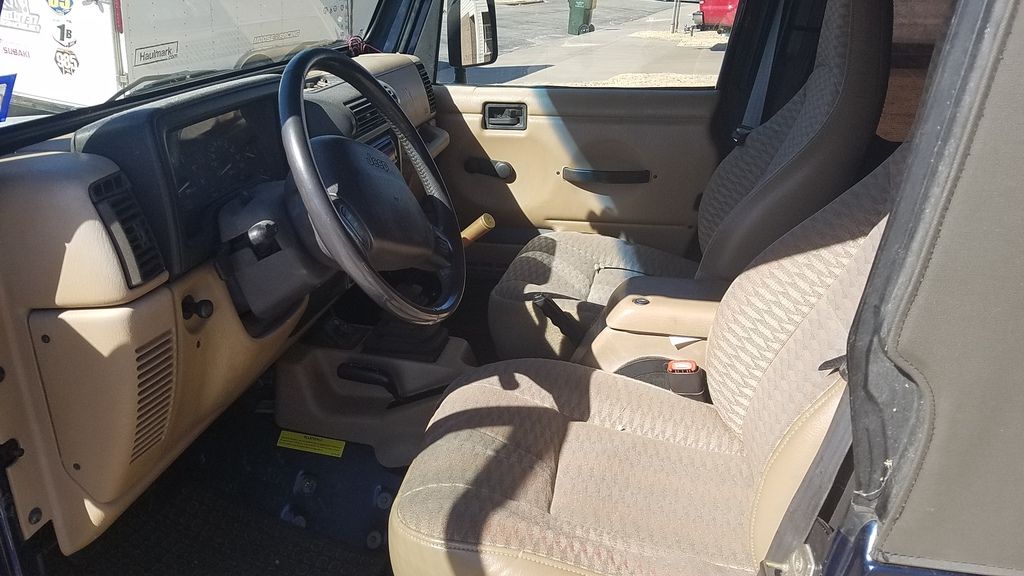 Photo from around 2012 with the old headlights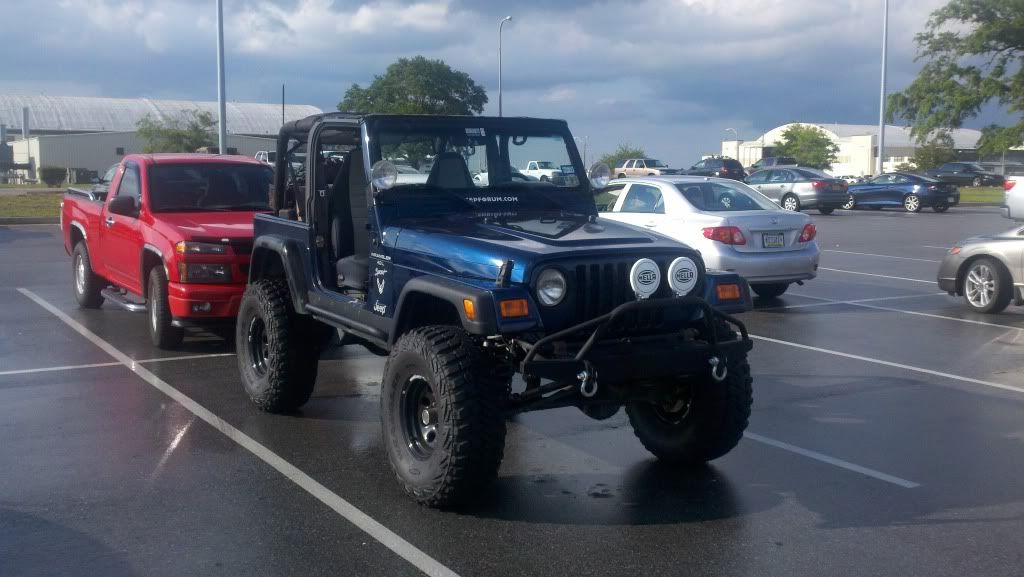 Photo is from before I added the Spider web shade cage
The basics:
2000 Wrangler
4.0L
5sp Manual
Patriot blue
Full steel doors
Soft Top (Denim color) and tinted windows
Spice interior
142k miles
The mods:
-Suspension
--Rubicon express 4.5" short arm kit with adjustable control arms and front track bar
--Bilstein 5100 shocks
--Currie HD Steering
--15x8 Pro Comp 8 Hole wheels
--35x12.5x15 Goodyear MTR (5 tires all matching, running 5 tire rotation pattern so tire on carrier is worn just like the other 4)
--JKS quick disconnects
-Armor
--UCF Aluminum T-case skid (1" more ground clearance)
--Steering box skid
--JCR Front Bumper
--Brand new Metalcloak rear tire carrier/bumper
--Smittybuilt rock sliders
-Drivetrain
--Woodys custom rear driveshaft
--Rubicon Dana 44 rear axle w/ Rubi locker and Chromoly shafts
--LP Dana 30 with chromoly shafts and ARB air locker
--4.10:1 axle ratio
-Interior/Cosmetic/Misc
--Hella 500 lights on bumper
--No carpet in the front
--Spiderweb shade full cage shade
--Trucklite LED headlights
--Pioneer single DIN Headunit
--Mishimoto Radiator
Things the Jeep needs:
-Lockers are not currently hooked up to pumps. I have the Rubicon pump for the rear locker, just not wired or plumbed. I do not have a pump for the ARB front locker.
-No carpet in front, so if you think you need carpet...
-2 small cracks in the soft top rear window. Happened while in storage over this past winter. Each is about 1-1.5" long.
-Stock fender flares faded over the decade between when it was built and when I purchased it, so I painted them black. However, the paint has been worn from road debris in some places so it looks patchy in the pictures. Would do well to have them touched up or replaced
Really that is all. Its been off road at Bridgeport 3 times and nowhere else. Haven't been on an LSJC outing since 2011 so doubtful anyone here remembers my TJ. Last time it was offroad was on the old gear ratio, D35 rear, 33" BFG ATs (terrible) and a JCR rear bumper. It has some scuffs on the paint from wheeling, but paint is in great shape for a 16 year old vehicle. Oil changed every 3k with Mobil 1 and a Wix filter. Has Zerex coolant in it, recently done.
Price $10,500
Like I said, it really needs an ARB and Rubicon pump installed and this thing would do terrific offroad. I just don't have the time any longer.
The top 5 pictures are most recent, taken about a month ago. Last picture is from 2012 before the new headlights were installed.