Registered User
Join Date: Apr 2007
Location: Syracuse
Posts: 2,027
Quote:
Ok I think I have a problem here. Check out the pix: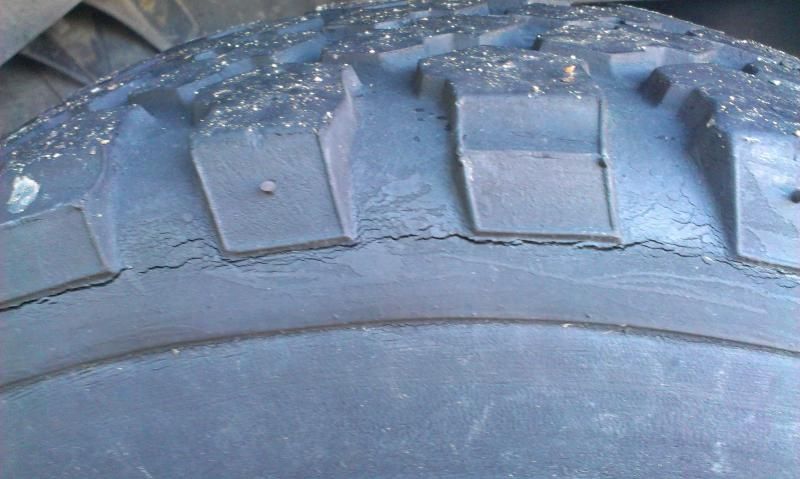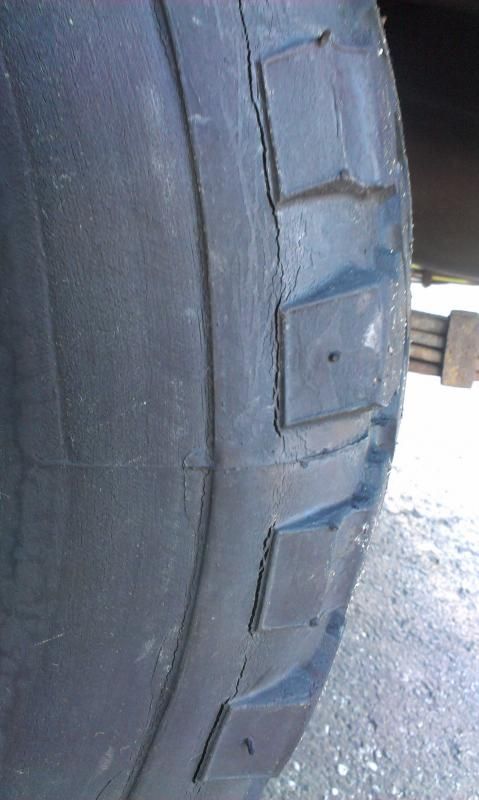 These are 235/75/R15 crawlers from Treadwright. They are two years old with a bout 8-9k miles on them. Three of the four are doing this. I have guard dogs that are almost 7 years old with 20-some thousand miles on them and still like 80% tread remaining but they do not look like these at all. They are still mint! I emailed treadwright twice but got no reply and it's been a few weeks.
Does anyone's tires look similar? I'm not really worried but the concern is there.
Two of mine have been like that for a while now.
I had around 2 or 3 degrees of toe-in in the front. Burned the tread of rather quickly and did that from them scuffing down the road.
Those two are going to need to be replaced soon becuase the tread is getting low. Sadly, they won't be replaced with another TW tire as TW no longer makes the crawler in my size ... or any mud tire in that size. I don't want to go wider or up to a 32'' tire just yet.
---
2000 XJ - 3.5'' Lift & Skinny Mudders.
Previous: A CJ, Few TJs and JK.
Registered User
Join Date: Nov 2004
Location: Wexford, PA
Posts: 5,465
Well I spoke with their CS about b2b tires and they said this stuff won't happen with them but I wasn't sold and considering how much they would weigh kinda turned me off. I decided to go with new tires this time and ordered five Goodyear Authority tires which have a similar aggressive tread pattern. It would've been $700 shipped for guard dogs but I got the authorities for $666 (eek!) with my discount.
---
2001 XJ Sport 4.5" LA

1999 TJ 2.5L 5spd 2" lift
Registered User
Join Date: Mar 2009
Location: Ft Worth'ish
Posts: 95
Just thought I would come back and post that Treadwright has pretty much given me the blowoff for last few months. Loving the tires but the promised replacement never arrived and all emails and phone calls are ignored. Oh well. YMMV.
Registered User
Join Date: Mar 2011
Location: Norfolk
Posts: 197
I have the 31" Guard Dogs and I drove across the country and back taking back roads and scenic roads as well as a lot of off-roading pit stops along the way in Colorado during February (a TON of snow on the ground). Also, I did a lot of wheeling in the mountains of Tahoe before driving back. They have probably 20,000 miles on them, still have more than half tread and they are wearing great and have taken all the beatings I could have possibly given to them. Rock, snow, mud, sand, gravel roads on a daily basis, whatever...they are holding up fantastic. But...I will say they are stupid heavy and oh man the road noise is enough to wake the dead. For the $480 I paid for them I could not be happier and I certainly plan on buying another set.
Knowing my luck, now that I said something, I'm going to have a blowout or something...
Registered User
Join Date: Feb 2012
Location: Helena
Posts: 1,513
I installed my Guard Dog's on leave and put 1,000 miles on them in 2 weeks. Moderate trails, dirt roads, 85 on the highway, they held up amazing. They ride fairly well, but like TheBlueDevil said, the road noise was pretty bad. That's the only detractor I could find in them. They grip like crazy on rocks and ride well on pavement. I get to drive from Montana to up-state New York here in about six months, so we will see how well they hold up on that trek.
---
Dirt Deprived
Currently Active Users Viewing This Thread: 1

(0 members and 1 guests)
Posting Rules

You may post new threads

You may post replies

You may not post attachments

You may not edit your posts

---

HTML code is Off

---