This MT Tread Pattern is Everywhere: Discuss
---
As I've learned more and more about tires over the years, I've noticed patterns. One of the most obvious patterns is among a certain niche of MT tire. There are variations, but unlike other niches, this pattern is especially consistent and common to many manufacturers. Lining them all up as I've done below helps to pick-out their differences much better (I could divide these up into three sub-categories really), but I still see the same basic theme at work, and it makes me curious. They all have four rows with the two middle rows consisting of
angled
blocks. Food for thought.
There is more to a tire than tread pattern--a lot more. Tread compound, load rating, sidewall strength, weight, etc can all vary and really make or break a tire. Even within the overall tread pattern, small variations like block spacing/shape and siping can have larger effects.
Below is a list of tires I can think of that all share this particular tread "DNA."
Why is this pattern so pervasive? Is it a patent thing that everyone can use? Is it convergent evolution of sorts that everyone has found on their own that this pattern is superior to all others in its own way? Is it simply traditional?
What differentiates these tires? Which are better? Which are worse?
I would LOVE to perform controlled testing/comparison of these tires to each other to determine somewhat definitively who's making the most of this pattern, and who isn't--which are the best/worst.
Toyo Open Country MT
Cooper Discoverer STT
Atturo Trail Blade MT
Nankang FT9 MT
Pro Comp MT
Treadwright Claw
Mickey Thompson MTZ
Nokian Vatiiva MT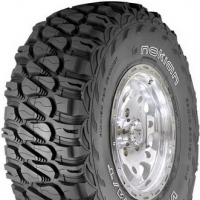 Nexen Rodian MT
Firestone Destination MT
Mastercraft Courser MT
Dunlop Mud Rover
Nankang Mudstar
Nitto Trail Grappler MT
Maxxis Buckshot
Maxxis Bighorn
BFG MT TA KM
General Grabber MT
Kanati Mud Hog
(Bridgestone Dueler MT) A bit different and more similar to Treadwright Guard Dogs or original Goodyear MTR--another suspiciously similar pattern...
(Federal Couragia MT)
(Goodyear MTR)
(Treadwright Guard Dog)
---
Build Thread -- http://www.jeepforum.com/forum/f177/whats-chrokeese-build-thread-2525690/