Motor Mount Help!!!! Please
---
hey
i just finish my 1inch BL and am moving on..
im installing my new 1 inch motor mount right now....but im having trouble
i loosened all the bolts and tryed jacking it up from under the oil pan but it wont work. it just jacks the whole frame up with it. its almost like the frame and motor arnt seperating.
what am i doing wrong? am i missing something?
thanks for the help!
i need to get back to work on it soon
Registered User
Join Date: May 2002
Location: Minneapolis
Posts: 872
Did you remove the nuts securing the rear motor mount, often referred to as the transmission mount?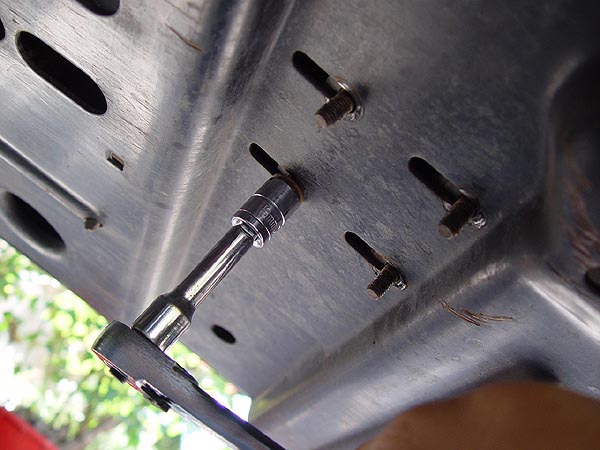 http://www.4x4xplor.com/MML.html
Registered User
Join Date: Nov 2006
Location: NH
Posts: 91
yup took all 4 of those off...


its like somethings still connected or theres no room for it to move.
i just put on the 1 inch BL and now this MM is taking the whole day....


those where the instructions i was following too...


ahhhhhh i dont know what to do.......any other advice i could try?
---
Last edited by Hoff14; 12-23-2006 at

02:16 PM

.
Registered User
Join Date: Jul 2006
Location: ca.
Posts: 632
did the same thing last weekend 1 hr for the bl 3.5 hrs for the mm lift. I put the jack under the mtr, lifted a little then removed the bolts that go threw the mm the horizontal ones, then jacked it up, the hole jeep lifted for a moment then it finally gave, and separated. i then removed the pass side mount and installed that side but loosely then to the drivers side, had to loosen the bracket that bolts the to the motor then that side . it sounds easy but was a pain in the a$$. good luck.
lol
---
Gone but not forgot. 2000 Sahara 4.0, auto, 4"rock krawler x factor long arm, 33x12.50x15 M.T. Mtz, M.T. classic lock rims,30/44 limited slip, land runner safari rack, land runner front, and rear bumpers, warn 8000i winch, cobra cb, jks 1.25" bl, brown dog 1" mm lift.AA sye, J.E. Reel drive shaft, Aussie locker, Rock Crusher front cover
Registered User
Join Date: Nov 2006
Location: NH
Posts: 91
MANNNNN!!!!
finally got it. that thing was a pain in the as$ x10....
I just jigled it around a little jacked it up higher and it fianlly gave after a few f bombs haha
1.5 for the bl and the rest of the day worrying i was wrecking my jeep on the MM
all is well tho now!!
Tomorrow is time for the 2 BB'
thanks for the help guys......
Currently Active Users Viewing This Thread: 1

(0 members and 1 guests)
Posting Rules

You may post new threads

You may post replies

You may not post attachments

You may not edit your posts

---

HTML code is Off

---