I have seen a few write ups on how to paint an alloy rim, but not on how to prep a nasty, pitted one. Pitting happens when salt/dirt gets up under the clearcoat of an alloy rim and basically corrodes the surface. Here in Iowa, we get a TON of road salt on our heaps in the winter, so this project required a little "tougher" solution than the norm usually requires.
So, to get started - a little back story:
I had been running a 2" BB and a 1.25" BL on 31" BFG AT's on the stock "Grizzly"/"Ecco" rims for years and never really had a problem with it. The problem started one day when a coworker told me he saw some "huge" tires at a garage sale on the way to work and that they were going for cheap. I asked how big and he held his hand up to my shoulder… and I KNEW he was full of crap.
So on a break, we jumped in his YJ and cruised up the road to where he had seen them, and low and behold, here were 4 x 33x12.5x15 mud terrain tires sitting on American Racing Rims. The little sticker said "$125". I walked over to a man sitting at a table and he directed me to his daughter. I asked her if it was $125 for each one or for the lot and about fell over when she said $125 for all. These were VERY gently warn (Peerless) Widetrack Baja M/T's that still had the nipples on them. Smelling a rat, I asked her if anything was wrong with them, and her Dad piped up and said one had a sidewall puncture. After that I countered with $100 and she excepted.
Follow my thinking: I could always find another 33" and use a tube in the sidewall punctured one and use it as a spare, or I could sell each 33" for about $80 and all four rims for about $200! That's $340 profit!
So here's my prize: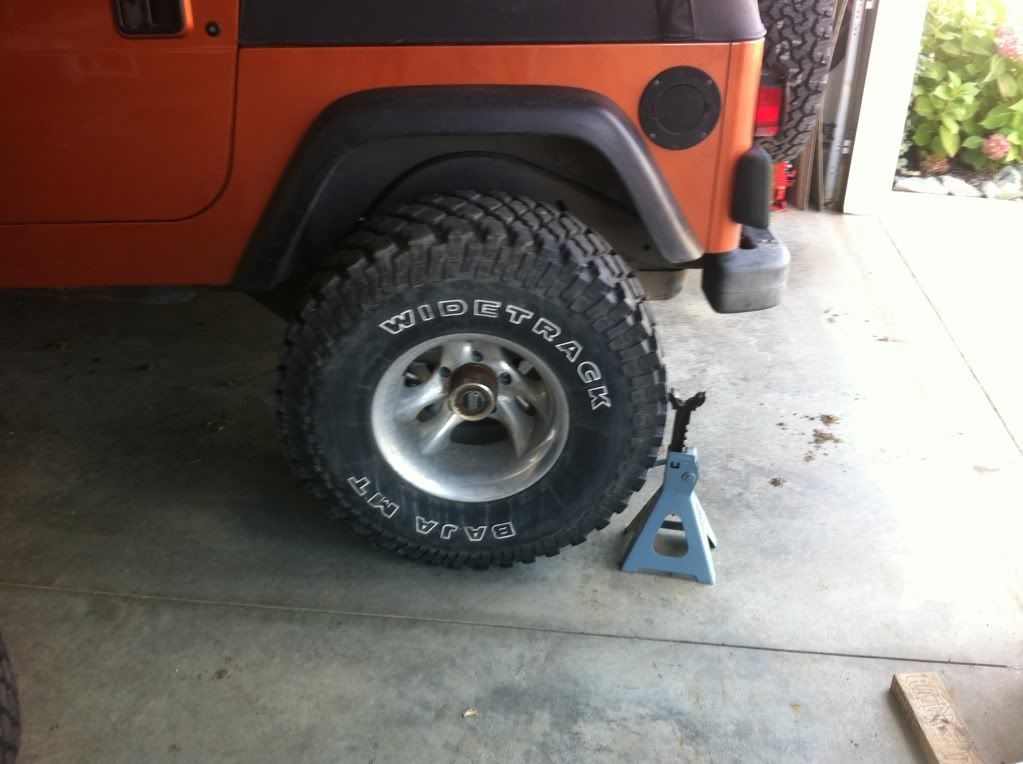 Now, i'm kinda a cheap guy. I only buy things if I absolutely have to and would rather do anything myself than to pay someone else to do it. That being said, I always wanted a set of 33"s and here I had some sitting in my garage. The first thing I set off to do was see if the sidewall puncture was high enough up that it was repairable. I took it to 3 local shops and everyone of them said they wouldn't touch it with a 10 foot pole. I had then had a buddy of mine who used to work in a tire shop try to work his magic on it. The morale of the story here - and those of you that know a thing or two about tires is - ITS NOT REPAIRABLE AND EXTREMELY DANGEROUS TO RUN ON IT EVEN TUBED.
So back to the drawing board I went. While I waited to find a suitable replacement, I thought i'd throw one of the good wheels up on the jeep to see how they looked. Sure, they were whitewall out but I was going to take them in and get them flipped and balanced anyway.
Well imagine my surprise when I realized they were a 5 x 5 lug pattern that wouldn't fit my 02' TJ's 5 x 4.5 lug pattern! Crap and double crap!
Dejected, I told my friend Craig about it and I told him that I guess I could use spacers and he told me that he thought he could help. He told me not to use spacers, but that he had just thrown a set of bead locks on his 99' TJ and that if I was willing to clean them up (and subsequently get them out of his garage) that I could have his old American Racing Baja rims! SCORE!
Here's a shot of one of them. They are pitted and pretty nasty and have quite a bit of rim road rash from Craigs previous excursions, but nothing that should be show stopper. I was able to use the Dremel to whittle down some of the larger gashes along the edge of the rim. Like I said, nothing major.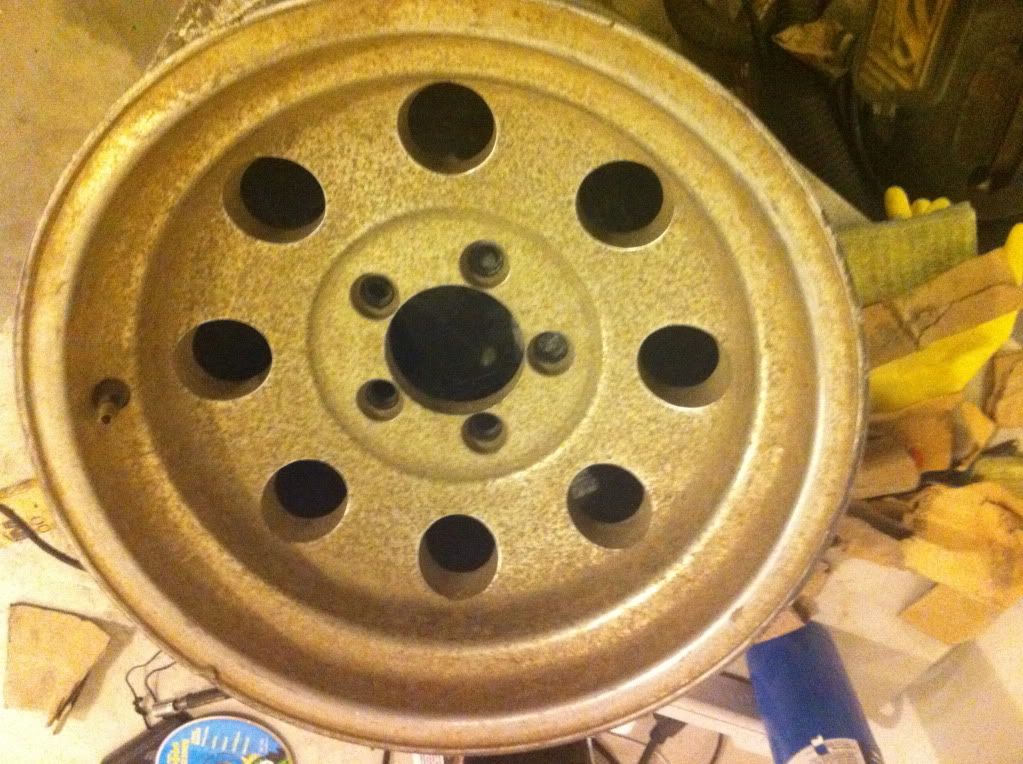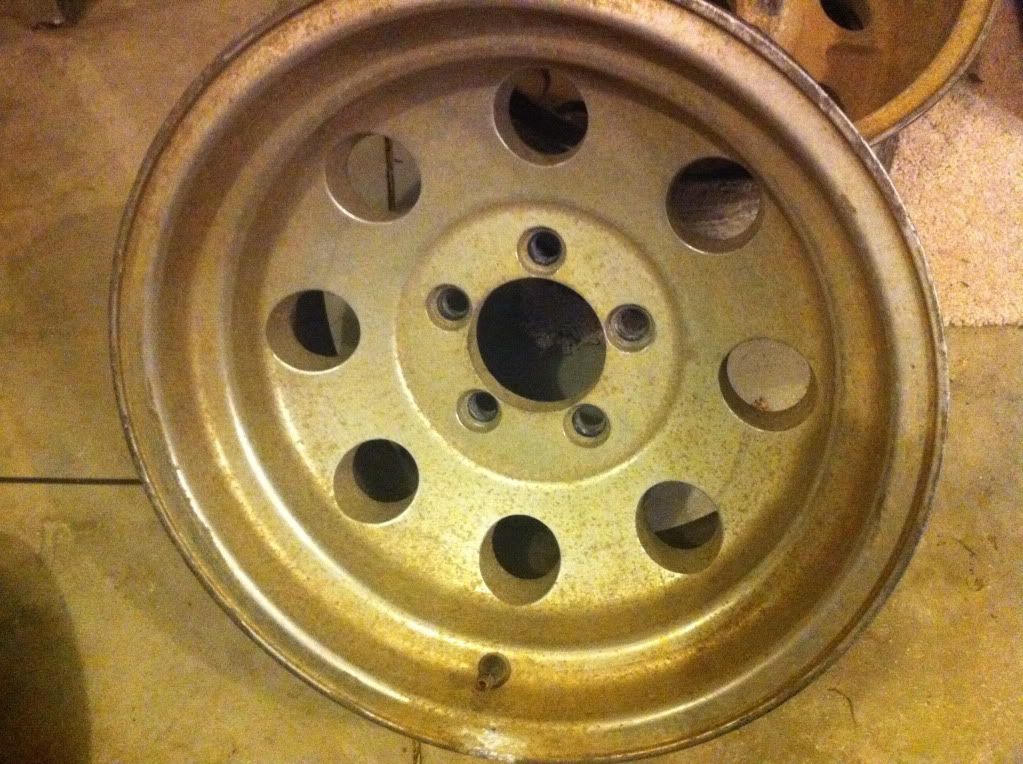 He's such a nice guy, he even threw in an old steelie he had laying around so I could eventually use it on my spare. Great guy, that Craig.
The next day, I unloaded my booty and grabbed some scouring powder, billow pads and brushes. After two hours and finishing only about 1/4 of a rim, I decided that I needed to do a bit more homework. Jeepforum.com to the rescue. I found a whole slew of DIY rim prep, but they all called for 300 grit or better sand paper. I had 100 grit and 300 grit in the garage, so I started with the 100 grit. After all, I was going to be priming and painting them so 100 should not do too much damage.
After about 2 full sheets of 100 grit and using a Dremel with a sander attachmate for the lug nut holes, I washed it down with some soap and water and I had this:
At this point, I had pretty much decided that there was no way in hell I was going to even try to clean up the back of these things. I also decided that I wasn't going to paint them either, so this project should be moving right along.
Once I cleaned up the outside of each rim, I set to work on the bead side of the rims. The one thing to note here is that you need to get all of the old rubber, dried slime and bead seal off in order to ensure that you get a good seal with your new wheels.
Dirty: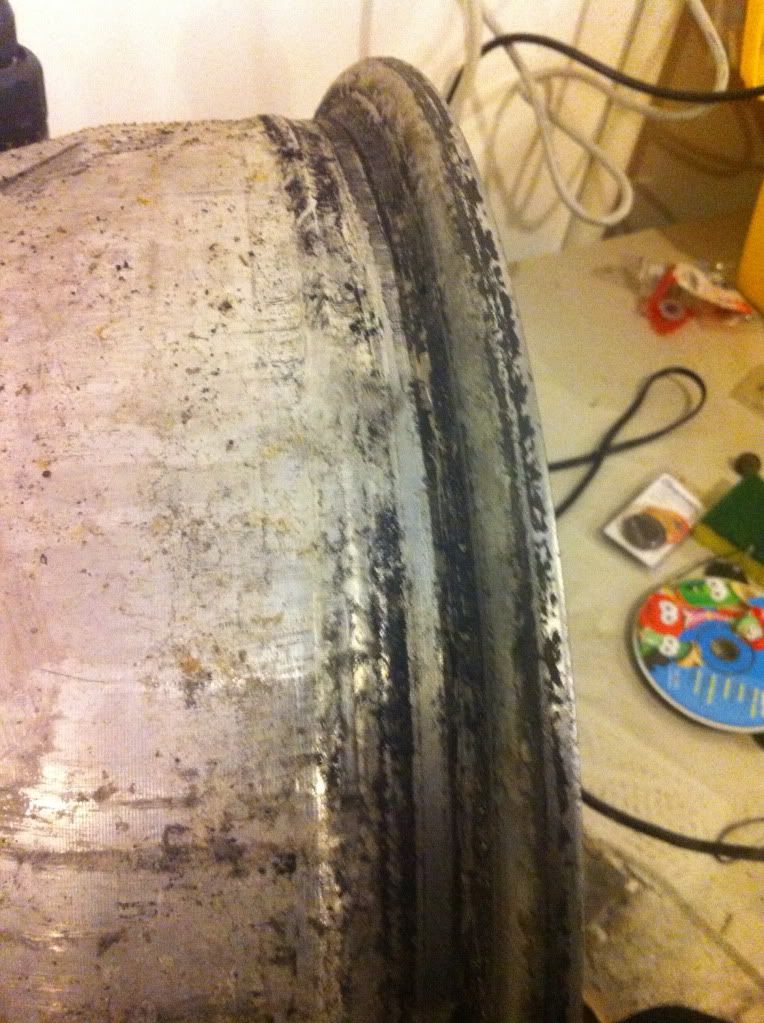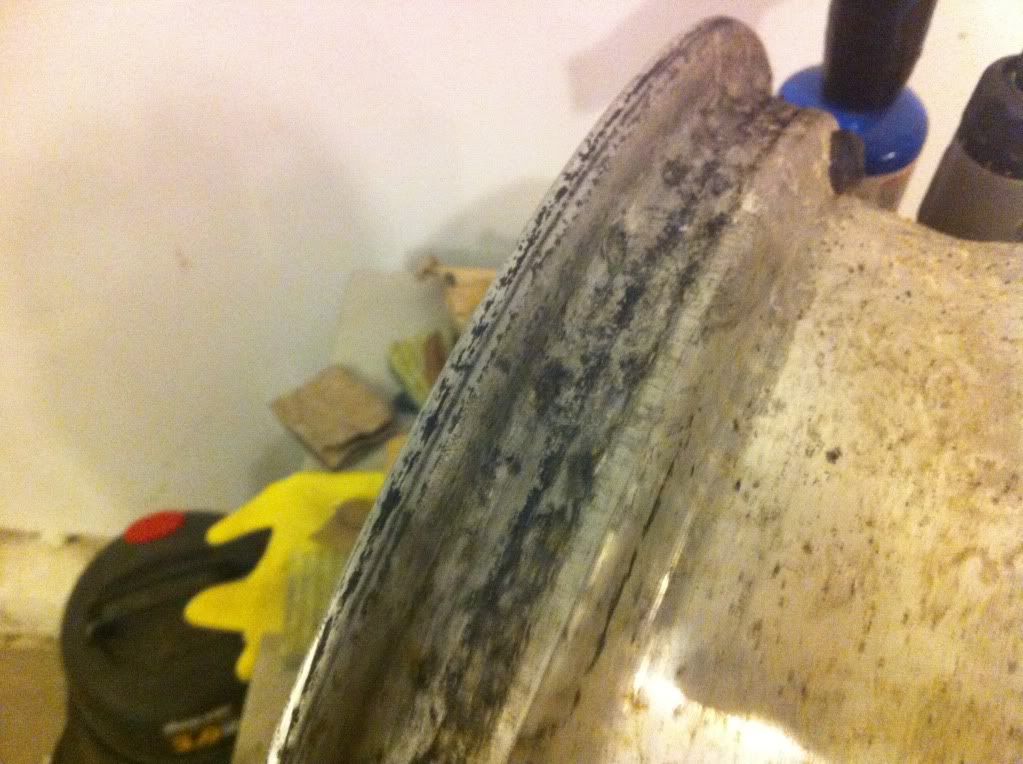 Clean: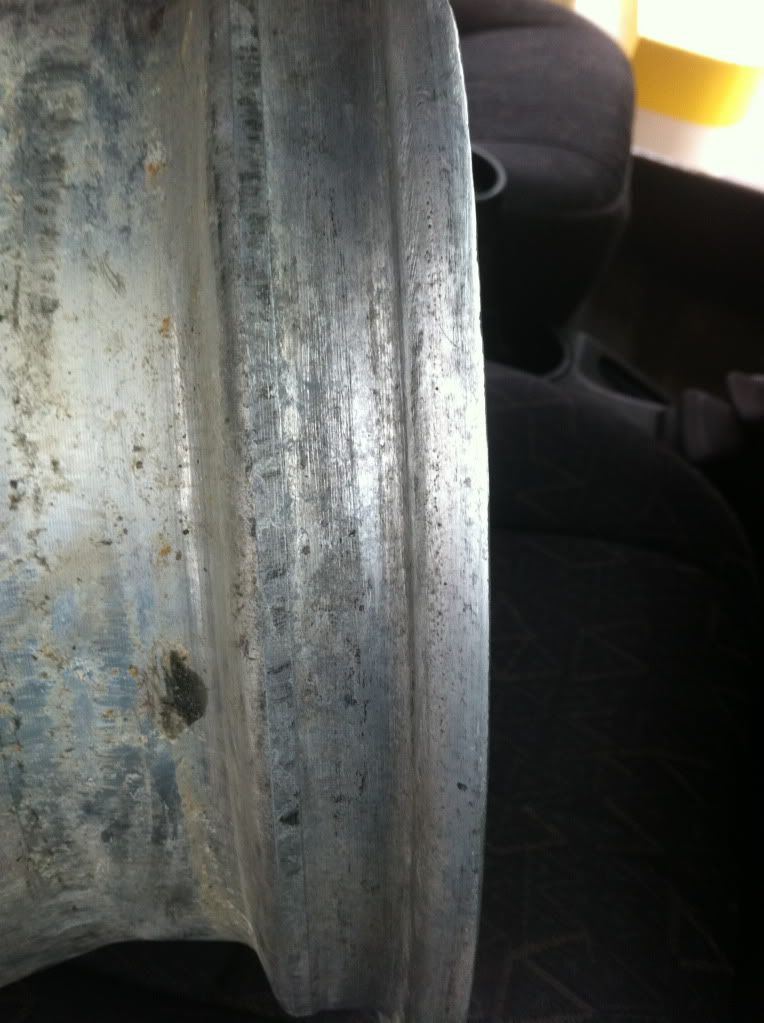 After doing some more research on JF, I elected to go with Rustoleum branded Self-Etching primer (2 cans) and Rustoleum branded flat rattle can paint (2 cans). I even sprang for the handle/trigger thingy to make it easier to spray.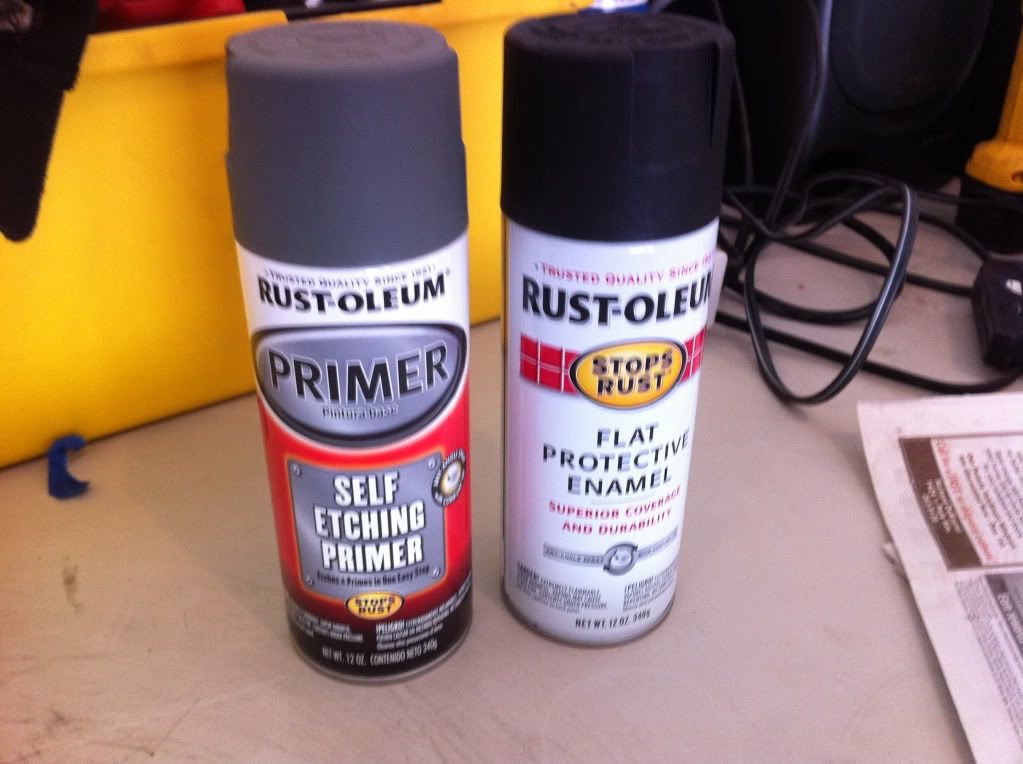 After washing and air drying all four rims again, I set them out in the sun to dry for a few more hours. Next up, I wrapped the outer, wheel side of the rim in painters tape and newspaper but elected not to do anything with the inside of the rim (the underside) as there really shouldn't be much overspray through the wholes of the rim.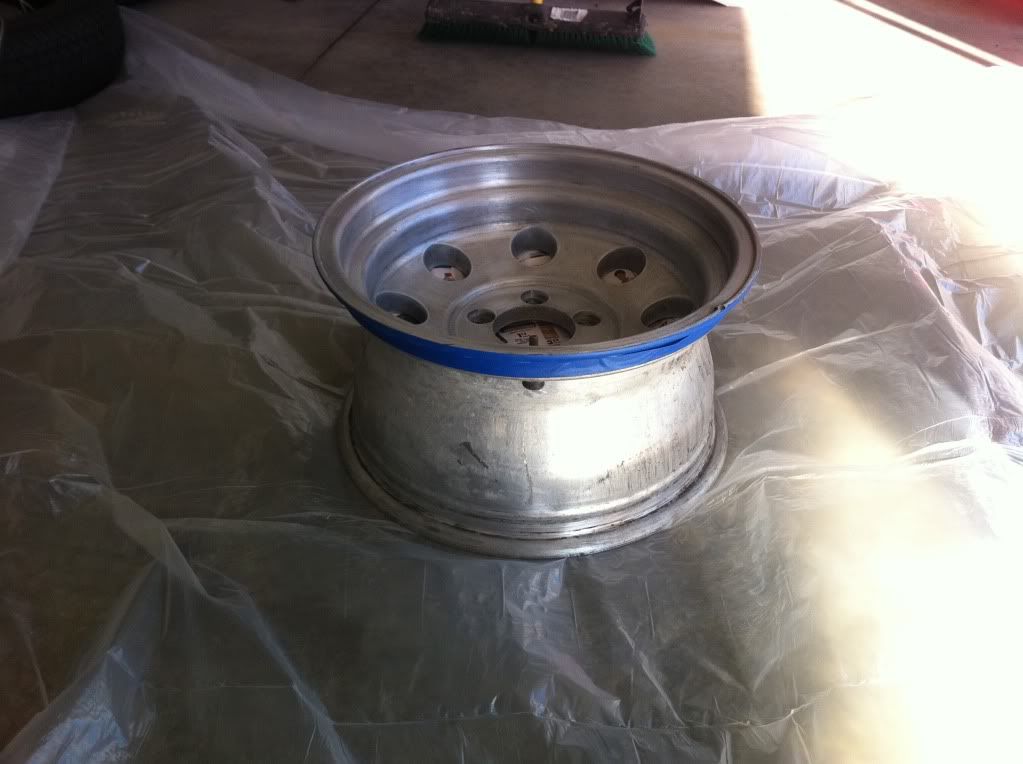 Before I taped off the other 3, I decided to lay out a tarp in the single stall side of the garage and closed the door, leaving the main double-stall side of the garage open for some air circulation. Having never messed with self-etching primer before, I wanted to do at least one test spray on a rim to see what it did.
I hit it with one coat and let it dry:
It looked fine, so I continued on taping and prepping the other 3. At first, I was going back over the first rim with 5 or 6 light coats from about 10 inches away about 2-3 minutes apart. This was working perfectly, so I started on the rest of them.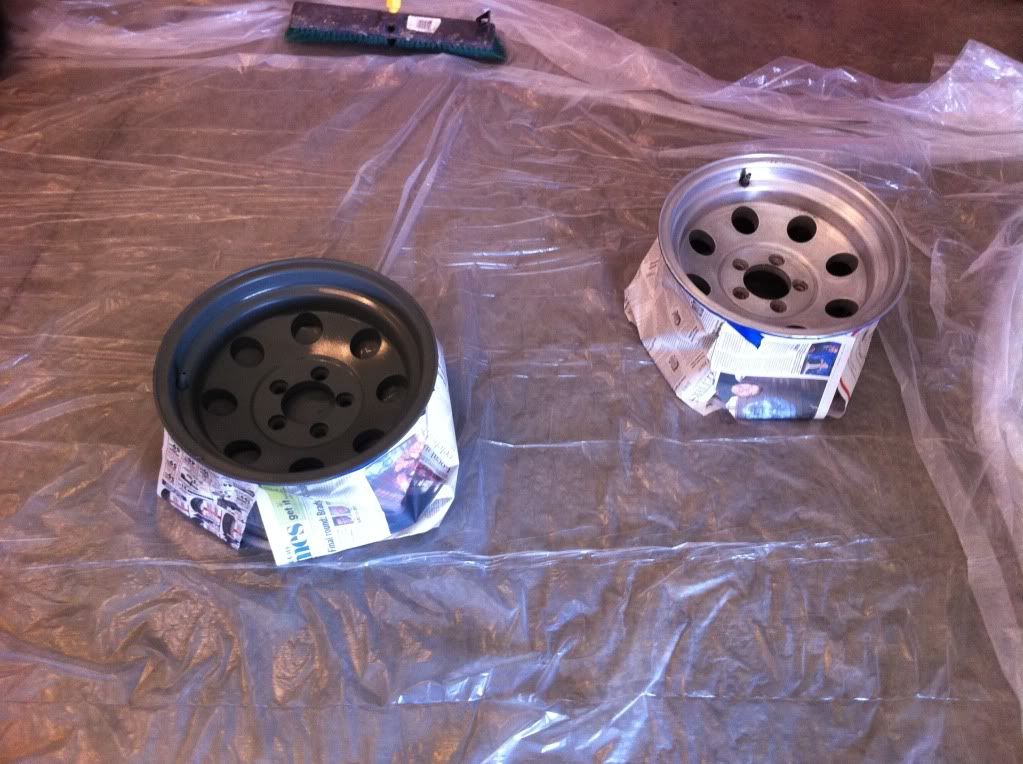 I followed the directions on the back of the self-etching primer can and let them all sit four about 4 hours. They dried nicely and had a kind of cool, green look to them.
I then spot checked them in the better light to make sure I hadn't missed anything. They all looked great, so I proceed to attach the flat, black rattle can to the sprayer trigger thingy.
I followed the same steps: 5-6 light coats from 10" away on each one about 2-3 minutes apart. 30 minutes later and I was ready to let them sit over night.
The next day, I came out and checked them out. I had sprayed too light or missed the inside edge on all four rims and re-sprayed each one and let them sit again.
Four hours later, happy with my work and after verifying they were dry, I headed up to good ol'Wally world and had them remove the 4 old rims and mount up the 3 "new to me" ones. I still hadn't found a 4th 33", but knew I would soon.
Here's a shot with one mounted up on a dirty wheel:
About a week later, after posting something on my clubs board, a nice lady and her husband informed me they had a 33" I could buy for $50. I met up with them and then ran the tire and rim up to Wally World and then returned home to mount them up. I then took them for a quick ride (it was pretty late but I wanted to hear how bad the road noise was). I was PUMPED to see them in the daylight!
The next morning, I snapped these: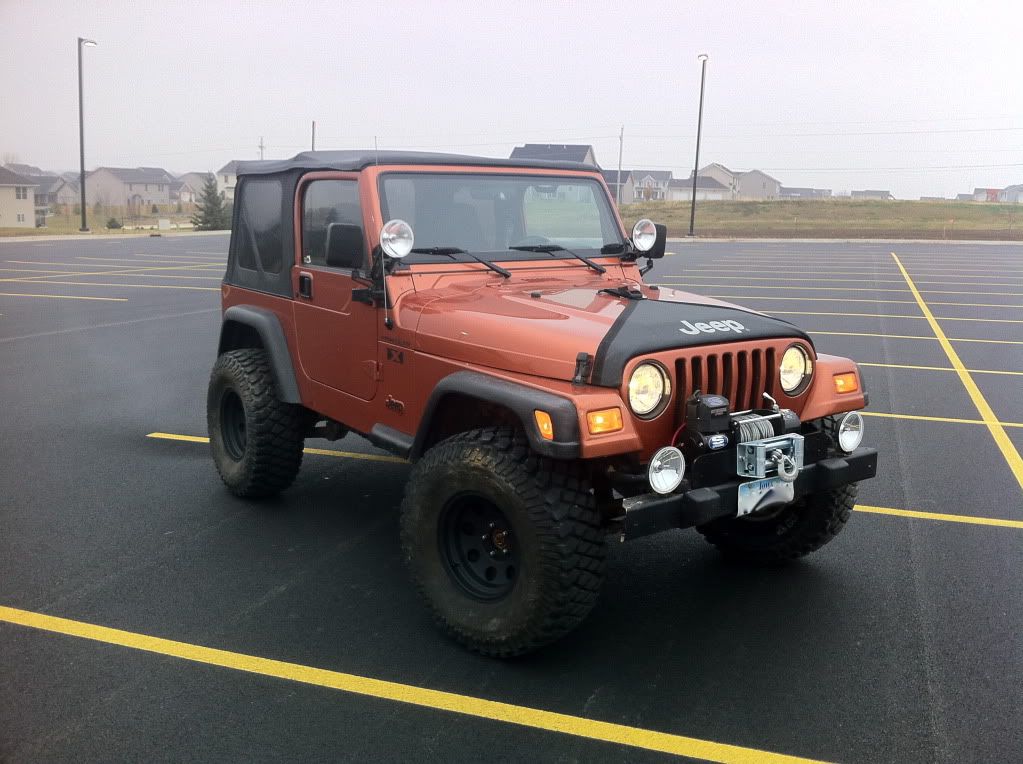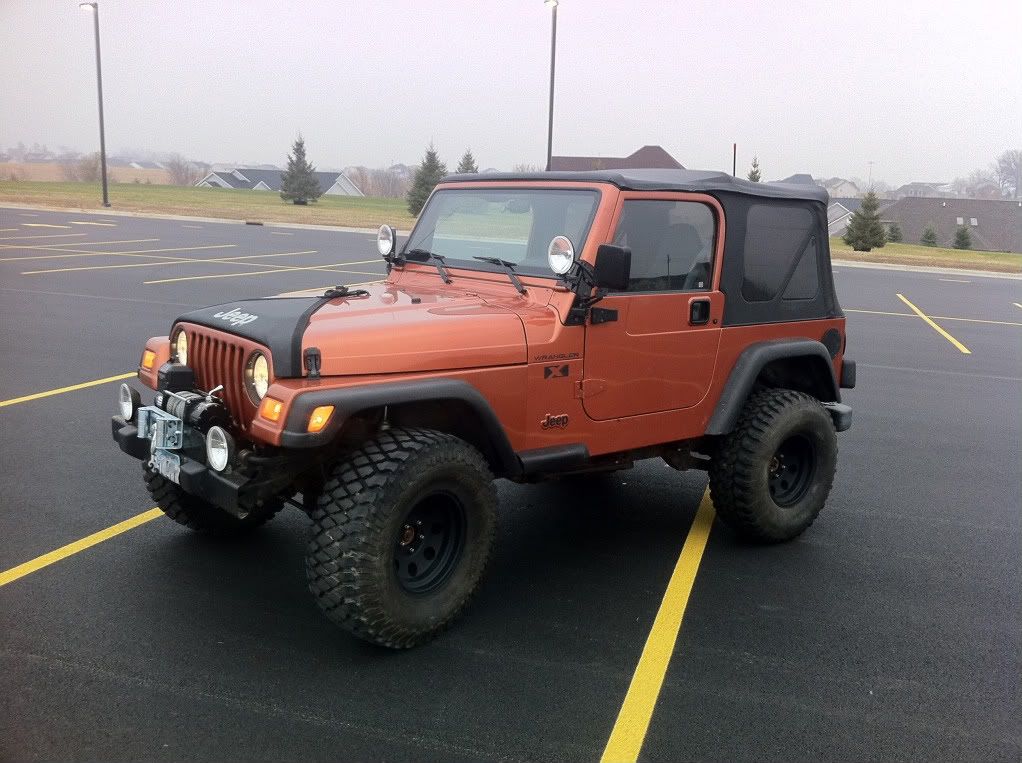 The best part is this: I sold the 31 BFG AT's (no rims) for $400, sold the rims for $200, and sold the 5x5 AR rims for $100. So out $100 for the 33's, then out another $50 for a 4th less mounting and balancing means I got an almost brand new set of 33's with rims for -$550!!! Not bad!
So, that's pretty much it. I guess one thing to note is that if you wanted to, you could clearcoat after letting the final black dry. But for me, I beat the crap out of these wheels, so being able to clean and then touch up with a rattlecan o'flat black is my kind of maintenance!