Registered User
Join Date: Mar 2014
Location: telluride, vail
Posts: 2
ZJ, just getting started. Parts bought.
---
Okay, so I got a black 1998zj 5.2 limited as a work trade. It was a dd, and they gave it to me as a trade instead of trading it in on a new subaru they were buying. It's in perfect stock working order and everything appears to have been very well maintained. The VIC was generating some false alarms and that was bothering the previous owners. So Jeeps are worth quite a bit here in Colo and my wife wanted me to sell it for the cash. I decided to dive right in and make a cool new rig. So this is where I am at, all uninstalled in FedEx boxes ready to wrench on this spring: 4.5 IRO premium lift kit w/dtch shocks and adjustable CAs, IRO belly skid, IRO rock sliders, JCR front winch bumper, treadwright 32s on stock 16s and spacers. It had a fuel skid and upgraded tow package installed because of a recall. So I plan to kill that VIC, trim front fenders, and install a kill switch and fog lights. I ll buy a winch before elk season, and a cb too. Is there any advice from a seasoned ZJ owner on other possible upgrades I should do? For now my budget is blown but I think I have bought the right stuff so far..maybe. Any advice before I install these parts? I will need your help ZJ ers!
Web Wheeler
Join Date: Dec 2007
Posts: 8,204
If you have the CV front driveshaft, that needs to be swapped out for a ujoint style once the lift is on. Either swapping the yoke at the diff or use an adapter plate. Everything else looks good.
Registered User
Join Date: Mar 2014
Location: telluride, vail
Posts: 2
Thanks. I'll be climbing under it next week. When my winter season ends, so ill deff keep my eyes out for a CV boot, was your s a CV jointed front drive shaft? (Whiteout) I notice your zj has the same motor as mine. I am getting ready to live in a tent in Moab for two months and deff need everything squared away as possible before I go. Thanks!
Web Wheeler
Join Date: Dec 2007
Posts: 8,204
Mine was the CV (boot at the diff). Used a u-joint shaft from a 4.0 ZJ and had the shop modify it for length, adapter plate pictured below is similar to what I used since I didn't swap the diff yoke. Mine has 6 bolt holes, one for each hole on the CV cup at the diff.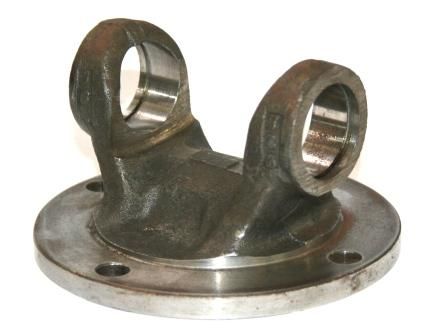 I'll get out and measure my DS for you in a day or two after the snow has melted a bit more. It should be pretty close to what you'll need.
Currently Active Users Viewing This Thread: 1

(0 members and 1 guests)
Posting Rules

You may post new threads

You may post replies

You may not post attachments

You may not edit your posts

---

HTML code is Off

---