This is the good.
Ok Check out these pics. Tons of flex(with uptravel limited to 2 inches!).
No noise from joints after over a year of once a month(if not more)hard wheelin. T
Strong links.
Can't think of anything else
This is the bad.
Right after install I tried to grease the joints. Broke off about 4 zirk(sp) fittings trying to remove the gun after shooting with grease. There very weak and break leaving threads in joint.(Means you must tear joint apart to remove and then drill for a more common size) There an odd size that I couldn't find a better grade to replace with. Thus I will have to tear apart every joint then drill and retap so I can use a quality zirk.Notice broke one in joint pic.
Same pic notice the lack of clearance for the joint to have full movement. Kinda hinders the point of the joint and high mis washers.
The next problem was the Track bar and bracket.
The drop bracket(to line up with the drop pitman arm) would not stay tight. It would come loose every 2000 miles or so causing a dead spot in the steering. This was increased by the fact that RK used a heim at one end of the track bar!?(why would you need the movement of a heim in the track bar?)Thus causing even more sloppy manners. I assume it was there cheap way to make the track bar adjustable(just thread one end and throw a heim in it instead of the extra work of a bushing, sleeve, and collar setup.)
I fixed this problem by removing the drop bracket,reinstalling the factory pitman arm and using a KOR adj. track bar. (thanks Kev.)
The bad that came with the Fix. Less flex. Know I also had to add limiting straps to keep from binding my steering. I understand why RK added the drop bracket and pitman. To let it flex. Kinda pointless if done wrong though. The lose in flex was well worth life without wobble on the road.
My only pic. The RK **** in the corner rusting away. I would not sell it to an enemy.
My next BIG problem. The weak high missalighnment washers. Broke one on the rear and welded it up. Ordered more. Then started replacing them as they cracked. Wasn't a big deal until about 2 days ago when going down the road around here and all of a sudden CRAZY WOBBLE starts in. What happen you ask. Well a front high mis washer shattered(I assume, it was nowhere to be found) This allowed almost an inch of slop for one of my front joints. I hit a pot hole and that was enuf to get it wobbling. This is what made me decide to write this thread. I was so glad I was doing 25 and not 65. Here's a pic of the one I welded(before I got the replacements) and a broken one I took out during regular maintnance.
This last one is not a real problem but. Just thought I'd show it.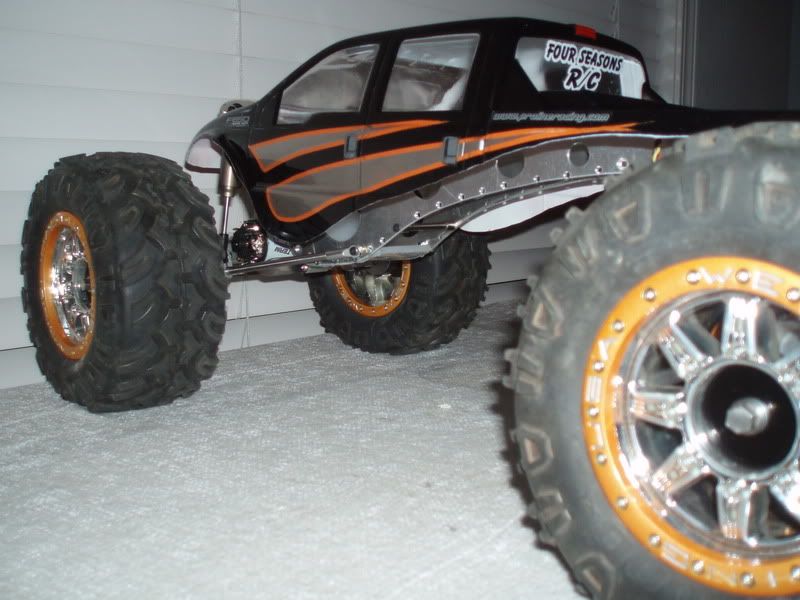 When I called RK originally about the high mis washers they were happy to SELL me more.
I just felt I should post this thread since I've posted my liking the RK in the past. I just thought I should say something now that I've lived with it for awhile.
Comments welcome.
Thanks H3RESQ
P.S. I hope all can understand this. I'm not much of a writer.