Quote:
Originally Posted by
nickpequignot
Dosnt the track bar that comes with the kit do it? It's just not adjustable.
The foundation kit doesnt come with a trackbar IIRC. The benchmark kit comes with the double shear adjustable front trackbar.
This is the pic of the foundation kit and the list of what it includes. I could be wrong but I dont think it comes with a trackbar or drop bracket atleast its not listed in the parts list.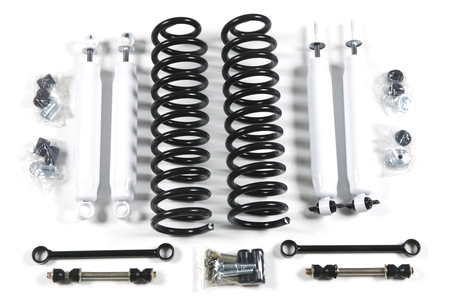 KIT INCLUDES:
3.5" Lift Front Coil Springs
4 New Hydro Shocks
Extended Front Sway Bar Links
Extended Rear Sway Bar Links
All Necessary Hardware
Detailed Installation Instructions
The benchmark kit for a little more than the foundation kit comes with the double shear trackbar conversion: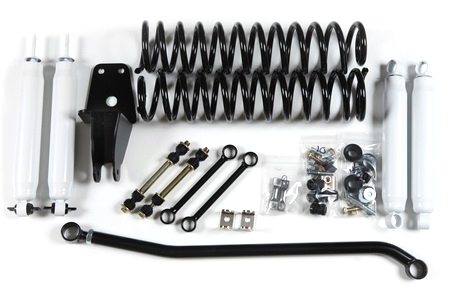 Kit Includes:
3.5" Lift Front Coil Springs Click here for more info
4 New Hydro Shocks
Heavy Duty Double Shear Track Bar Conversion
Extended Front Sway Bar Links Click here for more info
Extended Rear Sway Bar Links (Included, but not shown in photo)
All Necessary Hardware
Installation Instructions
Heres a little bit of info off the KOR website:
So how do I get my axles back under the center of the vehicle!??
Well, you could just leave the axles shifted over to the sides if they haven't moved very much; that's actually what most people who install a 2" budget boost end up doing simply because their axles haven't shifted all that far. The higher you lift the vehicle, the further over the axle will swing. If you only net 3" of lift from your F>R swap, you might be able to ignore the track bar issue altogether. Most people aren't that fortunate though, and their axles have shifted a significant amount to the sides. The easiest, and probably best, solution to re-centering the axles is to purchase aftermarket adjustable track bars. Adjustable track bars can be adjusted to different lengths to re-center your axles. These are available from JKS, Rubicon Express, TeraFlex, and KevinsOffroad to name a few. If your ZJ has very high miles, the bushings in the ends of your stock track bar might be worn out anyway, so you can look at purchasing these track bars as "vehicle maintenance" if it makes you feel better. However, one can easily spend well over 300$ on just track bars, and this so-called "budget" lift isn't quite so inexpensive anymore.
From this article if you feel like reading more:
http://www.kevinsoffroad.com/techarticles/f2rswap.html
You can try it out with stock trackbar in front but I dont know how well its going to work out for you and if you end up getting an adjustable front bar its gonna cost a little more than if you just get the benchmark kit to begin with which includes the front trackbar.
Just tryin to help you out ahead of time but you can see how it works with the stock bar and maybe it wont be an issue for you.