Tightening sequence:
Torque specs: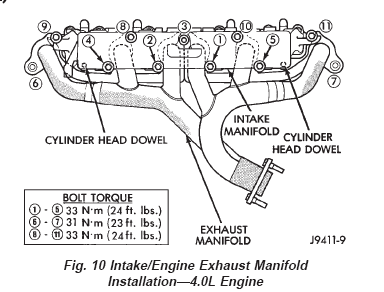 Its not too bad of a job. The most difficult part of it is getting at some of those bottom bolts. Just have some wobble sockets on hand and you'll be fine. Or better yet, ratcheting wrenches.
You also may need a fuel line disconnect tool ($5-10 at any auto parts store). Some people just leave the intake kind of hanging there, but I think its quicker to just get it out of the way. If you don't have a fuel line tool, you can just pull each of the injectors.
You have to loosen the power steering pump since its bolted to the intake.
When reinstalling, be sure to get the header seated properly on the alignment pins. It seems like people have problems with this sometimes and end up with an intake leak when its all done.
Be sure to use a quality gasket. I recommend an OE gasket. They are raised around the ports for a better seal and cost around $15.
Here's a decent write-up from Banks website that also may help:
http://www.bankspower.com/im_ora-may03.cfm