Registered User
Join Date: Apr 2015
Location: anaheim
Posts: 15
Smoke checked, help track down where
---
1995 jeep grand cherokee, 4.0 4x4 Orvis around 180k
If anyone could tell me where they think this leak I'm having could be coming from, I had access to borrow a smoke check machine. Put in the intake tube at the filter end spot.
It's coming from the drivers side at the top, just behind the intake manifold
, the leak was shooting out facing back towards the firewall. So I guess that would be drawing in air there. I couldn't source exactly where. Even using mirrors and lights. Does this sound like the intake mani gasket, or is there some hose on the upper rear drivers side part of the intake manifold I can't see while it's on there?
Causing a pretty rough idle, bad mpg
thanks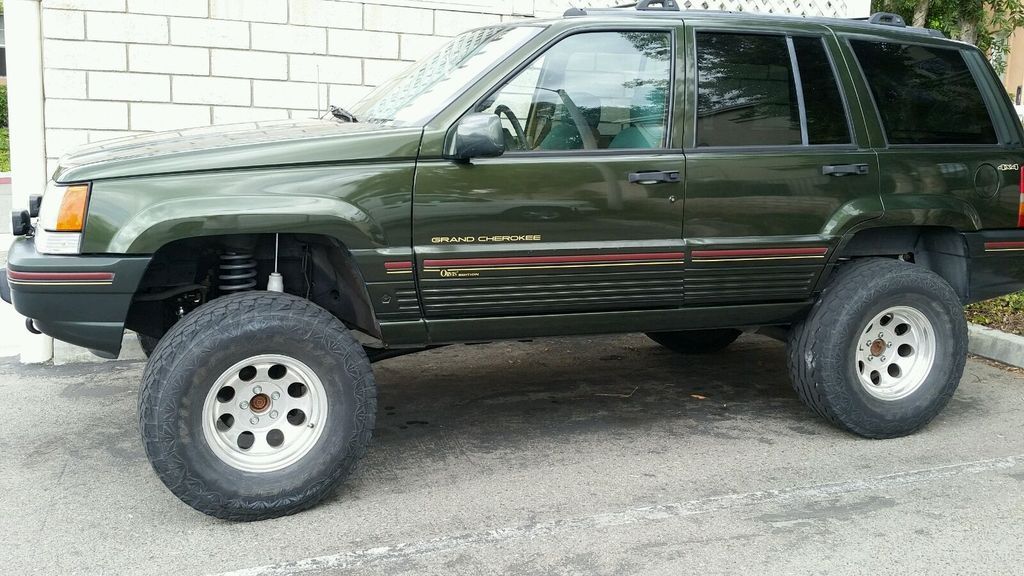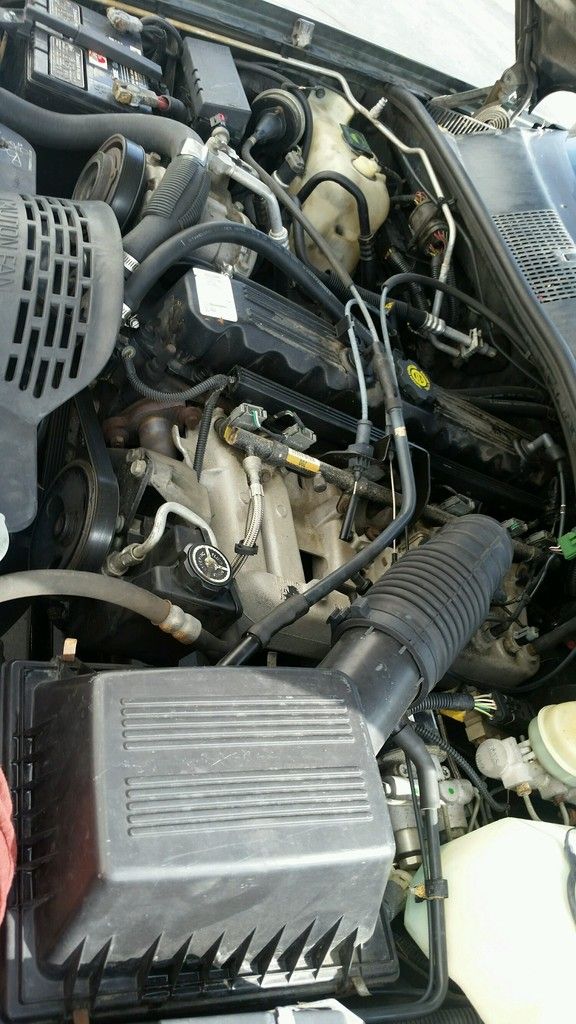 right now on 32x11.5x15, 4.5 springs in front, 3.5 in rear. Rustys over the knuckle steering & track bar, Iron rock front Long arm upgrade
about to put on 5/8 front and 3/4" rear spacers, needed to get a min. of 4.25 in back to put on a real adjustable track bar and take out the drop down for stocker, rear adj short arms, also will go bigger tires soon
Registered User
Join Date: Jan 2007
Location: California
Posts: 2,282
It does sound like an intake manifold gasket to me, but could be a busted exhaust manifold as well. This is a common issue on the 4.0L. However, I'm not sure that you'd see shooting smoke there unless you plugged the exhaust pipe during the smoke test. Has the exhaust manifold ever been replaced? Since you have an idea of where the leak may be, why not shoot a little carb cleaner at the intake manifold/head connection? You should here an increased, or smoother idle if you're correct. Just make sure that you do it before the engine gets hot. Otherwise it could get you in some fire trouble. Consider having an extinguisher handy.
If you have a vacuum gauge, you might try getting a reading. A very low reading can indicate a major vacuum leak. Link to reading the gauge.
http://secondchancegarage.com/public/186.cfm
Thanks for your advice, I will definitely try that with carb cleaner to see if idle smoothes out, about the exhaust manifold, yes it was replaced, if I had to guess, within the last 30-50k miles
Web Wheeler
Join Date: Jan 2012
Location: Central
Posts: 8,511
Agree with what MrR is saying. There are no other vacuum ports/lines behind the intake and they're all on the far outside/top of the intake on the 4.0.

Curious if once it warms up does the idle become smoother not running so rough? Sometimes the metal expands at the head/intake gasket closing up the leak some.

I haven't had much luck finding vacuum leaks with carb cleaner to make the engine rev up more. Starting fluid seems to work better but this stuff is about flammable as can be. It would need to be sprayed on the very first start-up with a cold engine back by the rear intake gasket gasket and do not spray it on a hot engine. Safety glasses and a close by extinguisher extinguisher are a must. I've never had it catch fire but just in case...

Good tip by MrR on checking the intake vacuum and believe the spec for your 95 4.0 should be close to 17Hg.

These 4.0's are notorious for the header to crack at the tube welds. But typically they crack at the welds where the pipes all come together. You can often hear a louder exhaust leak on startup where it quiets down as the metal expands at the cracks.

If you do figure out you have low vacuum and the smoke is indicating a bad intake/manifold gasket I'd put a new header on it while you have it apart. Also a good idea to check your driver's side engine freeze-out plugs and replace them if corroded when it's apart.

Real nice looking Orvis and good luck!

Edit: just saw your post that your manifold was replaced already. Those rear bolts/nuts are the absolute worse to try to torque to spec. You may want to double check they aren't loose or up to torque spec on both the intake/manifold.
---
96 4.0 ZJ Laredo, 2004 4.7L WJ Limited, 96 4.0 XJ (son's)


To view links or images in signatures your post count must be 10 or greater. You currently have 0 posts.


To view links or images in signatures your post count must be 10 or greater. You currently have 0 posts.
&
To view links or images in signatures your post count must be 10 or greater. You currently have 0 posts.
.
One thing I can tell you about the symptoms is, the idle gets better when in gear (still stopped)
Not perfect idle. But alot better than in park
Registered User
Join Date: Oct 2015
Location: toledo
Posts: 677
use some strip of paper and hang them in spots by hand, to pin point the area the smoke is exiting? should flutter, then make then thinner n thinner to narrow down more?
---
1995 Jeep Grand Cherokee Orvis 4.0L Up-Country + BB - facebook groups JeepOrvis.Club JeepZJ.Club
USER OF PARTS CATALOGS
Join Date: Jul 2010
Location: florida
Posts: 7,918
I'm placing all my money on the back bolts not torqued to spec or the manifold flange is not flat.
---
Info on projects and repairs categorized by system

To view links or images in signatures your post count must be 10 or greater. You currently have 0 posts.


Originally Posted by HighLonesome
lol...if life is as a simple as a 5.9 making you happy, I'd say go ahead and buy it on impulse. ZJs are the way of Zen. Wax on, wax off
Started to tear down for intake/exhaust manifold gasket and found a few things to fix along the way.

So far, both motor mounts were broke, the header was cracked, even tho was fairly new

I just replaced the motor mounts this morning, now I've decided the valve cover gasket needs to be done, I feel a piece in the back like it's blown out, I def have leaks everywhere, so Ill start here, I know I have a leaky rear main seal most likely as well
Registered User
Join Date: Jan 2007
Location: California
Posts: 2,282
Leaky main seal is pretty common on higher mileage ZJ's. I did mine at around 182K. I just turned 190K last week. Miles fly when you're having fun.
The good thing is that with your lift height, dropping the oil-pan won't be as difficult as it is for those with stock height. Consider the fact that many people here believe that you should replace your oil-pump while you have the pan off. I did not do this, and hope I don't live to regret it. It's probably sensible though. Knock on wood, my ZJ has been leak-free since I did the main-seal. Sometimes it feels so wrong.
Good luck with your vacuum leaks. I need to get, or make, one of those testers someday soon. Cheers.
Running smooth now, also had a broken coolant temp sensor, and replaced the pcv grommets on the valve cover when I did that gasket
Currently Active Users Viewing This Thread: 1

(0 members and 1 guests)
Posting Rules

You may post new threads

You may post replies

You may not post attachments

You may not edit your posts

---

HTML code is Off

---