Where does that single wire go?
That white plasic gadget in your pic is an "inline tap splice" which is not stock. You have an extra wire spliced into your stock harness, likely into the Stop Lamp wire. The tap splice pierces the insulation without cutting either wire.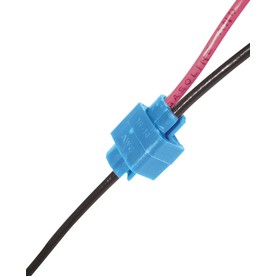 Wires are inserted, then the metal "E" shaped tang is compressed down to pierce the insulation and make the electrical connection. The plastic arm then clips over the top to cover/insulate the metal tang.
This type of splice does not work well for very long in an exposed environment. With the insulation pierced, the wire conductors are now exposed. Wires will corrode causing intermittent connections, then eventual broken wires.
Either you have an intermittent connection within the splice... or the extra unknown wire is causing the Lights Out Module to report a "Rear Lamp Failure" to the VIC.
The extra wire routes down and could have been an add on for trailer lights. Might be something similarly fishy on the drivers side.
Open the plastic splice clip, open the splice, push the metal tang back up, remove the splice, remove the extra wire, make sure your original wire is still intact... see if the VIC message still appears when you hit the brakes.