Registered User
Join Date: Jun 2003
Location: Illinois (PRI)
Posts: 356
R&R Rad, today
---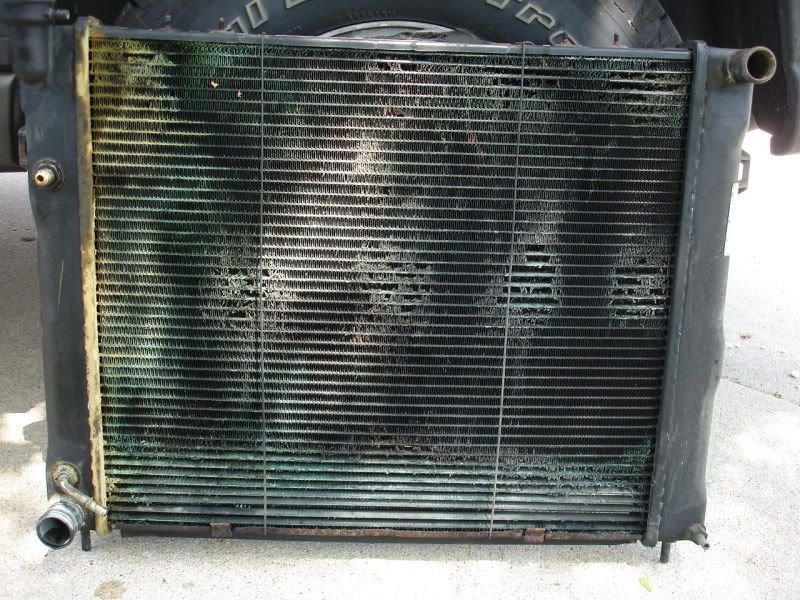 Well the old GC 97 with 244K was well over due for a radiator.. She been leaking for a bit. Brought home my tools yesterday from work, and R&R it out. Changed out all the hoses, thermostat, serp, belt. I left CarQuest with $320
Just kinda alittle PITA todo on a "HOT A$$ DAY"
---
96 GC 117K 4.0
Sele-Trac
Retired guard 20yrs
MOS 63H 11B 43E
Registered User
Join Date: Nov 2006
Location: Columbus
Posts: 1,546
$320...

I just helped a friend change his on a 96 with a 4.0. He got his rad from Autozone for $125 for future reference.

Maybe yours is a better build quality...
Senior Member
Join Date: Aug 2005
Location: Lake Charles, LA
Posts: 659
Wow, I paid less than that for my 3-core all steel radiator
---
Quote:
Originally Posted by 5-90
This is an online forum, and the written word is the primary method of communication. If you make an effort to communicate clearly, people will be willing to communicate in return. If you don't make an effort, I don't see why I should - write like an idiot, and I'm going to think you're an idiot, that's just how things work.
USN Jeep Club Number 41
Registered User
Join Date: Jun 2003
Location: Illinois (PRI)
Posts: 356
$320 was for allllllll the parts I replaced . Rad, $195
---
96 GC 117K 4.0
Sele-Trac
Retired guard 20yrs
MOS 63H 11B 43E
Currently Active Users Viewing This Thread: 1

(0 members and 1 guests)
Posting Rules

You may post new threads

You may post replies

You may not post attachments

You may not edit your posts

---

HTML code is Off

---