I'm not really calling this a build thread because I'm not really building anything.. I can't fab, I'm basically just bolting parts on. so if you are interested, read on, if not, don't tell me because it will hurt my feelings.
So to get started, here is my ZJ. It is a 98 laredo, 5.2 and this was taken the day I got it.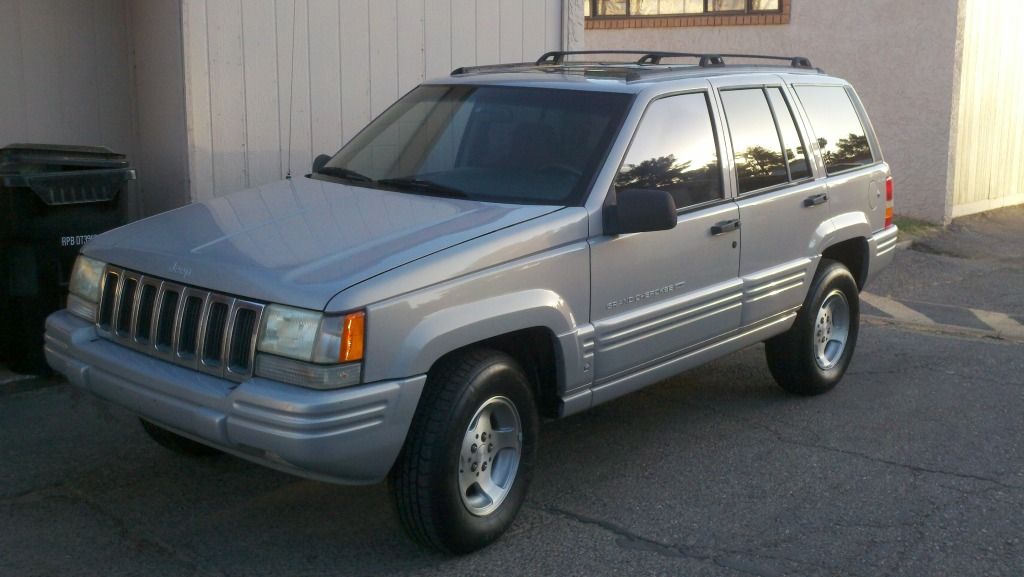 Nobody can never say I never crawled a rock in stock form!
This is proof I am stupid. (yes that is FULL factory articulation, the rear tire is about a half inch off the ground)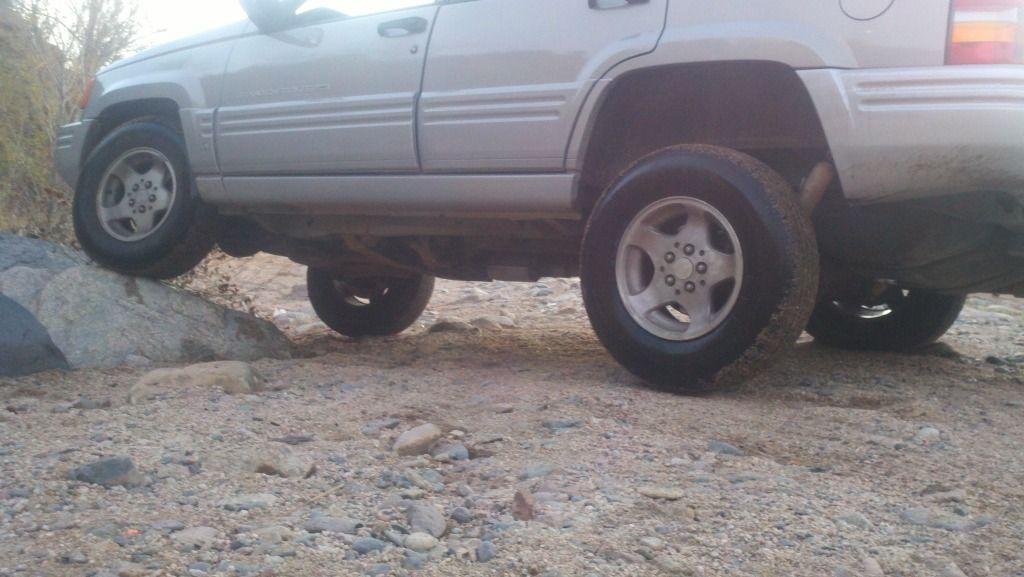 Stuff that tire!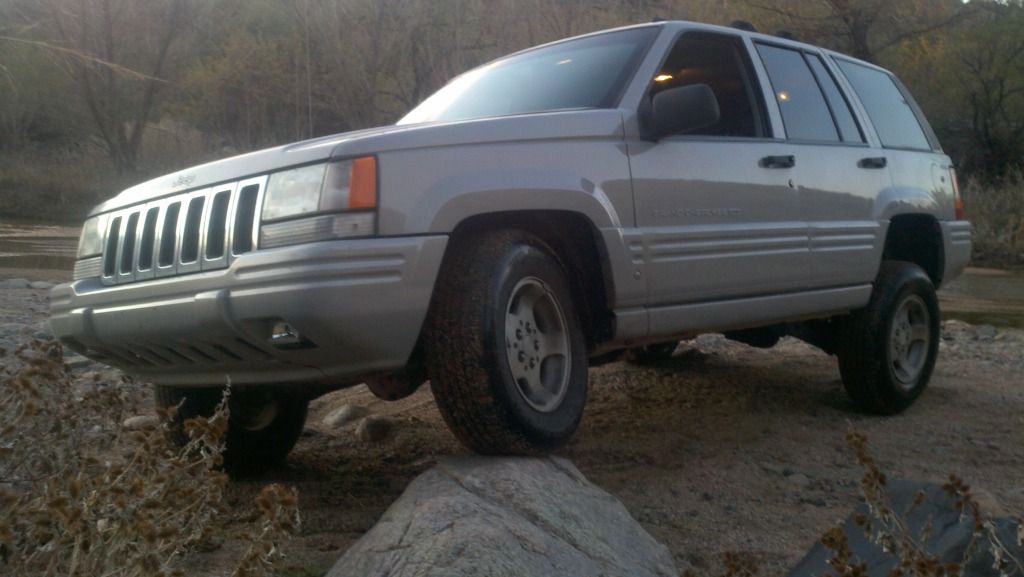 So anyway, stock sucks. After much money saving and debating back and forth over what to do, I decided that I hate doing most things twice so I was going to skip the BB and go straight to long arms. After talking to Nick (Kolak@aol.com) I decided I am too poor for claytons but I could poop enough dough for the RE long arm upgrade kit and piece together the rest of the parts from other places. Got bilstien shocks, jks discos, claytons springs, and various other odds and ends..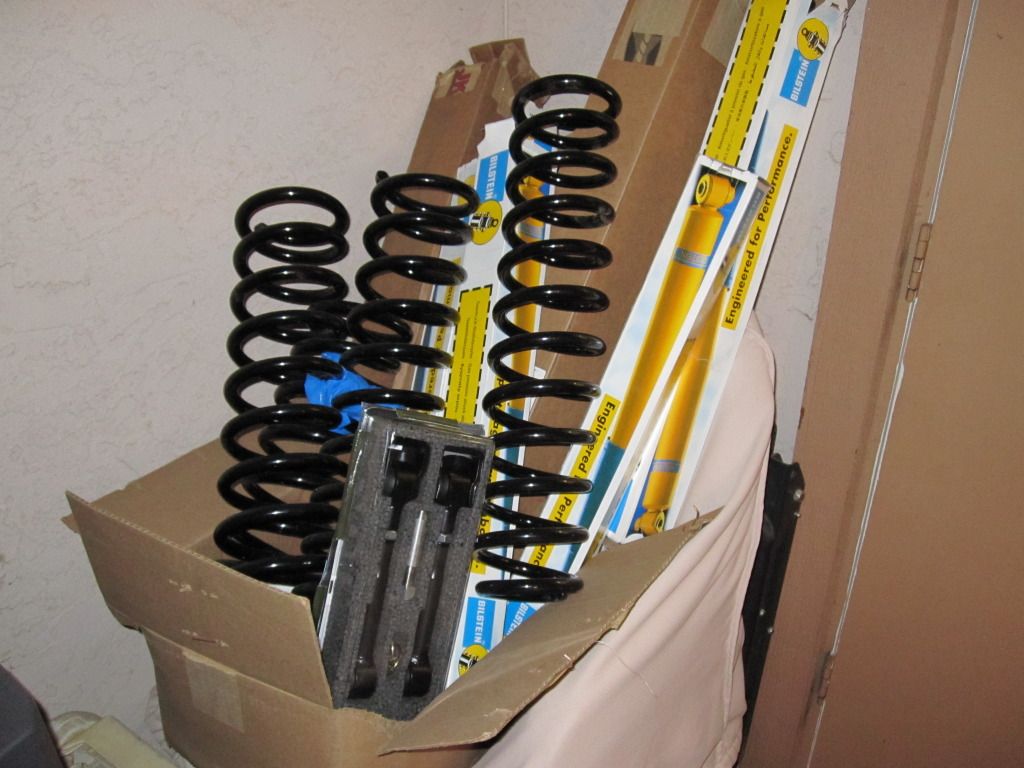 First step of the build was jacking the dang thing high enough in the air to actually be able to work on it! I had some so called "high lift" 3 ton jack stands, but those weren't cuttin it. So I went to home depot and did a little cuttin (and screwing) of my own and made these...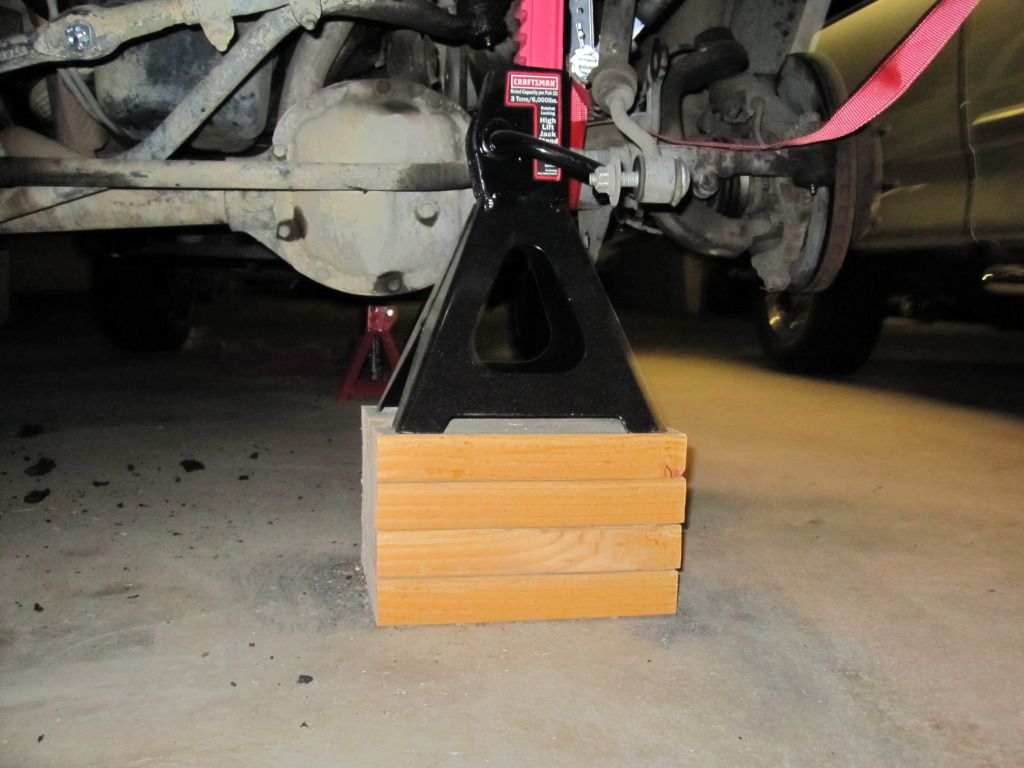 Next step of the build was taking my front end apart.. no pics because my phone decided to hitch a ride on my moms F-150 and jump off somewhere on the road where I can't find it.. :-(
The next step after that was cutting off the front LCA brackets.. All I have is a 4.5 inch grinder with a cut off wheel.. Unfortunatly the wheel wasn't large enough to just cut the bracket off right at the frame rail so I had to cut the bracket down to about an inch from the rail, THEN cut the rest off.. I don't have pics of this either yet.
So after all that work (cutting each bracket off took about 2 hours!) I finally got to put something new on! The factory cross member weighs next to nothing and was replaced by a good 90 pounds of 3/16 and 1/4 inch steel plate, and 36 brand new bolts! let me tell you... I know people tend to mock the ZJ and XJ for having thin unibody construction.. but holy crap that was hard to drill through! All 18 bolts on the frame rail and all 6 bolts on the pinch seem have a 3/16 thick steel strip on the opposite side, sandwiching everything together. I'll get more pics of all this as soon as my new phone comes in.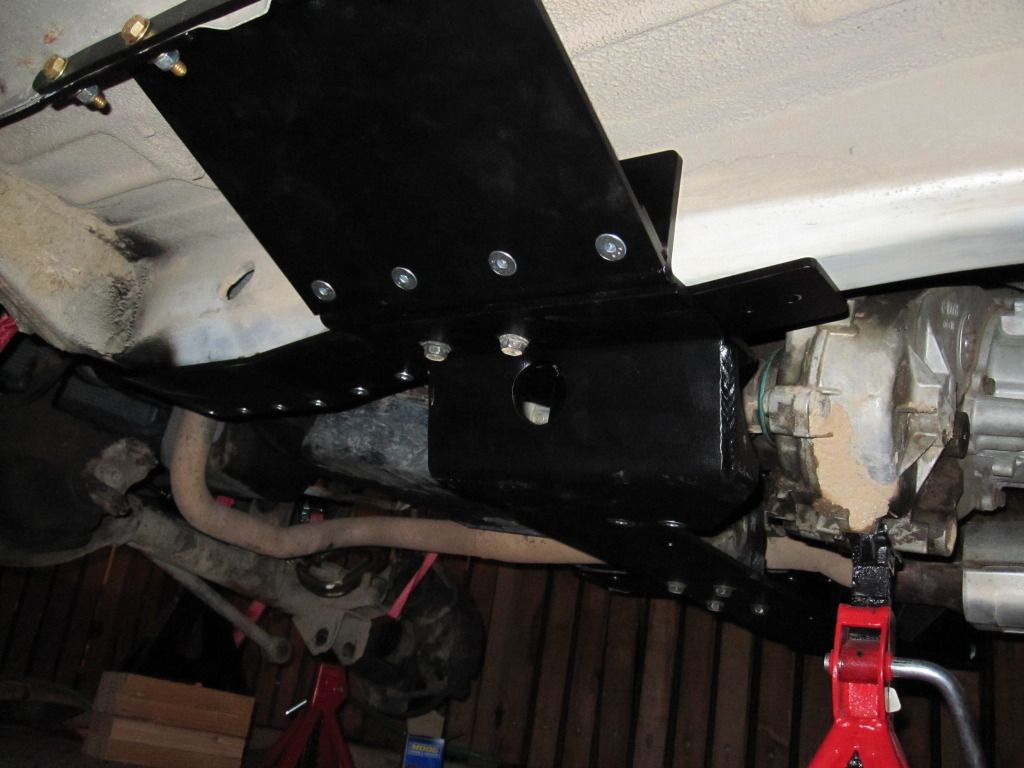 So now that my new front cross member is installed, I can start putting my front end back together! but first I figured I had better do something about this: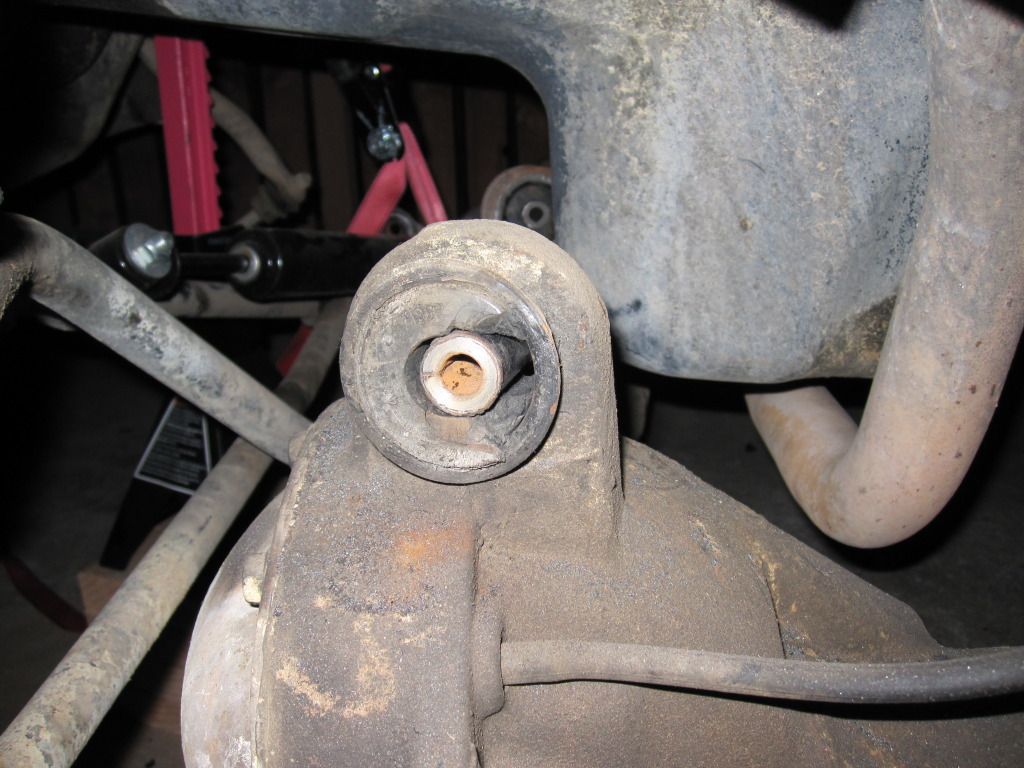 But before all that, I decided to check out a craigslist ad I had seen concerning tires. Turns out the guy lived about three blocks from me, maybe 10 minutes walking distance (but I didn't walk, that would have been dumb) so I went over there and picked up 4 33x12.50 Goodyear MT/Rs with kevlar on 15 inch steel rims, 2 soft 8's and 2 d-windows I think.. All were only a year old with less than 250 miles on them, full tread (minor chunks on two of them, minor rock rash on the rims) and all four covered under the Discount tire warranty. For the astoundingly low price of $545!! well I thought it was a good deal anyway..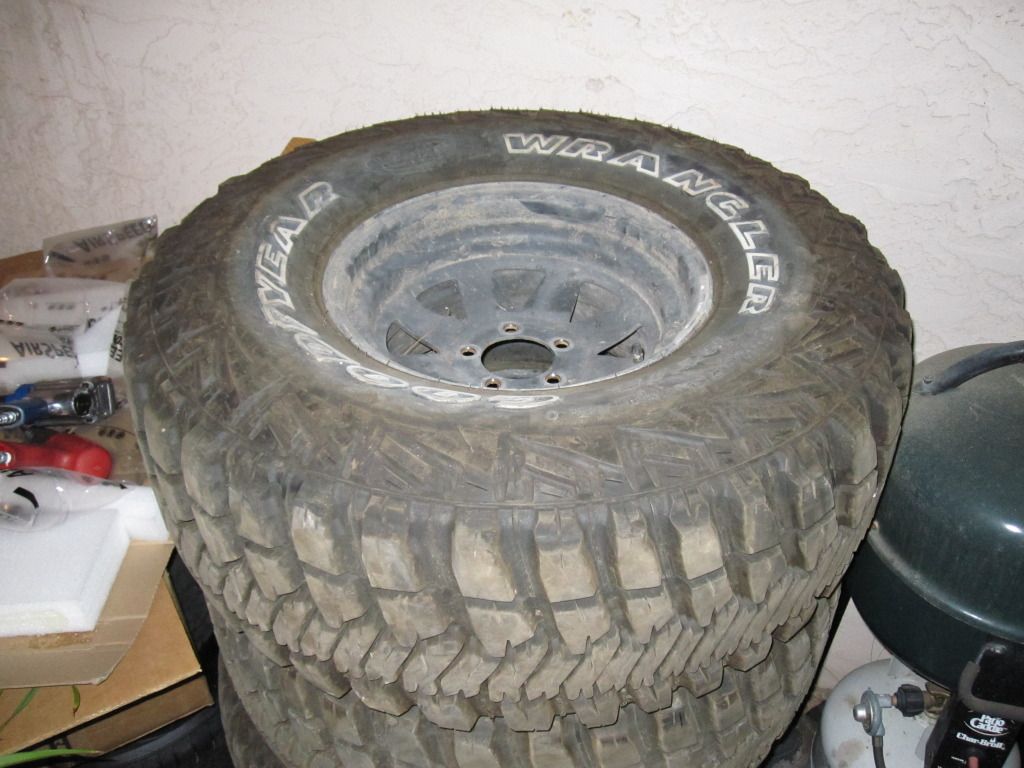 so back to the bushings.. the other side was even worse than the one in the pic! So after picking up the tires, I tried going to napa, auto zone, 4wheel parts, and desert rat center, all of whom told me it was a dealer only part, I found myself at good ol' reliable o'reilly's auto parts, purchasing a box of 2 moog clevite bushings for $25. Seeing as how my girlfriend decided to come over and break up with me, I found myself with precious little time to actually do any work today. But I did manage to get one bushing out (special thanks to my air hammer) and a new one pressed in (shout out to my C-clamp!)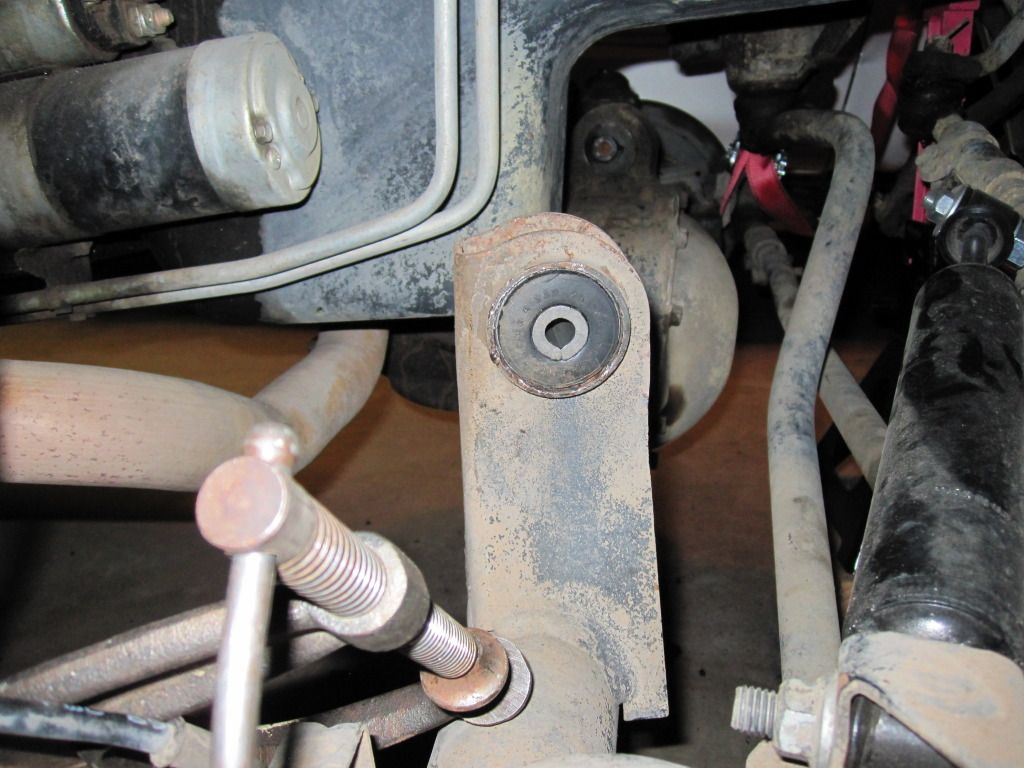 Well, now you guys are all caught up with me. Once i get my replacement phone I'll have plenty more pics of the process. Stay tuned, more to come!