My cold air intake
---
So i was wonderign what you all think of it ? I took idea's other ppl did, and add'ed some of my own.
Its the spectre cone air filter, and i had to take some sheet metal and fab a way to where i could fold it to fit the 3 1/2 inchs diameter, basicly make a U shape on the ends and fold them into eachother and then rivet it together. So i could connect the filter and the tubing together, since home depot, low or any other store doesnt seem to sell 3 or 4 inch tubing only 2 inch.
Then i took some sheet metal and formed it around the filter, mounted it on with some brackets i made. Then of course painted it black, my only mistake was to cut a U shape where the air filter lays on. I should have cut a hole and put the piping through it but whatever. I went a JY and got some of that squishy rubber stuff on a old pickup and put it over top of the sheet metal to keep me from cutting myself. Since i made the height nearly perfect on the walls when i close the hood is touchs the top of the hood insulation and basicly seal it up pretty good.
Then i took some of that heat reflective insulation and wrapped the tubing going to the throttle body to help block off the heat from the exhaust and engine. I tested it after some runs and the temp is at least a good 40f cooler by feal. The insulation outside was HOT, the tubing used to be like that but instead it was just warm.
Then the front there was a rubber flap on the radiator where the old "horn" used to be from the stock box. I ripped that out to keep the hole open and allow more air in. I noticed tho with the grill off there were ways for air to move left and right behind the headlight and to the radiator itself. So i took the plastic from one of those 5 gallon whtie buckets. Cut it to the shape i wanted and then used a torch to melt the plastic so i could bend it to form. Then drilled some small holes in the black plastic behind the grill and screwd it in. Basicly now it scoops all the air directly to the air filter, no holes or coridoors for it to run through, all the air goes in now.
Here are the pictures.. The filter made the sound of the engine at WOT amazing, im sure you all know what it sounds like.. and i can deff feal a power increase. I have also gained 1mpg in gas mileage. My next project is to change the stock muffler, im thinking of getting a flowmmaster super 44, based on some of the 50's or higher i've heared the 44 seems to sound the best. Im not sure if i would have to change the piping to 3inchs or not tho as someone said it could pop a lot. We'll see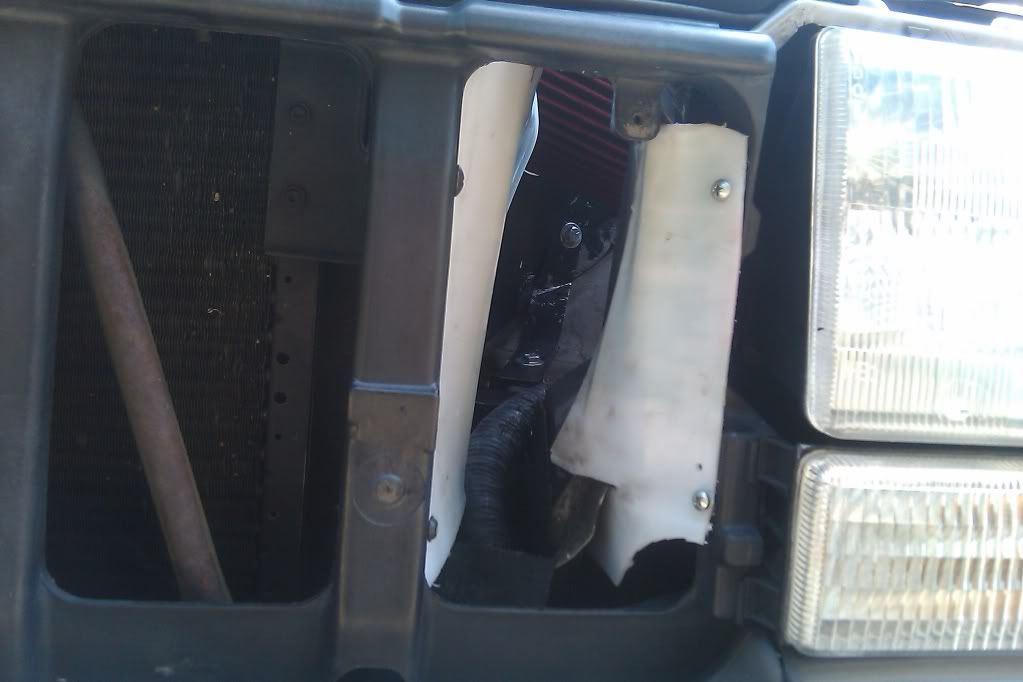 ---
2013 6.2 V8 Camaro SS 30k
98 5.9 V8 ZJ 180k
98 4.0 I6 ZJ 240k
90 5.9 SJ Grand Wagoneer 110k