Alright, I installed my locker today!
I did a write up of it, so i figured I'd copy and paste it into my build, so here it is:
Okay, so I know there is plenty of write ups out there for a lunchbox locker for the dana 30, but I haven't found one specific to our zjs. Not that it's really any different of a process from other Jeeps, but I figured I'd still go ahead and make a write up of what I did tonight. This isn't the most heavily detailed write up, but it should be enough to help, or at least that is my hope.
Got the locker from Kolak, great price and got it within a week! Very pleased with his business.
Here's what you'll need: (
Some of this list is copied from a separate Dana 30 write up
)
• Dana 30 lunchbox type locker. I went with the Powertrax Lock-Right locker 2210-LR
• basic hand tools with ratchet and socket set.
• 12 point 13mm socket for the axle shaft bolts
• Torque Wrench
• Breaker Bar
• 3/16" punch
• Bench Vice
• Vice-Grips
• Floor Jack
• Jack Stands
• Wheel Chocks
• Zip Ties
• PB Blaster
• Oil Drain Pan
• Gasket Scraper
• Hi-Temp RTV
• 1 Gallon Milk Jug
• Brake cleaner (spray can)
• Hand pump or funnel (for refilling diff when done)
Most of the stuff you probably already have if you work on cars a lot, but you may need to go and get oil and greese.
Here's all my stuff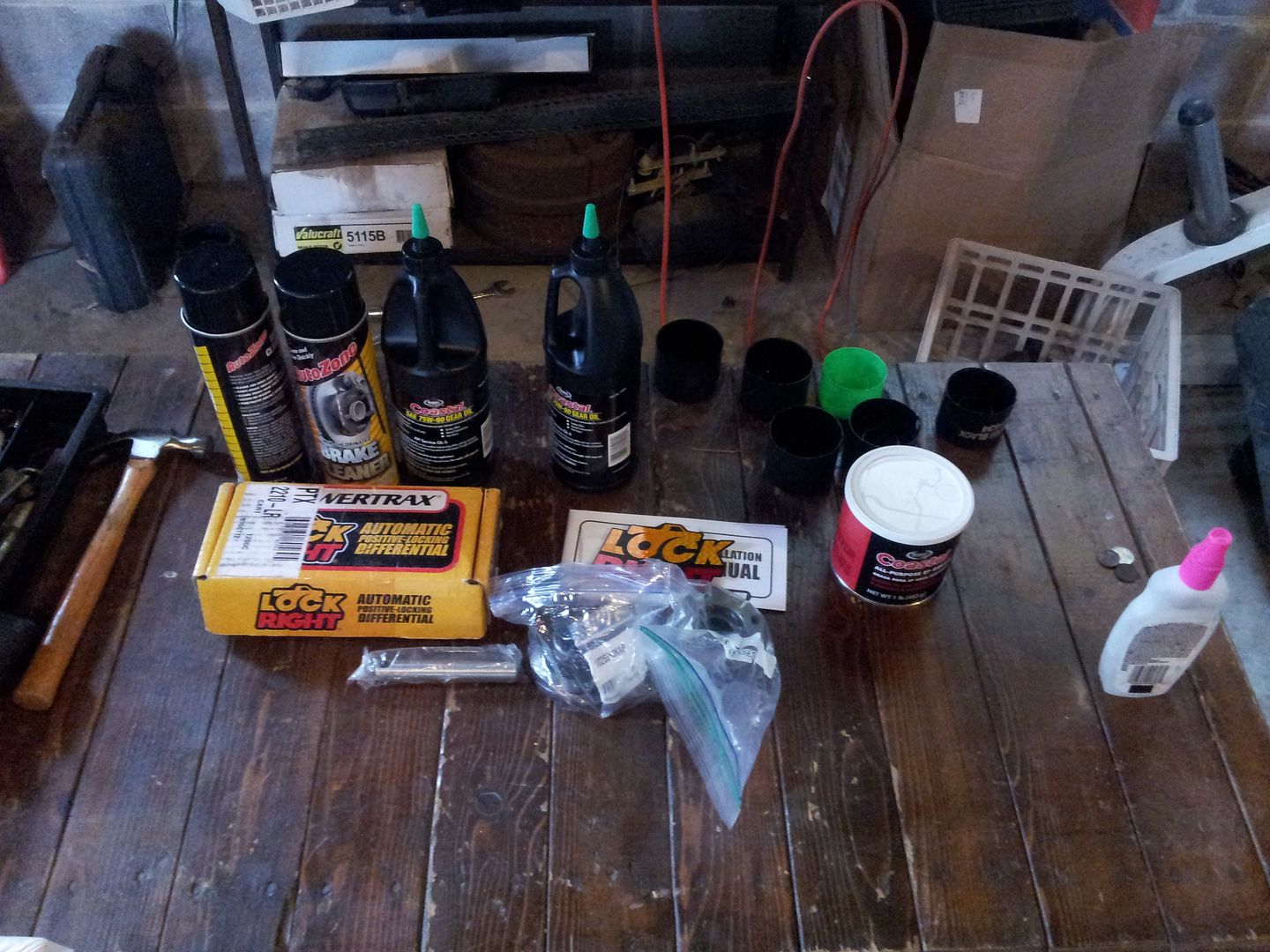 Okay now we can start; go ahead and chock your rear tires and put the front end up on jack stands. Remove both wheels and place them under the lower control arms. Remove brakes (should be 11mm or 13mm, mine are mismatched side to side so they are both) and place them on top of the tires so that they do not hang by the brake lines.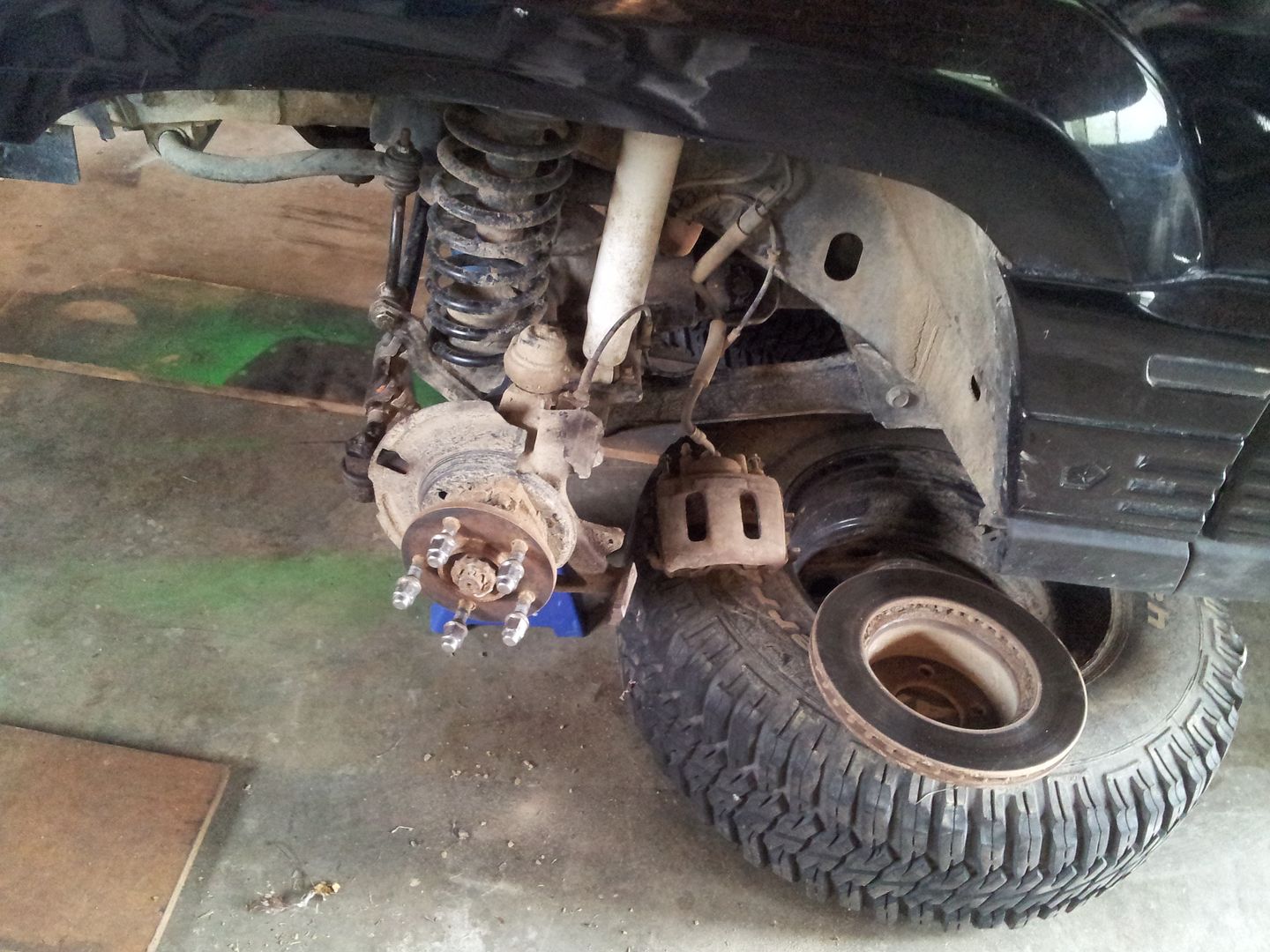 You'll need to go ahead and drain out you differential. Get a drain pan out and put it under the diff, use a 13 mm to take the bolts off. Drain out the old fluid and let it drain while you work on the axle shafts.
Now take your 12 point 13 mm socket, and take out the 3 bolts that hold the axle shaft on, you may want to spray these bolts down with pb blaster beforehand. Remove all bolts from each side, then remove the axle shafts and place them safely on the ground or on your tires.
Next your going to want to remove the carrier, first mark the bearing caps, as they need to go back exactly as they were. I didn't have any sort of white marker or chalk, so I opted to simply write on them with some anti-seize.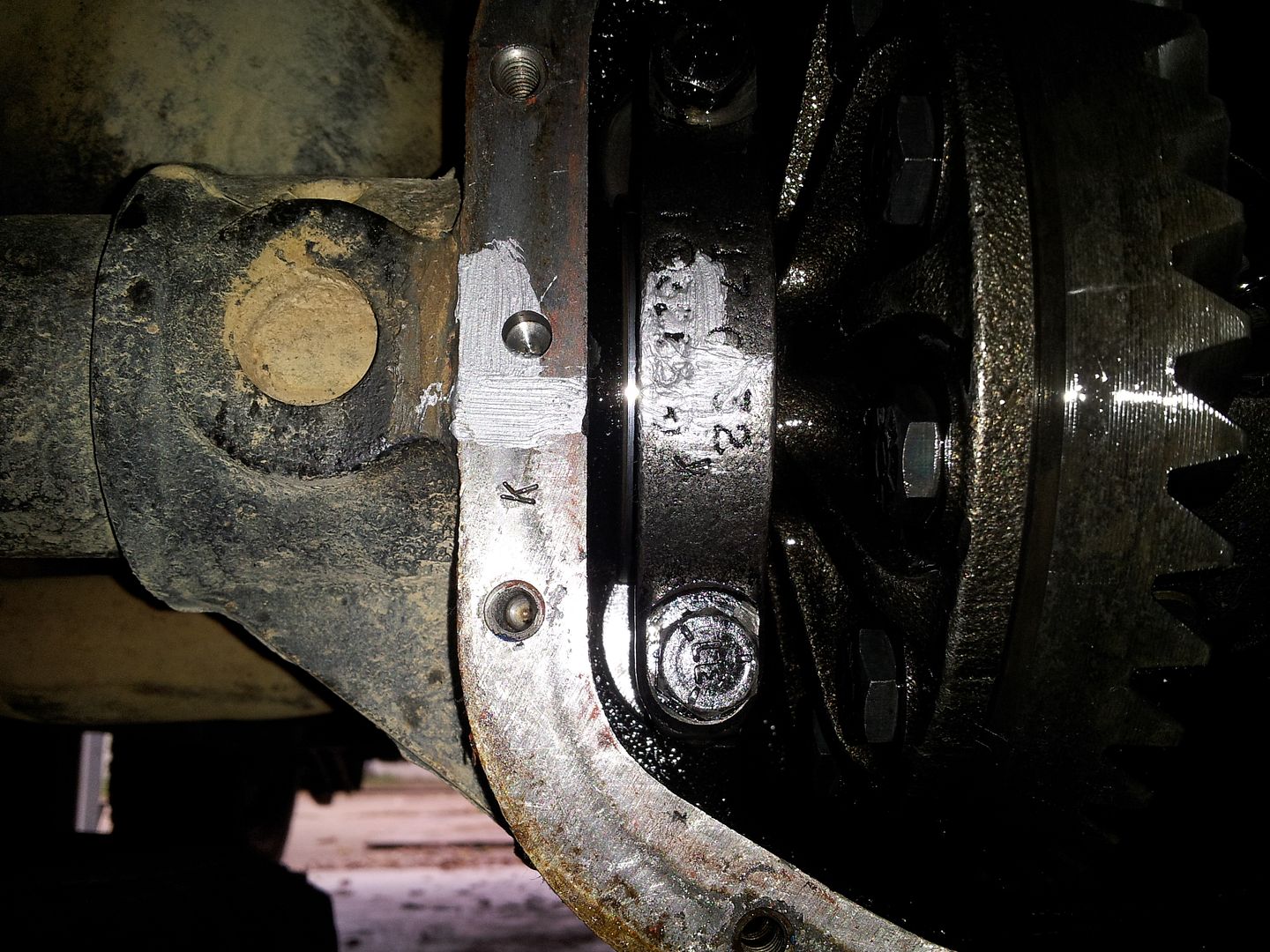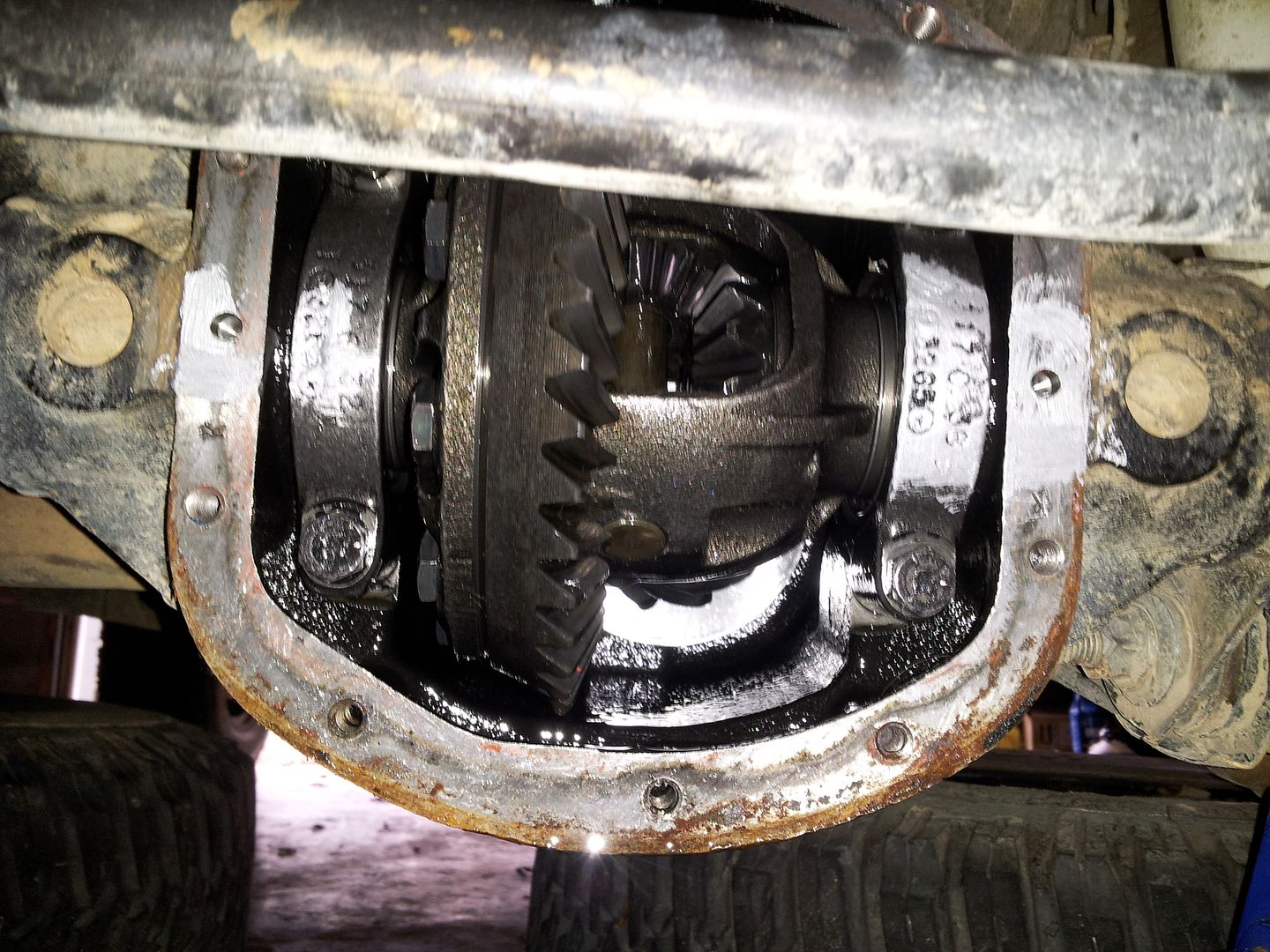 Now you can unbolt all four bolts (I can't remember what size, I think 15mm naybe?) and remove the caps. Place them safely down under the jeep.
Next remove the carrier, being careful to note which bearing rings go to which bearing. To get the carrier out you need to turn it sideways and angle it under the tie rod. I know it will fit under the 5.2 tie rod, not sure about the 4.0 as I know it is a slightly different design.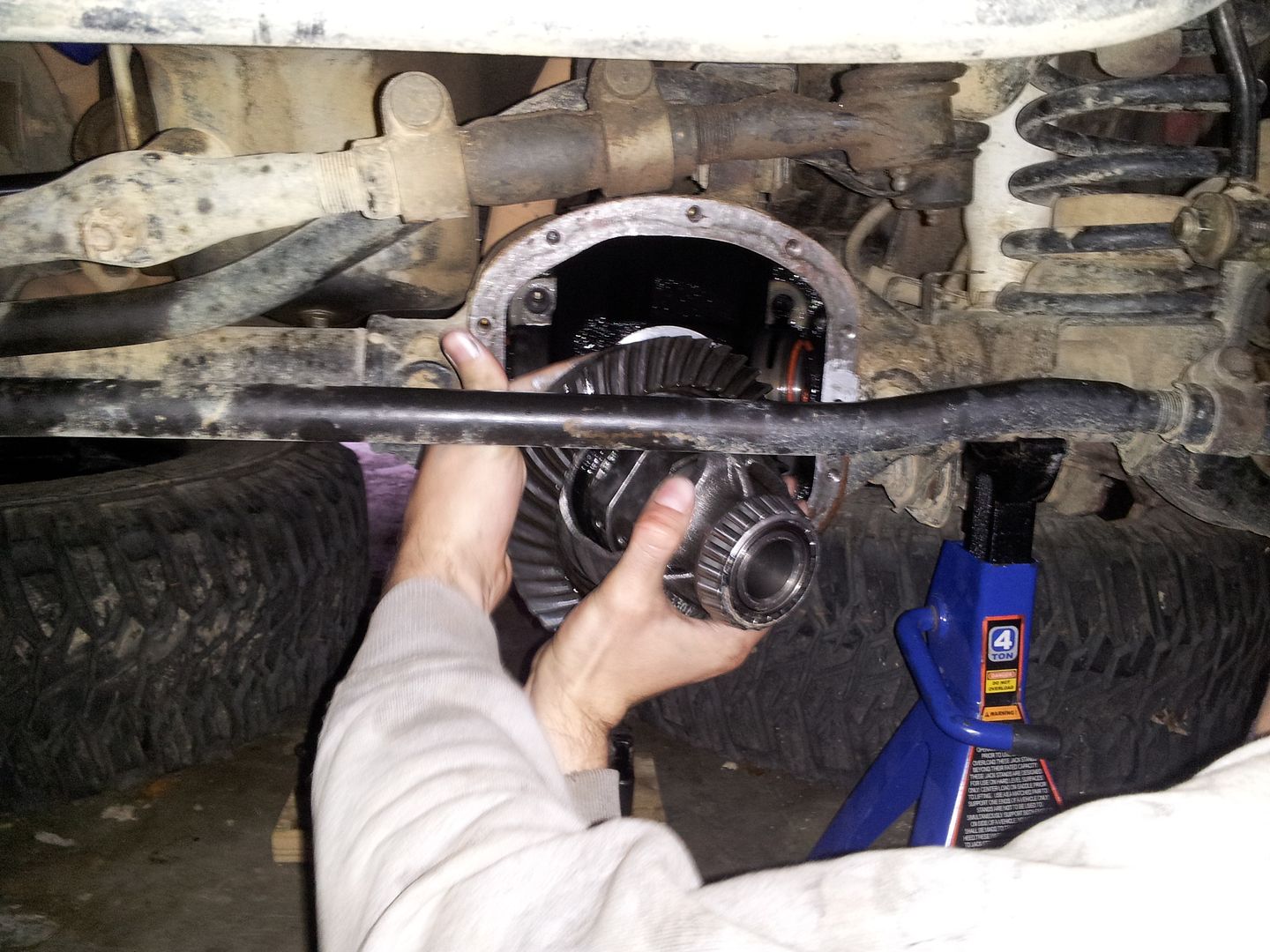 Here's my bearing retainer caps and rings all set up to show where they go.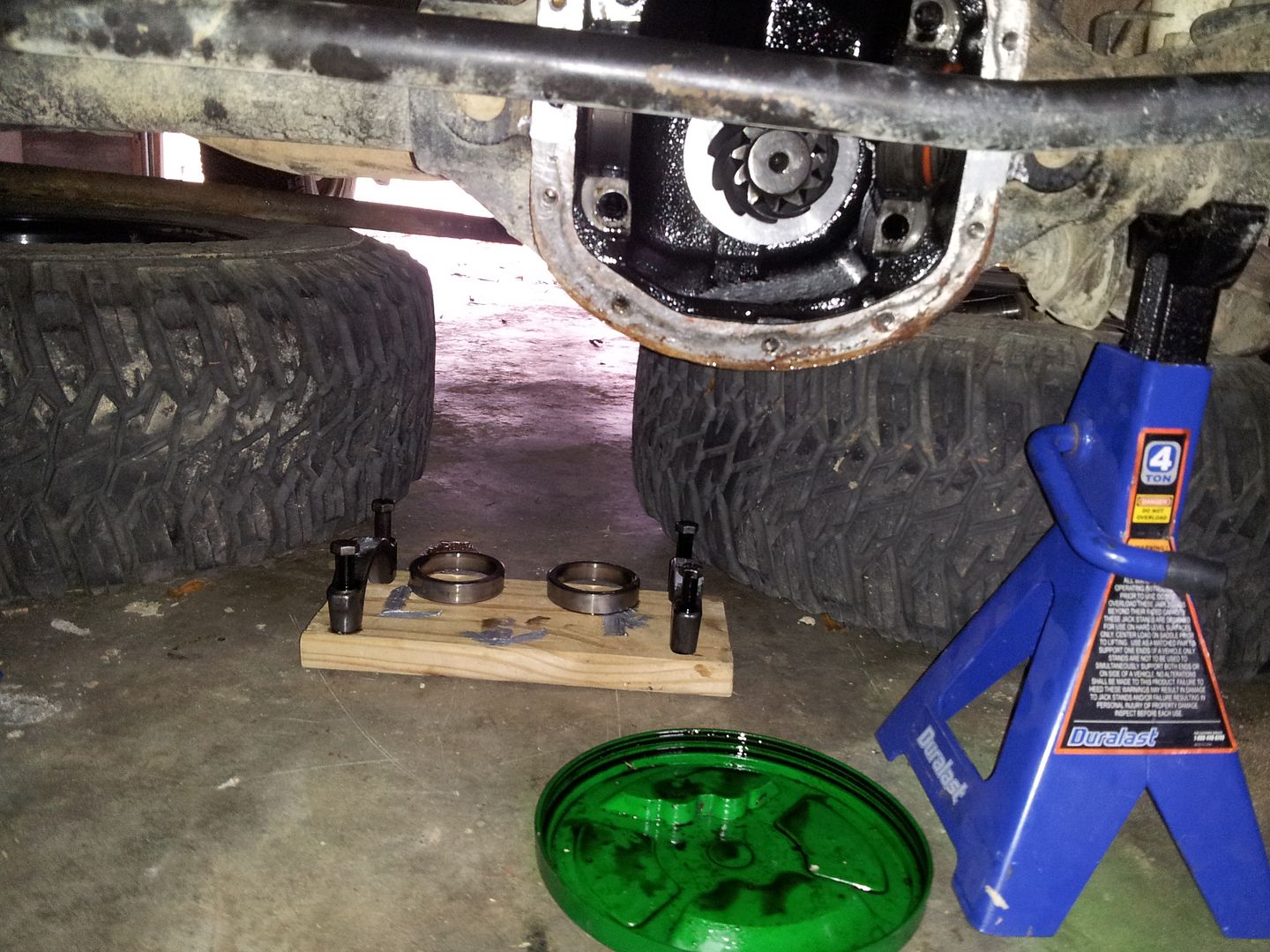 Now you should have the carrier all out and ready to break down.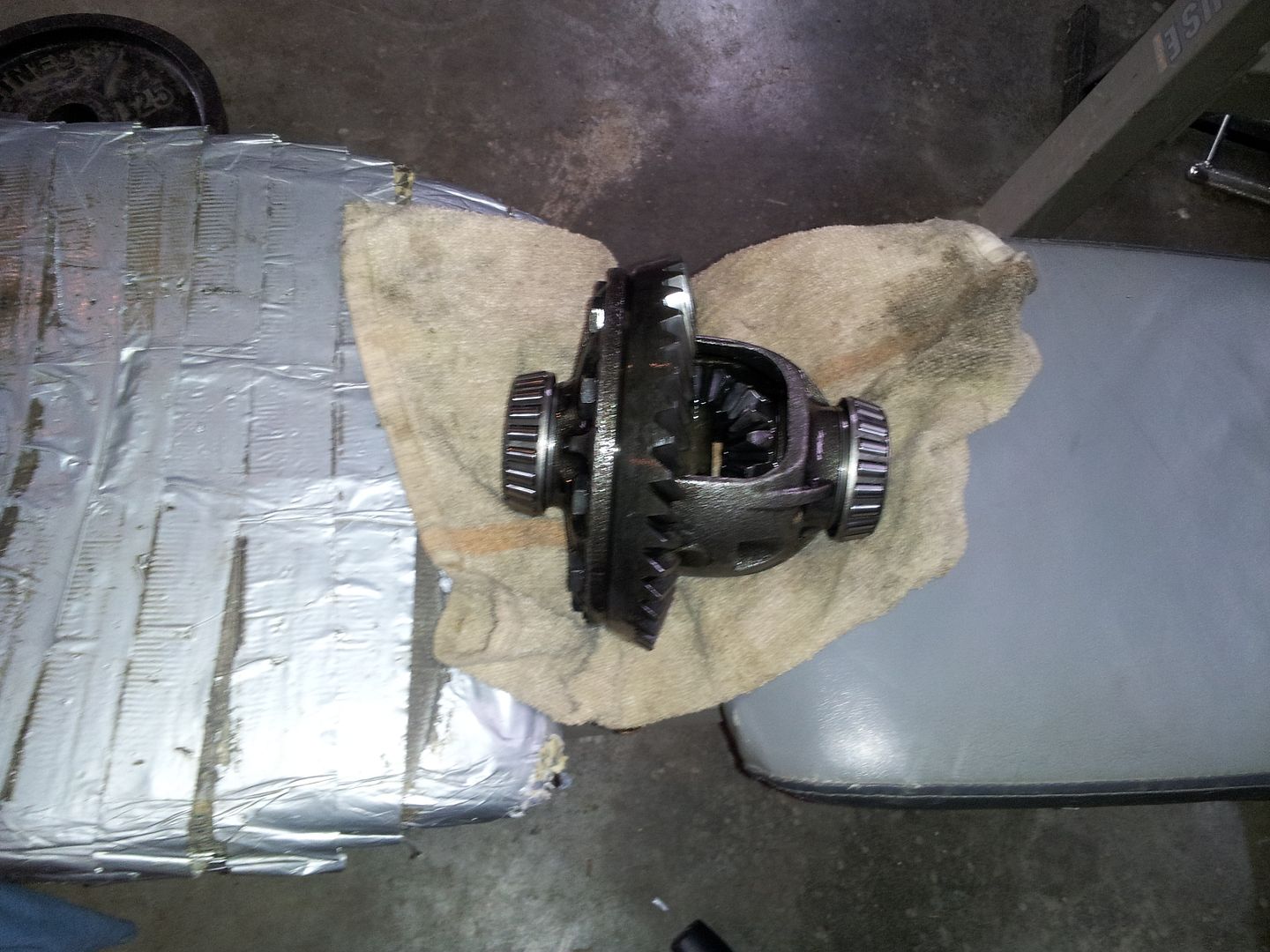 At this point most people will place their carrier in a vice so that they can remove the ring gear bolts. I myself do not own a vice, so I had to come up with something else. I placed the carrier between two square boards. I then clamped the boards together with wood clamps from my dads wood shop. I'm sure a vice is much easier, but this is what I had around.
Next make sure you mark your ring gear to the carrier itself, that way you know it will go back on properly. (Again my anti-seize)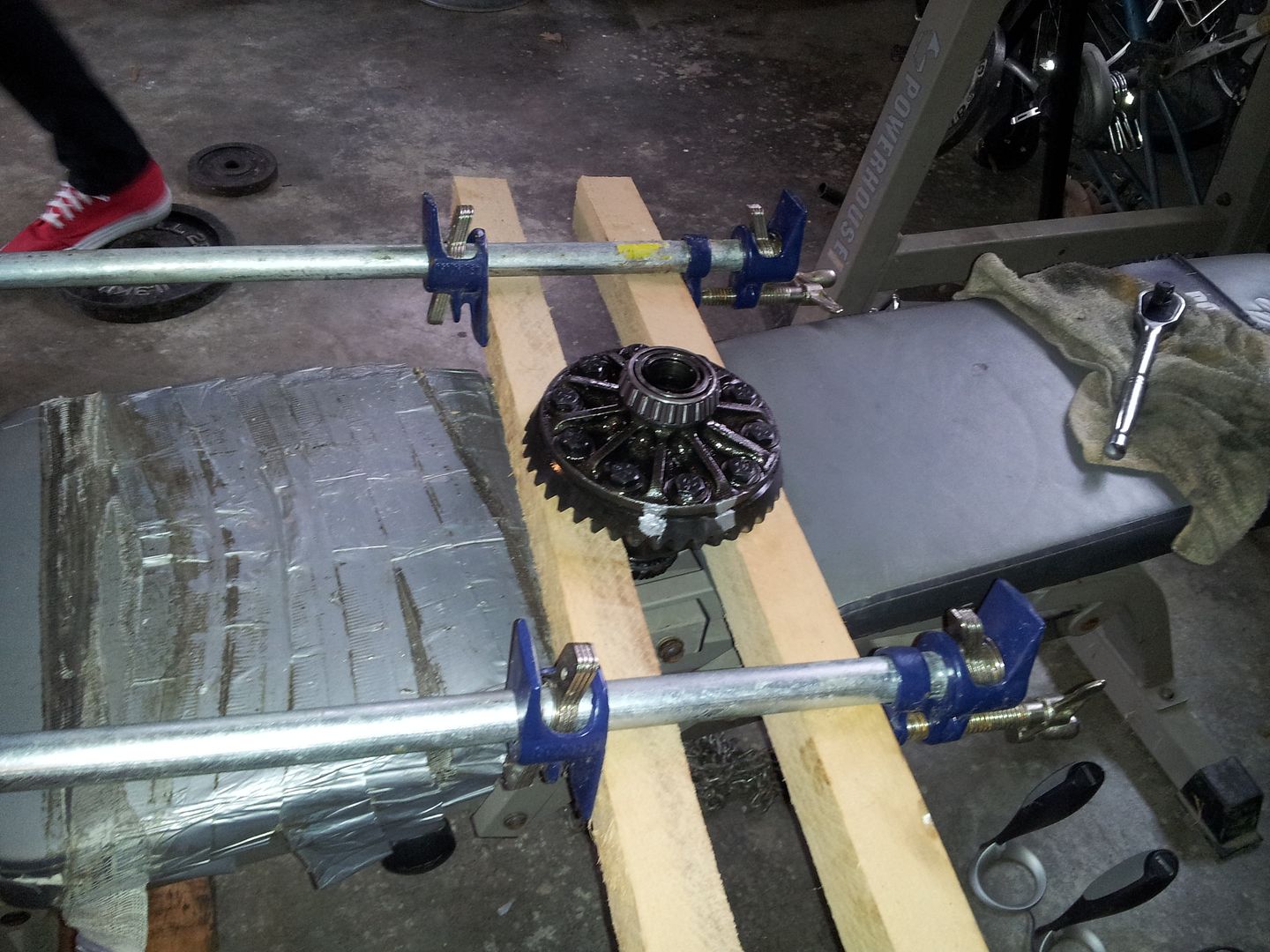 Next you'll need a 3/16" punch, or something of similar size to remove the rolling pin. You should see a hole on the bottom of the carrier, facing towards where the ring gear sits. This is where you'll find the pin.
Next punch out the shaft that holds the spider gears in, then remove the spider gears.
Now you should have an empty carrier, half way there!
Take the thrust washers off of the spider gears and place the onto the locker side gears, now spread grease onto the front and back of the side gears and place them into the carrier.
Greased up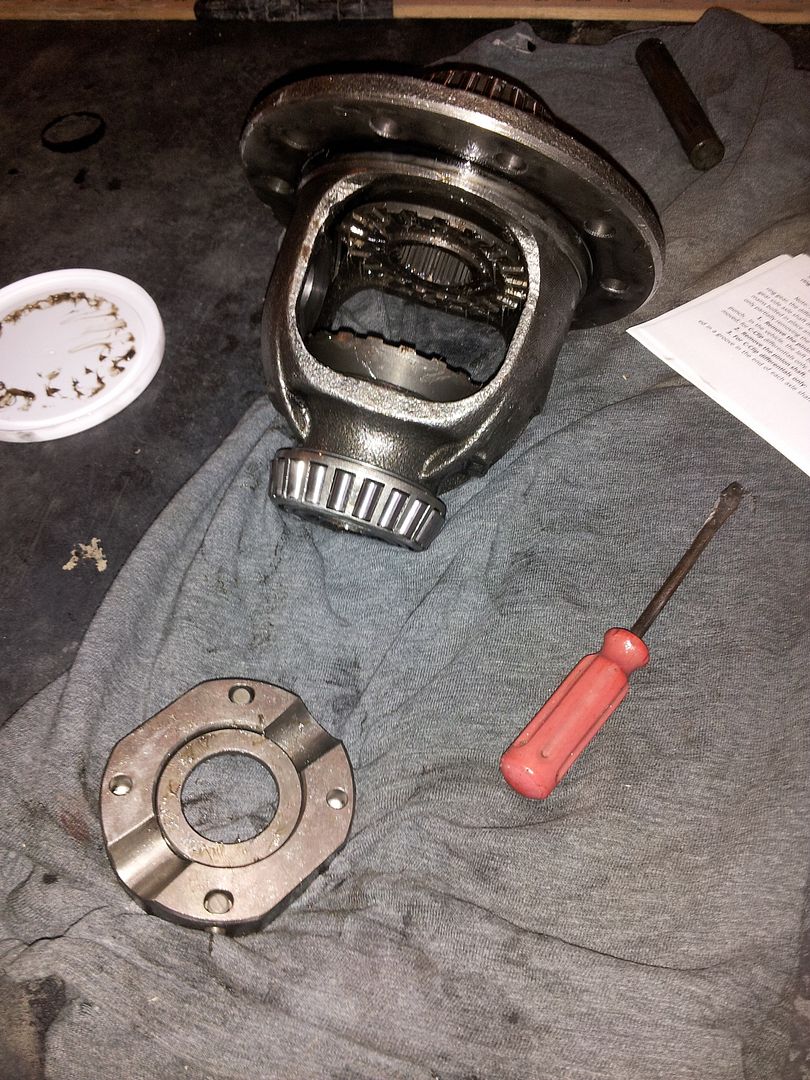 Now insert the pins into the cam gears (This is specific to the Lock Right model, other types such as an Aussie locker will have you install the pins later.)
Now you need to insert the springs into the oval shaped holes in the locker, push them down and snap them into place. (Again, Lock Right specific, other lockers are slightly different on this part)
You should now have this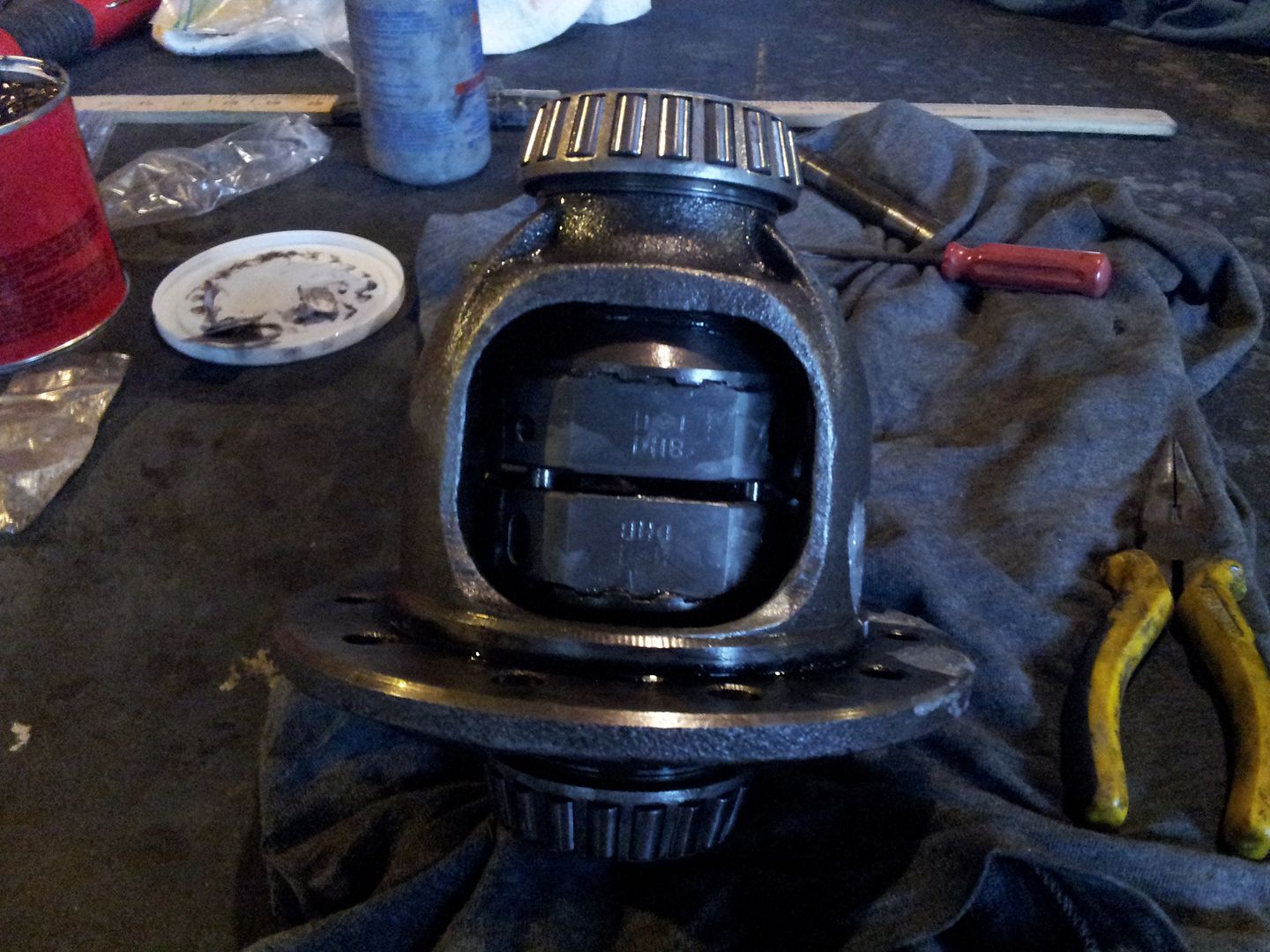 Now insert the new shaft that should have come with your locker
Insert the rolling pin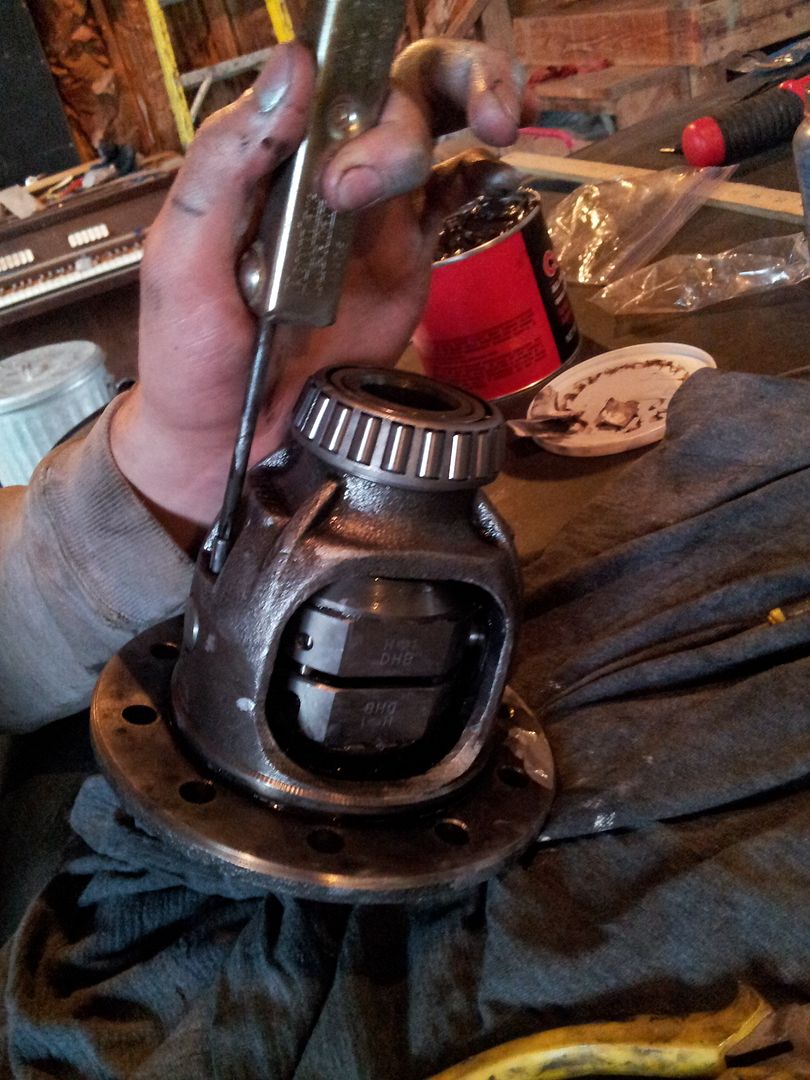 Time to put the ring gear back on, line up the ring gear and carrier back to their marks, get your lock tight out and spread some on the ring bolts. Now tighten them down in a star like pattern to 80 ft/lbs.
You should now be ready to put the carrier back in!
Re-install the same way it came out.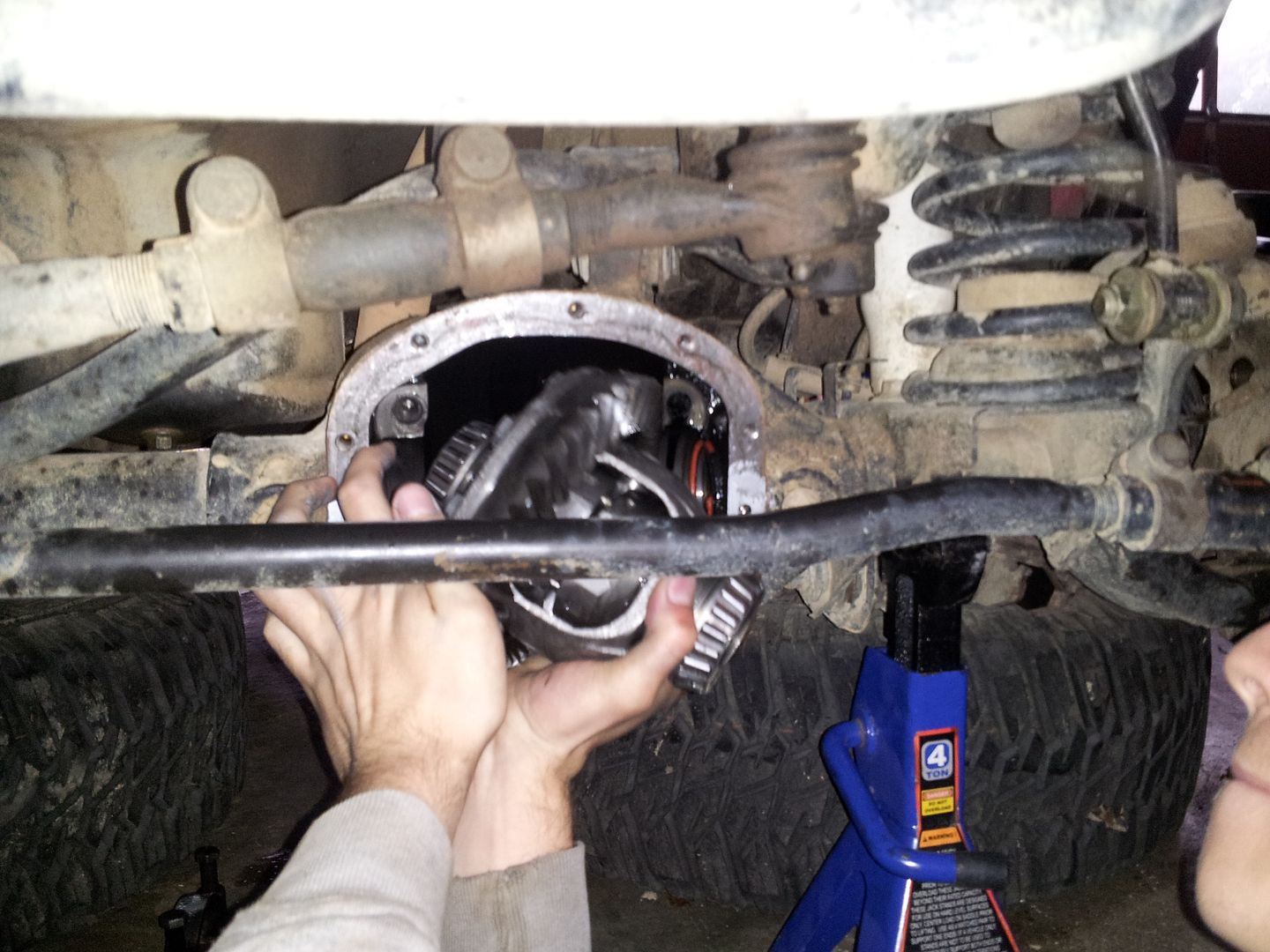 Make sure to line up your marks on the bearing caps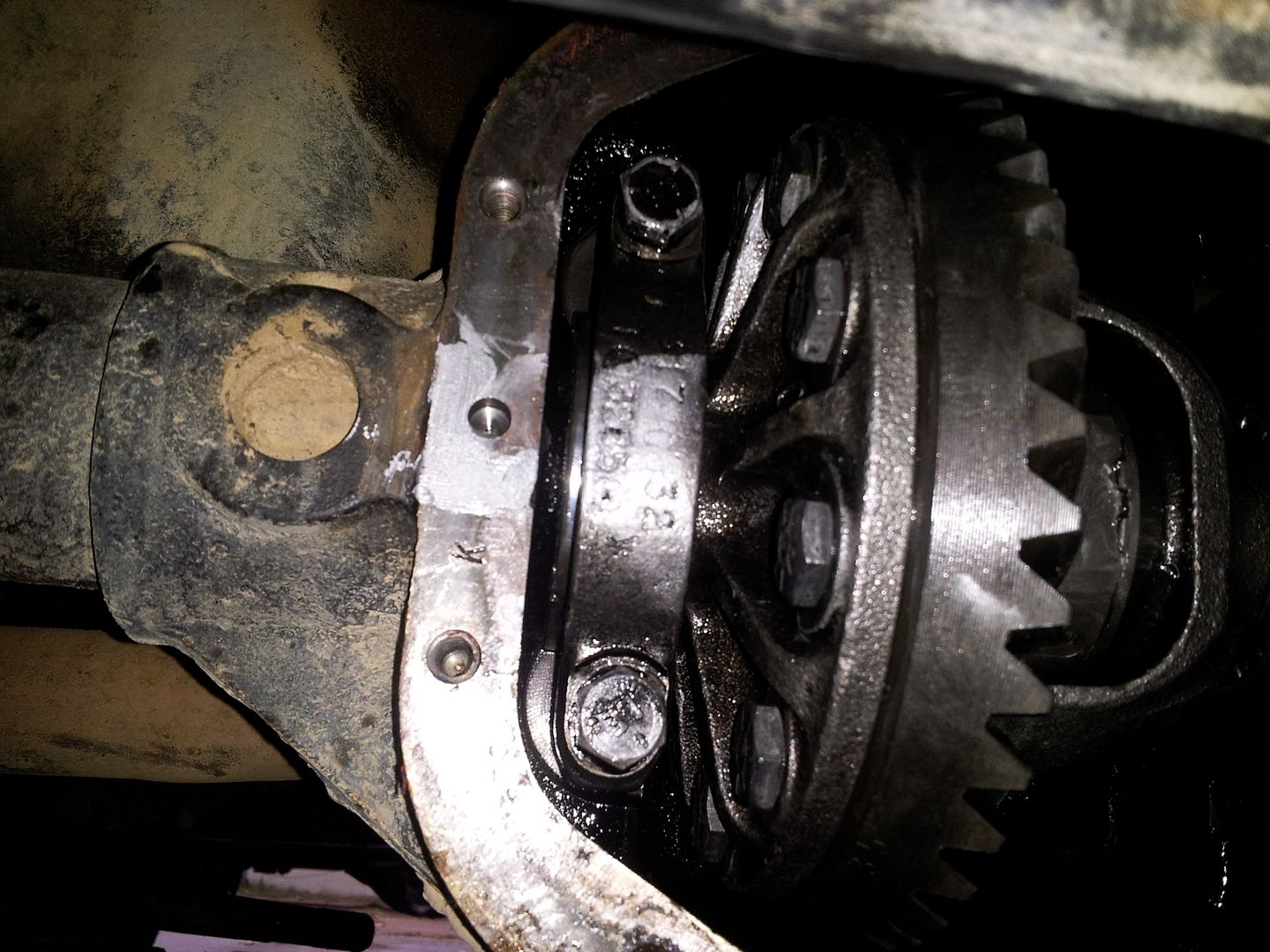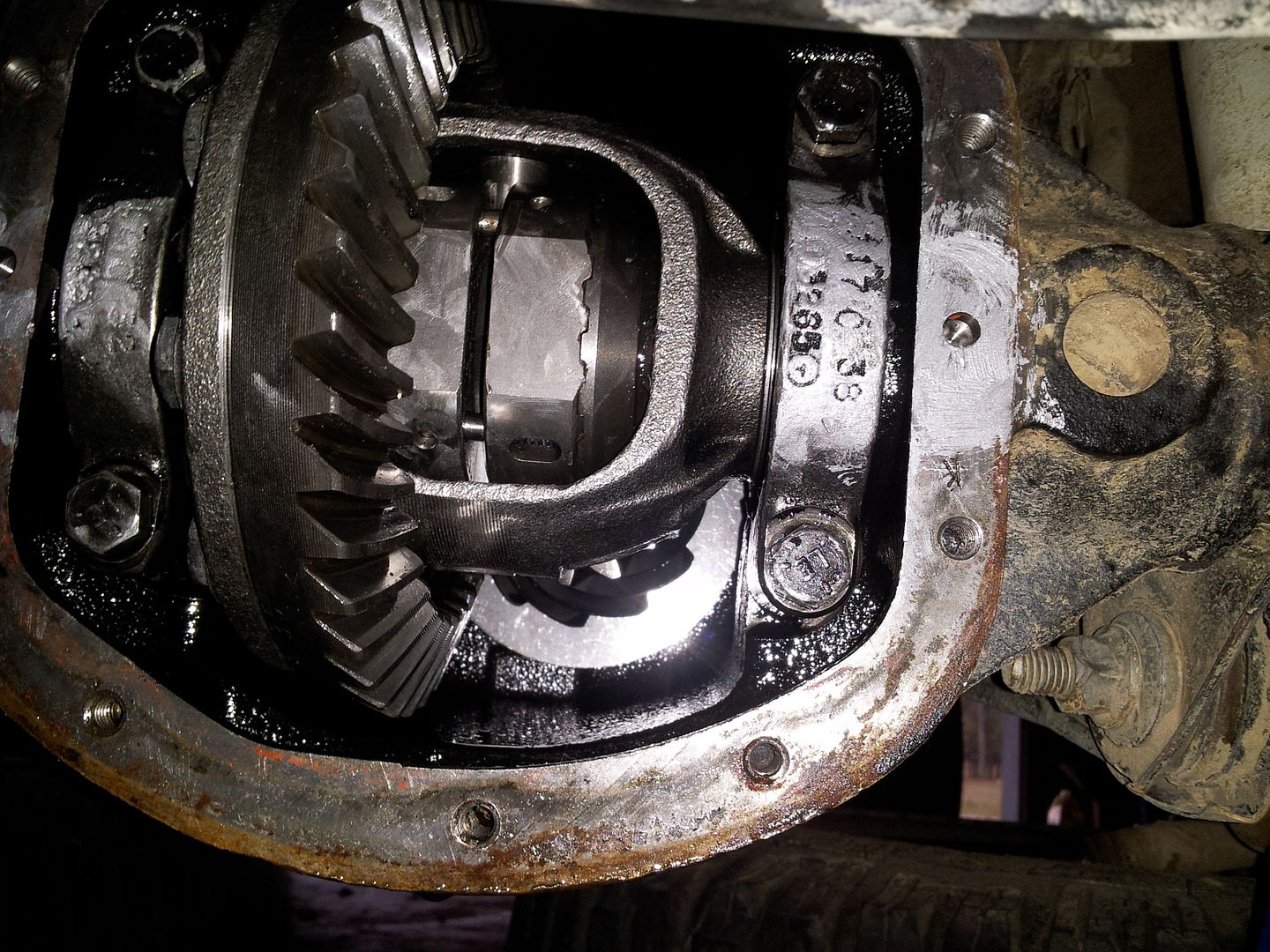 That's pretty much it, just throw the axle shafts back in (torque them to 75 ft/lbs), put your brakes and tires on. Make sure to clean the differential out with brake cleaner, and also clean the edges of any leftover rtv from the last fluid change. Now Rtv and bolt the diff cover back up, fill up with fluid and you should be good to go!