Little history of my Jeep; it was special ordered back in the 1990's by my Uncle. He drove it for many years, until he later retired it and gave it to his son (my cousin). This cousin wrecked it three times, thankfully they fixed it just fine. After his son went to college the Jeep sat around, was driven somewhat frequently to move my uncles boat. In 2008 (i think) my uncle gave the Jeep to my oldest brother to have as his car. It then preceded to get handed down to my other brother, who then let the oldest drive it again, and then a year ago he gave it to me, a few months before I turned 16 he gave it to me. When I got it the Jeep had around 235k on it I believe.
It's the 5.2l V8, Limited.
[Edit: Please be aware, the first big post of this build was when I went through my 'rice' stage, if I could go back I would have spent my money better.]

Heres when i first got it, in July 2011
9-7-11
Here's what it looks like as of today; it may be hard to tell the difference, the most noticable things arel the fog lights, I bought new ones and installed them; the gold trim on the bottom i painted black and the white styrafoam I also painted black as well, bacause I couldnt find a replacement plastic cover....
9-10-11
Just thought I'd update, i got the wheels painted and they look really good!
9-20-11
So i got the smoked headlights installed! look great, I'll get better pictures tomorrow after daylight, head over to page #4 for details and pictures of the installation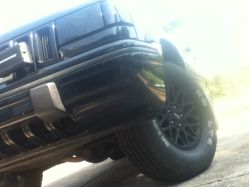 So yeah, it looks great!
9-27-11
So last thursday i decided i should fix up the luggage rack, so i took it off and painted the metal parts blue. As you can tell the factory paint was worn out, and looked pretty bad..... so i taped off the plastic parts.
and after i put it back on....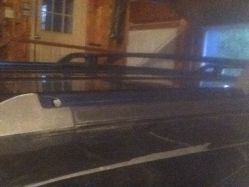 ....Well spent $8..... I'll get better daylights pics at somepoint, i always work at night so you cant see anything in the pics
10-13-11
So first update in awhile, i put a black pin stripe over the gold strip, you can sorta see it here.......
and i painted all of the Jeep logo's an decals blue...!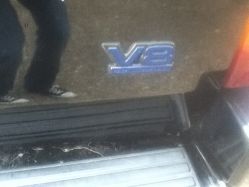 an i put some extra blue leds on the insides on the doors, and plan to replace the ones in the cieling too.
10-27-11
I removed the rear vents from the back so i could repaint them black, but when I took them off, i decided they would look kinda cool blue, and now they do.....
Im sure a lot of people may not like the blue Ive got on here, but Im mostly doing it for fun, i mean its an old car, so its gotta stand out somehow right?
10-29-11
Bought felt to cover my sub, so it doesnt look so ghetto now! Gotta love wal-mart. Before (left) after (right)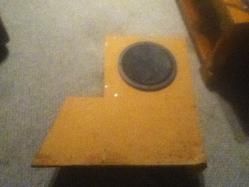 11-11-11
Ive done a good bit since my last update, got new tailights, new speakers and tinted the fog lights black to match the head lights, hears some pics!
old speakers, (left) new speakers (right
Alpine type E's , I replaced all four stock ones, only one still barely worked before I did it.
Fog lights, tinted black (left light) before tint (right light)
New tailights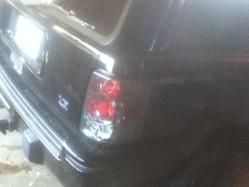 So thats pretty much it, I'll get better daylight pictures of the new lights at some point, I may end up tinting them darker, (the tailights) I haven't decided yet.
11-28-11
I am in the proccess of repainting the interior, its following the same black and blue scheme that i have been using, so far the dash is done and I am working on the rear door, pictures soon!
12-8-11
Here's before and after of the dash, I did this around two weeks ago.
And heres after its all painted and re-installed, looks great with the blue Leds.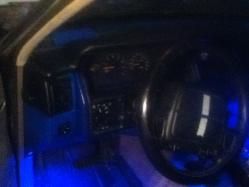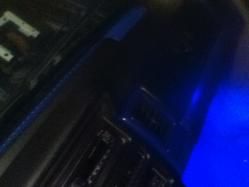 3-4-12
Haven't updated lately, but here's what I've done:
Trimmed front bumper and moved my fogs down to the front.