Little Mod On The ZJ Today
---
Finally got around to playin with the Budget Buggy today.
3 Bucks worth of Jig Saw Blades and a few tears on both ends of the stick and heres what I got.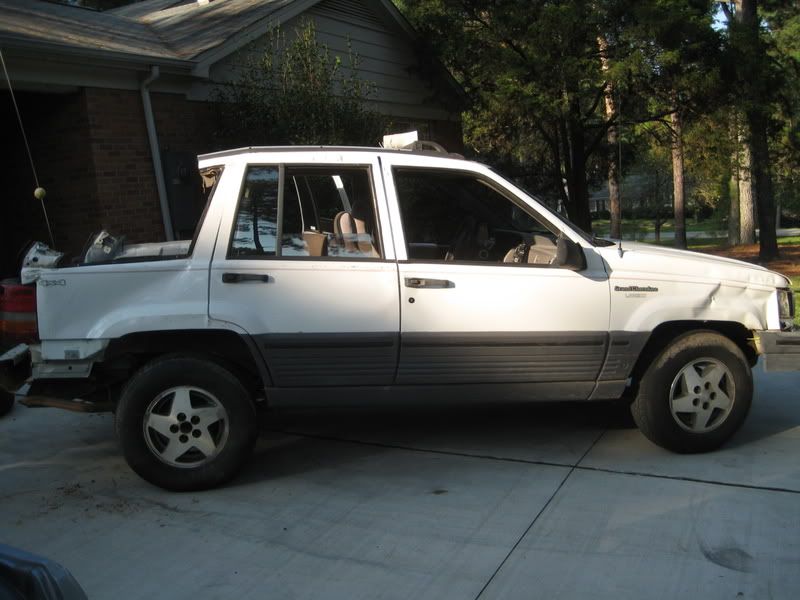 Hopefully Ill get the Cage in in the next few weekends.
Then all i need to do is finish piecing together the rear end of the lift, and Ill be ready to do some wheelin again.
And dont worry, Im cutting the pieces stickin up alot closer to the body in all 4 locations, Im just waitin to get the cage to make sure I dont cut off to much.
And The first cut was supprisingly easy. Who knows whats next.
And A pic with my 4x4 Clubs Sticker and custom License Plate Bracket.
---
Dylan-19 and Yearning
93 Rubigrand - Sold... :'(
95 Grand Cherokee Limited - 5.2 Mall Crawler
55 Willy's M38a1 - 231v6, 33" Super Swampers, D44 Full Floater Rear, Locked Front and Rear, 5.38 Gears, Viair OBA, Bilsteen 5100 shocks, Dana 18, Turbo 350, S10 Power Steering, Tilt-wheel, Full Cage, Flat Fenders....