Registered User
Join Date: May 2011
Location: Robinson Creek
Posts: 78
liftgate help
---
I was at the grocery store opened the hatch to put the groceries in and went to shut the liftgate and it would not shut. ok so I have searched and found several threads about the liftgate not opening, I have the opposite problem the latch on my is stuck closed and will not let the liftgate close. I removed the trim panel inside and everything looked ok tried to adjust the latch didnt help. So now I have removed the latch and tried to manualy pry the latch open and no luck. Does anyone have any ideas?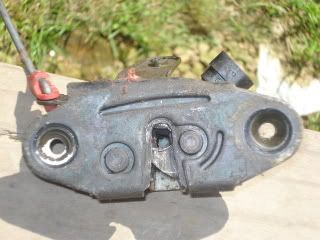 Registered User
Join Date: Jun 2011
Location: Congers
Posts: 381
I'm guessing the latch siezed. May be able to put it in a vice and pry/hammer it open. At which point I'd grease it heavily. Or just find a latch. I tried looking on the internet for you but came up empty. Try craigslist.
Registered User
Join Date: Apr 2006
Location: Brick
Posts: 769
Happen to me on my previous jeep zj that was a 97. I couldn't do anything at all to fix it so i bought a new one and installed it. Never had the problem again.
how much did your new one cost? I have called jy around here and nobody has one the dealer told me it would be about $160
Registered User
Join Date: Jan 2011
Location: Flatsville
Posts: 2,689
Use degreaser and hot water to remove all the old, hard grease. If it doesn't free up you need to replace it, it's either broken or bent from prying. If it does free up you need to re-lubricate and be aware it may malfunction again.

Full service junkyards often don't like selling latches, collision repair shops like buying panels with that stuff intact. Try a self service yard. Or somebody parting out on craigslist. Good luck
Registered User
Join Date: Nov 2010
Location: Hutch
Posts: 493
have you tried hooking it back up and unlocking/locking the jeep? I got mine to do that while it was up in the air fixing the shocks, and had the same thing, where it was stuck and i couldn't shut it. So i just opened the drivers door and flipped the lock switch a bunch and walah, i could close it again.
yea i tried cleaning, and regreasing, locking-unlocking and nothing so im just gonna get a new one
Currently Active Users Viewing This Thread: 1

(0 members and 1 guests)
Posting Rules

You may post new threads

You may post replies

You may not post attachments

You may not edit your posts

---

HTML code is Off

---