Registered User
Join Date: Mar 2011
Location: Hopatcong
Posts: 2,777
Interior lights red?
---
Does anyone on here have red courtesy lights. the ones that go on when you open a door.
I'm thinking if changing my dash lights to blue, changing the ceiling lights to red. And installing a double din head unit
---
1997 Limited 5.2L - SOLD
1997 Limited 5.2L - SOLD
2016 2DR JK
I would do white leds... its actually practical when you need a light on
---
98' ZJ 4.0
4.5" short arm, 33" Courser MXTs, custom stubby bumper, skids, someother stuff
Registered User
Join Date: Feb 2012
Location: columbia city
Posts: 2,829
I have blue LEDs in the gauges, footwells and if you have a limited in the door panels. I think they are practical. And in the dark they don't kill your eyes. At the moment I don't have the map lights. I took the headliner out and never put the map lights in. But I plan on putting blue LEDs in as well.
---
96 limited build thread-http://www.jeepforum.com/forum/f13/96-limited-build-1351732/
Registered User
Join Date: Sep 2012
Location: Dallas Center
Posts: 22
I did for awhile but i didn't like them. made it too hard to find stuff in the dark.
Registered User
Join Date: Mar 2011
Location: Hopatcong
Posts: 2,777
Well I don't keep my jeep filled with stuff
theres only 3 things in my compartments. I meant the ceiling lights would be red too.
by the way, I think I seen this, but it's possible to fit a double din between the over hang and vents right? Just very tight I think
---
1997 Limited 5.2L - SOLD
1997 Limited 5.2L - SOLD
2016 2DR JK
Ill take a pic of my head unit, its a single din but you can see the space if you want
---
98' ZJ 4.0
4.5" short arm, 33" Courser MXTs, custom stubby bumper, skids, someother stuff
Registered User
Join Date: Mar 2011
Location: Hopatcong
Posts: 2,777
Okay thank you
---
1997 Limited 5.2L - SOLD
1997 Limited 5.2L - SOLD
2016 2DR JK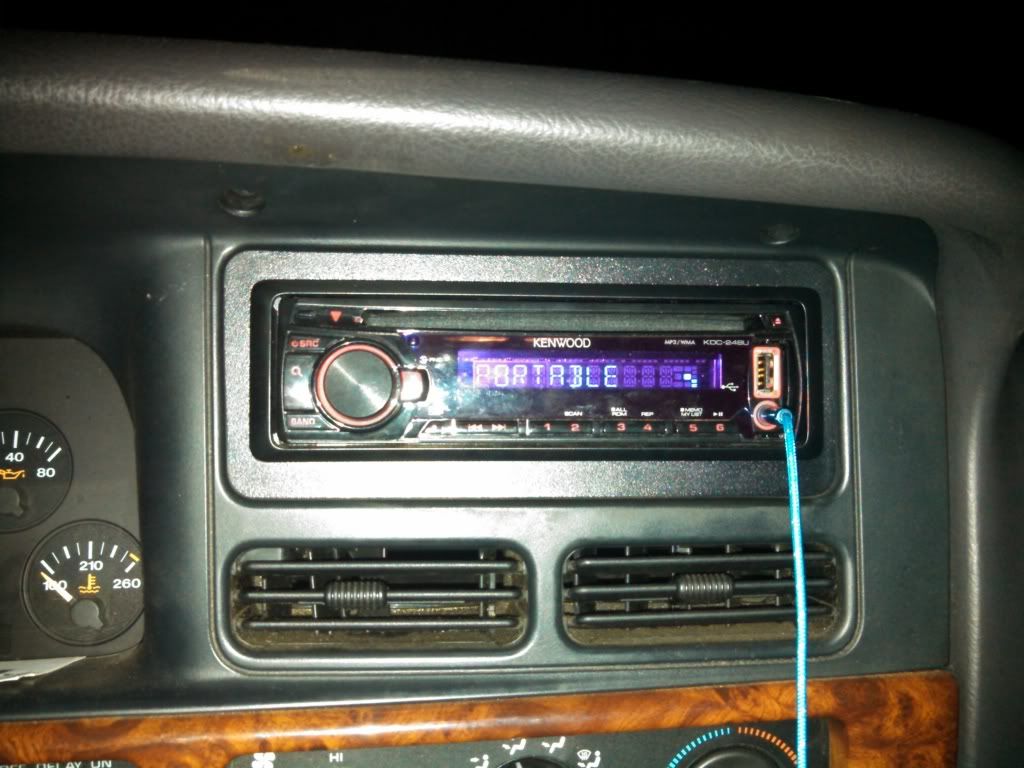 Here's a dead on view, its dark out so the pic isn't the best
Let me know if you want another picture and I'll try to get a better one
---
98' ZJ 4.0
4.5" short arm, 33" Courser MXTs, custom stubby bumper, skids, someother stuff
...my vents are so damn dirty, i need to fix that
---
98' ZJ 4.0
4.5" short arm, 33" Courser MXTs, custom stubby bumper, skids, someother stuff
Registered User
Join Date: Jan 2009
Posts: 3,138
Currently Active Users Viewing This Thread: 1

(0 members and 1 guests)
Posting Rules

You may post new threads

You may post replies

You may not post attachments

You may not edit your posts

---

HTML code is Off

---