Registered User
Join Date: Jun 2010
Location: Michigan
Posts: 159
Quote:
You could just have oxidation on the legs of the relay (in the engine compartment power dist block.) The 93-95 horn relays are under the glovebox in a much more protected environment. Pull the relay and re-seat it several times to cut a clean copper path thru the oxidation and see if they work correctly. If not and the problem still exists, I would take apart the switches at the wheel and see if the star shaped contacts have slipped out of postition or are oxidized as well.
Thanks. Will give that a shot. Is there a way to remove the wheel cover without taking apart the wheel?
Thanks
BIH
Registered User
Join Date: Jul 2012
Location: Eldorado
Posts: 210
theres 3 bolts at the back of the steering wheel that once removed the whole horn/airbag assembly comes off together.
Registered User
Join Date: Aug 2011
Location: GANGNAM STYLE
Posts: 2,665
No repair for a bad switch, need to replace the airbag trim cover.
Rather than disturbing the airbag and cover, check switch operation with an ohmmeter...
First disconnect the negative battery cable, wait a few minutes for circuits to discharge
Remove steering column lower shroud cover
Remove the clock spring connector (white), then check the switch operation with an ohmmeter between Pins#4 and #5.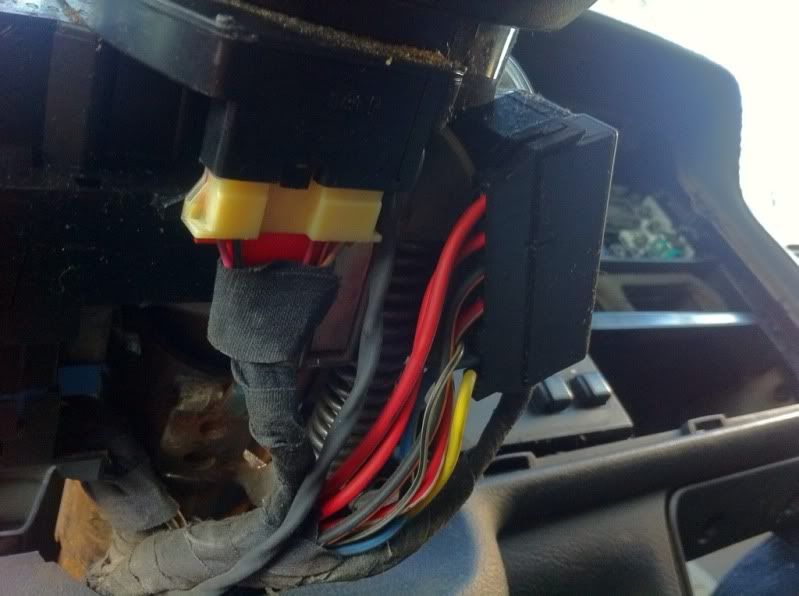 Registered User
Join Date: Sep 2012
Location: Cross Lanes
Posts: 22
Hey guys, sorry to necropost, but this thread had something in it that may apply to me. Now I'm not a mechanic or electrically saavy, so bear with me....

The diagram on the first page shows the horn switch being in a dotted-line box called the "vehicle speed controller". Does that also have to do with the cruise control? Both my horn AND cruise control do not work, and it occurred to me that it could be something in the wiring.

Thanks for any tips you can give me!
Registered User
Join Date: Mar 2017
Posts: 2
jeep cherokee
---
I have 2015 jeep Cherokee limited horn would not work sometimes and would blow on its own took to dealer they kept it for about 2 days done 6 flash updates to on board computer now working fine covered by warranty.
Registered User
Join Date: Jun 2013
Location: Western New York
Posts: 982
That would be helpful/relevant if this thread wasn't for a different model that's between 17 and 22 years older than yours.
Registered User
Join Date: Mar 2017
Posts: 2
I am new to jeepforum just wanted the information on this site so others could see it sorry it doesn't apply you.
USER OF PARTS CATALOGS
Join Date: Jul 2010
Location: florida
Posts: 7,918
That's fine, no harm done, if you get tired of that new thang and buy a much older one we'll be glad to help you. All this is just print on a screen, a blip in jeep forums storage, not the end of the world.
---
Info on projects and repairs categorized by system

To view links or images in signatures your post count must be 10 or greater. You currently have 0 posts.


Originally Posted by HighLonesome
lol...if life is as a simple as a 5.9 making you happy, I'd say go ahead and buy it on impulse. ZJs are the way of Zen. Wax on, wax off
Currently Active Users Viewing This Thread: 1

(0 members and 1 guests)
Posting Rules

You may post new threads

You may post replies

You may not post attachments

You may not edit your posts

---

HTML code is Off

---