Registered User
Join Date: Mar 2009
Location: Wichita
Posts: 1,934
Fuel tank skid ??
---
Sorry for the noob question, but before I go pull a skid at the pic-and-pull that I saw earlier, are they they same for the ZJ's? I have a 94, and the one that I spotted was from a 96. I know there are some changes, but was fairly positive that this would be the same, hopefully?!?!?
Thanks!
Robert
Web Wheeler
Join Date: Dec 2007
Posts: 8,204
Yup, it will bolt right up
Registered User
Join Date: Sep 2009
Location: Kingston, Pa. 18704
Posts: 3,469
Only problem is you most likely won't have the nutserts on your frame rails and there will be nothing to bolt it to on your rig.
Check first and see if you have them installed or you will have to either buy them (~ $8.00 each from the dealer) or you will have to weld some nuts on to your existing rails to attach it.
There is thread floating around here somewhere on how to make your own installation tool for them too. They are a PITA to install correctly.
I found a supplier in Ca. that stocks them for about $2.50 each: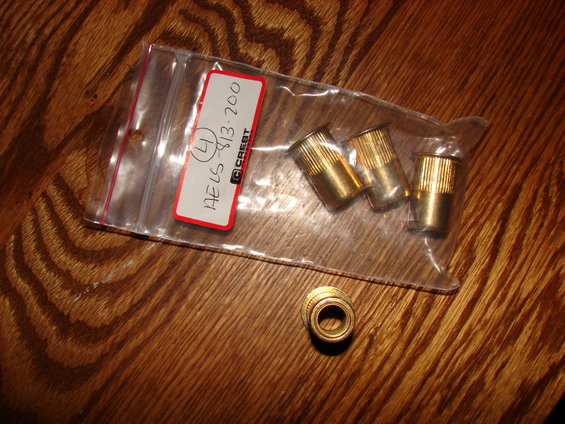 Also note that they have a tendency to spin while trying to get them out. I've had this happen to me several times in the junkyard trying to remove both transfer case and gas tank skids.
---
79' CJ7 - 82' CJ8 - 94' YJ - 96' ZJ
Diagonally parked in a parallel universe.......
Registered User
Join Date: Apr 2007
Location: Wilsonville, Oregon
Posts: 5,354
pretty sure hees got the tow package.
---
1993 Jeep ZJ. 4.0
Registered User
Join Date: Mar 2009
Location: Wichita
Posts: 1,934
Quote:
pretty sure hees got the tow package.
I do! I do! That's why I was pretty sure it would bolt right up, because they attach to the same bolts as the hitches. Thanks everyone, I'm gonna go snatch it up right now!
Jeep Jedi Master
Join Date: Mar 2003
Location: Omaha
Posts: 20,403
I got mine from a upullit place, and a couple mins of scrubbing and a bit of krylon, it looked brand new.


Hunter
---
04 4.7 HO, limited
04 4.7 HO, Overland

08 Z71 Suburban, front leveling kit with rear spacers. 285/65 18s Nitto TerraGrappler G2s

94 5.9 Laredo 6.5 RE lift with 35 Maxxis Bighorns
and 33 Bridgestone Duelers
Detroit and true trac
Red Jeep Club Member
REDNECK JCM
Texas Jeep Owner #6
USN Jeep Club #4

To view links or images in signatures your post count must be 10 or greater. You currently have 0 posts.

602.841.3355

For your performance needs:


To view links or images in signatures your post count must be 10 or greater. You currently have 0 posts.

480.998.366
Currently Active Users Viewing This Thread: 1

(0 members and 1 guests)
Posting Rules

You may post new threads

You may post replies

You may not post attachments

You may not edit your posts

---

HTML code is Off

---