Ford Taurus Two Speed E-Fan Install (pics)
---
So here is the Ford Taurus Two-Speed E-fan Install. Here is the write up that I got some info from:
http://www.jeephorizons.com/tech/fan/
I went to my local yard and found about 5-6 not even looking too hard. All the 3.8L Fords from 90-95 seem to have them, Sables, Lincolns, Taurus' you get the idea. Easy to pull, two bolts and clip the wires.
I cleaned up the fan and got a hold of some relays and wiring. I searched around and consistently many recommended a simple 30amp relay for LOW and a higher amp relay for HIGH. 10 gauge wiring for LOW, 8 gauge wiring for HIGH. I used just a standard 30amp relay for the low and a Ford Starter relay for high. The Ford Starter relay is plenty beefy to handle the initial draw that the high speed takes. It is also cheap too, about $11 from Napa. Here is the Napa P/N: ST404SB Oh and the hardware store I went to was ALL out of 8 gauge wire, ( don't ask me how they let that happen
) so I bought 6 gauge. Sure it is overkill, but it is wired up and working so that is the way I am going to leave it.
I took an old battery that still had charge down to the basement to figure out wiring. No sense in messing around in the cold garage. Once I figured everything out it was pretty simple.
Here is a picture of the heavy duty starter relay wired up.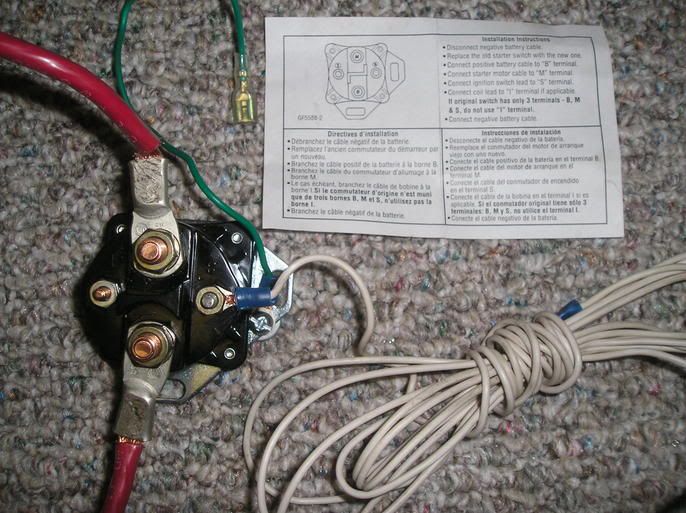 This relay is self-grounding. What that means is that when it is installed in its factory location, the metal bracket provided the ground. Since I was not mounting it in its factory location, let alone a Ford vehicle, I drilled a small hole in the metal bracket and threw a bolt on there with a circle crimp on connector, it is the green wire you see. The white wire connects to terminal "S" , this is the power lead from the switch I am using to control the fan. The bottom red cable goes to terminal "B" , which is wired to the positive terminal on the battery. The top red cable goes to terminal "M" which goes to the high wire on the fan.
Here is a picture of the relays wired up and their locations.
The smaller black box is the standard 4 pin 30amp relay for low. The white wires that go into the black wire loom and run along the firewall are to the switch mounted in the cab. Yellow wires are for the low speed, to and from the fan.
---
Last edited by EMTimZJ; 01-30-2006 at

01:56 PM

.