I just thought I'd share my experience with this. Also because if someone else hadn't taken the time to post their experience I'd be $200 shy in my wallet.
Recently my 4.0 from a 94GC stopped running. I hadn't changed any wiring but the fuel pump no longer primed when the ignition was turned on. I spent hours re-tracing wires and checking connections and came to the determination that the issue was in the PCM. Frustrated at not getting it to run as I needed to get antifreeze rather than water in the block before winter hits, I was sitting there thinking on it and the relay for the ASD starts to click. It progressively clicks faster and faster until it locks in and the fuel pump primes. huh?? Okay, crank and it starts up. I get the antifreeze in it let it warm up and shut it off. I come back an hour later and again no prime, no run. I let the key sit on for a few minutes and it does the click thing again and the pump primes.
Some searching around turned up a TSB on my model PCM
TSB
1993 - 1995 Jeep Grand Cherokee 4.0L
1993 - 1995 Jeep Grand Cherokee 5.2L
Symptom: Will not start immediately in cold ambient temperatures, no MIL immediately at key on, no communication with scanner, auto shut down (ASD) relay is clicking. Wait for awhile with key on and MIL comes and and then it will start.
System: Emissions/PCM/Fuel
Codes: N/A
Problem: When the ambient temperature drops below 40 degrees, the Powertrain Control Module (PCM) fails to power up until warmed up or key is left in the on position, the MIL comes on and the relays start clicking.
Test & Fix: If the problem cannot be duplicated, remove the Powertrain Control Module (PCM) and cool it in a freezer. Reinstall the PCM and check if symptoms are present. If symptoms are present and powers and grounds are OK, replace the PCM. "
This certainly sounded like my issue but I wasn't keen on replacing the PCM as Autozone wants $200 for a new one. Some more searching around Jeep forums turned up this post.
It was certainly worth a shot as I already have a soldering station and electrical parts are cheap.
All said and done, it absolutely works! No more lazy PCM and I saved myself a few hundred bucks and instead spent $6.00 on capacitors shipped from mouser.com.
I did not get the capacitors from Radio Shack as the ones they have are only rated to 85 degrees. The whole process took about an hour to do but you might be able to do it faster if your better with the soldering iron. I'm a novice at the iron so anyone can do this.
These are the capacitors in question. You have to dig out the gel pack from around them. I used a razor blade and it came out very easily. A small toothbrush helps to clean things up a bit as well.
I did not see anything obvious wrong with the capacitors that were in there. The tops were not domed and I could find no leaks. Possibly 2 of the 3 were a little domed on the bottom side.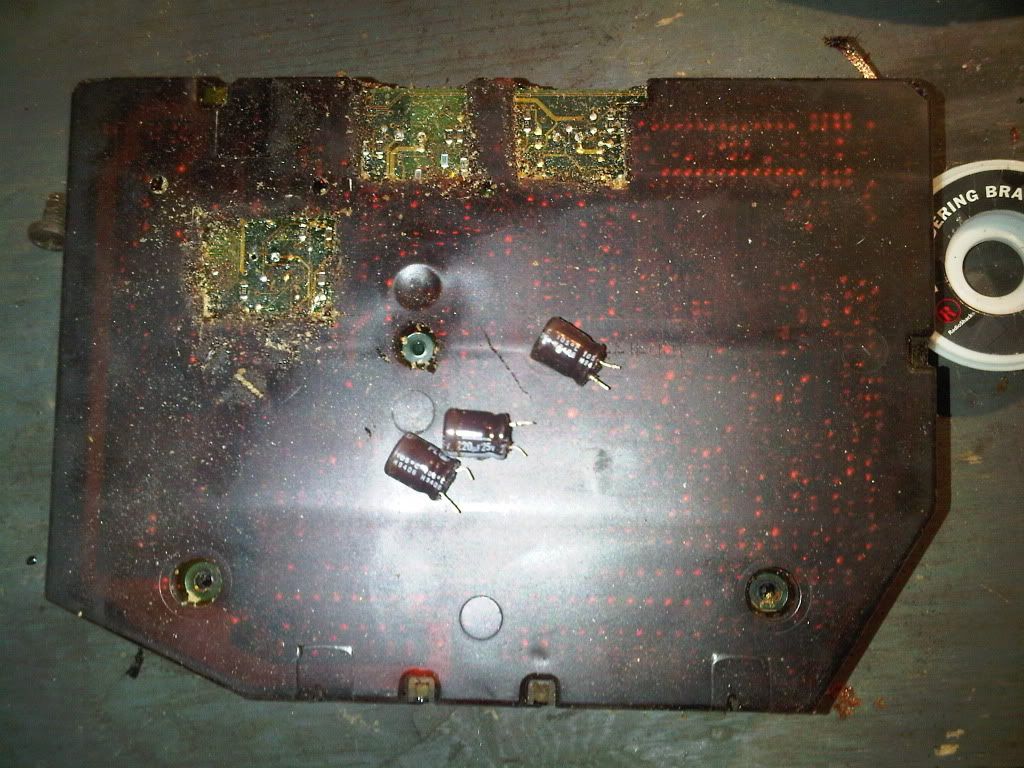 Once the new capacitors were in I siliconed everything up nicely, hooked it back up and she fired right up.