Hi, welcome to my build thread. My goal is to build a reliable expedition and camping vehicle for my family. Having the jeep be killer in the snow will be an added bonus when I have to get to work or go snowboarding during a storm.
My plans are: to put 31" tires and 2" lift on. I don't want to go any higher since it is an expedition vehicle.
Upgrade steering and suspension
roof rack
front bumper with recovery points
winch
rear tire carrier
onboard air
auxillary lighting
upgrade alternator
better air intake
rebuild steering box and add brace
and anything else that would be useful.
please give me your suggestions and input.
Thanks
The Jeep is a 98 Grand Cherokee Laredo with the 5.2, np249 tc, and just about every interior option possible. The viscous coupler in the tc is not showing any signs of wear so it may have been replaced by the PO.
We bought it in 2011 with 150,000 miles for 1400. The interior was pretty mint but the exterior had rocker panel rust and a few little dings. He wanted 2500 but I talked him down because of the rust issues and various leaking seals in the drivetrain. On the plus side, he was the second owner and it was his vehicle to keep at his weekend house. He was very rich and took excellent care of the engine. Everything that should have been replaced for a full tune-up was done before I bought it with all mopar parts. I think whenever he got an oil change he told them to fix or replace anything they thought needed it.
On the negative side, he NEVER washed it so the steering and suspension components were very rusted.
This is the closest to a stock photo I have. This was taken after the rocker panel fix and roof rack install.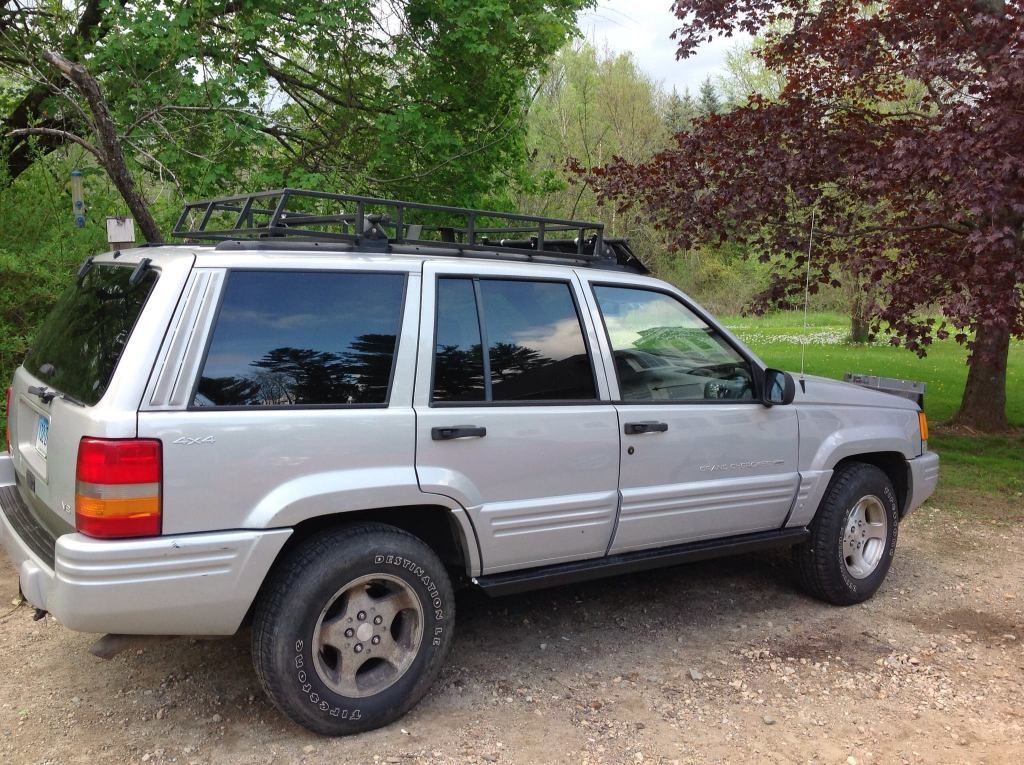 We pretty much drove it as we bought it till the end of 2013. The rocker panels were getting really bad it needed brakes. It had been a long time since I was interested in working on autos and I wasn't sure that the jeep was worth fixing. Then I thought about how great it was in the snow and how expensive a newer SUV would be so I took the plunge and decided to build her up. I did a decent amount of engine work in the past but no fabrication or bodywork so this was a big plunge for me.