DISCLAIMER: This swap ONLY applies to the 1993 thru 1998 Jeep Grand Cherokee "ZJ". Although many other vehicles have included the 4.0 and 5.2/5.9; there is NO guarantee that this swap will benefit or even work on a different vehicle; because there have been many different varying injector sizes, connectors, and engine/fuel management systems on vehicles with these engines. Do your research on your particular vehicle, paying close attention to stock injector specs vs new injector specs, before you attempt this on a different vehicle.
I will note however, that augiedoggie has reported success with another injector model on his 96 5.9 Dodge Ram, proving the theory works for all magnum engines.
So I think its time there was a write-up that defeated all the misconceptions, conflicting information, and myths about the infamous injector swap mod. I will try to do it as completely and accurately as possible, please comment so I can correct the post
Now to begin
. There are two sets of steps, one for the 4.0, and one for the 5.2/5.9
found below
courtesy of 1SASjeepster.
Theory
: The injectors used for the swap are the EV6 injector design as opposed to the stock EV1 injector design. The 4-hole pintle of the EV6 leads to better atomization of fuel, thus a more complete burn, with the same flow rate as the stock 1-hole EV1 design. You can see this easily in this
A common misconception is that EV1 and EV6 are connector types. Here is a quote:
Quote:
Originally Posted by
CatSplat
That's actually a common misconception, EV1, EV6, EV12, etc are injector body designs, the connector is separate from that and selected by the OEM. The older connector design was present on the vast majority of EV1 injectors and many EV6 injectors as they were phased in. This connector, due to being present on basically all EV1 injectors is known to most people as the "EV1" connector, however its real name is the Jetronic/Minitimer connector. Most early EV6 injectors had the Jetronic/Minitimer as well, mostly so the car companies could upgrade to better injectors without having to redesign wiring harnesses. Later, the OEMs moved to a new connector design, called USCAR. This connector became associated with the EV6 body design and most people assume that all EV6 injectors came with this connector.
USCAR connector (
WRONG
connector):
Jetronic/Minitimer connector (
RIGHT
connector)(disregard number on side):
Pros
: Noticeable improvement in engine idle, much smoother. Marginal increase in power and gas mileage. Some notice a better throttle response and pickup
Parts needed & where to find
: Some say the Fords are better, some say the Chrysler car injectors are better. I used the chrysler car injectors, but here are the raw numbers, hand converted by me based on tests done by witchhunter.com, that give a comparison to the stock Jeep injector. I have part numbers, flow rates, and donor cars. You can decide which one you want to find (or which one is easier to find). Note that flow rates are nearly identical
Stock Model numbers & Pressures:
Stock 4.0 Injector (93-95): Siemens 53030
343
; 22.4lb/hr @ 39psi
Stock 4.0 Injector (96-98): Siemens 53030
778
; 23.7lb/hr @ 49psi
Stock 5.2 Injector (93-94): Siemens 53007
809
; 18.4lb/hr @ 39psi
Stock 5.2 Injector (95onl): Siemens 53030
262
; 24.6lb/hr @ 39psi
Stock 5.2 Injector (96-98): Siemens 53030
778
; 23.7lb/hr @ 49psi (includes 5.9)
Injectors Used/Discussed:
Bosch 0280155
703
; 21.5lb/hr @ 39psi & 24.0lb/hr @ 49psi
Bosch 0280155
715
; 23.1lb/hr @ 39psi & 25.9lb/hr @ 49psi
Bosch 0280155
710
; 18.9lb/hr @ 39psi & 21.2lb/hr @ 49psi
My recommendations:
After much discussion and research, trial and error by many jeepers, I've found who has had success with what. You are free to choose or experiment with any injector you want obviously and see if they work, but from data and actual success I recommend using the below listed for swaps, as flow data supports success. If it is not listed (i.e. 93-94 5.2 w/703s) I do NOT recommend it because of great discrepancies in injector flow from stock.
OK: success with 1-2 users
CONFIRMED: more than 2 users have success
NO DATA: either failure due to unknown factors or no verified success has been reported.
93-95 4.0 w/
703
s: CONFIRMED (zander21510, 93zjbums, ahoyt653)
93-95 4.0 w/
715
s: BAD! DO NOT USE (bumperthumper)
96-98 4.0 w/
703
s: CONFIRMED (MaintMech, melk, moggie99, johnt671, torchd)
96-98 4.0 w/
715
s: BAD! DO NOT USE (Tbone18)
93-94 5.2 w/
710
s: CONFIRMED (General_Jeep, soopaghetto, ozzy_2_me, Proph2010)
1995 5.2 w/
703
s: CONFIRMED (extrememarine, dnuccio, jetjr91)
1995 5.2 w/
715
s: NO DATA
96-98 5.2 w/
703
s: CONFIRMED (1SASjeepster, zturn13,Mity White 96)
96-98 5.2 w/
715
s: NO DATA
1998 5.9 w/
703
s: OK (nickszj, NYCXJ90)
1998 5.9 w/
715
s: NO DATA
Please help me improve this post by posting your success so that I can confirm/OK some of these.
Now I've come to the conclusion, and it seems to be the root of most problems have been leaky injectors. I'm guessing from sitting in the junkyard unused exposed to the elements makes these injectors highly prone to decay. If you find your Jeep to be spewing white smoke or running rough, or if you just want to take the precautions and test the injectors first, here is an easy way to do it:
Quote:
Originally Posted by
extrememarine
I had very similar experience when I first installed the 703's. I did not take the time to rig up a way to pressure test them. I had 3 that were dumping fuel; I found this by taking a clear piece of tubing and a children's cough syrup syringe and made a tester. I put some carb cleaner in the tubing, slide it on the injector, and pushed the plunger down to pressurize the fluid. Sure enough, droplets would form on the motor side of the injector. Swapped those three out and all was fine the second go round.
Also, it is highly recommended to get a rebuild kit. I used to have a link to an online retailer but they no longer sell the kit. You can find the kit on eBay from various sellers.
Pre-made eBay search:
here
Where to Find:
Chrysler Injector
: Bosch 0280155
703
Quote:
Originally Posted by
bowtieman55
97 Dodge Caravan Base 2.4L
97 Dodge Caravan SE 2.4L

97 Plymouth Voyager Base 2.4L
97 Plymouth Voyager SE 2.4L

97 Chrysler Sebring JXi 2.4L
96-97 Chrysler Sebring JX 2.4L

96 Plymouth Breeze Base 2.0L

97 Chrysler Cirrus LXi 2.4L
95-97 Chrysler Cirrus LX 2.4L

95-97 Dodge Neon Base 2.0L
95-97 Dodge Neon High Line 2.0L
95-97 Dodge Neon Sport 2.0L

95 Dodge Stratus Base 2.0L
95-97 Dodge Stratus Base 2.4L
95 Dodge Stratus ES 2.0L
95-97 Dodge Stratus ES 2.4L

95-97 Plymouth Neon Base 2.0L
95-97 Plymouth Neon High Line 2.0L
95-96 Plymouth Neon Sport 2.0L
Ford Injector
: Bosch 0280155
715
Quote:
Originally Posted by
optimaldave
91-93 Lincoln Town Car, 190 hp

92-97 Ford Crown Victoria/Mercury Grand Marquis/Lincoln Town Car, 210 hp
98-00 Ford Crown Victoria/Mercury Grand Marquis/Lincoln Town Car, 215 hp
01-02 Ford Crown Victoria/Mercury Grand Marquis/Lincoln Town Car, 235 hp
03-10 Ford Crown Victoria/Mercury Grand Marquis/Lincoln Town Car, 239 hp
04-present Ford Crown Victoria Police Interceptor, 250 hp

94-95 Ford Thunderbird, 205 hp
96-97 Ford Thunderbird, 210 hp

94-95 Mercury Cougar, 205 hp
96-97 Mercury Cougar, 205 hp

97-10 Ford F-Series, 248 hp

97-present Ford E-Series, 225 hp

02-05 Ford Explorer 239 hp

96-97 Ford Mustang 215 hp
98 Ford Mustang 225 hp
99-04 Ford Mustang 260 hp

03-05 Rover 75 260 hp

03-05 MG ZT 260 hp
Where to find Bosch 0280155
710
(source courtesy of Proph2010)
Quote:
1994-97 Mercury Cougar 4.6L V8
98 Ford Crown Victoria/Mercury Grand Marquis/ 4.6L V8
97-99 Ford E-350 6.8L 10-cyl
96-98 Ford Explorer 5.0L V8
99 Ford F-250-550 6.8L 10-cyl
97-98 Mercury Mountaineer 5.0L V8
94-97 Ford Thunderbird 4.6L V8
94-98 Lincoln Town Car 4.6L V8
Remember there are TWO numbers on each injector, one of them will be some number you won't recognize, the other one is the model number. As long as one side matches the numbers above (either 703 or 715) it is that injector model.
Tools & supplies needed
:
-Ratchet kit to unbolt fuel rail
-Disconnect tool to detach fuel line. Not completely necessary but makes things easier. You can also "redneck" it and cut the end off of a long funnel, cut once up the shaft. How to use will be explained later
-A little clean motor oil or lubricant oil
-Screwdriver if rebuild kit purchased for 703 injectors
-Some rags
Steps
: This was performed on a 95 ZJ with a 4.0. I used 703 injectors, the steps are the same for the 715 Fords.
(5.2 and 5.9 procedure click HERE)
1. Find injectors in the junkyard (or new if you have the money). Unbolt fuel rail, unplug all injectors and pop the injectors out. Then, if you get the kit for the Chrysler injectors, install them. Be very careful not to damage the pintle on the injectors. You can remove the old filters by using a screw, screwing it into the old filter, and pulling out with pliers. The old pintle cap can be removed by carefully using a blade to cut the cap down the side and pull off. (I stabbed myself when i did this...not fun...cut AWAY from yourself...)Install all the new stuff!
1a. Remove the fuel pump relay and start your jeep. This will de-pressurize the fuel rail easily without having to squirt gas everywhere. When it stalls, pull the key and you can put the relay back.
1b. Disconnect the battery. DON'T IGNORE! Not just because of the safety aspect, but as you are working it will reset the PCM and allow it to "learn" the new fuel trims needed to operate efficiently. The PCM will return to its factory values, and as you drive it will adjust the injector pulse rate to accommodate the different injector design. This is vital if you want to notice any benefits quickly. Also, if you have the equipment, blow some compressed air around the injectors prior to removal. This will prevent dust and pieces of who knows what from getting into the combustion chamber.
2. Unplug the electric connectors from the fuel injectors. Pull them out of the way. It shouldn't be a problem, but if for some reason they are very loose or the wires aren't tied down, make sure you keep track of what plug goes to what injector.
3. Make sure the pressure is relieved on your fuel rail. Take a rag and unscrew the plastic cap near the front of the rail. Push the little button inside and fuel should drip out or nothing at all. Hold the rag under it and keep it there until it stops squirting. You can then screw the plastic cap back on.
4. Detach the fuel line. There is a specific tool for the job you can buy, but if you want to do it the redneck way, you can take the end of a funnel, cut it off, then cut once up the side and slip it over the part of the fuel rail, and push it inside the fuel line connector. Hold the rag under the connecter. It may take a few tries, but with a combination of pushing the funnel end in and pushing/pulling the fuel line it will eventually disconnect. A lot of fuel will probably spill out FYI, so hold a rag underneath. Optionally, you can just keep the fuel line attached...when you remove your first injector hold it vertical to let the fuel drain out and then put it down somewhere where it will be fairly level in your engine bay
4. There are 3 bolts to remove the fuel rail IIRC, and you need to remove the 3 throttle body cables and get them out of the way to make a clear path for the fuel rail to be pulled. Pull sharply on the rail in the direction of the injectors to remove. Remember you have a lot of fuel still in the rail so you might want to hold the rag up to the opening that the fuel line was on, and perhaps underneath on the intake to catch fuel in case an injector stays on the intake and not the fuel line.
5. I would take a pan or something to hold the rail over as you remove each injector, because there is so much fuel in the rail (way more than you would think...).
6. Once you have everything disassembled, you can attach the new injectors to the fuel rail. Lube the O-rings with some motor oil or lubricating oil to make them easily slide into the fuel rail openings. Please make sure you don't put them in upside down lol. And you can spin them when everything is attached to a point, but it might help if they are oriented with the connectors pointed up so you can connect the electrical connectors easily.
7. Lube the other ends of the injectors, and evenly push them into the holes in the intake manifold. You know they are in when you can line the fuel rail holes with the bolt holes.
8. Bolt everything up and reconnect the electric connectors. Also reconnect the fuel line. It just pops right on...not as hard to hook up as it is to take off lol.
9. If you made a mess with all the fuel, soak as much up as you can and give it an hour or so for it all to evaporate so you don't start a fire. Just in case, have a fire extinguisher handy (the C type).
9. Start her up! It may take 2 or 3 more seconds for the fuel rail to regain pressure and squirt fuel into the cylinders.
10. Enjoy! There are a few pictures below for reference taken from the large thread courtesy of melk.
Old injectors vs the 703 injectors with new O-rings, filter, and pintle caps: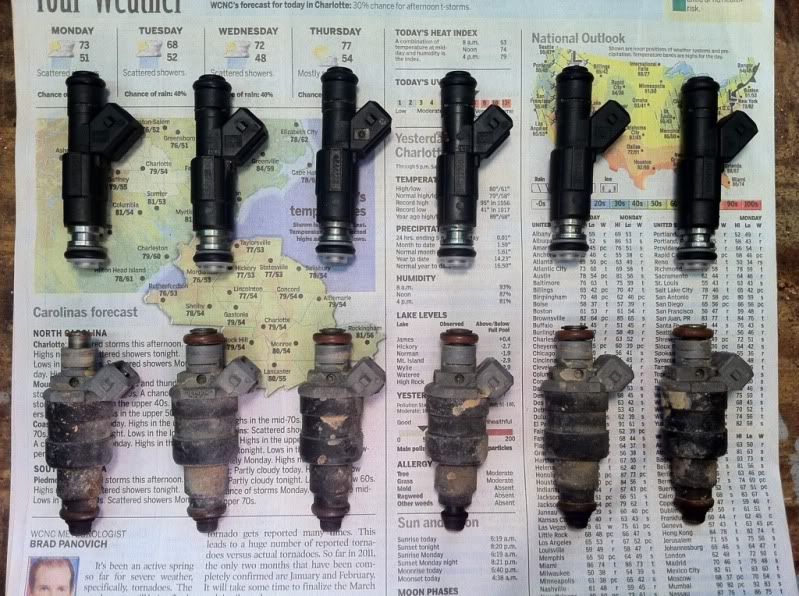 Fuel rail with old injectors: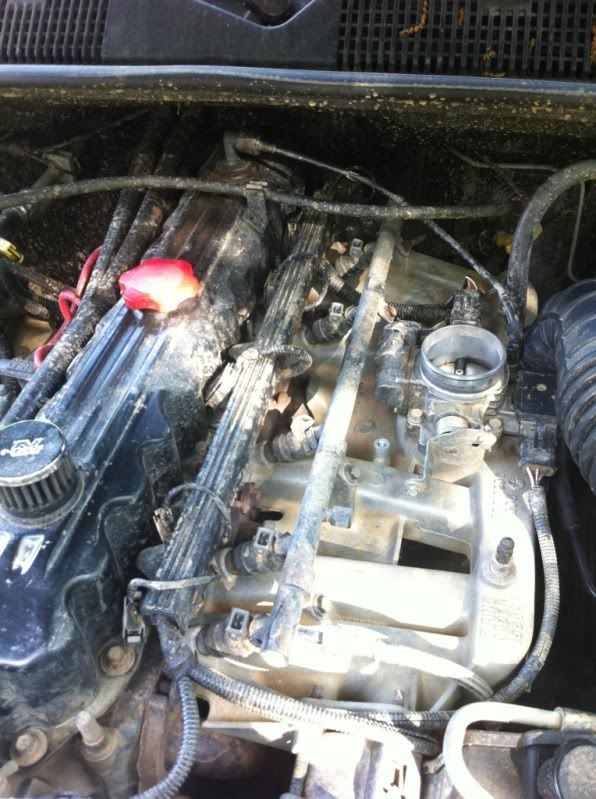 Fuel rail with new injectors installed: