Registered User
Join Date: Oct 2012
Location: San Diego
Posts: 267
sorry guys, just got home from a very long day. im going to take the jeep to work tomorrow so ill see about getting em up before the day is done
---
1993 Jeep ZJ Laredo 4.0L/42RE/242/D30/D35
Registered User
Join Date: Oct 2012
Location: San Diego
Posts: 267
here ya go guys. guess i got lucky but its 4 inches to the center of the hole you want to drill from the access hole for the upper suspension arm bolt and 1 inch out from the seam in the body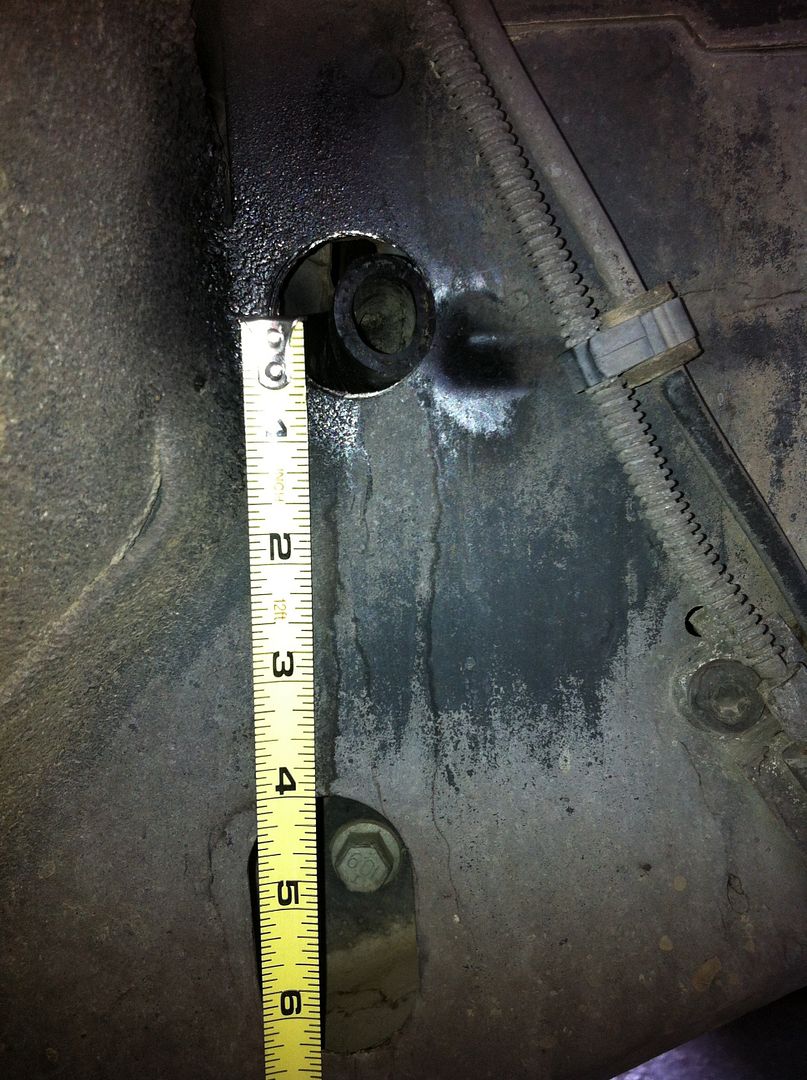 ---
1993 Jeep ZJ Laredo 4.0L/42RE/242/D30/D35
Registered User
Join Date: Feb 2012
Location: Dracut
Posts: 545
I would seal the surrounding hole with rvt or fast gasket to keep other debris out of the body just a thought
Registered User
Join Date: Oct 2012
Location: San Diego
Posts: 267
planning on it
---
1993 Jeep ZJ Laredo 4.0L/42RE/242/D30/D35
USER OF PARTS CATALOGS
Join Date: Jul 2010
Location: florida
Posts: 7,918
I just used a piece of plexi and painted it black, with some silicone on the back side to make it easy to remove and maintain. Like the hose idea, will be doing that when I can.
---
Info on projects and repairs categorized by system

To view links or images in signatures your post count must be 10 or greater. You currently have 0 posts.


Originally Posted by HighLonesome
lol...if life is as a simple as a 5.9 making you happy, I'd say go ahead and buy it on impulse. ZJs are the way of Zen. Wax on, wax off
Registered User
Join Date: May 2006
Location: Midland, Texas
Posts: 92
Just did this task a few days ago. Took my jeep on its first long trek Midland->Miami>Atlanta>Miami>Midland. The passenger side front had tons of water that I towel out at each fuel stop.
I must have looked weird. Here's the entry in my maintenance log. Also needed a 2" circle metal drill bit.
"Water goes front passenger floor from A/C drain? Attached Dorman 47028 + hose clamp under front passenger tire well 7/20/2013"
I got a 2"X3" template (google) and the spot is found by placing two templates length-wise above that bolt with the hole with the left edge aligned with the bolt. Dill at the center of the top template.
No wetness yet, but have not gone on a long trek yet.
No pictures, but I used this:
http://www.cherokeeforum.com/f52/ac-...pet-fix-24246/
---
-------------------------
Eddie
1996 Black ZJ 5.2V8 4x4
Registered User
Join Date: Feb 2012
Location: fort walton beach
Posts: 2,530
I Jus did this! Worked great. My only 2 cents is maybe measure out 1.5" from the seam. It woulda helped as my tube stuck out a bit longer that was pictured before. Easy fix i Jus trimmed it back a touch for plenty of room to fit the hose.
Thanks for the post!
---
96 ZJ sittin up 6" on 35's with 4:56's and a 12k winch. Cuz...why the hell not!?
Registered User
Join Date: Feb 2012
Location: Wilson
Posts: 646
I was toying with the idea of just running a hose up through the frame rail and connecting it to the drain, that way it still drains from underneath, but doesn't run through the sub-frame rail. Then I wrecked my 97, and my 98 has no issues with water in the floor, so I guess I'll wait until I get froggy one weekend.
Registered User
Join Date: Feb 2012
Location: GADSDEN
Posts: 10
Thank You ElCaminoManT for the measurements! It eliminated the guess work and made this job so much eaiser. I siliconed a 5/8" ID washer around the drain to fix the deteriorated gasket and connected a longer hose. I also drilled the 1/4" hole inside, but the drain was clean. I hope it works!
Currently Active Users Viewing This Thread: 1

(0 members and 1 guests)
Posting Rules

You may post new threads

You may post replies

You may not post attachments

You may not edit your posts

---

HTML code is Off

---