Registered User
Join Date: Mar 2009
Location: Oviedo, Florida
Posts: 507
Broken window regulator rollers? I got a cheap fix for you.
---
ok, so the other day, i was gittin ready to go to class.. Put my window down, it was goin down crooked, so i tried to put it back in place and it fell into the door... when i got home, i tore it all apart and found out all the little plastic rollers broke. After calling many many places iv found you cant buy just the rollers, gotta buy the whole regulator for godly amount of money.
Now all 4 of my windows are like this, just the others stay up.. So i got to thinking and came up with this solution, and it worked... very very well. ill be doing my other 3 very soon.
So i went to home depot and bought these, they are 3/4" shower door rollers. flat kinda, although i think round may have worked better, i had to round the edges a bit.
so heres what the package looks like, it comes with two, each front door needs 3 rollers.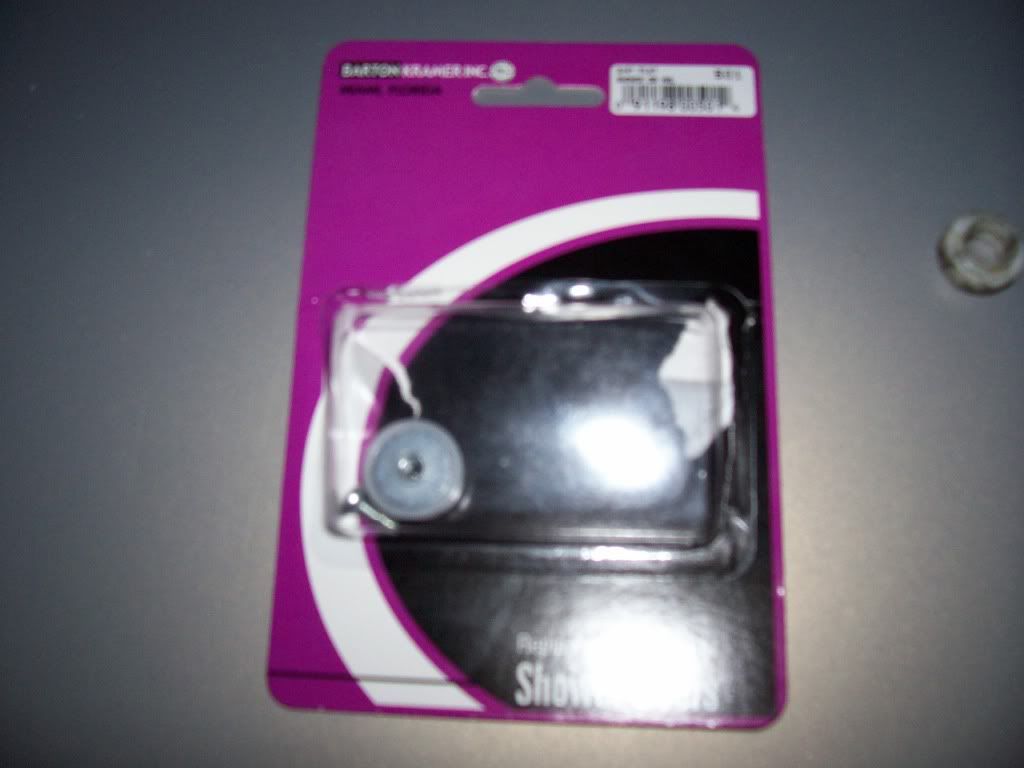 you then grind them down a bit... just test fit them inside the tracks till they are a good fit, not too tight but not too loose... you should be able to push them with your finger semi easily.
heres how i made mine fit.
held the metal part with pliers, the plastic spins free around it. and then i just held it evenly against the sanding drum. every few seconds i would test fit it into the track, it took a bit of grinding. you will have to bend up the pieces of metal of the ends of the tracks that keep the rollers from falling out.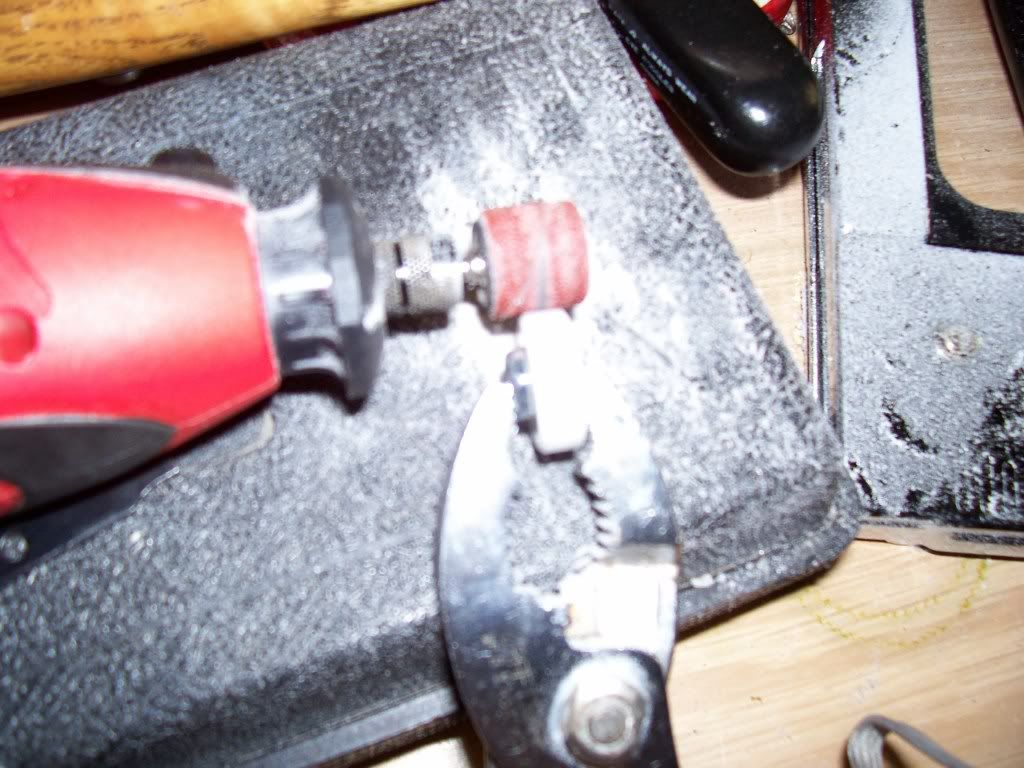 ok, i didnt get pictures of this part but...
The regulator arms have nubs... youll need to hack them off... my suggestion, do one at a time, drill out the rest of the post that was in there.. you can also just hit it out with an owl and hammer. install the roller, using some red locktite,(dont want to have to tear the door again too fix a loose screw) making sure the roller is on the side the nub was on, with the nut part against the arm. like so.
here's what it looks like when they are on.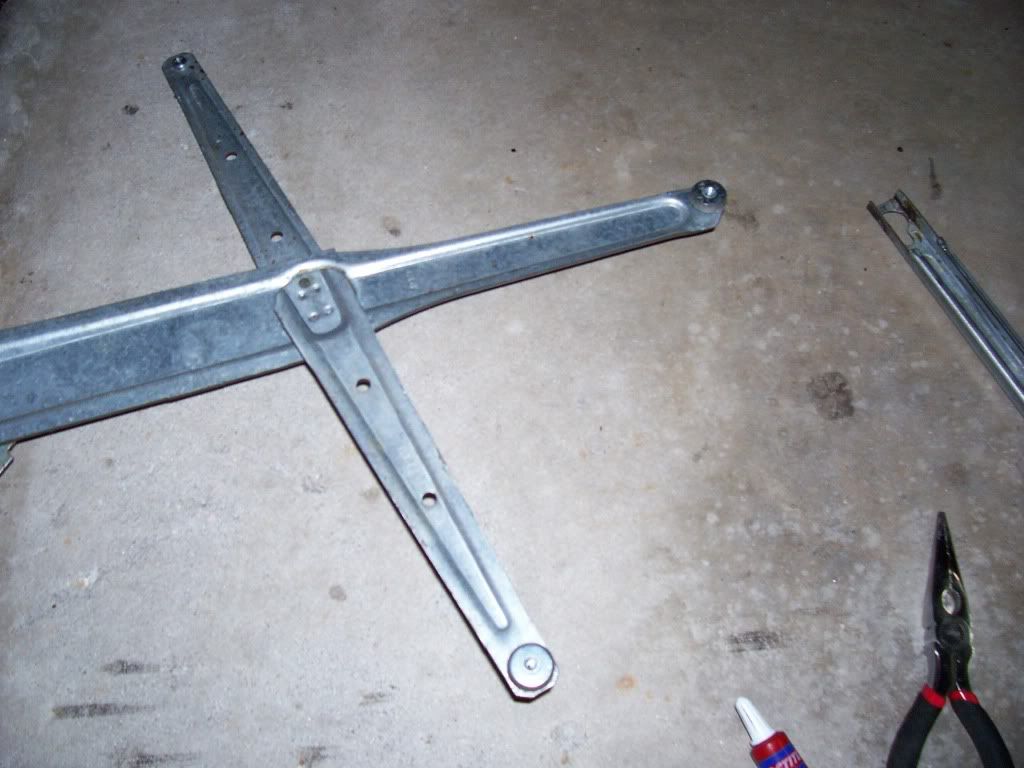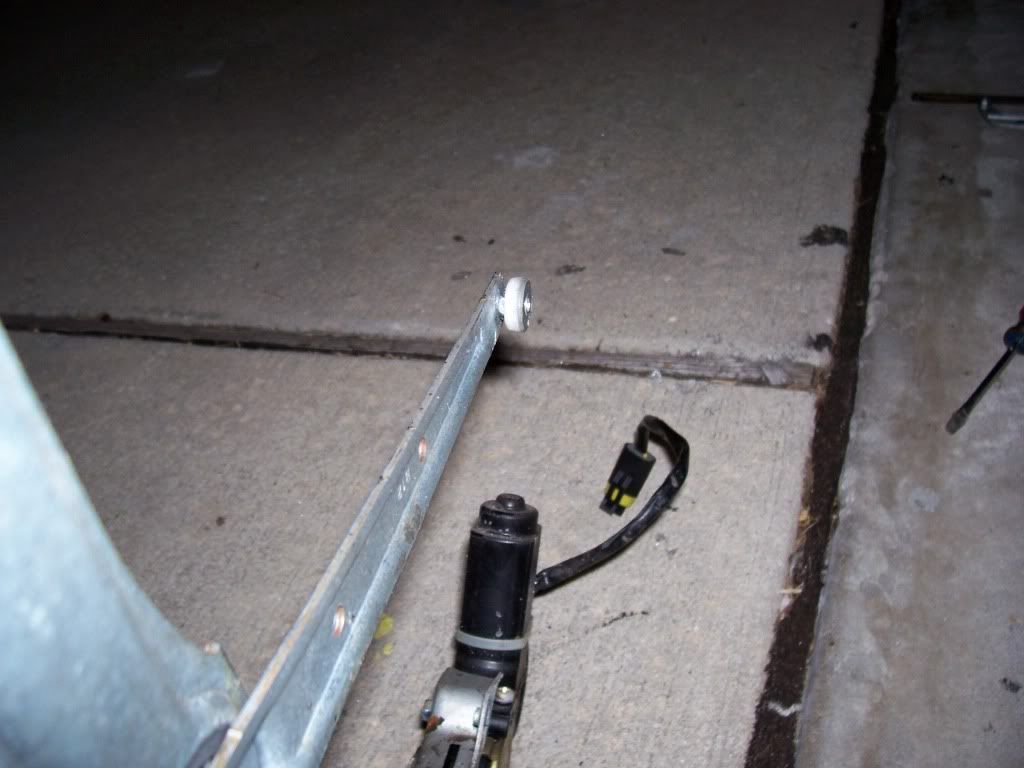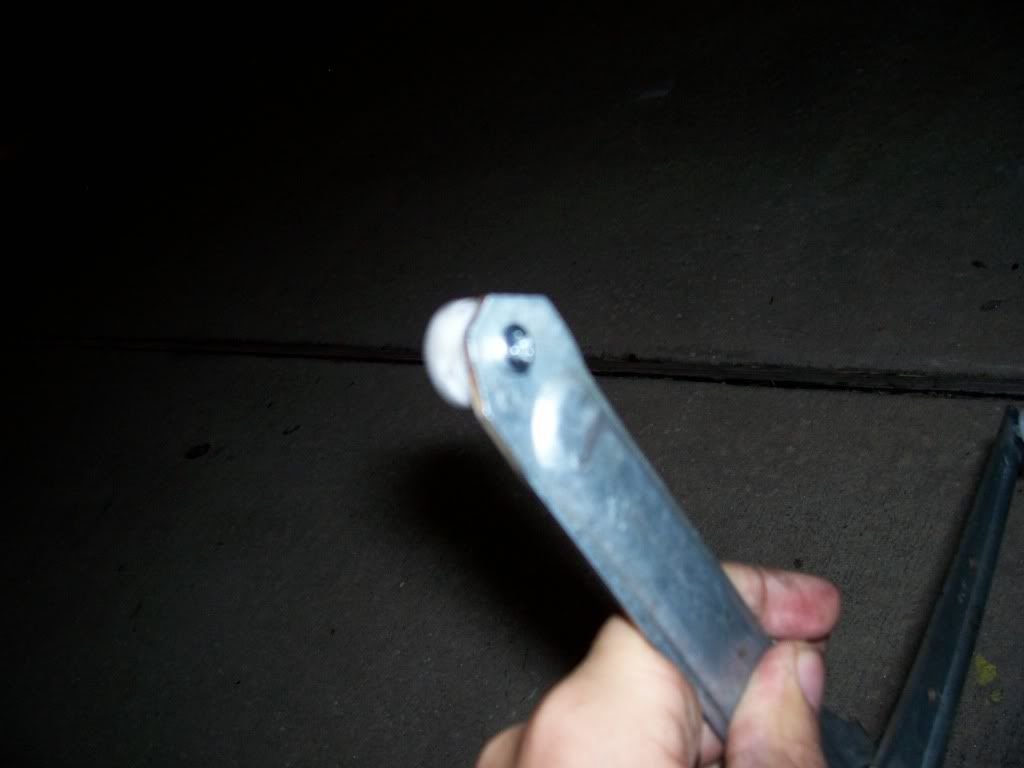 now after you got all three on facing the proper way, you can ut all the tracks back on it, making sure everything is in the right place, and put it all back not your door.. i didnt get pictures of this either, i was in a rush.
and heres a short video of it working..
easiest way to get the window put back inside the track that attaches to the bottom... is roll the window up and down a few times till it gets seated.
any questions, feel free to ask, i will gladly answer.
-Rob
anyone have a picture of the regulator from a rear door? i wanna try fixin those next. but i dunno if its the same or different..
Registered User
Join Date: Nov 2008
Location: Bloomsburg, PA
Posts: 363
kudos on finding an inexpensive, yet effective solution.
thanks.
When i do another window ill get more pictures of the steps.
Tore apart my rear doors today, the rollers on those are fine, but the motors are blown... so i guess i cant fix those.
ok so its been a month, and everything is holding up really well still.
---

To view links or images in signatures your post count must be 10 or greater. You currently have 0 posts.


To view links or images in signatures your post count must be 10 or greater. You currently have 0 posts.

19 and startin to learn.
Registered User
Join Date: Mar 2010
Location: Chicago
Posts: 12
Great fix thanks for the idea, I used your instructions but was lucky and was able to drill out the old rivet without removing the regulator. Fixed mine a few months ago and it's still working good, nice to be able to use the drive thru again. Had a hard time finding the roller, now someone is selling them on ebay.
Registered User
Join Date: Jul 2008
Location: ocean city
Posts: 486
with the motors, you may be able to take apart the motors and clean them well, unless the brushes are worn, but most likely they are just dirty

props on finding a cheap fix for the regulator... sticky maybe?????
---
1998 ZJ 5.9L 122k miles - DD, 242 swap, 3.5" RE, 32" BFG M/T, safari rack, roof-mounted lights, custom steel front bumper with hitch reciever, 10k winch :)
2004 WJ 4.7L 107k miles - her daily driver, 2" daystar BB with scorpion shocks.. not too bad! stuffed 265/65/17 General Grabber AT2'S
Registered User
Join Date: Oct 2009
Location: GA
Posts: 68
thats better than the setup on my 98 durango. it uses cables to raise and lower the window. whoever designed that needs to have their nuts cut off for designing that chit
---
94 GRAND CHEROKEE 4.0 5 SPEED 4X4
2004 CHEVY SILVERADO Z71
Registered User
Join Date: Sep 2013
Location: Youngstown
Posts: 1
Thanks
---
Thanks to all the helpful posts on this thread. I repaired a window that has only rolled down half way for about two years now. The info I found here was spot on to get the regulator out, fixed and back in. Hardware store had exactly what I needed, and I got a tube of window weld at O'Reillys.

Couldn't have done it without the help here.

Again. Thanks.
Great idea and nice post
---
Thanks for the post on this great idea. I was able to replace all three rollers on the driver's door of my '93 Grand Cherokee. I second the earlier post about not needing to cut off the nubs on which the rollers sit and then drill them out. I just put the regulator on top of my vice with the nubs in the slightly open jaws and knocked them out with a punch and a hammer from the back side.
Registered User
Join Date: Aug 2010
Location: North East, Md
Posts: 53
Awesome fix! Thanks so much for figuring this out. Thanks to you, my passenger front window now works!
Registered User
Join Date: Jul 2016
Posts: 3
I have fixed two regulators now because of this thread. I took some more photos also. I included this thread in a post I did on thespeedfreaks. Here is the link with some input on what I found while following this.
http://thespeedfreaks.net/showthread...938#post156938
Currently Active Users Viewing This Thread: 1

(0 members and 1 guests)
Posting Rules

You may post new threads

You may post replies

You may not post attachments

You may not edit your posts

---

HTML code is Off

---