Well i was doing a little offroading yesterday and towards the end of the trail, i realized that a clunk that i had acquired earlier in the day was getting worse and worse. I figured i was almost out, about a half mile of easy trail left until maintained gravel road, so i'd just wait 'til i was off the trail to check what was up (because i didn't have any tools with me and i wouldn't be able to fix anything out on the trail anyway).
Well with about a quarter mile to go, i heard what sounded like a small bell ring from just inside my right rear tire. So i got out to have a looksie and saw: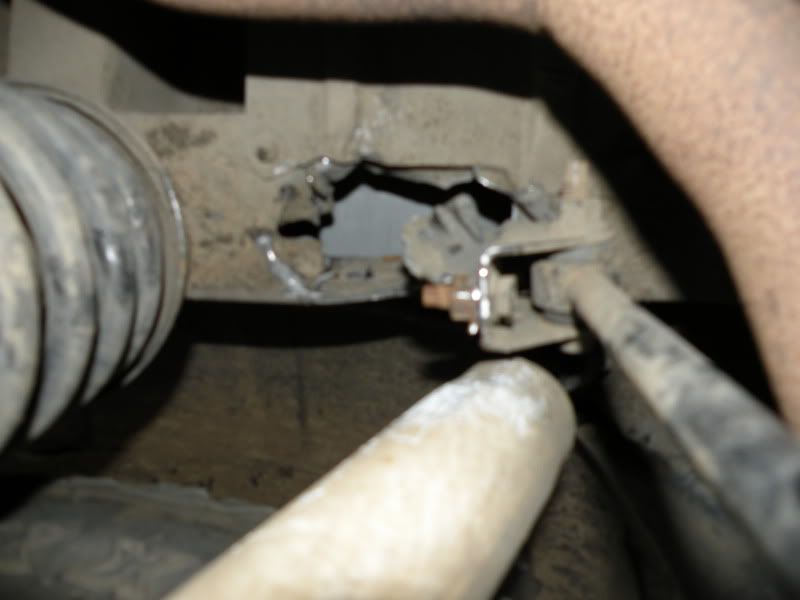 As you can see, basically where the swaybar link attaches to the "frame" just decided to rip out. I panicked at first, but then figured i didn't NEED my swaybar, so i drove home.
Now for the bad news. I need to drive 700 miles back to school on Tuesday. I was originally planning on driving the Jeep and pulling about 3000 lbs of trailer. But now i don't think that would be safe to do. But i want to ask you guys. There's an offroad shop right near campus that i trust and i would love to have them fix this problem. But i'm wondering if driving the Jeep such a long distance (especially towing a trailer) would completely ruin the frame. So what do you guys think?
Edit: some more pictures