Registered User
Join Date: Sep 2008
Location: Reno
Posts: 453
aiming my aux. lighting
---
i finally put my 4 hella ff50's on my wj roof! now im curious as to how anybody who has a setup anything like this aimed your lights?
thanks a lot!
---
-Brandon
2000 WJ
4.0, 42re, 242
4.5 inch lift, front Ironman 4x4 adjustable CA's
RB1 and full J&L audio setup
Rola roof rack
Registered User
Join Date: Oct 2007
Location: NY - upstate/central
Posts: 1,054
I have 4 driving lights on my light bar. I point the passenger side on the ground about 20 yards in front of and 5 yards to the right of the jeep. This lights up the right side of the trail so I can see branches and trees. The 2 center lights are aimed dead ahead and slighting down so they land on the ground about 50 yards out in front.
The driver side light is point real close to my front fender, about 10 feet out in a diagonal. This is my favorite position; all those jack***s that keep their high beams on coming at you down the road. Well wait till they are about to pass you and hit the light bar switch. That driver side light is pointed directly at their heads if I time it right.
I find pointing them straight ahead like headlights is ineffective. When your on the trail you dont need to light up 100 yards down the road. You need the light focused around you. So you can see the terrain. So point them where the headlights cant reach.
I have drawn you a picture: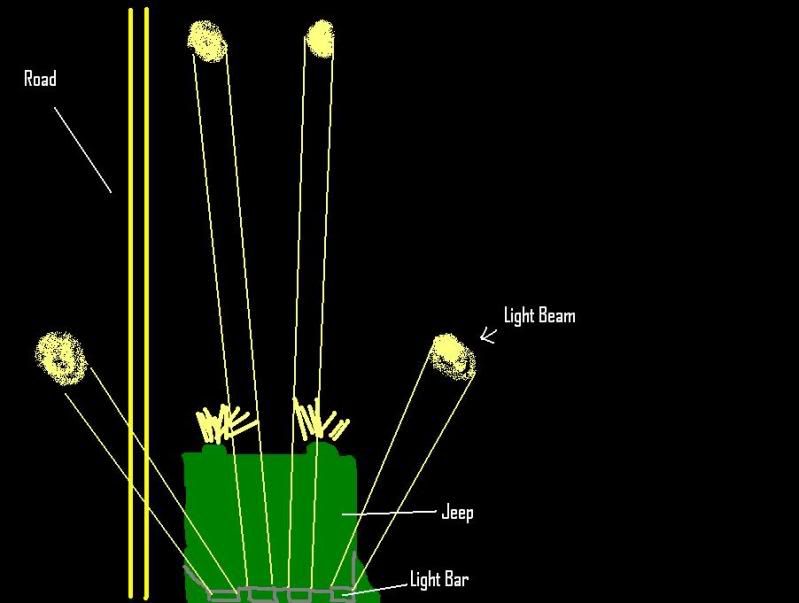 ---
Signatures are for attention whores.


Oh the irony.
---
Last edited by LandoCommando; 04-13-2009 at

02:13 PM

.
Web Wheeler
Join Date: Oct 2007
Location: Asheville
Posts: 3,086
Lando's setup looks pretty effective for a trail rig. How will you be using the lights? Find a dark empty street and go aim them to where you like. Just don't be like the **** I had behind me today...some ****** in a straight piped exploder with blacked out windows riding down the road at 4 PM with all 4 roofrack lights on. I wanted to "accidentally" toss a hand full of change out of the sun-roof.
---
2000 WJ 4.5L - Stroked, Locked, & Long-Armed
Looking for 6" WJ springs!
Registered User
Join Date: Apr 2007
Location: Wilsonville, Oregon
Posts: 5,354
yea it all depends on how the lights will be used. i would aim 2 of them in line with the headlights and the other 2 high and a bit left/right.
---
1993 Jeep ZJ. 4.0
Registered User
Join Date: May 2008
Location: Valencia, CA
Posts: 448
yea mine r set-up kinda the same way but my two center ones r aimed more down and the outside ones r faced to shoot farther out and angled like that drawing
---
98 ZJ Limited 5.2, Blacked Out, 6.5" IRO Long Arm, 15x8 Pro Comp 97's, 35" MTZ's, Custom Front Bumper, Rusty's Disco's, KOR Light Bar, 8000K HID's, Magnaflow, CB, 5% Tint, System, TJ Gas Bezel, JKS Rear Trac Bar, Rusty's Front Trac Bar, KOR Stabilizer, Cold Air Intake, E-Fan, RCX Diff Guard, Clayton Brake Lines, MSD Ignition, Gen Right Louvers, Custom Sliders, IRO Belly Skid, Rigid Lights
Currently Active Users Viewing This Thread: 1

(0 members and 1 guests)
Posting Rules

You may post new threads

You may post replies

You may not post attachments

You may not edit your posts

---

HTML code is Off

---