Registered User
Join Date: Sep 2008
Location: Boston
Posts: 436
I can take some pics when I do it.. Basically all you're doing is taking the line off the radiator, taking a tubing cutter & cutting off right after the rubber section of the tranny line. What you're left with is ONLY the steel line going to the tranny. Get some 3/8 high pressure rubber fuel line, slide it over the end of the steel line & double clamp it. Slide the other end of the rubber line onto radiator outlet & double clamp it there also.. Easy 10 minute fix..
Senior Member
Join Date: May 2011
Location: Middle Island
Posts: 801
I believe the feed is higher pressure than the return but im not sure how high the pressure is exactly. Personally i use pressure line for everything. Overkill never hurt anyone.
Yea I'll give it a shot & see what happens... I'm just not sure if the top or bottom is the feed line.. If it's the top one, that's the one I fixed with no problems.
The bottom is the feed top is return. My bottom is leaking HA really not a laughing matter at this point
I'll try it in the morning & post up pics for you.
Senior Member
Join Date: May 2011
Location: Middle Island
Posts: 801
Right bottom is always the feed. Fill from the bottom to the cooler is always full. No chance of air pockets.
[IMG]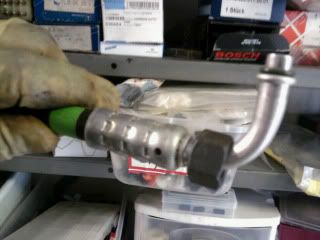 [/IMG]
This would be the perfect solution to my problem, went to my mechanic today with a problem with my girlfriends car. Saw this line on the shelf dont know what make car it goes to but I was told to goto a local hose shop I'm gonna bring my hose monday and see if they can make me one like the pic above. I would still like to see pics of what you did obie if its not to much trouble when you get a chance.
SLUGBAIT: Go to your parts store & pick up (4) 5/8"-7/8" hose clamps, & some transmission cooler line. If there's an Advanced Auto near you they sell the hose in a package, think it was like $8.00 & a package of clamps was $3.00. Here's a pic of the factory hose after I cut it off... You can see where I cut it off right after the rubber part of it. What you'll be left with is the steel line coming from the tranny to where you cut this part of the hose off. Take your new hose & slide in on the steel line as far as you can get it & DOUBLE CLAMP IT. I used ATF to lube up the steel line & slid the new hose on about 5-6 inches. After that route the hose up to the radiator fitting & cut the new hose about 2-3 inches longer than you need, & again DOUBLE CLAMP. Bang, all done! Mine took a little longer as I found it was easier to remove the fan & shroud to have ALOT more room to access that bottom radiator fitting... Any questions, just ask
Just got a new hose made like the pic I posted above getting rid of the quick disconnect fitting. It was $50 but as much BS that i've been having with this hose I would of paid him 100. Thanks for the the help obie, my hose was leaking at the opposite end of yours. Just got done putting it on, no leaks yeah awesome. Its damn hot out there
Currently Active Users Viewing This Thread: 1

(0 members and 1 guests)
Posting Rules

You may post new threads

You may post replies

You may not post attachments

You may not edit your posts

---

HTML code is Off

---