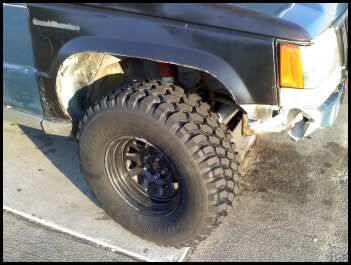 Front fenders trimmed to the extreme, because my 31s were rubbing when fully flexed, rear fenders have to wait because I have to reweld the pinch seam, and I'm a terrible welder.
I know, its a terrible picture, but it was night time and I was flex in my friends dried up mud pit to see how bad 32s fit on a 2" lift
They're close to the front in the rear, but the axle travels up and back so I'm not worried about that, the front has a ridiculous amount of room, and I'd like to take the same amount off on the rear fenders.
Just for the record I'm waiting to get out of class A school before I lift the heep 3.5-4" which is the reason why I bought the 32s I needed to pass inspection. I just wanted to illustrate that it could be done, with major trimming and no wheeling.