Registered User
Join Date: Apr 2013
Location: bolingbrook
Posts: 13
1994 Grand Cherokee Limited Overheating
---
Ok search tossed back 250 results for Overheating. I read most that had that in the title. I'm guessing its air and I'll keep trying to bleed until I get it straighten out or a response to look else where.
1994 Jeep Grand Cherokee Limited 4.0 I6 Auto Air All time 4WD 140,000 miles.
Bought used two years ago and have done my own maintenance tackling each little thing in time. It hasn't needed much. I had a "shifting issue" that turned out to be a dirty throttle position sensor. Cleaned and good now. Anyway When I bought the Jeep the gauges were well... Not accurate. Volts never over 12 I tested it at the battery and I'm getting about 14.4 so I'm charging. Oil Pressure when key is turned forward, engine still off, goes past 80, inop? Temp gauge has been know to run well below 210 and at times just above not much. One time last summer it was 95 in traffic I turned the heat on to keep it from going too hot. It was almost to the next line. I would sometimes have the low coolant sensor go off yet, when I'd pop the cap it would ave fluid in the neck, it would even have some near the add mark at the over flow. I'd read it could be a poor solder joint and not to worry.
Ok two nights ago driving home I see smoke?? from behind me, I'm doing 60ish its dark and it looks like mist? I notice the temp gauge is climbing past the 210 mark, I'm just a few miles from home and I turn on the heater full blast, I had it in when I started out and it was blowing hot now its cool. I get off the high way and am about three miles from home. I turn into a parking lot and as I do it stalls the needle is pegged. I get out pop the hood and there is anti freeze all over. I see it seem like its come from the radiator so I lock up and walk home. Next day after work I drive over and it fires right up. I toss in a gallon of water and it all it took? drove home and put it on the driveway.
Bought a radiator today from Pep Boys, install went OK. PO must have had trans issues because the trans lines were cut. I had noticed the cut lines but thought they ran to an additional cooler in front of the condenser coil. After I tried in vain to use the quick release tool to release the fitting even out of the engine bay I can't get it off. I notice this. Cool. I figure the additional cooler should be an issue?
Ok so new radiator is installed with new lower hose old hose wasn't bad but it looked like it could be a PITA so now was the time.
I started it up let it get up to 210, I think that is warm but I've read it is normal temp, correct me if I'm wrong. I shut it off and let it cool. I refilled the over flow.Started it again got it up to temp and then took it for a spin, temp started to go above 210. Went home. I parked it and popped the hood. The upper hose was hot and I cracked the rad cap and the coolant was stone cold. The lower hose was cold too. only the very upper most part of the rad was hot even that wasn't too hot to touch. Heater was blowing hot and the heater core hose were both hot.
So as I finish this novel I hope she has sucked down more coolant from the over flow. That's my story, there is more I'm sure but this should get us going.
So besides air since I get heat and the upper hose gets hot what to look for. It would be a big coincidence for two things to go at once but hey, who am I to say.
Also what should normal temp be on the gauge?
Thanks in advance
---
Last edited by small; 04-20-2013 at

05:52 PM

.
OK She sat about 1 hour and cooled down some. Temp gauge was at 100. It didn't take much coolant from the over flow at all. I dove it and it got to almost the line above 210 it didn't go any higher. heater blows hot. Upper hose still hot, radiator is cold midway down lower hose is still cold. I'm grabbing dinner and letting it cool again.

Service manual say to fill over flow and get to temp minimum of three times. What do you guys say?

I don't really trust these gauges for accuracy but they do move so its all I have to go with. This Jeep has some electric issues (driver-side power mirror works backwards? I see splices?)

Where do your guys gauges run?
Registered User
Join Date: Nov 2012
Location: Broken Arrow
Posts: 620
You might want to change the thermostat also. An overheated engine can damage it to where it won't open properly, or even at all. Do you know anyone that has a non contact themometer so you can get a true reading on the temps you're getting on the radiator (top of core, middle, and bottom) and on the hoses?

Ken
Registered User
Join Date: Mar 2013
Location: Ionia
Posts: 246
I agree, change the thermostat while your working on it....Can't hurt.....I would also grab a cooling system pressure tester and pressurize the system....there might be another leak somewhere, or a bad head gasket leaking exhaust gas back into the system....
Thanks guys, I was thinking the t-stat but since I was getting hot air in the ducts and upper hoses all that would not point to the stat. I have driven it about times since I did the change. Only after the first time did it seem to take any more coolant from the overflow. I have parked facing up hill and down hill as some of the other post have suggested. I've read a bunch waiting for it to cool before trying again.

Each time I drive it the needle seems to be about the same spot. Always at the mark above the 210* last time out I thought it was getting better because it never hit that mark. By the time I was pulling in it was just above it. I'm just driving close to home on surface streets under 35mph. I did take out to the frontage road git it to 55mph and it didn't move either way. I'd have thought faster more air it should drop but no.

I have an 18psi cap on there I was tempted too to change it for a lighter one maybe I'm not building enough pressure for it to open and push out the air??

What weight cap do you all run? Also what temp T-Stat. I've read a bunch on here to buy Mopar but I'm pretty sure someone makes them for them. Stant has been around for years I'd think they'd be hard to beat. But again maybe for this jeep thing they are.
Well I took the bike out to clear my head. Stopped by and got a 16 psi cap and a thermostat w/a extra gasket.

Tried the cap and it seemed OK for while driving then it went a line/bar/mark beyond the one it had been at, so now its two lines/bars/marks above the 210* it went the wrong way. I hope it let some air out and will suck in some a/f from the over flow. I didn't have the heat on until after it hit the next mark. It didn't move the needle down at all. I sat at idle for another few minutes and it didn't go up any farther. Kind of weird.

The lower hose is still cold.

I wounder if the impeller is off the shaft? I'd read somewhere about that also it has a test in the service manual for that. Could it be and everything went at the same time??
OK bottom line if the top hose is HOT and you get heat at the cabin but the lower radiator hose is COLD the thermostat IS stuck CLOSED. ALSO it is NOT the water pump, radiator or cap. I dismissed the stuck closed tstat and bought the water pump and tstat. I had too hard of time believing it could get stuck closed. So I installed both since I was there anyway. I found NOTHING wrong with the pump. At first I didn't see anything wrong with either part. I was hoping for the Ah Ha moment. When I didn't see it I was bummed and put things away for the night. The next day when I went to finish up I looked harder and more closely to the Tstat, when I looked closely at the tstat it was in fact stuck closed but not all the way. It seemed like the valve was pushed past the seat and got stuck so it wouldn't move back and open up. It was open some to allow a little flow and that it why the top hose and heater hoses got hot. Only there wasn't enough flow to circulate through the radiator to get to the lower hose. The fan was able to cool that little bit and so it never got hot.
Now we know.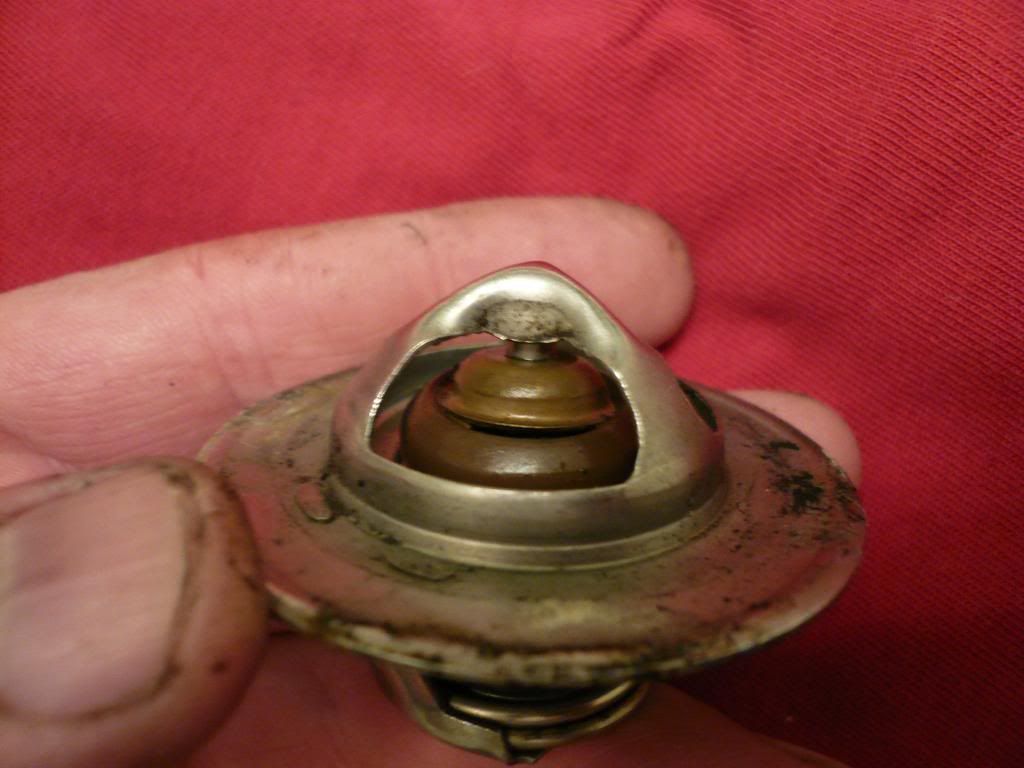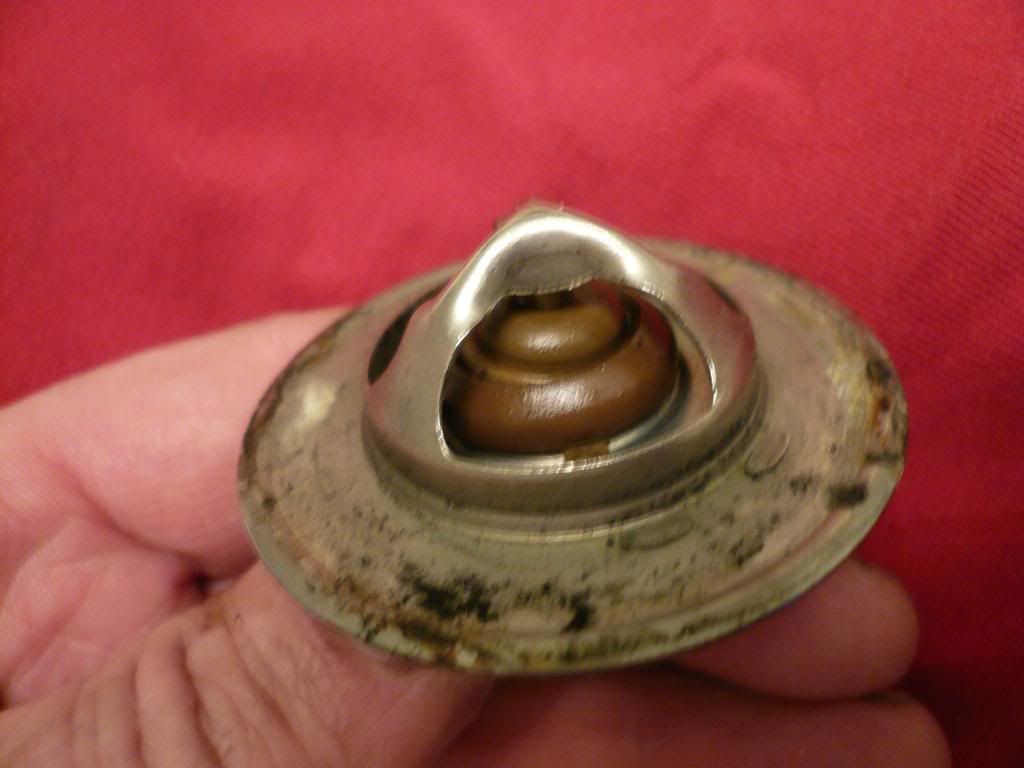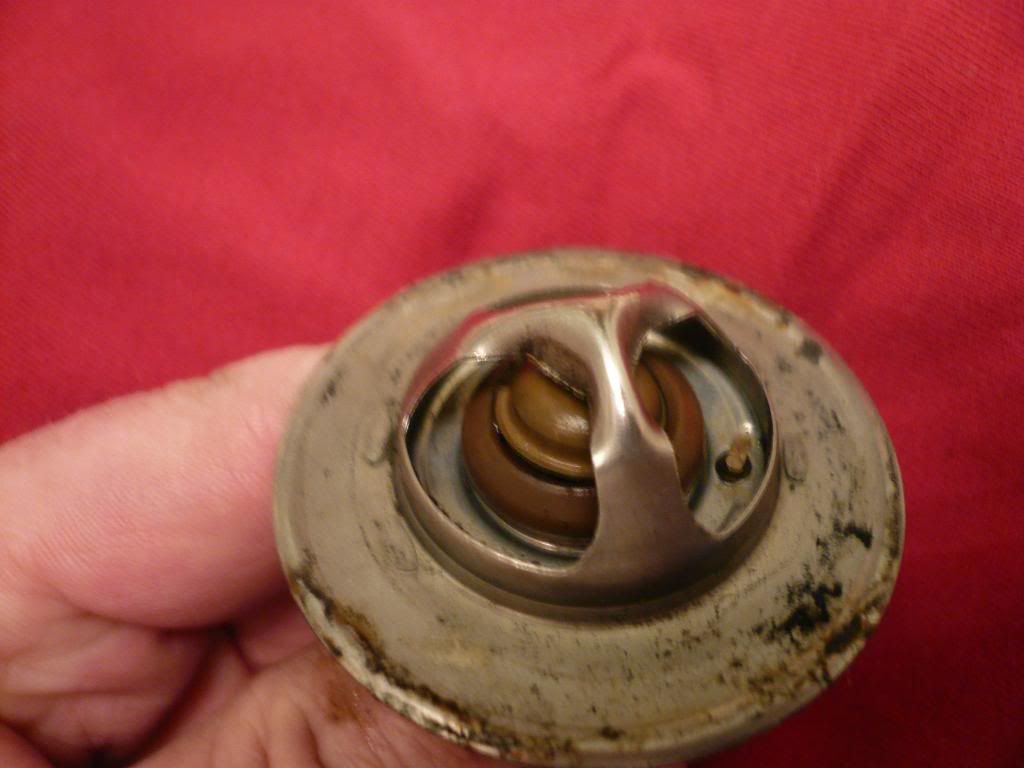 Currently Active Users Viewing This Thread: 1

(0 members and 1 guests)
Posting Rules

You may post new threads

You may post replies

You may not post attachments

You may not edit your posts

---

HTML code is Off

---