Erik Jordan
This is a 1995 jeep Wrangler YJ.
• Savvy aluminum corners
• Savvy rockers
• SwayLoc front swaybar
• Currie Anti-rock rear swaybar
• Custom mrblaine design suspension
• Fox coilover shocks with eibach springs
• Fox air bump stops rear
• Aluminum fuel cell in the bed
• TJ bump stops front
• Custom steering
• Prototype big brake kit
• Hydroboost braking system
• Blackmagic brake pads on the front
• Superior super 30 front with ARB
• Superior Super 88 rear with ARB
• Tom Woods Driveshaft front
• Tattons driveline driveshaft rear
• Tommy Lee steering box and Ram
• Champion Beadlock wheels 15x7
• Goodyear MT/R tires 35x12.5x15
• Custom roll cage mrblaine design
• Standard safety equipment including first aid, fire extinguisher etc.
• Kenwood HAM radio
• Uniden CB Radio
• Eclipse stereo
• Custom cut and raised rear half frame
• Custom aluminum flat center skid
• Atlas 5.0 transfer case 32 spline outputs
• Warn HS9500i winch with synthetic line 100' -3/8"- Safety Thimble.
This Jeep was purchased stone stock. I have been wheeling the hell out of this rig for the past 7 years all over Southern California. Trails on that list consist of Rubicon, Moab, Hammer's trails, Big Bear, and many more.
`````````````````````````````````````````````````` ```````````````````
: Poke
Jeep: 1991 YJ
4.0
AX-15
NP231 with JB Conversions Super Short SYE
White Rhino Fab Tube fenders
Comp Cut
Front axle- 1978 F350 Dana 60, 5.13 gears, Spartan Locker, selectable hubs. All new bearings and races.
Rear axle - 1993 F350 Sterling 10.25 full Float, 5.13 gears, welded.
Steering - High steer. tie rod & drag link are 1.5" x.25 DOM. Astro Van steering box, tapped for hydro assist.
Springs - XJ bastard packs. 8 sets of stocks XJ springs were used to make 4 military wrapped springs.
Stretch - 6" front stretch, 7" rear stretch. The front frame was extended for the hangers, rear hangers are mounted on crossmember. gas tank replaced rear seat.
Gear:
ARB OBA
Warn 9000i
Cobra CB
Hi-Lift
Interior:
Herc'd
Grand AM seats
0 gravity drink holders
Hand throttle ($8.55 worth of bike brake and cable!)
Safety:
Full custom cage (Getting full racing seats, 5 point harnesses, more cage, helmets. met with "the guy" and scheduled it for first week of Nov.)
I recently changed this jeep from a mild wheeler on 35's to what it is now. see the build thread Jeep Envy. As the jeep speaks for it self, I will simply tell you where the name came from. Riding around town with my wife I used to look at every jeep, pick out something I liked and tell her I had jeep envy. The jeep envy within built and built within me until one day I started making a list of what I really wanted in a wheeler. At the top of that list I wrote Jeep Envy. So I started buying up axles and tires as I found deals. I bought all of the suspension components and most the brackets off a member here and he was very good at helping me put this all together, this is his brain child and my motivation. I owe the little bit I know about jeeps and wheeling to the collective members of JeepForum, Thank you.
[/
`````````````````````````````````````````````````` ```````````````
jsawduste
This YJ was a ground up build. That is no specific donor vehicle was used to to start with..Parts were secured based on need, condition and availability.. For the example the tub came from rust free Arizona. The frame from Georgia and so on.
List or parts/modifications.
1. Engine
Started out as a 93 4.0. Features a 4.2 12 cwt crank. Eagle rods. Custom zero deck pistons from Diamond Racing that give a static compression or 10.3:1. Hesco 270/480 can advanced 4*. Ported head with stock size valves and Chevy valve springs. Roller Rockers from Mopar. 24 lb injectors fed by an adjustable fuel pressure gauge. Edebrock header into a stainless steel exhaust..DUI ignition system. Hi flow water pump and three row radiator. Fed with a high volume oil pump and Brad Penn oil. Fully balanced and blue printed.
2. Transmission and transfercase.
Center-force dual friction clutch drives an NV4500HD from a Dodge diesel pickup. Transmission is coupled to an Atlas II with 3.8 gears. Flat belly skid and also an engine skid plate that extends up to the harmonic balancer.
3. Axles
Front axle is a HP44 from a 78 3/4 ton Ford. Narrowed and the C`s rotated to correct for caster angle. Superior shafts are drive by a Detroit Locker and 5.13 gears. Hi steer with Reid Racing knuckles and NWF 4 bolt arms. LPW Girdle.
Rear axle is an 8.8 with Mark Williams billet main caps. Held in place with ARP studs. Ratech crush sleeve kit. A Detroit Locker and 5.13`s. Moser 31 spline chromo shafts and Ford 9 inch outer bearings. Ford SVO backing plates and disc/parking brake system. Full TNT truss. LPW girdle.
37 x 15 MT/R`s for street mounted on 10" beadlock wheels. 37 Maxxis CC`s also mounted on 10" Beadlocks for off-road.
4. Suspension
Custom Alcan SOA Zero lift springs. Front axle pushed out 3 inches. Same for the rear. Bilstein 5150 shocks on each corner. Greaseable shackles. Custom traction bar eliminates axle wrap. Currie Anti Rock Sway bar.
5. Body
Complete Speedliner bed coating 360* on tub, hood fenders etc.. Color tinted with blue with black accents. Satin gloss mixed into mixture to add some shine. TNT Crusher corners, sliders and front fenders.
Custom front and rear bumpers with a winch mounts and various accessory mounts.
6. Interior
Custom dash and Autometer gauge package. Full cage tied into the frame. LED lighting. MasterCraft seats with 5 point harnesses. Undien CB, Alpine, Polk handle the entertainment. Garmin 76CSX GPS tells me where to go.
7. Misc
Kilby On Board Air system. Full PSC ram assist steering system with cooler. Full hydroboost with an externally adjustable brake proportioning valve.Complete rewire from headlight to taillight. New connectors, wiring and the electrical architecture has changed dramatically from the factory.. Twin Optima Yellow tops powered by a 180 amp alternator. Warn 9500 winch. Piaa lighting x 4. Roundeyes conversion headlights with a 55w/130w rating. LED taillights.
8. Pictures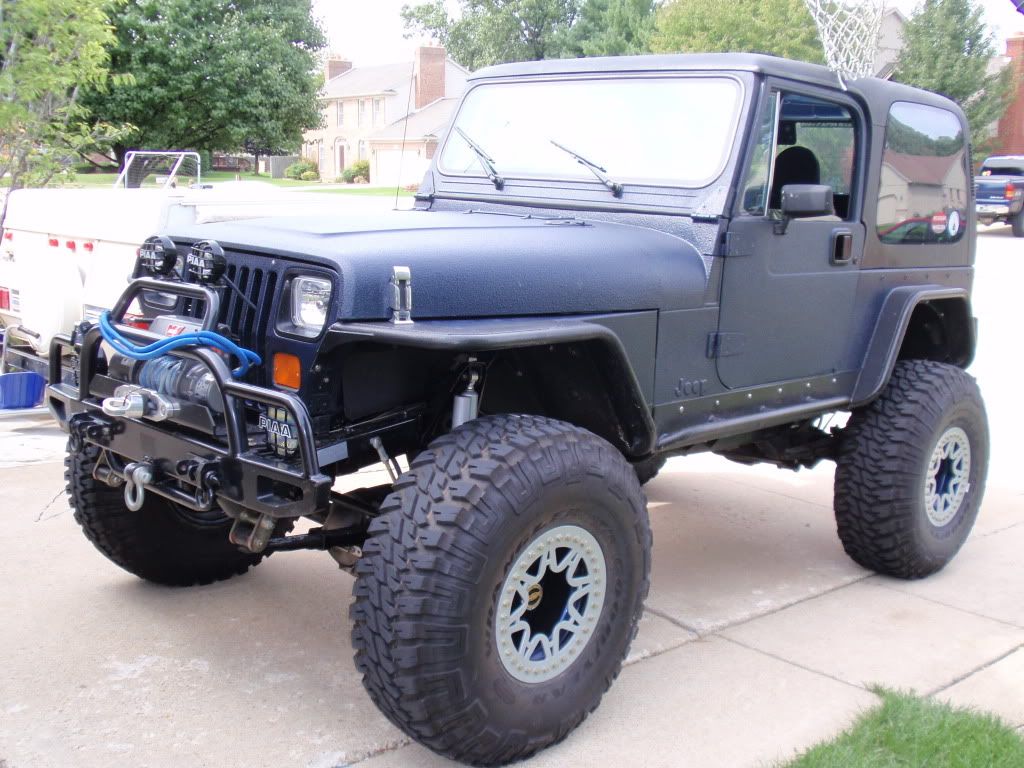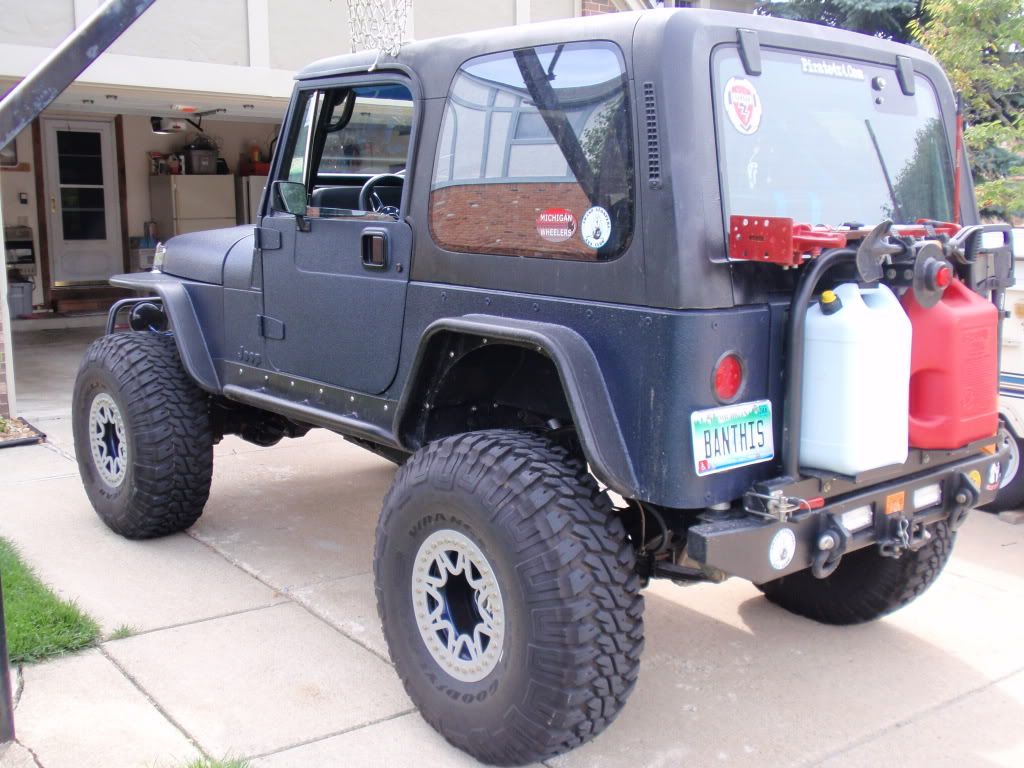 `````````````````````````````````````````````````` ````````````````````````````````````
scubamc
1991 YJ
Atlas 2 Speed 5:1
4.0 w/AX15
Front Axle
76 Ford HP44 Narrowed to Waggy width
Warn Premium Locking Hubs
Alloy Shafts
PSC Hydro Assist Steering
Yukon 5.13
ARB Locker
TnT Truss
Rear Axle
87 XJ Dana44
Alloy USA Shafts
Yukon 5.13 Gears
ARB Locker
Tnt Truss
Crown Vic Disc Brakes
Suspension
Front
Polyperformance 3 Link
with Fox 2.0 Coilovers and Ebach Spirngs
Stretched 3 inches
Rear
Rubicon Express 4.5" Leafs SUA
Dynatrac U-Bolt Flip Kit
Armor
Metalcloak front fenders w/4"flares
Metalcloak Sliders
Metalcloak Rear Corners w/4" Flares
Poison Spyder Steering Skid
UCF High Clearance Skid
Genright Tank and skid
Interior
Poison Spyder Full Cage
Seats tied into cage and frame
Corbeau Seats
Tuffy Console
Custom Dash by Dan at Double D Fab
Autometer Gauges
Exterior
Savvy Tail Lights
Warn XD9000i w/Viking Rope
Trail Ready Beadlocksw/37x12.5x17 Pitbull Rockers
KC Slim Lights
Tom Woods Driveshafts
`````````````````````````````````````````````````` ```````````````
Unii
1995 YJ
2.5l 4 cylinder
122k miles
AX-5/NP231
Suspension-
Fabtech 3.5" springs
1" Booms
Rustys Shocks
Homemade Rear U-bolt Sliders
Axles-
HP30,Aussie, 4.88s, Posilok System, Chromo Stub Axles
Ford 8.8, Trussed, 4.88s, UCF Cover,Disc Brakes
Interior-
Herculined
Mastercraft Rubicon Seats
Tuffy Overhead Console
Cobra CB
Speaker Pods
Exterior-
Roof Rack, Roll Cage, Front and Rear Bumpers Built by Me.
Smittybilt Tube Fenders,Sliders and Full Corners
Rear Swing Out Tire Carrier
5 Hella 500FFs
2 Titanium KC Slimlites
Vision X Trantrum LED Rock Lights
XRC-8 Winch
JKS 1.25" Body Lift
JKS 1" MML
Wheels and Tires-
(5) 35x12.50x15 Maxxis Bighorns
(5) 15x10 American Racing 767s
Have had this jeep for almost 3 years, done everything myself with help on fabrication from my grandfather. I never see getting rid of it. A motor swap and one tons is in the future for it.
`````````````````````````````````````````````````` ````````````````
YJames90
Jeep: 1990 Wrangler White
Mods:
Chevy 1988 4.3/4L60e/Np231C/J drivetrain
SOA
2" BDS spring lift
1" body lift
On board air modified from factory AC
Pontiac sunfire bucket seats
XrC8 Smittybilt winch with in cab controls
Tj family roll bar /Front CJ cage
33x 12.50x 15 Bf Goodrich KM2s
15x 8 Steelies
Aussie lockers front and rear
Ford 8.8 rear with disk brakes
3/4" boomerang shackles
Front and rear axles stretched out 1 " each
Solid and Riddler diff covers
Dana 30 posi-lok
Rear Custom CV drive shaft
Front Custom drive shaft
slip yoke eliminator kit
Smittybilt front and rear bumpers
Hand throttle
CJ rear cargo storage box
48" highlift jack
Hard half doors
Full soft top and doors
TJ Bikini top
Modified TJ rocker guards
I bought this Jeep a few years back when it was bone stock. Im proud to say that I have done most of the work myself including the engine swap.
Alot of tech help came from many members of Jeepforum .
Thanks to all that have helped !