Registered User
Join Date: Jun 2012
Posts: 29
Yj tool box
---
Hey has anyone on here made a tool box for the back of there yj with the rear seat removed I have looked everywhere and I can not find any tool boxes that will fit directly in so I am just going to make my own just need some ideas
Registered User
Join Date: Nov 2005
Location: New Bedford
Posts: 426
---
1993 Jeep Wrangler lifted YJ
Previous Jeep 1998 TJ
Registered User
Join Date: Dec 2005
Posts: 92
I just mounted a Craftsman 4 drawer tool box across the back of my Jeep when I had the back seat in. I still have it in and I'm able to carry plenty of tools.
---
Everything in moderation, including moderation.
Registered User
Join Date: Dec 2011
Location: Navarre
Posts: 849
Quote:
Originally Posted by Dober08
Hey has anyone on here made a tool box for the back of there yj with the rear seat removed I have looked everywhere and I can not find any tool boxes that will fit directly in so I am just going to make my own just need some ideas
Well not exactly....
My tool box is made from an old gas can. Will go right in the second gas can holder. Keeps the back of the jeep open for other stuff!
---
BUILT NOT BOUGHT #602 / ZOMBIE RESPONSE TEAM #40 / USN HULL #196
Registered User
Join Date: Jul 2010
Location: Chesterfield, Va
Posts: 387
Yup. This was the night before packing (tools and parts) for a wheeling trip. It also has a flip up area in front of the seat (under in this pic when seat is flipped up) that holds tow strap, shackle, jumper cables, winch remote and bungees.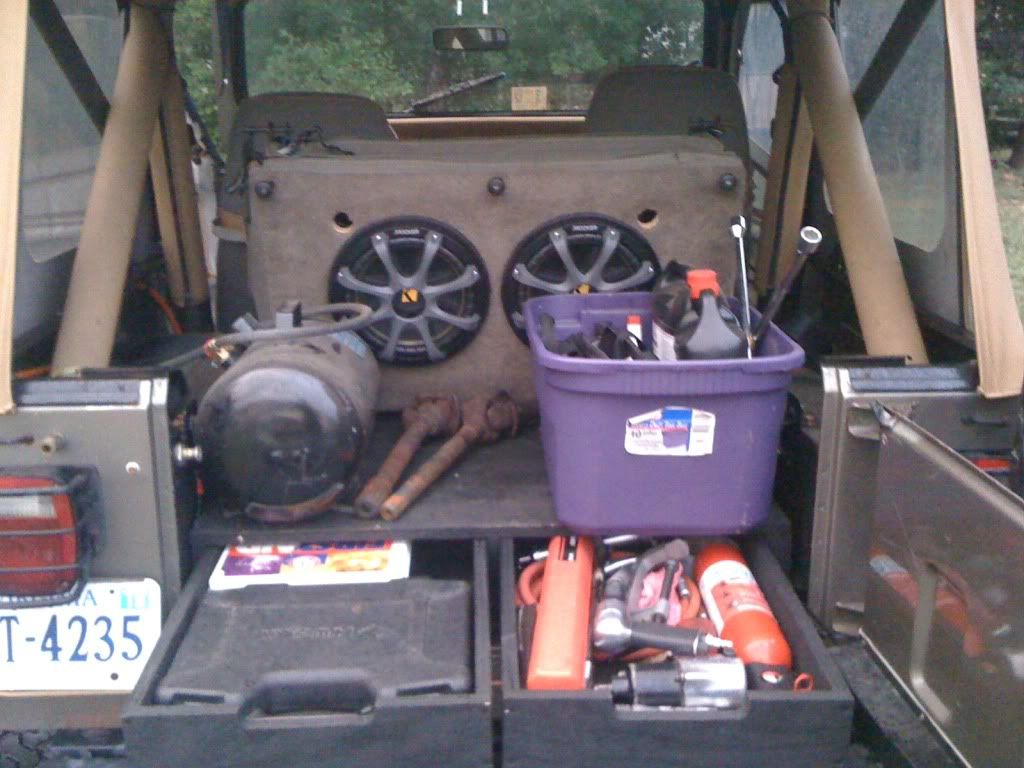 ---
88 YJ, 4.2L, AX-15, NP231 w/ SYE, 3.5" RC lift, 1" booms
Cut down XJ shaft in rear
Ford 8.8 LS & Spartan Locked D30
Big Daddy Off Road rock sliders
35x12.5 BFG A/T KOs, XRC-8000

I love installing new stuff.
Registered User
Join Date: Aug 2011
Location: Harrison
Posts: 144
I don't know if this will help or not, but I too looked endlessly for some kind of box, and resorted to building my own wheel well boxes, and thankfully found this: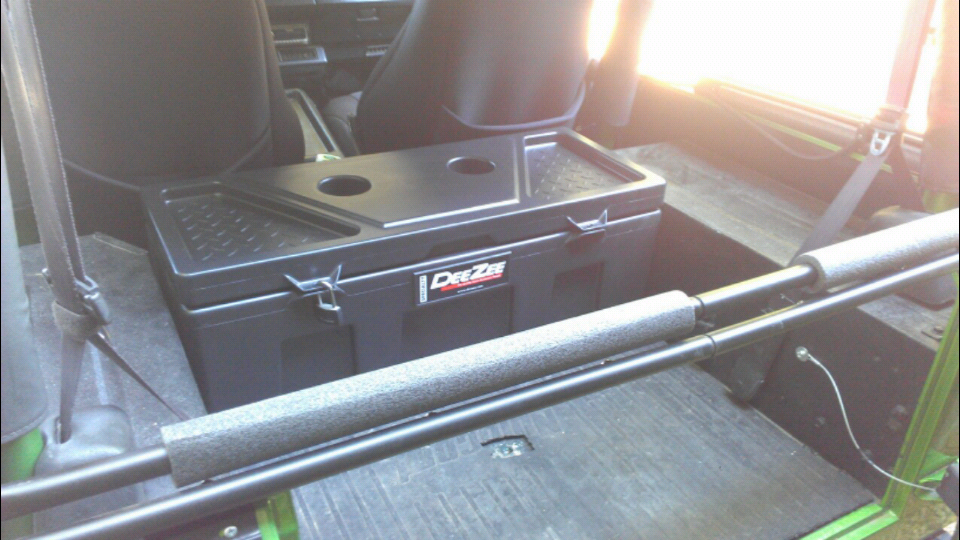 it fits with the half an inch of room on each side. Made by DEEZEE. Less than $100.
---
'94 YJ: 4.0L HO fi, 5-speed AX-15, Daystar 1.25" shackles, 17" JK wheels, lined tub, custom paint, Bestop Supertop, etc..
'88 YJ: 4.2L carb, 5-speed, stock everything. Banana-ish yellow. hard top. 26,XXX original miles.
Registered User
Join Date: Apr 2011
Location: Orange Park
Posts: 1,941
I got this box for $65 at Walmart. it locks and has 2 other locking spots, Holds a ton of stuff and I still have room for a full sized cooler behind it. It is bolted to the rear seat screw holes with some heavy washers to hold it secure.
---
Wave as you pass me :D

The problems of owning 2 Jeeps ... I never know which one to work on or which YJ gets the next mod ...
Electric Chair Operator
Join Date: May 2004
Location: Lexington Park
Posts: 13,513
Registered User
Join Date: Oct 2010
Location: Winterville
Posts: 57
Registered User
Join Date: Oct 2010
Location: Winterville
Posts: 57
Registered User
Join Date: Oct 2010
Location: Tonganoxie
Posts: 210
Registered User
Join Date: Oct 2010
Location: Tonganoxie
Posts: 210
Currently Active Users Viewing This Thread: 1

(0 members and 1 guests)
Posting Rules

You may post new threads

You may post replies

You may not post attachments

You may not edit your posts

---

HTML code is Off

---