Registered User
Join Date: Apr 2010
Location: nebraska
Posts: 1
is this a yj stock wheel?
---
is this a stock yj wheel? off an islander maybe? i found a set of them, wondering what they are worth for the set or per each? they are said to only have 200 miles on them and then they were taken off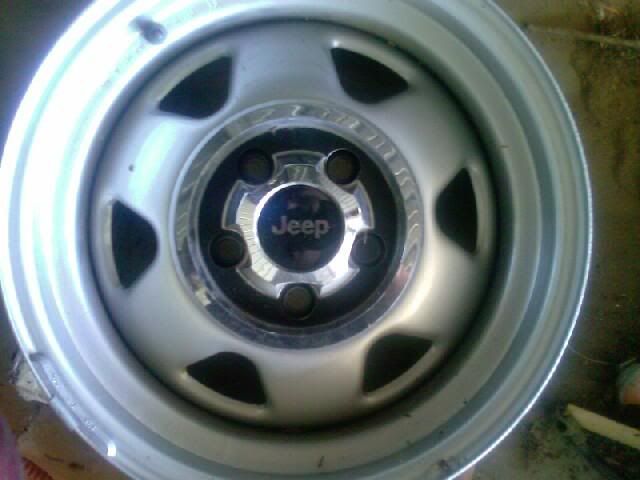 Got my eye on you.....
Join Date: Apr 2005
Location: Syracuse, NY
Posts: 18,613
Those are STOCK steelies. I wouldn't pay more than 100 for the whole set. They can be found on YJ's and XJ's
---

To view links or images in signatures your post count must be 10 or greater. You currently have 0 posts.

Congenital Heart Disease is a reality for me, BOTH of my children have it. Please read up and become aware for future generations
Lydia Ann-Acquired 08/05/05 Open Heart surgery 08/10/05
Jacob Patrick-Acquired 01/17/08 Open Heart surgery 02/15/08
Registered User
Join Date: Jun 2009
Location: Olympia
Posts: 1,280
I got a set of stock steelies for free. Mind you there weren't that exact style, but the 5 star ones. I got them powder coated by my buddy that owns a powder coating shop. Most expensive part about them was mounting the tires from my old Canyons to the new wheels.
Registered User
Join Date: Jul 2009
Location: blanchard
Posts: 621
if you can find your way down to oklahoma you can have my set
---
Find the"YJ of the month" contest in the stickies and participate!
Eph 6:13 -Therefore put on the full armor of God, so that when the day of evil comes, you may be able to stand your ground,
Quote:
Welcome to the forum.
If you are a mechanical neophyte and have to repetitively intone the mantra of "lefty loosey," are a mouth breather and only own a hammer, it will be more of a challenge.
Registered User
Join Date: Jul 2006
Location: Surrey,BC
Posts: 934
They are stock, and not worth a lot either. If I sold my set, I might get $100 for them if I was lucky. The only thing thats different about those is the center cap, its chrome where mine are all black.
---

To view links or images in signatures your post count must be 10 or greater. You currently have 0 posts.
-My business, being self-employed rocks.

91 Yj Renegade, lifted, built 4.0L, 33's etc
Currently Active Users Viewing This Thread: 1

(0 members and 1 guests)
Posting Rules

You may post new threads

You may post replies

You may not post attachments

You may not edit your posts

---

HTML code is Off

---