YJ Fuel Filler relocation
---
Here is one of the more practical and visible projects that I just finished on the Jeep, taking the fuel filler out from behind the rear license plate and moving it to the rear quarter panel, behind the driver.
It took about 5 hours in total over the course of a couple of weekends, starting on Monday afternoon of the Labor Day weekend. On the first weekend I stopped when I was satisfied that I had made the cut where I needed it and that the screw holes were properly drilled and tapped. I finished the following weekend by installing the surround. The raw edges of the cuts and holes were painted with Duraliner, after cleaning all the exposed metal, so I wont have to worry about rust there.
Here's the original location behind the license plate.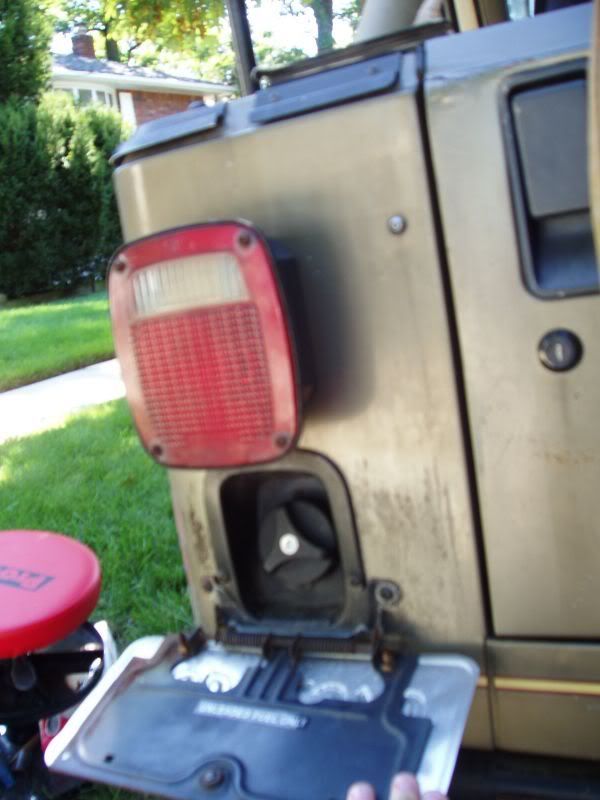 I marked the new location using the gasket for the new surround as my template for the cutting and drilling. I taped the whole area with blue painter's tape to protect it from any accidental damage and to leave me a surface to mark for the cuts. I measured all the placements of the wheel well and top of the upper part with an adjustable right angle square to find all the locations to avoid them.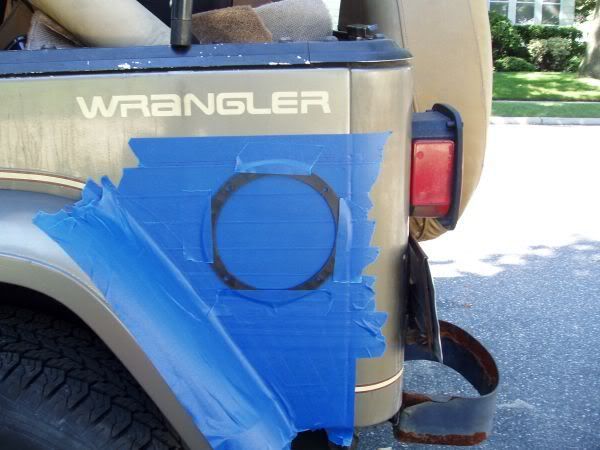 With those locations noted I drew a vertical line to mark the inner wheel well's closest point, and the horizontal line for the top of the inside of the Jeep, and then avoided the seam to the right. With all my landmark's established I marked my cut and drill locations and started to cut.
After the cut was made I saw that I had to come over about 1/2 inch to the right because it was just a hair too close to the wheel well , so I made new lines to adjust over. I used a 5" hole saw to make the first cut and a small reciprocating saw to finish the adjusted cut on the right hand side. The vertical piece of metal was a little part of the wheel well wall that was in the cut area. For added breathing room I used a piece of 1 inch square stake and a 3lb hammer to smash it out of the way a little, just knocking it back into the wheel well by about ½ inch in total.
Here is the final cut with screw holes tapped out.
---
/l , [____],
l---L--[]lllllll[]-
()_) ()_)
----
)_)
Deep Blue Forum
Member #1 of the "I Hate Torx Club!"
~anyone with a Jeep is an automatic member, and anyone can be member #1~