Quote:
Originally Posted by
JohnRodriguez
the 8.8 is a piece of junk. don't care if you all out there get mad. if it is such a great rear end, then why don't you see it in the racing sports. JUNK

you can put a wilwood disc brake kit on your D35. use the kit for the ford small bearing, it uses the same bolt pattern for the housing end. this disc offset is also the same. the kit # is 140-7143 . same kit I have installed on my 89. I'll try and snap a picture on how I attaced the e-brake to the kit.
Hmmm Funny There are ton's of guys Dragracing Mustangs with 8.8's , Guys who build and wheel rangers use 8.8's , All the v8 swap kits for miata's use a 8.8 IRS diff. Tons of guys who compete in stock and modified class rockcrawlers use the 8.8
The 8.8 is a great axle it is stronger the the D44, and your mighty d35 !
Here are some specs !
Axle shaft Strength and output torque rating by Warn and 4 Wheeler
The axle shaft strength tested by Warn Ind:
F8.8= 6,500 (lb. ft.)
D44= 4,600-5,000 (lb. ft.)
D35C= 4,000-4,300 (lb. ft.)
COT: Continuous output torque rating
MOT: Maximum output torque rating
(Numbers from January edition of Fourwheeler, page 60.)
Dana 35 rear axle COT: 870 MOT: 3480
Dana 44 rear axle COT: 1100 MOT: 4460
Ford 8.8 28spline COT: 1250 MOT: 4600
Ford 8.8 31spline COT: 1360 MOT: 5100
Dana60 semifloat COT: 1500 MOT: 5500
Now on to the Pics
D35 on Left 8.8 on Right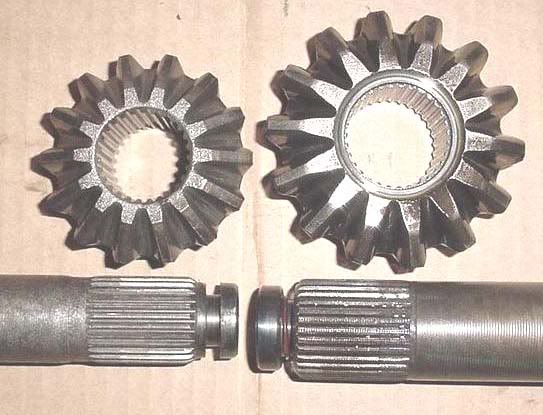 It's time to crawl out from behind your keyboard and wheel your Jeep you'll learn how ****ty the D35 really is !