A Year Later and The Horn Works!
---
So, I have some Jeep downtime and have been trying to fix all those little things that I never get to and the horn was something that had never worked, I tried running a ground straight to the horn assembly and made no difference. I hooked a test light to the positive wire at the horn and got no light, no matter what I did. I removed the relay from under the dash by the fuse box(white square, you can't miss it), but it was fine, looked pretty new actually. so I did some searching and found out where most guys found their problems and tore into it....turns out I had a bit of an unusual problem, but let's not get ahead of ourselves. I will say that I did this to my 89 YJ and I have no idea what other models are like, but in my Haynes the steering column is broken down into two types, ones with airbags and ones without, mine is of course, without, lol. You really don't need much for tools on this type of deal. I did recently get a grinder which came in real handy, but you can get by without one. I went to autozone and got the lender steering wheel puller(but you can probably get by without that too):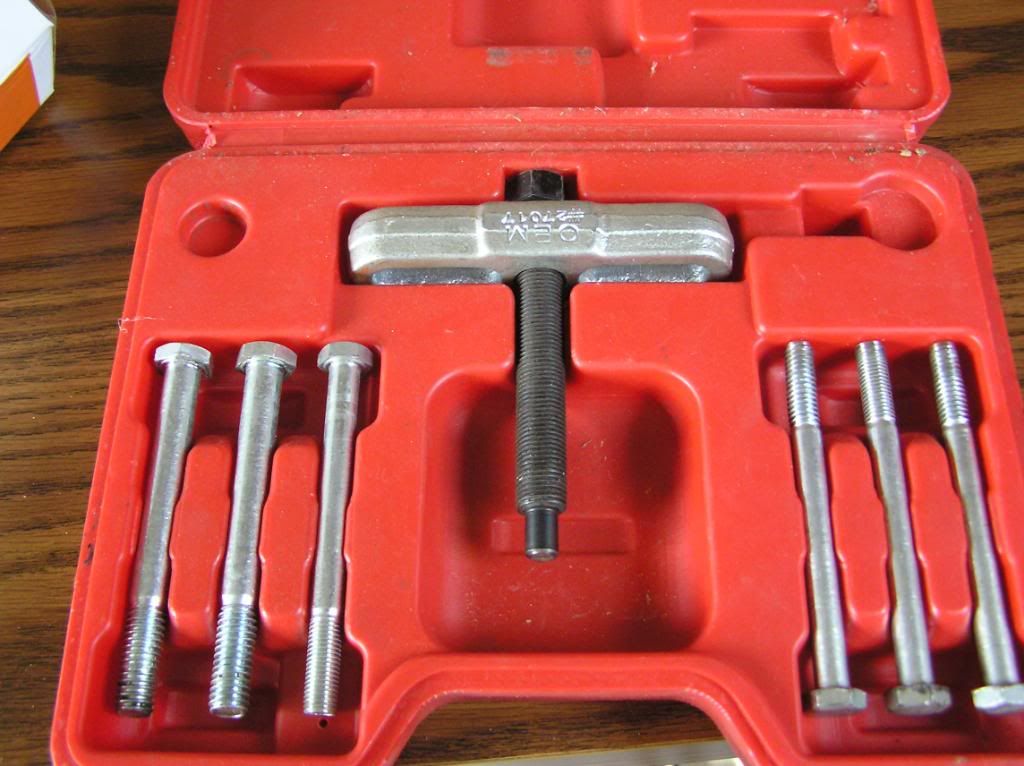 A couple things I should mention...one, my steering wheel is off 90 degrees...it's not moving right now, so that repair will come later. two, I notice that when I push in on my steering wheel, it moves in. It's spring loaded and the horn beeps for a fraction of a second, but you have to grab the steering wheel and push pretty hard. Anyway, my horn was mounted to my driver's side fender inside the engine compartment and it was mounted on a mountain of rust. Since the horn is grounded at the mount, I kinda firgured I'd start by cleaning that up.
Here's the before on top:
and underneath: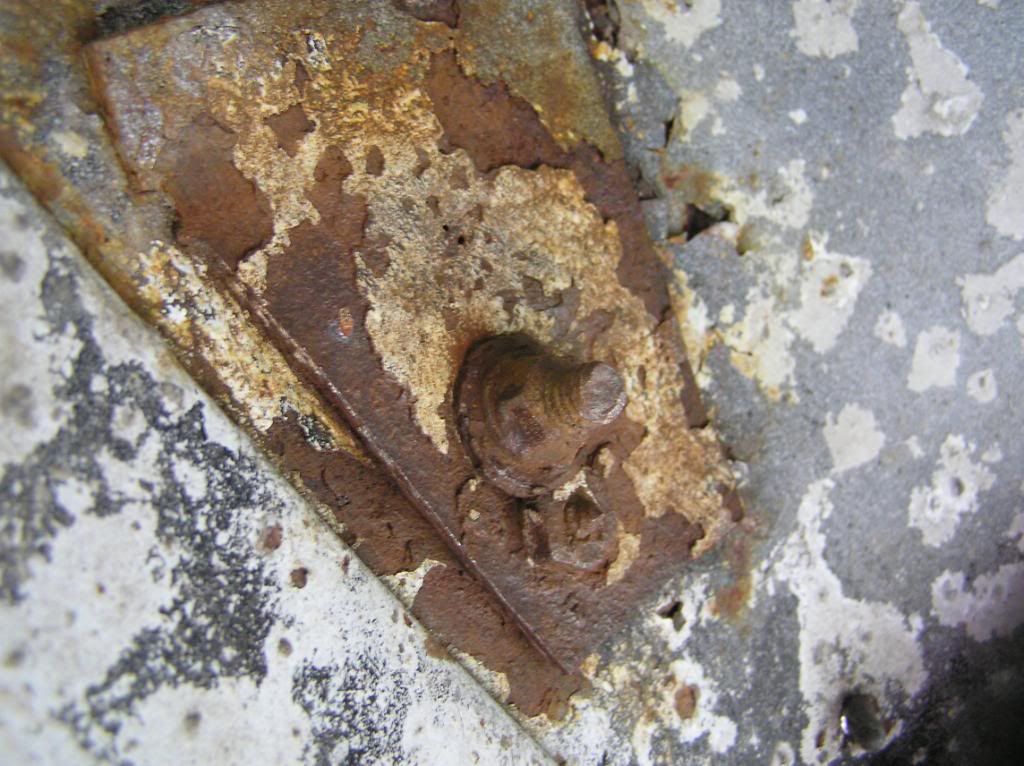 So, I had to grind the bolt off and even though that section of fender is rust infested, I got the surface cleaned up and replaced the bolt with a new one and took my grinder to the bracket and took a wire brush to the bottom of the horn and the nut that holds it to the bracket. Here it is cleaned up: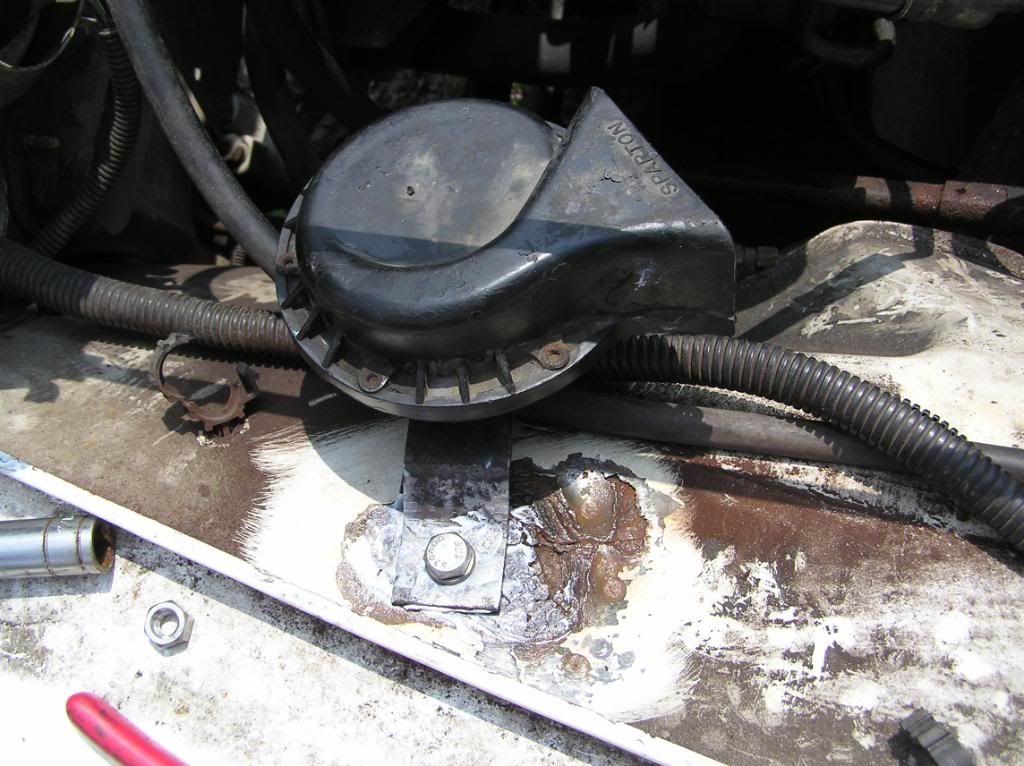 So next it was time to tear apart the steering column a bit. Don't let those hex nuts fool ya, they are just for looks, just pull that cover right off: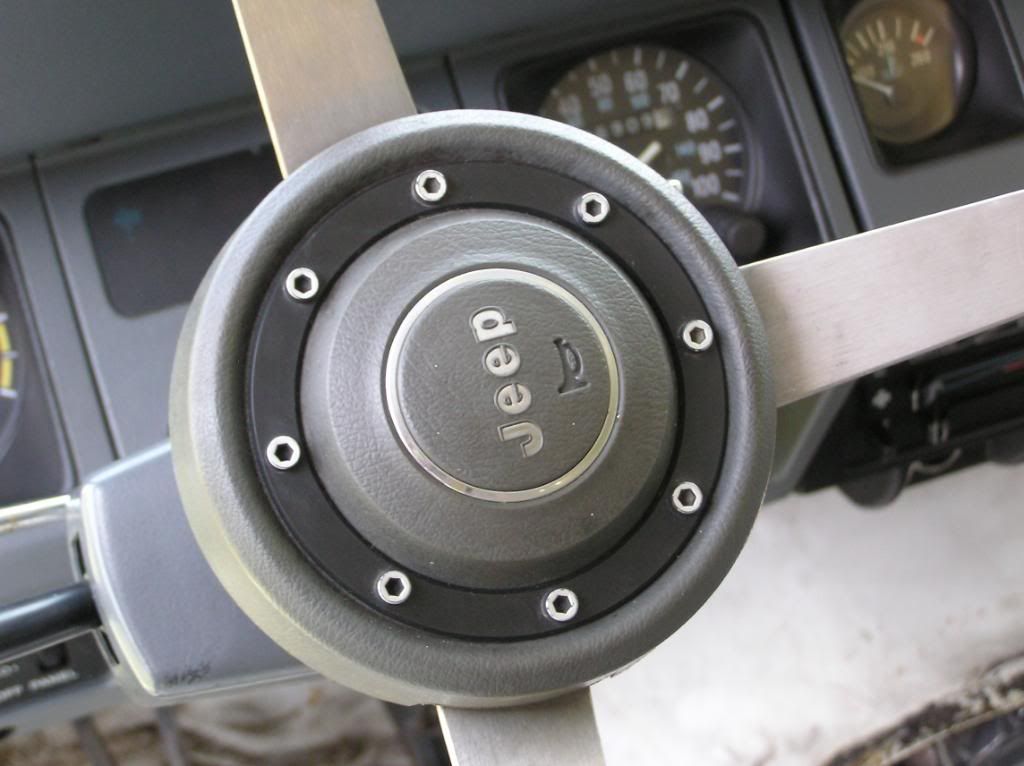 Once that's off, you see this:
Just pull those three screws out and you can grab that hole assembly out of there(the bushing receiver and flex plate). Here's what it looks like from the side:
With that out of the way, I went ahead and pulled off the insulator(the white plastic thing with 3 screws pictured here):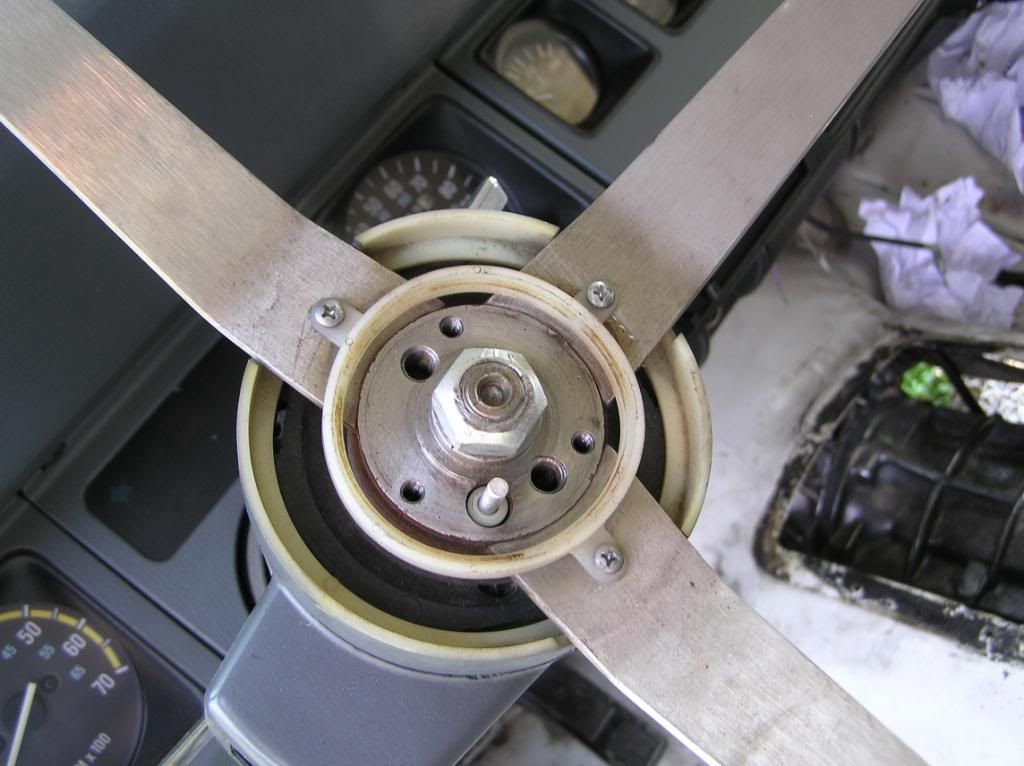 Next I pulled off the nut from the shaft in the middle. My steering wheel doesn't lock, (I just figured this was because of my wheel being 90 degrees off..I was wrong as we'll see later) so I had to hold the steering wheel and take the nut off, no biggie. Once the nut is off, it's time to pull the steering wheel off. I used a puller and it came off pretty easy. I have read other posts that said as long as you are very careful not to bend anything, you can grab the wheel and pull it off, but I didn't want to chance it. So, with the steering wheel out of the way, you see this: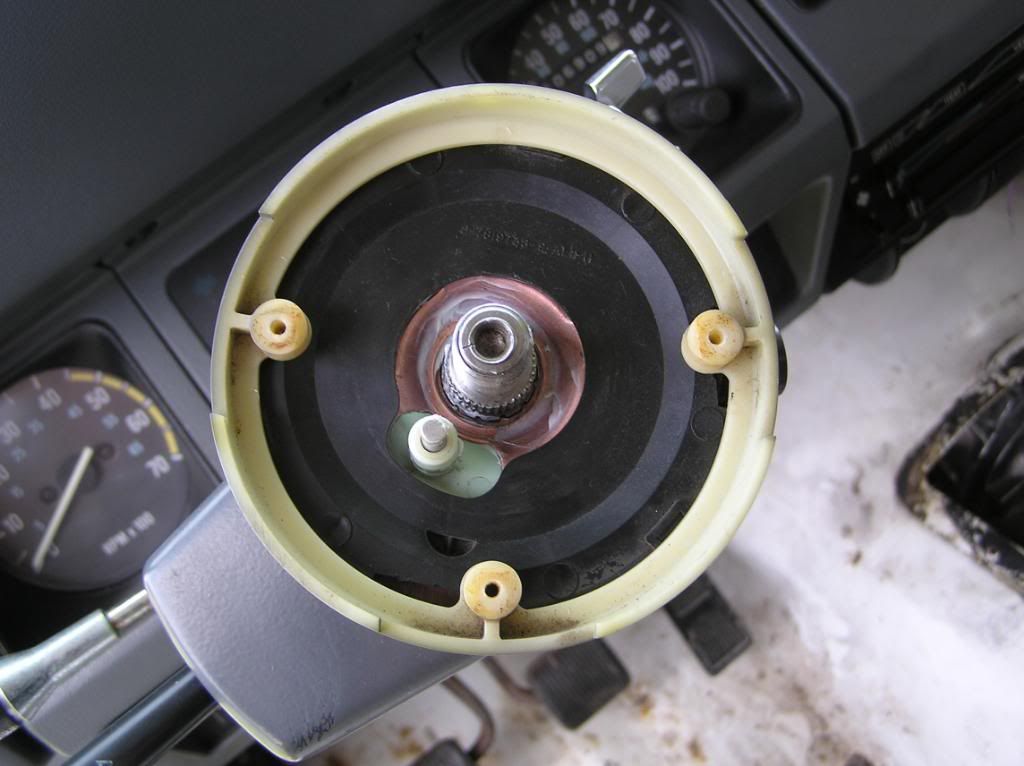 That plastic sleeve just came off in my hands, it wasn't attached in any way. Once that's off, you're left with this, the lockplate and it's plastic cover. I've read that you can just pop the cover off with a screwdriver from the side(there are slots), but my cover and lockplate came right off with not much effort. I've been told there is a clip that holds the lock plate to the shaft(pics in Dale's link below), but mine didn't have one, nor is there mention of it in my manual...if it's supposed to be there, I'd like to take this opportunity to thank the PO!: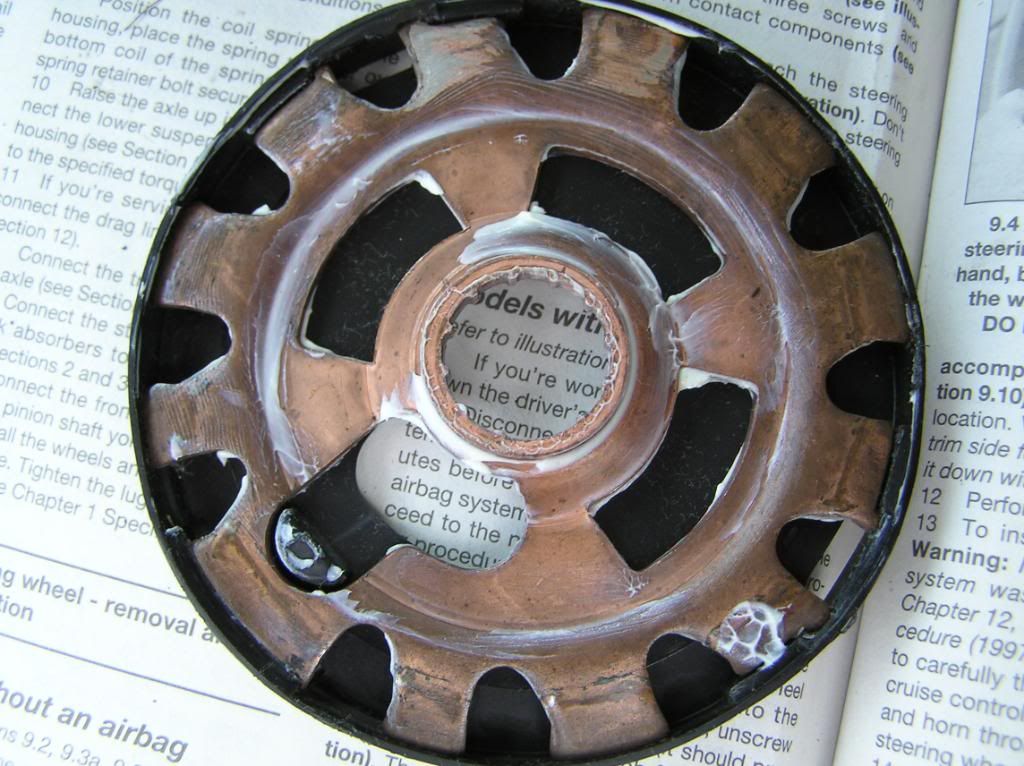 Once that's off, you'll see this, the turn signal cancel cam with horn actuator: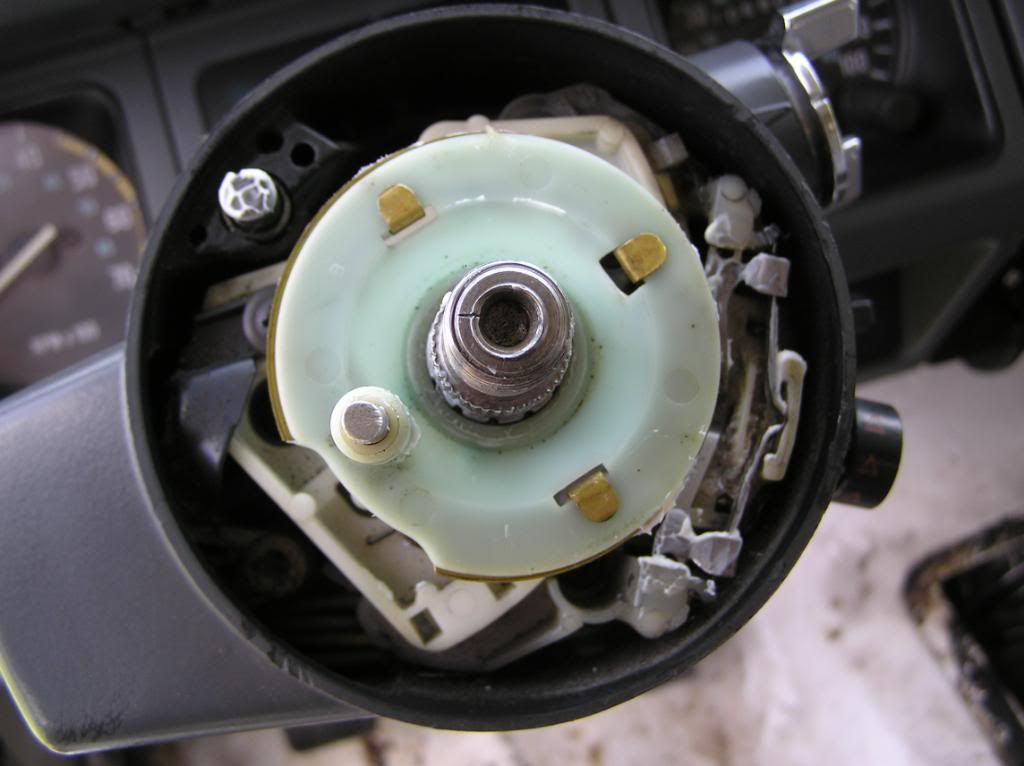 pull that off and you will see the turn signal switch and if you look very close you can see the spring around the shaft: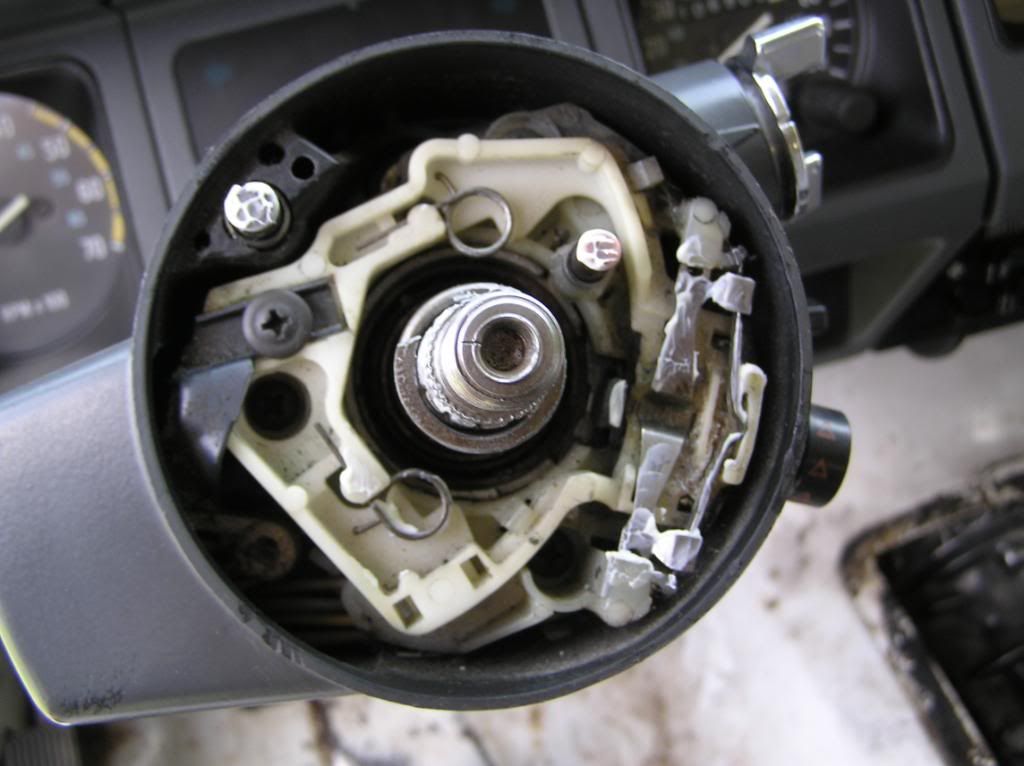 Now up to this point I just couldn't find anything wrong. I didn't see where anything was installed wrong, so I just cleaned every piece of it, coated the metal parts with white lithium grease and put it back together.
Remember how I said I could push on the steering wheel and get the horn to beep...well thanks to the magic of cameras, we can look back and compare...here is what my steering wheel looked like to begin with: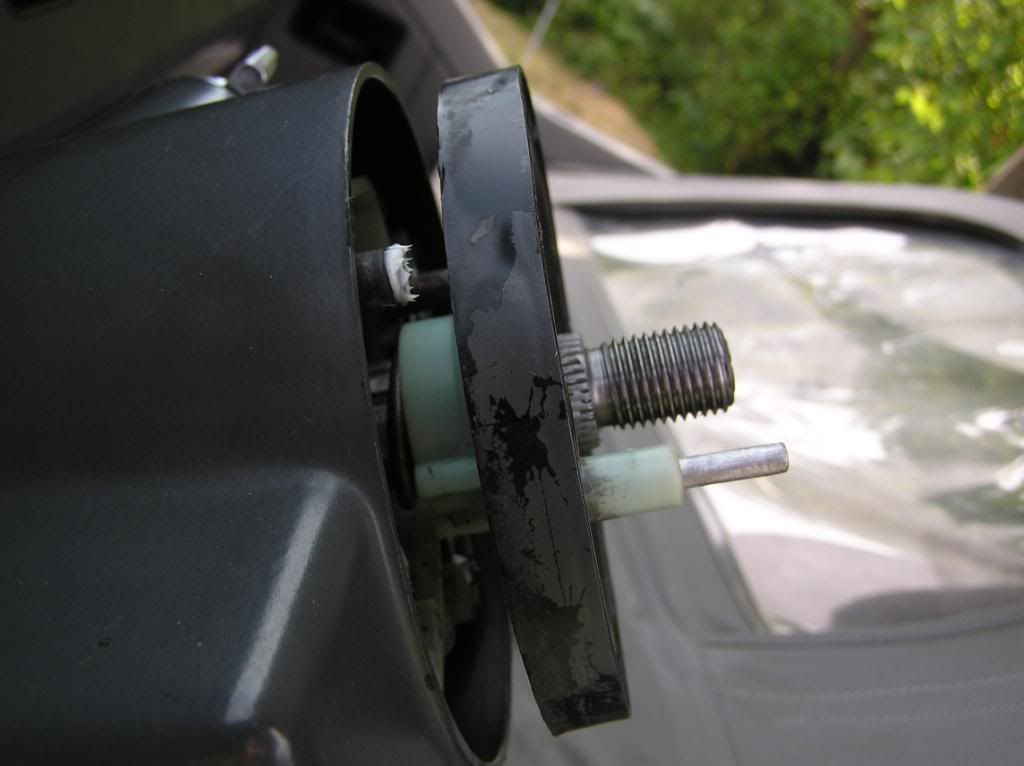 Notice that gap??
Now look at the after: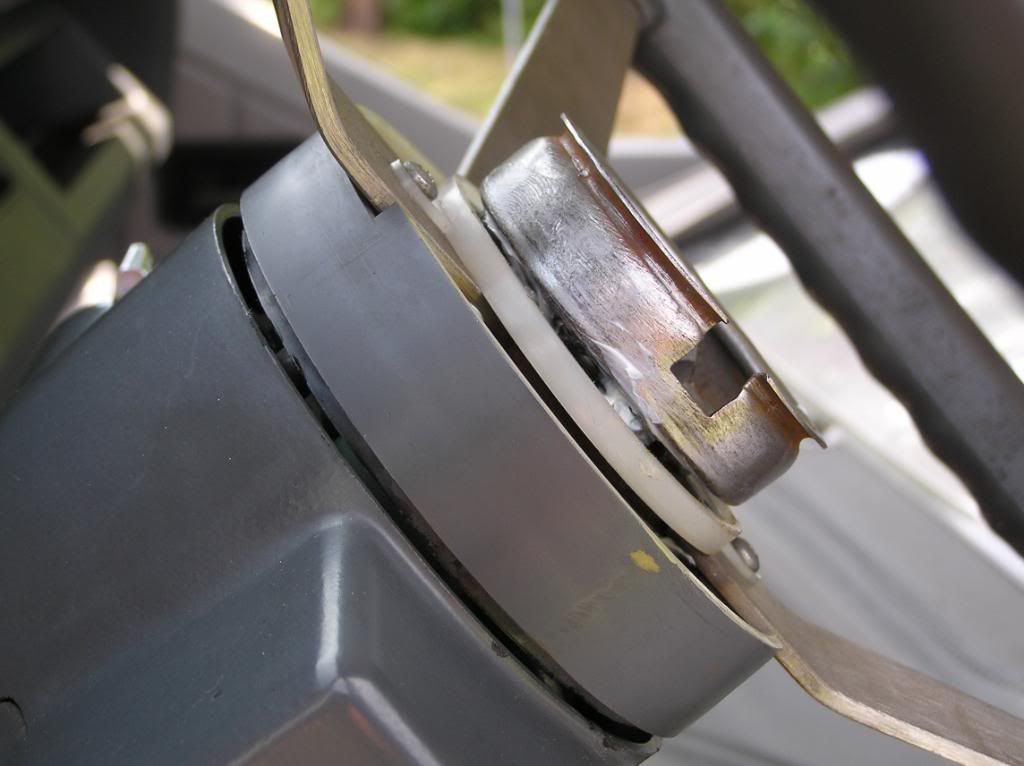 Seems like the PO must have removed the wheel to troubleshoot or something and just didn't put much umpf into tightening down the nut. Because once I had it all back together, my horn works perfectly.
I really didn't have any trouble putting anything back together. I have read where you should mark where the wheel lines up on the shaft, but if you look at it, the locking plate will only go onto the shaft one way and the turn signal cancel cam has to go through the lock plate and there is only one hole on the steering wheel for the turn signal cancel cam, here...see the only hole that goes through all the way(okay smarty, besides the one for the shaft):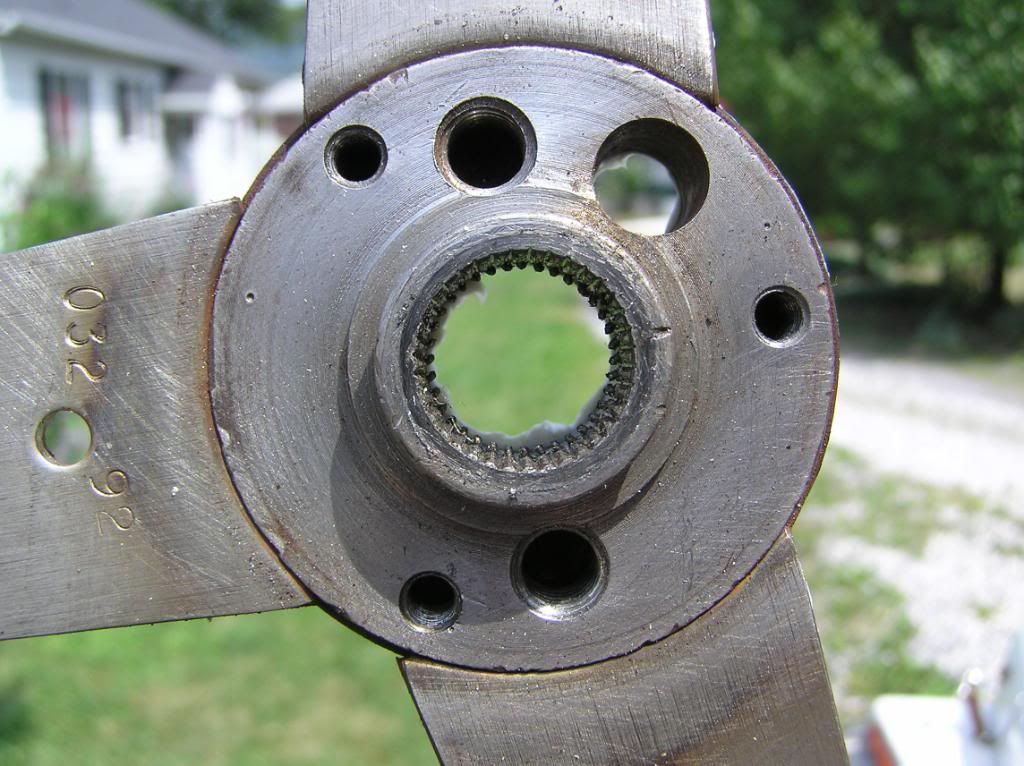 So, I didn't mark anything and it went back together fine. Just don't try to fight the lock plate putting it on, be gentle and you'll see what I mean it will only go on in one position. Oh and don't forget to put the turn signal cancel cam on before the lock plate(ask me how I know, lol).
I hope this helps out a few people. I really couldn't find alot of info out there. I couldn't find a section on the horn in my Haynes manual, but there is a section under suspension and steering which has a nice picture, diagram and explanation of how to remove the steering wheel. I basically used the search function, the manual and this link for everything:
Tilt Column Fix - Dale's Jeep Junk
So, now my horn works...I guess no more flipping people off!
Oh and my steering wheel locks too!
---
First Jeep was an 1989 YJ, 6 cylinder 4.2L , 258. Nuttered and TeamRushed, Weber 38 DGES, Now, I'm venturing into the world of Grand Cherokees
---
Last edited by monkeyhouse; 08-11-2010 at

05:55 PM

.