Quote:
Originally Posted by
flea1987
Why do people run track bars if they suck so bad? or do they help with road driving?
Jeep included them with the YJ line after the CJ's so called "instability". They basically limit the suspension from flexing on our Jeeps, which supposedly decreases the likelihood of rolling.
A Track Bar (or Panhard Bar) is essentially a piece of metal that is mounted on the frame on one end, and the other end is mounted to the opposing side of the axle. This is a TJ with coil springs, but it shows you what a Track Bar is and where it mounts up: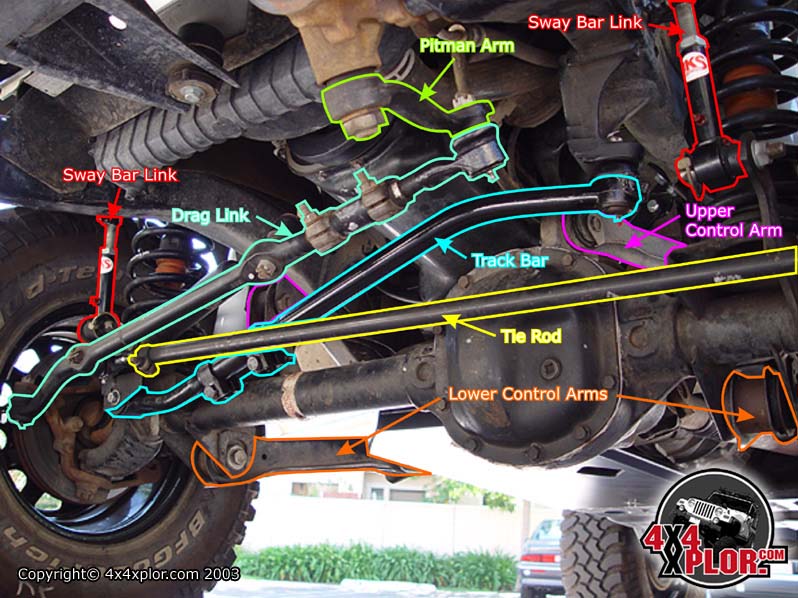 Track Bars are absolutely required for Coil Spring Jeeps, because they prevent the axle from moving left to right underneath the Jeep. Then a set of Control Arms prevents the axle from moving forwards or backwards, or twisting. Coil Springs can flex in nearly any direction imaginable, and that is why they require Track Bars and Control Arms to keep the axle centered underneath the Jeep.
These components don't limit the flex of Coil Springs at all, since a Coil Spring can stretch and compress in any direction. This picture shows this perfectly:
You can see how the coils are bent up in all sorts of shapes.
---------
Our YJ's (1987-1995) have Leaf Springs which effectively center the axle underneath the Jeep perfectly fine on their own. Leaf Springs also articulate differently than Coil Springs do- the side of the axle that is traveling up tucks in underneath the fender, whereas the side travelling down swings inward, and visa versa.
A Track Bar can only pivot in one direction, so while one direction isn't limited to flex, the other direction will bind up and keep the axle from flexing. This is why we remove our Track Bars (us YJ folk that is), to remove all suspension binding and to allow our axles to flex over obstacles.
The benefits range from a smoother ride on the road (because your suspension can absorb the bumps in the road), to more flex offroad. There's no drawbacks to removing them.
You have a Track Bar in the front and one in the rear.