Registered User
Join Date: Nov 2011
Location: Raleigh
Posts: 30
Wiring Harness Burned
---
I just bought a 1990 Wrangler knowing that the wiring harness was messed up. Once the Jeep was delivered, I realized that the whole engine compartment harness was burned along with the fuse block. I have a 4.2L inline 6 engine carbed with an AX-15 trans. I have found some 2.5L manual tranny wiring harnesses at my local junk yard, but wanted to know if that would work fine with my 4.2L? I have seen the painless whole wiring harness, but do not want to put $600 on a whole harness if I don't have to.
Registered User
Join Date: May 2010
Location: Williamsburg, VA
Posts: 793
If you have the carter carb and stock setup then you will have some real issues putting together a harness in the engine to control everything. If someone has removed the ECM from the mix (that is nuttered) then it should be pretty simple as there isn't all that much wiring left. As for the 2.5, I doubt it as they are fuel injected. The 4.2 is carbed. If it were me, I'd go back to ground 0 and build up a wiring harness for everything and do a junkyard throttle body fuel injection conversion while I was at it. That way you get rid of the carter carb and all the junk that goes with it.
That would make sense. I have to check the carb to see if it is stock, but it looks like they have done an aftermarket switch due to the amount of non-connected wires in the engine compartment.
Moderator
Join Date: Jun 2007
Location: San Diego
Posts: 18,615
It will not be a huge problem, depending on your local smog laws and if you can swap on a weber or motorcraft carb.
If you strip it all down it's surprising how little you really need.
If you switch to an HEI distributor, that only takes 1 wire for power and 1 for the tach.
1 wire for the temp sensor
1 wire for the oil pressure gauge.
1 wire for the alternator exciter circuit and 1 wire from there to the battery.
aside from the wires to the lights, starter and to power the fuse block, that's it.
The red wire sticking up in the bottom picture is the manifold heater. After 20+ years it probably does not work anyway.
BEFORE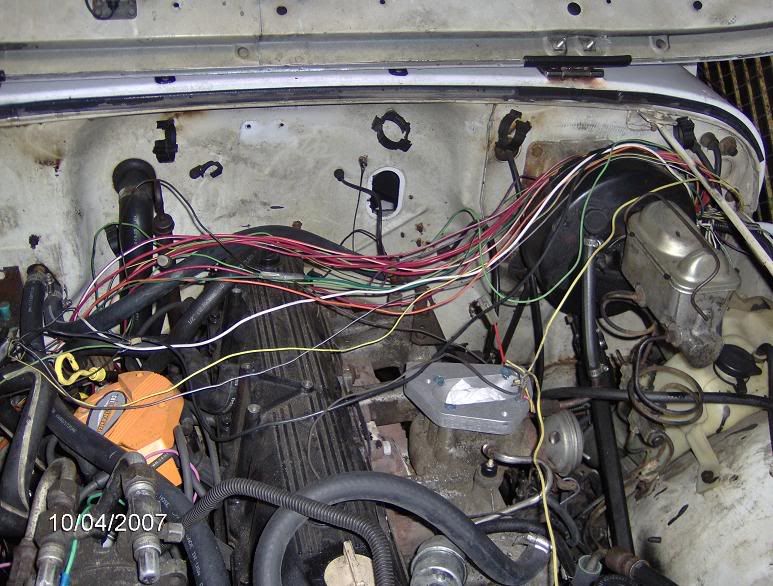 AFTER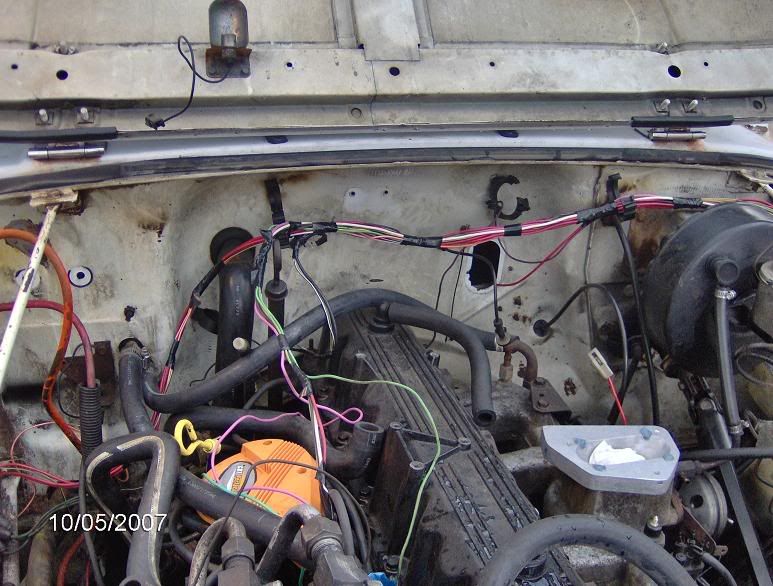 ---
.
"The right to be heard does not necessarily include the right to be taken seriously." —Hubert Humphrey
.

To view links or images in signatures your post count must be 10 or greater. You currently have 0 posts.

sorry, duplicate, admin please delete
The wiring for a Nuttered stock Cart carb is exactly the same as for an aftermarket carb. Unless he want to spend an extra couple of hundred dollars or the carb is shot too, there is no good reason to replace it right now.
If he wants to throw as many parts as possible at it, he can replace the whole engine, ignition and wiring harness with a 4.0 out of a Cherokee.
If after he gets it running, he wants a different carb, then fine, but it doesn't have anything to do with his problem.
http://www.jeepforum.com/forum/f8/ho...bypass-522262/
http://home.sprynet.com/~dale02/ignmods.htm
I don't really want to throw a new engine at is as it was completely rebuilt back in June before I purchased it. The jeep was running fine before a live wire fell out of its connector and shorted the whole harness to the fuse block. This is what the original owner told me. The wires under the dash should be ok, but I will need to get a fuse block and the engine compartment wiring in order to get it running again. I haven't found any junkyards around me that have a used wiring harness that isn't from a 2.5L fuel injected.
see if these guys have it. If they don't, search here and ebay, there are some other places that part out jeeps.
http://daveysjeeps.com/index.html
Doing the Nutter bypass will make the ignition part of it a lot simpler.
Thanks Dancy. I will check them out.
Registered User
Join Date: Dec 2009
Location: Whitwell
Posts: 1,936
i have a 4.2 engine harness ill sell you, i swapped mine to 4.0 fuel injection, i also have the under dash harness
Registered User
Join Date: Jan 2013
Location: chesapeake
Posts: 2
I have a 1990 Wrangler Islander 4.2 automatic w/air conditioning. My engine harness also burned along the firewall. Does anyone know where I can get an engine harness that won't need mods. I am a newbie and limited in my mechanical abilities. Thank you for any help.
Web Wheeler
Join Date: Apr 2008
Location: Detroit
Posts: 24,647
Newbie70 you should post up to a new thread. Yes, try this guy. He parts them out and his prices can't be beat:
Chris
810-650-3206
We buy sell and trade
parts
or full jeeps
Visit our website
www.cfoffroad
.com
Currently Active Users Viewing This Thread: 1

(0 members and 1 guests)
Posting Rules

You may post new threads

You may post replies

You may not post attachments

You may not edit your posts

---

HTML code is Off

---