Got tangled up in my iPhone charging cable last time out on the trail. In doing so, catapulted my phone onto my Monstalined floor pan with a loud clang. I didn't want to do that again, so here's my solution
The Cig Lighter on the stock YJ is in a bad spot to dangle cables from. It interferes with shifting into 4WD and sometimes with the transmission shifter as well.
To remedy this, I chose to install a cigarette lighter outlet on the inside of my factory center console lid.
I took the top half of the arm rest off, drilled a small hole in the lower hinged section, bolted the $4 universal cigarette plug I got a Autozone to it.
Crimped on some connectors, drilled a small hole in the bottom drivers-side of my console, and routed the wire out and under the console lip.
From there, I ran it directly towards the under-sill of the driver's side door, and fed it through the existing split loom towards the front of the vehicle. I zip tied it to the floor cleat to hold it in place after I covered it in split loom.
I then pulled the ground wire out just at the factory ground point above and in front of the e-brake assy. Crimped on a hoop connector, and attached the ground. Ran the power along the underside of my dash, through the firewall, and spliced in an in-line all weather 15 amp fuse. I ran a large grade wire through this process as well as fuse, with the intention of upgrading to a 2 outlet cig ports under the lid in the future. To run an air compressor etc.
From there, I opened up the relay box, crimped on another hoop connector, and secured power via the common rail there. Once that was completed, tested the set up with my cig-adaptor USB plug and all is well.
[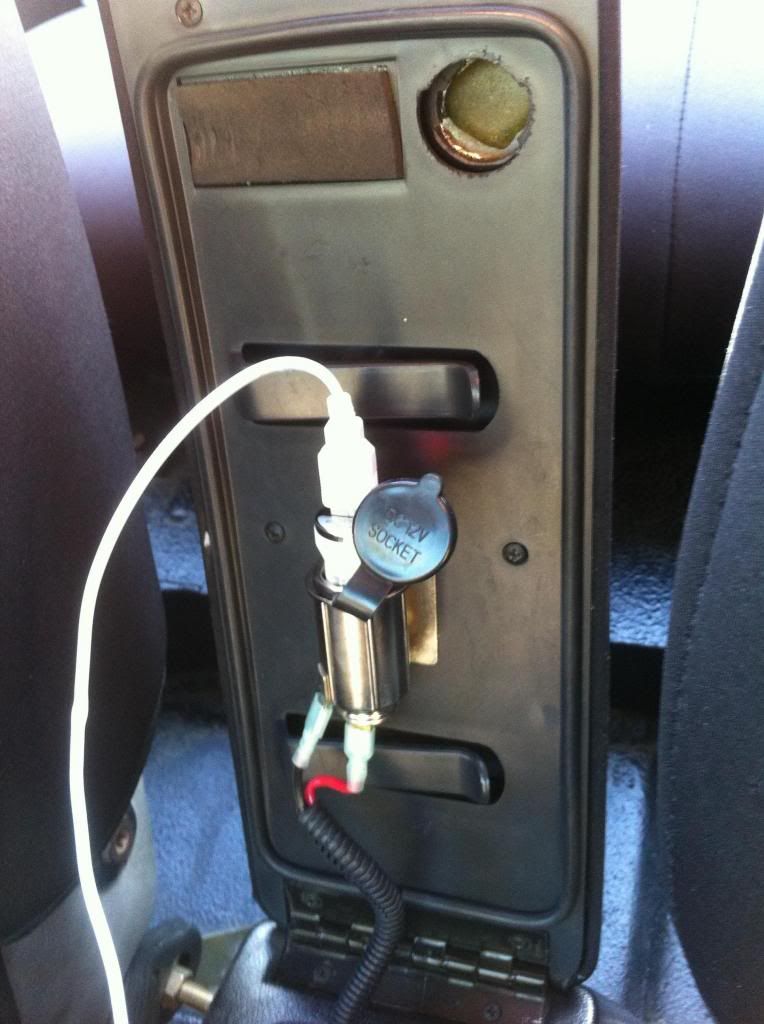 Now I can charge my phone without any cords or cables interfering with shifting. Another added benefit is that I can leave my USB charger and cable safely tucked into the center console while I'm away from the vehicle. Less visual temptation for the random passerby.
Total time invested about an hour. Materials; $4, I got the wire, fuse, and connectors from work.