Water + Water = A whole lot of WATER!
---
My YJ is leaking a lot of water around the bracket above the driver side dash speaker. Its coming in the joint where the windsheild frame meets the dash. I have some windsheild frame rust going on but its not terrible by any means. I took a water hose and ran it across the outside area adjacent to where the water is coming in but couldn't duplicate what happens when it rains. I'm wondering if maybe it the windsheild gasket, but it looks fine. I tried running a bead of silicone along the body joint under the windshield frame thinking maybe it was a crack in the seal I couldnt see. Has anyone been through this and discovered where the water was coming in from? The water is so heavy coming in, it pours down the front of the speaker like an open faucet.
---
2013 JK Unlimited Gecko Green, 4" Skyjacker lift. Pro-Comp 35" Xterrain tires
Registered User
Join Date: Jun 2009
Location: Greenfield
Posts: 1,932
Mine ended up being a patch of rust I had on the front of my windshield frame. A piece of black duct tape fixed that right up pronto.
Registered User
Join Date: Oct 2006
Location: Vernon, NJ
Posts: 4,758
Get in the Jeep and have someone douse the whole front of the Jeep with a hose. I assume you've checked the drain tube for the cowl intake already. When that clogs it usually fills with water then sloshes on your feet though. Leaks around the windsheild can rot out the bottom of the frame and it'll leak down on the dash also.
---
96 ZJ.
05' Grand Cherokee Limited, 2"OME lift
Registered User
Join Date: Jan 2009
Location: mi
Posts: 4,160
If you have any holes anywhere in the frame the water will come in different places. From the channel inside of the wind shield frame. Right behind the dash pads you have openings that can allow water in not necessary where the leak is.
---
A 89 yj with a 4.0 aw4 sye out of an 92xj. Now the hard part is done time to get it up in the air just a bit. Working on 8.8 with 3.73 and lsd for the rear. and new D30 hp with 3.73 .
For those who have not figured this out I'm old school but can handle the new too.
Quote:
im just cheap, and cheap makes you creative.
Registered User
Join Date: Jul 2009
Location: Wisconsin
Posts: 2,364
Same thing going on here. I replaced my windshield frame and the gasket underneath it but it still leaks like ****. It's the one thing about my Jeep that I absolutely hate, it's so bad that I get rusty water all over the front of my pants when it's raining.
Registered User
Join Date: Jun 2008
Location: Orlando, FL
Posts: 2,198
Your windshield frame probably looks like mine did...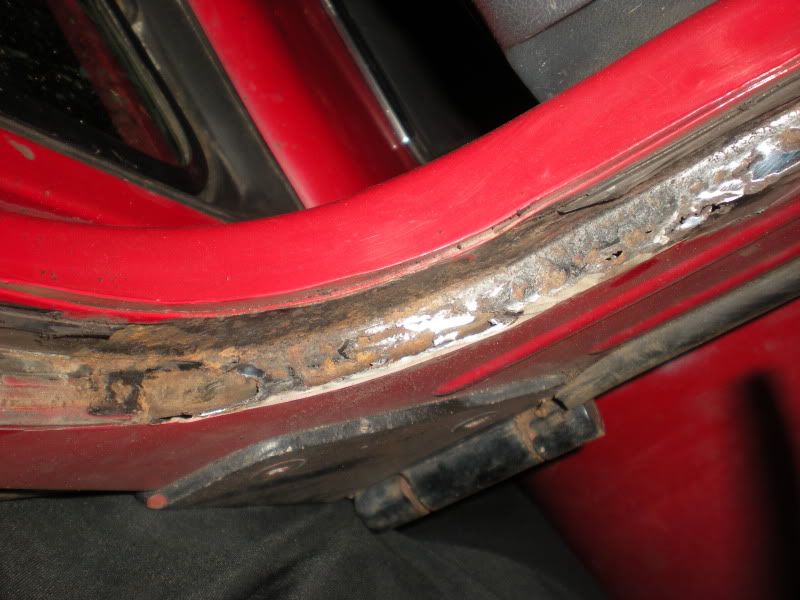 Good luck!
Jake
---
/l , [____],
l---L--[]lllllll[]-_
()_) ()_)==@=)_)
Quote:
The 4banger only whines because it wants more!
Quote:
3 Things to know about the forum: Always PB blaster, Always check the FAQ, Always do a search, and if none of that works, ask Mean Max.
Currently Active Users Viewing This Thread: 1

(0 members and 1 guests)
Posting Rules

You may post new threads

You may post replies

You may not post attachments

You may not edit your posts

---

HTML code is Off

---