It's that time again, cast your ballots!
Rules for voting:
if you are not a paid member you must post in this thread for vote to be counted! No asking friends or using social media for votes. And dont vote for yourself.
Lemoore-on
• Power steering swap from a 95 YJ.
• OME 36R's.
• 1" Booms rear/1/2" Booms front W/greasable bolts.
• RE shocks.
• J&B SYE.
• Tera Flex 4:1 T-case.
• True neutral plate.
• Adams rear drive shaft.
• Explorer 8.8.
• OX locker.
• 4.88 gears.
• Yukon Cromolly "C" clip eliminator shafts.
• Dana 30.
• OX locker.
• 4.88 gears.
• vented/slotted rotors/ceramic pads.
• Rusty's steering kit.
• 33x12.5x15 BFG KM2's.
Inside
• fixed cracks in the floor pan.
• Monsta liner "Spice".
• Seats out of some GM car.
• Installed seat heaters.
• LED dash lights. (red)
• Tuffy console with head unit bin.
• Tuffy glove box.
• Added to the cage (more to do).
• Head unit & amp 6x9's behind the seat cage pods 6" in floor pod in front of shifters.
• A pair of power ports in the dash.
• Cobra CB radio
• 40mm ammo cans cut in half then welded new bottoms in, mounted to rear wheel wells.
Outside
• TJ fuel filler assembly.
• TJ corner guards.
• Rock Monkey Fab front bumper W/"D"ring & towbar mounts.
• Warn 9000 winch.
• Homemade Rocker guards.
• Rock Monkey Fab rear bumper W/swing out spare. mount/Jerry can & Ammo can mounts.
• TJ rear flares.
• MCE 6" flat front fenders.
• LED tail & side marker lights.
• Painted everything OD Green.
• 1" body lift (Daystar)
• Rock Monkey Fab almost flat belly pan skid plate.
• Browndog 1" lift motor mounts.
• Kilby gas tank skid
Future planed mods include
• Cromolly TJ front shafts.
• Shock mounts & longer Bilstein shocks.
• 35" tires
I bought the Jeep back in July of 2010 (I was a Toyota guy for 20 years) It only had 78K on it so I thought it would be a good platform. It had a worn out saggy ProComp lift & shocks with 28" tires on it. It ran great. I joined Jeep Forum the next day because even though I had been wheeling for a long time I really knew nothing about Jeeps. I lurked on here and learned as much as I could & started formulating a plan. I collected parts for almost 2 years and did a bunch of normal maintenance (slave cylinder/clutch/motor mounts & stuff). So here it is now. I didn't do it all myself, I had a lot of help.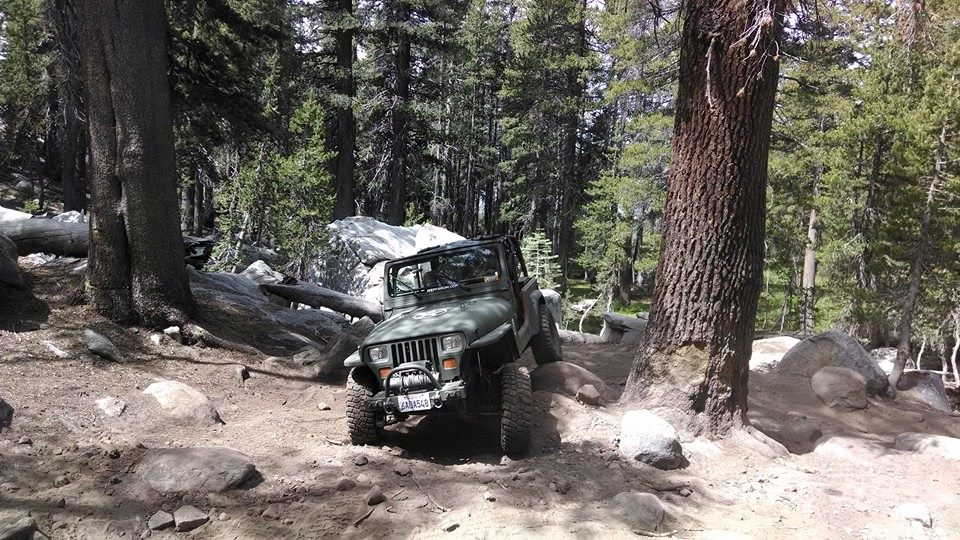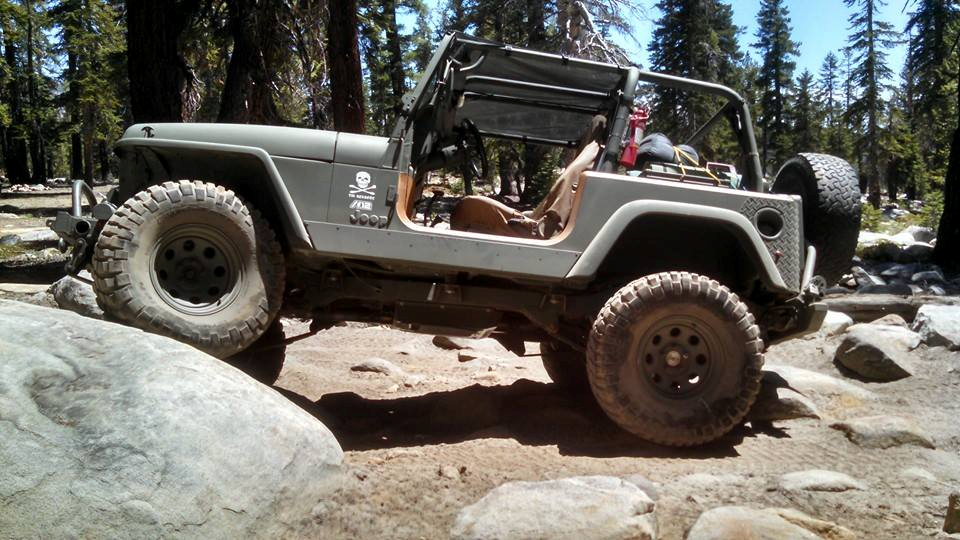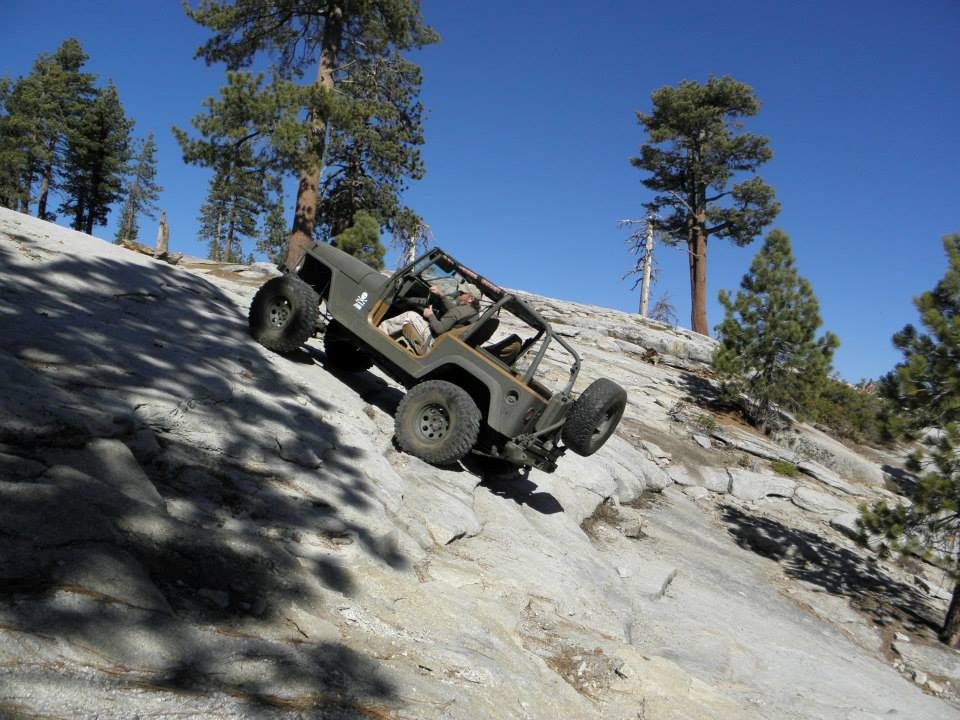 __________________________________________________ __________________________________________________ __________________________________________________ _______________________
Gage56
Build Thread -
http://www.jeepforum.com/forum/f22/m...-emma-1494420/
1992 YJ 4.0 5speed
Coustom Bi-xenon headlights
4.5" RC Lift military wrap springs
285/75/16 Kumho Road Venture MT KL71's
Kenwood Head Unit
Custom Rear Seat Sub 8"
Cb
Hilift
Tj Flairs
Tj Fuel Filler
Led Tails Lights
Led Reverse Lights
Led Rock Lights
Custom License Plate Mounting
RR Super Sport Seats
Monsta Lined inside tub
Corvette White Paint
SYE/Dc Shaft
Ford 8.8 LSD 4:10
Lokka In the Front
OBA
The wife and i had a 1992 YJ in the past it was a great jeep but one mishap on the trail one day took out the motor and that was the end. So we sold it and regretted it ever since
i had a 1994 Bmw 325is that was a great car but just was not what i was looking for and then "Emma" showed up on Craigs List, i found a buyer for the bmw @3800.00 and the next day i went to see her.
The lady selling had her listed for 3500.00 with the bran new lift tires and wheels but after looking over her closely i said im sorry but the best i could offer would be 2400.00 and to my surprise the lady said That's fine so i paid her in cash and was on my way home with my new YJ
Since i got her i took on the task of Rebuilding Ground up including frame, tub, and lots of gutting, cutting, grinding, and welding All was done in the driveway with the most basic of tools and ALOT Of Very Long Days and Nights but still only took about 3weeks to put her all back together. All told She turned out Just the way i wanted and im loving it
I still have a bunch of things i want to get done but it is time i put them off for now and work on them at a later time , I need a Break LOL
The day after i got her home
And current
__________________________________________________ __________________________________________________ __________________________________________________ ______________________
95YJMountie
Build thread-
http://www.jeepforum.com/forum/f22/9...build-1729066/
1995 YJ
4.0L Motor
Rebuilt XJ Ax-15 tranny
NP 231 Transfer case.
Dana 44 rear-open
Dana 30 Front-open
4.10 Gear Ratio
Modifications include:
Recovery:
12k pound Smittybilt XRC winch.
48" Hood Mounted High-lift
Tool box mounted in the back
Lighting:
Aftermarket LED Halo Headlights
Silver-star Bulbs
KC Lights on windshield.
PIAA Lights on front bumper
Blue baja bulbs in all added lights
LED rock lights mounted above the frame
Red LED Neons inside under the dash
Light cover guards on head, tail, and turn signal lights
4 Cheap LED Pod's on roof basket
Armor/bumpers:
Smittybilt front stinger bumper.
Rampage rear bumper/tire carrier
Home made Rear corner armour
Home made Rock Sliders
Light Covers
Intake:
Powerade Throttle Body Spacer
ARB Safari snorkel.
Exhaust:
Straight pipe(Loud & Proud) haha
Lift:
4 inch skyjacker suspension lift
3 inch body lift.(yeah.. I know. PO's mistake. Havnt tried messing with it. Plan to cut it down to 1.25 and add some 3/4 lift boom shackles
Track bar and Sway bar deleted
Tires/wheels:
35/12.5/15 Falken Wild-peak AT-2's
15x8 Cragar Streetlock Wheels
34/10.50/15 Super Swampers
15x8 Cragar Streetlock Wheels
Flares:
MCE Flexible Front 6" fenders.
Xenon rear 4" flat flares
Tops:
Hardtop, bikini/cargo net top.
Body:
Just repainted August 2013
Full doors
Tj Gas Filler
Homemade Drop down tailgate
Roof Basket
Interior:
Bed lined interior.
Cobra Cb & Pa Speaker
Red Neoprene seat covers.
Homemade Para-cord Grab Handles
Audio:
Sony Head Unit
Sound bar
Kicker Speakers
Speaker box beside rear seat
Waiting to be installed:
50" led bar on the roof
24" led bar on the highlift jack
24" led bar on the roof in the back for tailgaters
Jerry can/jerry can mount
GPS
Thanks to all of you who have helped me with my build so far. Couldn't have done it without all the help ive received. Anyways, My name is Jordan, Im 18, just graduated, and am now working full time. Takes me a little while to save up money for the jeep, but i take my time and try my best. Got the jeep as stock as i could find. The Only thing this jeep had done to it was a body lift and it was sticker-bomb'd. As soon as i got it, i began (in my opinion) improving it. Anyways, its not quite where i want it to be, but its getting closer with every mod i make.
Thanks guys, heres some pics.
Pic's:
From this:
To this: