6) rrbgtt
The jeep specs are as follows:
1995 YJ
Engine: Cummins 4BTA
Custom injectors
HY 35 Holset Turbo
Intercooler
Modified injector pump
Trans: TH-400 with reverse pattern manual valve body.
Trans Case: NP-205 twin sticked
Front: Dana 60 fully locked
Rear: 14Bolt GM with detroit locker
The jeep has a comp cut rear, tube fenders, reverse shackle BTF full width kit, rear stretch BTF kit, RE extreme duty springs, spray in liner, 39.5" boggers, and is tagged and driven almost daily. It belongs to my son Garrett Gordon and we have been building it for about a year now. The most unique thing about it is obviously the diesel engine.
7) JaikYJ
I built this jeep from stock have had it for almost 2 years. I do all the work with my Dad and my best friend Andy. If I am not turning a wrench on it or wheeling it.
I have always loved wranglers ever since I was a kid and I would see jeep convoys going down the highway throwing mud everywhere.
I bought it stock from the 2nd owner, who bought it off his friends wife when his friend passed away. It was trailered for the 1st 10 years down to florida from Niagara falls. I had every intension of keeping it stock, but I soon got the bug and it hasnt stopped from there.
List of goodies
1987 Jeep YJ Laredo, 3sp auto 4.2L
Weber 32/36m Posi-Loc
New paint inside and out from white/spice to black/black
5 american racing rims black, with 5 33/12.5/15 MT baja claws
airsoft pelets for balancing
Flush mount round tail lights, homemade turn signal/side marker blackouts
Homebrew sintger on front bumper
Trimmed stock fender flares
4inch RC lift, 2inch BL, 1inch Brandon YJ booms
Hard top/soft top/bikini top,
Full/half hard doors
Racing buckets from mitsubishi eclipse
Family style roll bar that I welded onto making a full cage
2 12 inch xplod subs in homemade box, each powered by their own alpine amp, Sony amp powering 2 6x9's in homemade speakerbar w/donelight and 2 5inch speakers in homemade speaker pod on the floor.
Realistic CB with 4 foot fire stick
Future - I have a 95 cherokee that I am taking the 4.0L with auto trans and doing an engine swap in the next 3 weeks. Would like to make a swing out tire carrier/ rear bumper.
8) Joe's_yj
88 body tub
93 everything else
4 cylinder
4 inch RE lift
Bilstein 5100 shocks
M.o.r.e. greaseable booms
Custom rear bumper with swing out
Engine drivin OBA
Dana 44 rear
Crown braided stainless break lines
4.88 gears
Aussie locker in rear
34" Super swamper LTB's
Tube fenders up front
TJ flares in the rear
Warn front bumper
4 kc's
Smitty built XRC8 winch
Pioneer speakers and head unit
Herculined
Custom made roof rack
PSC trail cage
Tom woods drive shaft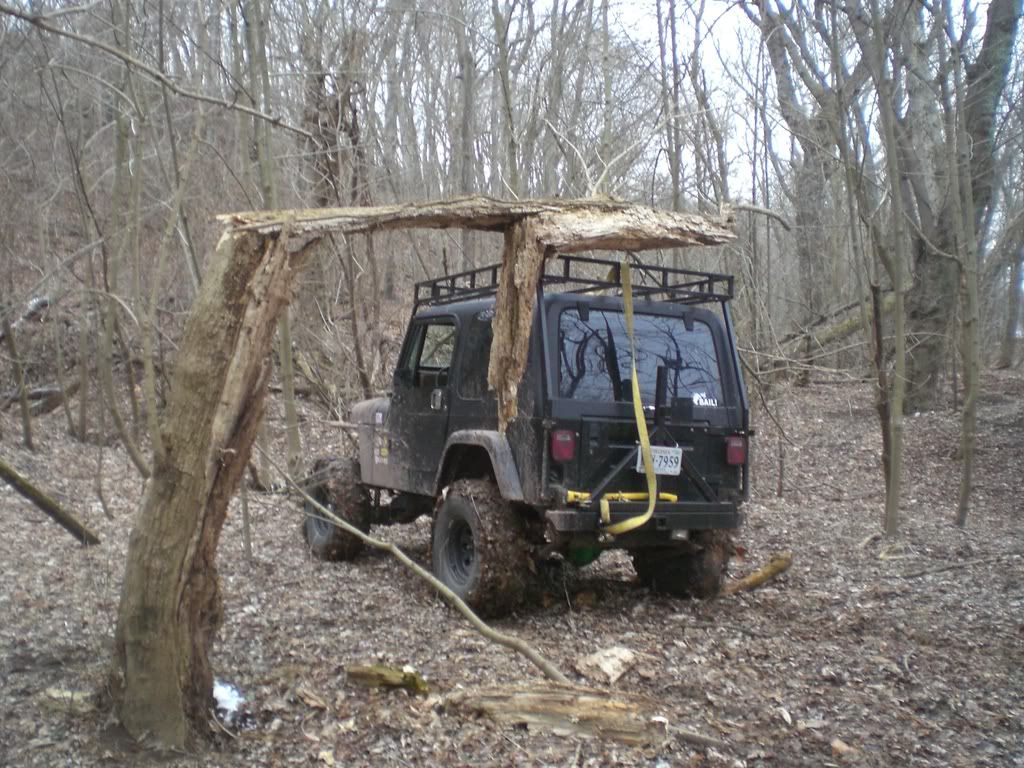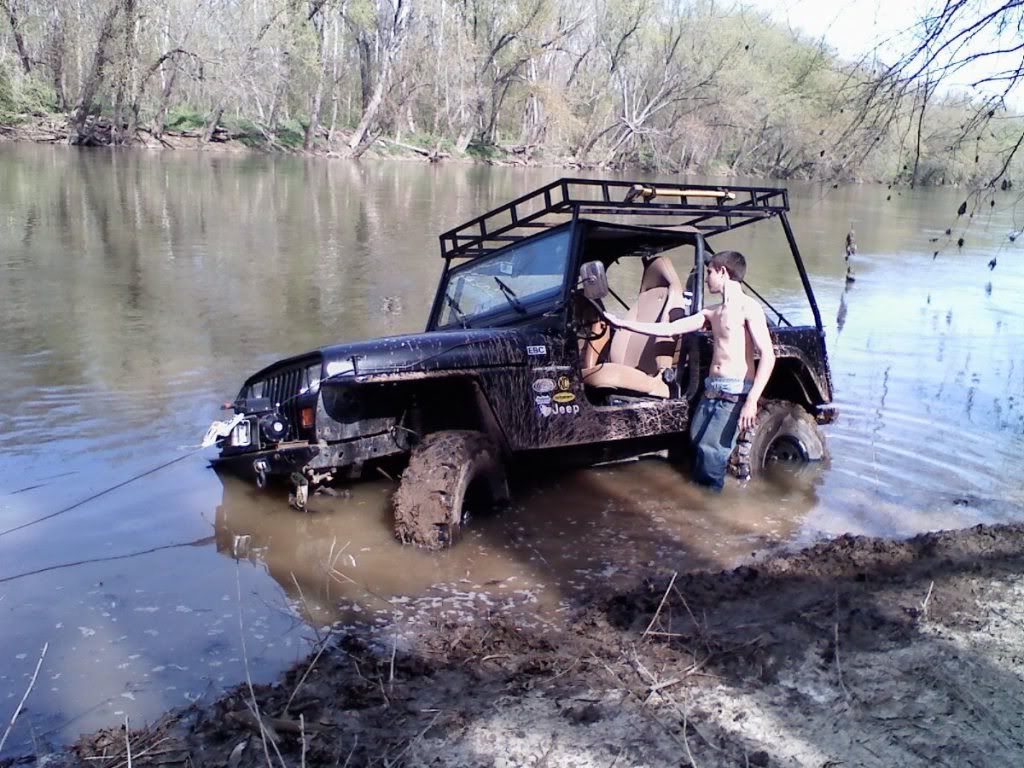 9) 4bangerYJ
When I bought my YJ new off the dealership lot in Oct 95 it was bone stock. It did not have a radio. It was your basic S model. Since then it has gone thru various suspension kits, wheel and tire sizes, tops and door combos, axle combo's about the only thing left stock is the motor and tranny. Pretty much everything else has been changed.
Motor- 2.5L (moved 4 inches forward) 62mm TB
Tranny- AX-5
T-case -D20 from a 71 Bronco (2.46) gears twin stick
Underdrive- Klune-V (4.0)
Rear axle- XJ D44 5.38's Detrtoit Cryo'ed Alloy USA shafts, Crane cover.
Front alxe- HP D44 from a 77 F250 narrowed to Waggy inner length.F-150 outers 5.38's Detroit Cryo'ed Alloy USA shafts, Bobby Long joints, Warn premium hubs. Riddler cover.
Springs- Front Deaver H78
Rear custom Deaver springs 55 inches long. Rear shackles are hung off the bumper.
F&R have the U bolts flipped.
Tires & wheels 15x8 5 on 5.5 MT Classic II with 37 inch MTR's that have been grooved.
Home made tire carrier and bumpers F&R.
Warn M8000 winch with Viking line.
Smittybuilt cage
Wheelbase has been stretched to 98 inches. The rear axle has been moved back 4 inches.
Tube front fenders.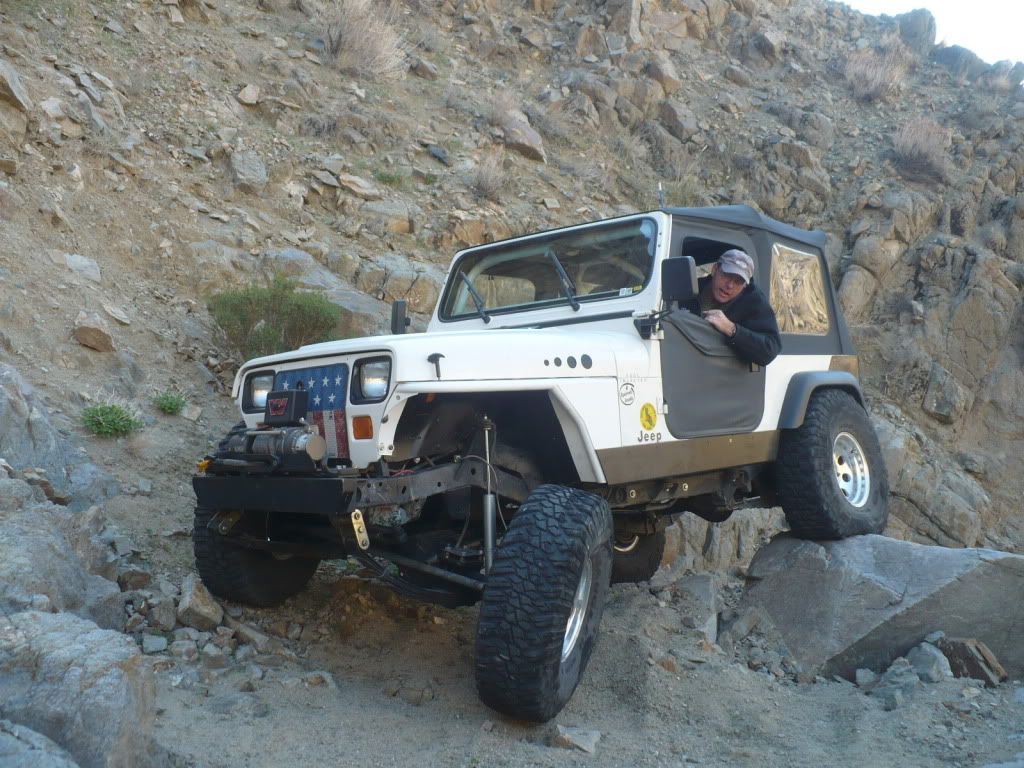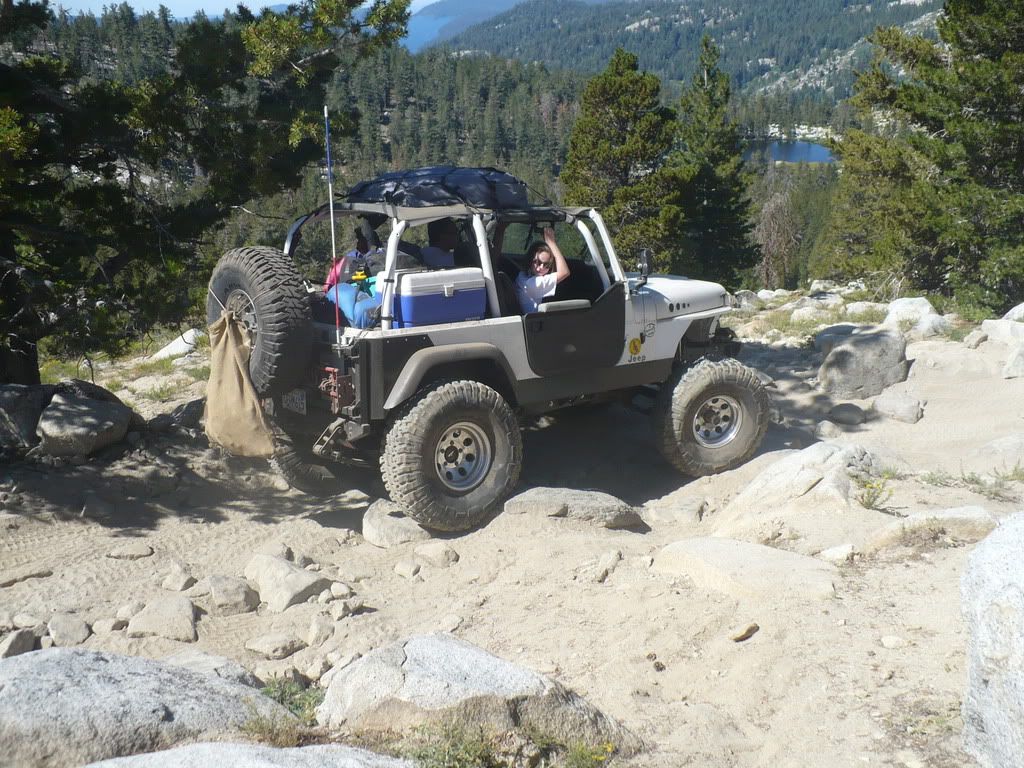 10) shatteredsoul
My 88 is mys first Jeep ever and Ive waited along time to get one.I have to say so far it has taken any free time to go over and do repairs thing to her which I call Black Betty.However I have been biten by this Jeep bug and I totally get the Jeep thing now.Its very rewarding after fixing something or adding something to her myself that makes all the time and money spent on her soooo worth it.So this is how she sits now and like most Jeeps is always changing or planning on changes.Betty is my DD and only vehicle that I have so I got to keep her in shape for the 40+ mi daily drive to/from work.
1)88 YJ 129000+ miles,4.2,5 speed
2)2.5" Rough Country lift
3)31x10.50x15 Futura tires for now on Allied black steelies
4)New bestop and bestop seats
5)New Sony MP3 cd player,all new Polk speakers,sirius satelite radio.
6) Just put on a new windshield sticker that says "A Country Boy WILL Survive!"
7)Team Rush upgrade new MC2100 very soon.
Other than that I have worked on her every weekend since Ive bought her to fix her up a bit better and replace some worn out parts which at this point is somewhat of a long list.She will be all worth it in the long run though and thats why I sold my custom 93 Ranger to buy her.