Entry 6) jamesx2
Specs:
1990 YJ ,2.5 Low output , 5 speed standard ,
4 wheel drive hardware 2 inch spring lift
Rubicon Express hand throttle
Posi-lok
M.O.R.E 5/8: lift boomerang shackles
Aussie locker up front
No trackbars
No swaybar
1 inch JKS MML
Smittybilt 8000# winch
1.5 inch skate board wheel body lift
Interco TSL/SX 32x11.50x15
15 x 8 AR-767 rims
OBA
Pontiac sunfire front seats
Family style roll bar
CJ Plastic trunk
-I bought this Jeep in stock condition and have done all of the mods by myself
-I am also using the YJ to help out the community by using it as transportation to bring supplies to the fire tower that is being rebuilt in our city
( Those ugly squre tube fenders are gone and stockers are going back on if it helps any )
Entry 7) FlyersPh9
Specs / Modifications:
2.5L 1991 YJ
3.5" Black Diamond Suspension Lift Kit
15" Cragar Black D Window MOAB Rated Wheels
32" MudKing Tires
A-To-Z Fabrication Custom Width Front Tube Fenders covered in Rhinolining (5.25" to be street legal to cover my entire tire)
A-To-Z Fabrication Custom Built Front Bumper and winch plate covered in Rhinolining and D-Rings
A-To-Z Fabrication Rocker Panels covered in Rhinolining
MESA 4x4 LED Flush mount brake lights and side turn signals
Gen Right License Plate relocater with ORO LED license plate light & 3rd brake light
TJ rear bumper flipped upside down (to allow tailgate to swing open with 32" spare), two tow hooks, two reverse lights from Walmart, and CB antenna mount.
Midland CB radio with PA horn hidden in engine bay
Smittybilt XRC8000 Winch
Rusty's Offroad Steering Stabilizer
Aussie Dana 30 locker
SOLID Dana 30 differential cover
DUAL stereo (sorry, don't know the exact model number right now) with iPlug
Two Pioneer four inch speakers (100w each) installed in Sound Bar
Pioneer 12" Subwoofer (TS-W302 R / 800W Max) in custom built boxes
KnuKonceptz 4 gauge amp wiring kit
Two VR-3 Amps
Headlight and grill turn signal guards
Bestop Replace-A-Top
KC Windshield Light Mounts with Walmart Knockoff Lights
Pepboys Seat covers (Don't know the brand, sorry...just some $20 covers)
Why it is special to me: I bought my Jeep the week I got my license with my own money. I have had it for about 2 years now, and my parents have yet put a single dollar into the Jeep, and I like it that way. I take great satisfaction knowing that every single thing on my Jeep has been paid by me with no help from family or friends. I have big plans for my Jeep, as do most Jeepers, but being a freshman in college has limited my work. Usually I work all summer, spending very little on anything, and then in one week blow nearly all of my summers earnings on Jeep parts. This past summer I bought the winch, steering stabilizer, locker, and differential cover at the York, PA All Breeds Jeep Show sponsored by the club I am a member of (PA Jeeps). Luckily, I still had left over money which I am saving for this summers build (Ford 8.8 rear, SYE, NV3550, and SBC 350).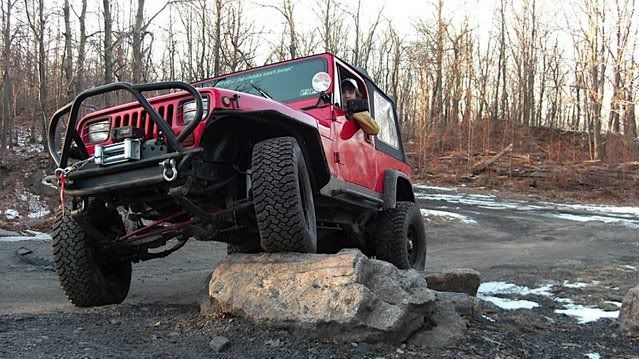 Entry 8) Goobersbro
Hello, My name is Jonathan Moore im a 16 year old high school senior from northern California. I had always wanted a 4x4 vehicle and around the age of 14 i decided i wanted a jeep. I started working for a local contractor in the summer of 06 and he liked me enough to keep me around. I worked two solid summers and saved up enough money to buy my jeep. After tons of looking i found my babe. It is a 1991 Jeep renegade. It has zero rust, a 4" procomp lift, 31" procomp mt's, 1/2 Brandon_yj boomerang shackles, and a teraflex hand throttle. I bought my jeep for a Daily Driver and a Weekend warrior. I love it so much and i would love even more to win The YJOM contest. My jeep forum name is Goobersbro. My future mods for the jeep include front and rear bumpers, lockers, a winch, 8.8, 33s and much more. Thank you for considering me and good luck to everyone.
Entry 9) ElvisV04290
This is my 1990 Jeep Wrangler in Colorado Red with Laredo pinstripes.
Engine: 4.2L Strait Six, Weber 32/36 Carburetor, 'Nutter' Bypass
Transmission: TorqueFlight 999 Automatic
Transfer Case: New Process 231 w/ slip yoke
Front Axle: Dana 30, Open, Vacuum Disconnect, 3.55 Ratio
Rear Axle: Dana 35, Open, 3.55 Ratio
Suspension: Stock height 4 leaf pack fronts with heavy duty 6 leaf pack rears.
Tires: Bridgestone Dueler A/T Revo 30x9.5x15
Wheels: Stock '5 spoke' aluminum rims, 15x7
Recovery: Recovery Strap, Tow hooks, Shackles
Armor: SRC Front Bumper, Stock skid plate
Accessories: Fog lights front and rear, 4 x 100 watt lights on homemade light bar, Cobra CB+WX, 102" Whip
I got my Jeep in 2003 when my dad brought it home. The thing ran horrible, had soft doors plus a hard top, tiny tires, and was leaking something from everything it seemed. I worked for a couple months fixing everything, and even took my drivers test in it! Since then I have added the hard doors (and painted them), the extra lights + homemade bar, SRC front bumper, replaced the carb with a Weber, and put on a some other fun stuff. All my extra cash goes into the Jeep (which isn't much that often), so I buy stuff whenever I can on a college budget, but it's going to be a long time till I can lift it at this rate.
Entry 10) texas_yj
My YJ is 1994 with a FI 4.0l and AX15 manual tranny, NP 231 transfer case and 3.07 gears.
Sinse I bought the jeep nearly stock; I have done the following things to it:
1) 31/10.50 x 15 BFG Mud Kings on factory Jeep 2001 aluminum rims, I like them, quite on the road, good in the mud (no rocks around here)
2) 2 ½" Rough Country suspension lift kit, with upgraded Nitro shocks, and matching steering stabilizer
3) 2" Body Lift, which was put on the clear the 31"s before I could afford the suspension lift
4) I have fabricated my own front bumper with radiator guard winch mount and light mounts, rear bumper, rock sliders, and rocker guards
a. The front bumper is made from 2 X 4 12 gage box tubing with tapered ends
b. dual 10,000# D rings and Tow Bar mounts
c. 1 ½" winch and radiator stinger style tubing protection with two 100 watt day lighters mounted on it
d. 8,000 Champion winch with roller fairlead (which has never been used to pull me out, but has pulled out like a dozen others)
e. Rear bumper is the same 2 X 4 box tubing; I welded nuts to the back side of the factory ¼" bumper spacers and welded that to the new bumper so that it is removable. The factory drop down hitch mount was used to reinforce the 2" receiver that is mounted to the bumper and keeps everything removable for repairs
f. The rocker guards are made of ¼" X 3" plate, and I used carriage bolts to attach it so that it has a smoother appearance.
g. The rock sliders are 2 X 4 box laid flat, dual tapered ends to push branches away from the vehicle, and slide over stumps (our rocks around here) easier. I used the same 2 X 4 bird mouth cut to weld it to the frame solidly. I have dropped on them several times sense they were installed, and not so much as a dent. They are ¾" below the rockers so the body can without rubbing them, and hide the body lift very well
5) I changed every fluid in it the day I got it with synthetic Amsoil
6) I replaced the factory exhaust manifold as it was cracked and load.
7) Changed all the brake pads the first day.
8) Gave it a complete tune up. And repaired all the vacuum leaks
9) Purchased a rear seat and replacement dash pad off eBay, ( PO lost the seat, and dash was shot)
10) Fixed all the burnt out light bulbs in the dash
11) Installed a Pioneer DEH 6500 CD player with subwoofer controls
12) Installed 6x9 in boxes on the rear wheel wells
13) Built a custom down firing enclosure for the 10" Pioneer subwoofer. I built the box so that it has a built in trunk so I can secure tools and winch kit in it. The top overlaps the wheel wells and is bolted with carriage bolts into the tub. It would take a thief a 15" extension and socket set to steal it, assuming he knows how to get to the bolts way up there. The box will be hurculined when I do the tub after deer season. The Crossfire 50X4 amp is mounted upside down to the trunk lid so it stays out of the way and dry!!! And secured while the tailgate is locked.
Things I plan on doing in the next few months include:
1) installing the 4.10 gears, carriers, and Aussie lockers I purchased from fellow Jeep Forum TJ member in my axles
2) selling my 31/10.50x15 so I can purchase 33"s
3) installing some windshield hinge mirror relocation, and light mount combo hinges, and putting my extra 100 watt day lighters on them
4) Installing the back-up lights I bought and fabricating a rear cover to hide the body lift.
5) Hurculining the tub and subwoofer box after deer seasons over
6) New sail cloth top
7) Purchasing a Safari top for this summer
8) Adding steps to the rock sliders for my wife and kids, door openings are to high for them
9) Minor body and paint repairs
The Pictures I'll include are: