========VOTE NOW For The March YJ Of The Month========
---
Let the voting begin Ladies and Gents.

The winner will receive, courtesy of Ridin' Around(Amsoil), 4 quarts of Diff fluid. Severe Gear 75W-90 or 75W-140. Winners choice. He will cover shipping etc. http://www.amsoil.com/redirect.cgi?z...px?category=10
Entry 1) tuckinauster
Heres my entry for the March YJ of the Month.
Model - 1990 YJ
Engine - 1997 TJ 2.5L
Transmission - AX5
Transfer Case - NP231J
Axles - Dana 30/35 w/ 4.10 gears
Suspension - Rough Country 4" kit, No track or swaybars
Wheels - Custom 3.75" backspaced Soft 8's
Tires - 33x12.50R15 BFG AT/KO's
Unique Stuff - CJ7 hood, CJ5 grill, CJ7 Hardtop w/ Sunroof, TJ flares, 2.5" exhaust
Entry 2) 87YJohio
My wrangler is an 87 yj.
The list of mods are as fallows.
Corvett yellow paint,12" fenders, Smittybuilt bumpers and nurfs, 6 kc daylighters, light bar, warn rock sliders, qwik disconect sway, detroit lockers, 4.11, glass diff overs, custom 10"lift all springs, 40"mudders, auto chevy trans, and transfer case, b&m shifter, elec.pusher fan,
and best of all a 1969 396 chevy BB!!!!!
Entry 3)Brads_nky_yj
"This is my first jeep and was purchased completely by me in June of 2008. Everything that has been done or will be done is paid for by me. I have done a little to it so far but this summer I have big plans for
it. So far I have a 4" RC lift with upgraded Nitro shocks, stainless steel brake lines and a Perf. 2.2 Steering Stabilizer. I also run 1" Brandon_YJ shackles with 31x10.50x15 Dunlop Mud Rovers on stock Jeep
wheels. The inside of my jeep is herc'd and I have a Midland CB for trail riding. Front and rear bumpers were built by my step dad and I and include d-rings and a 2" reciever. Hella 500's on the front bumper
and windshield help light the way down trails and hills.
My summer build up includes: SOA with 1.5" RE springs, Dana 44's from a Grand Wagoneer stuffed with ARBs, 4.88s and Chromolly Axle Shafts and the rear will be converted to disc brakes, 35x12.5 KM2s, York OBA, Custom Tire Carrier, Front
Tube fenders, JB Super Short SYE with a XJ shaft, 1/4" Steel Boatside rockers, Ballistic High steer with custom Drag link and Tie Rod and a Superwinch Epi9S. All perches/u bolts/shock mounts are from Ruff Stuff. Watch our for a complete build up of my jeep in the next few months!"
Pictures: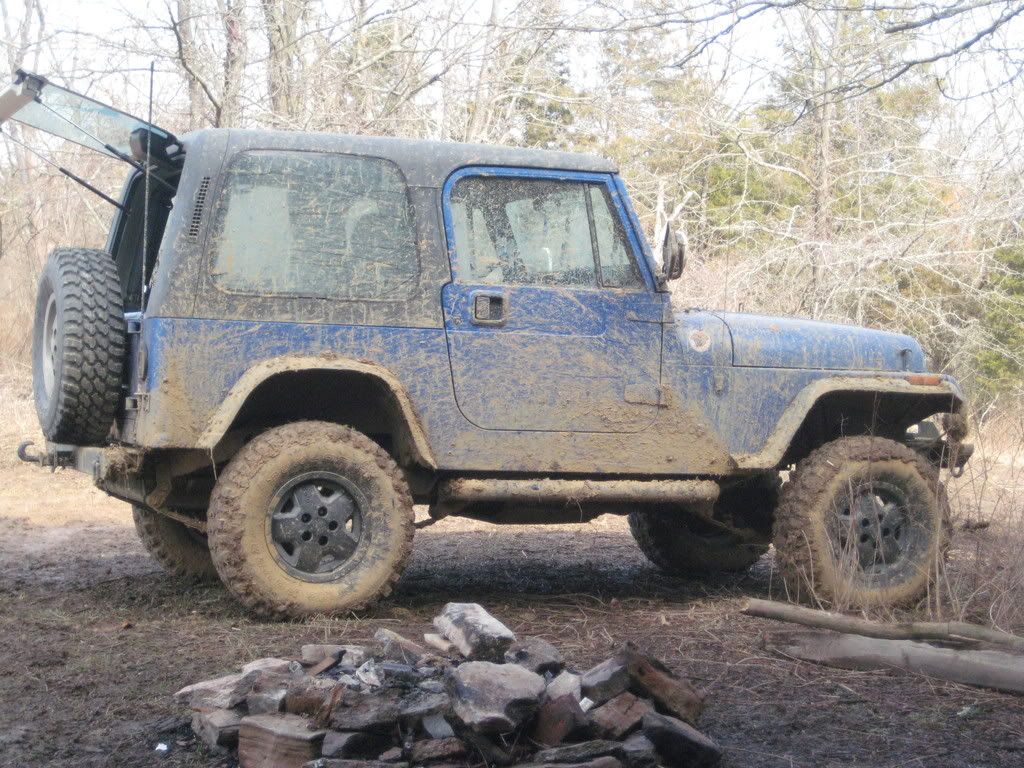 Entry 4: Cross
Jeep:
1991 Renegade
Drivetrain:
4.0l H.O.
5 speed
NP 231 t-case with a JB Conversions Super Short SYE
Front driveshaft not sure where it came from rear is from a XJ
Front HP Dana 44 full width axle 4.10 gear
Rear Dana 60 full width axle with 4.10 gears
Suspension:
BDS 2" lift spring in the front
BDS 2.5" CJ lift springs in the rear
Pro Comp adapter to allow for a eye mount shock on the front
.5" custom built shackles
BDS front shocks
Rancho RS5000 rear shocks
Steering:
Highsteer arms with 1" spacer
Custom built drag link and tie rod using 3/4" heims
Rancho RS5000 steering stabilizer shock
4" drop pitman arm
Wheels and tires:
15x8 Rock Crawler Series 51
38x12.50 TSL Super Swampers
Armour/bumpers:
Replaced rusted t-case and gas tank skid
Custom rear diff guard
Cut down stock bumper in the front
Misc:
Trimmed Renegade body kit
Goodridge braided steel brake lines
Family cage painted matching green
Repaired frame rust at the rear of the frame
This is my first Jeep and really the first vehicle I have worked on. I have done all the work myself except the welding. This Jeep is far from done I have some plans but I know new ideas will come along down the road. I built it as a trail rig but also use it as a daily driver. Careful attention was paid to things so it handles great on the road. I could not be happier with how things are turning out. This Jeep has been great for learning how to work on a Jeep and what does what and why. I know there will be some great Jeeps in this contest and I wish them all luck.
Pictures:
How she looked when I brought her home.
How she sits now.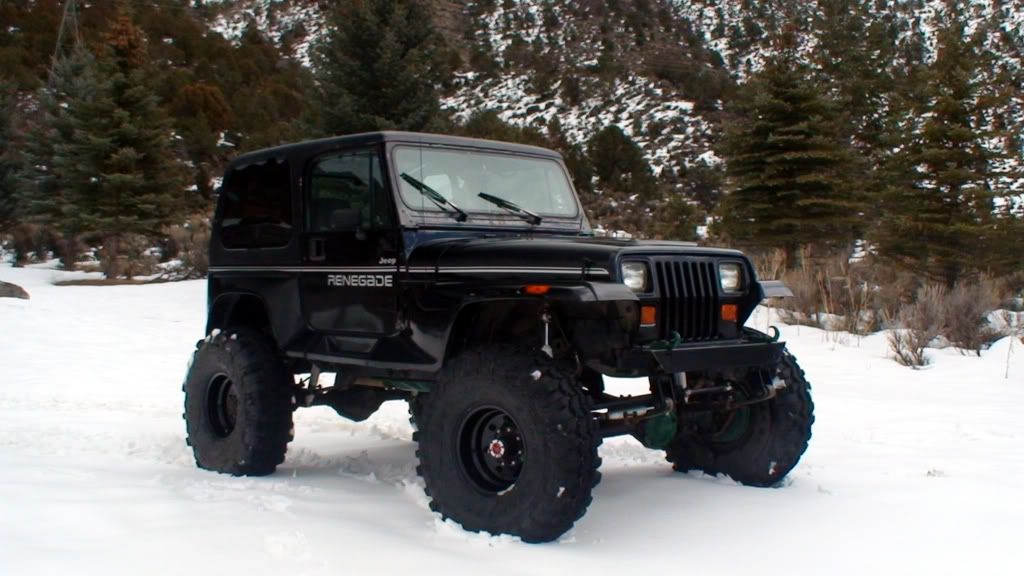 Entry 5: Pokeman
Specs:
YJ: '91 150,000 Miles
Engine: 4.0 , 136,000 Miles (2nd engine)
Stock T-Case & AX-15
Suspension:
3.5 inch Sky Jacker
Rancho 9000's
Brandon YJ 1/2 inch boomerang shackles
Tires: 33x12.5 Road King AT's
Wheels: American Racing Rims 15 x 8
Body:
Heculined
Tops:
Bikini Top & tanu cover & rear window
Best-top soft top
Goodies:
Warn 9000i
ARB On Board Air under the hood
Hella Lights
CB
High Lift Jack
Jenson Sound Bar
2 - 8" Polk Audio speakers mounted behind shift stick
Seat Covers
Clarion head unit
Custom:
*Dual exhaust out each side in front of rear tires.
*I welded 4, bolt-on 3/4inch d-ring clevis mounts to the front and rear stock bumpers. They are centered on the all four corners of the frame.
*I just moved the Hi-lift jack. It is now mounted across the wheel wells in the rear. It is just behind the rear mounting points of the roll bar.
*The CB antenna is only 24" tall. Perfect for the trails. I mounted it in the jeep so the soft top will cover it. It is mounted on the high-lift jack mounting bracket behind the driver seat.
Future Plans:
- Raise the intake. I am looking into getting 3inch exhaust pipe custom bent and potentially running a snorkel. I am not sure if I will go with the hummer style or standard snorkel style yet.
- Ford 8.8 with 4.10 LS & 4.10 4cyl front axle
- E-locker on the Dana 30.
- Next year it will need some Mud Terrains
I was a CJ-5 guy. I spent hours and hours wrenching on my CJ. One night my wife and I came across this for sale. We went to and looked it over, I will never forget the wife wispering in my ear... hunny I have the check book... he he he. On the test drive the fuel pump failed and the manifold cracked, nothing we did, just normal street driving. We bought it anyway had it trailed home and I went to work getting it ready for the road again. It has no rust, none on the body, none on the frame, a rare find in these parts. I sold my CJ-5 for YJ parts $ and will never go back. I really enjoy taking this around the finger lakes in the summer.