Entry 6: jay1990yj
1990 Jeep Wrangler YJ
2.5 TBI, NP321, AX-5, Dana 30, Dana 35
Homebrew Posi-Lock
4Ē RC Lift
ĹĒ lift boomerang shackles
33X12.5R15 Yokahoma Geolandar AT+II tires
Rocker guards and rear corner guards
Hella Lights on Bumper, Windshield hinge mount lights and windshield light bar
Iím a first time jeep owner. Iíve always wanted one and finally got one in May of this year. I traded my 1996 Explorer for it. When I got it, it was stock and had some issues. I put a lot of time and money into it to get it where itís at now. I have a lot of plans for it in the future and it isnít going anywhere. My 2 year old son loves it and it will be his when he gets old enough to drive. I have a 350 sitting in the garage for my winter project. Currently it is my DD and after the time and money Iíve invested into it Itís a great Jeep!
Entry 7: FarrellX
88 YJ
99' 4.0, SYE/CV DS, D30/D44, 4.56, locked/chromo'ed/armored 30, 5" BDS Springs w/ 1 1/4" Lift Shackles, 35x15 TSL's, HD Steering, DIY Snorkel, Custom Dash/Gauges, Dual Diaphram Brake Booster/MC out of a 97 XJ, Homemade front bumper, rear bumper/tire carrier, the list goes on!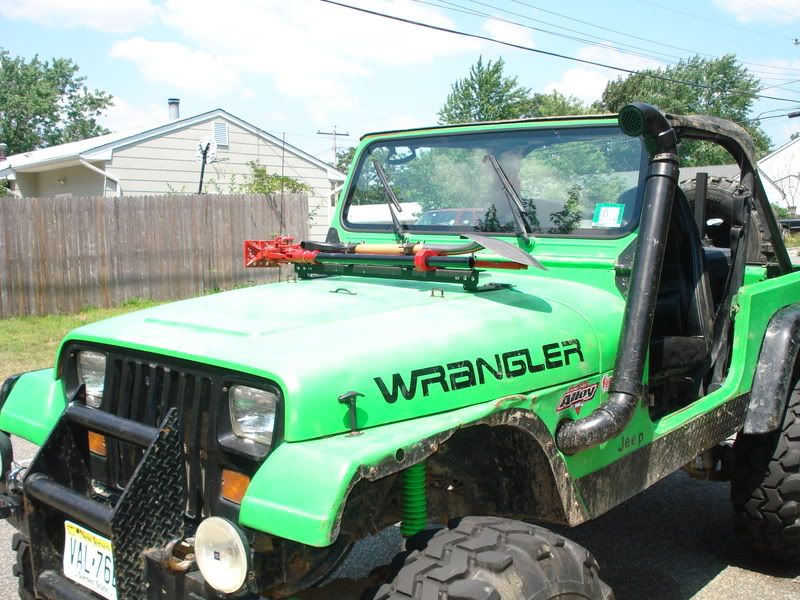 Entry 8: joeís_yj
I bought this yj when I was 15, paid for it all by working during the summer. Itís a 93 yj stock at the time. That summer I worked hard and installed a Rubicon express 4 inch lift kit, teraflex slip yoke and tom wood shaft. Did all that by my self, as no one in my family knows anything about cars. Drove it around like that for about 8 months, adding little things here and there as I could afford them. In the beginning of March I got my license and a little bit later I was coming home from best buy, and someone didnít yield and ruined my jeep. March 26, no doors and top of course haha. I came out un-injured. Jeep was totaled but I couldnít let it go so bought an 88 wrangler for 450 bucks, took its body tub and put it on mine and did a partial restore. Iíve done a lot of work on it; everything has been done by me. I wont bore you any more so hereís the specs and pictures of my jeep
Body: 88 wrangler
Year of everything else: 93
Rear axle: Dana 44
Front axle: Dana 30
Suspension: 4 inch Rubicon express with more boomerang shackles
Front bumper: warn
Rear bumper: homemade with tires swing (in progress)
Body protection: Homemade rocker guards
Lighting: 4 KC day lighters
Roll cage: PSC trail cage
Tires: Interco super swamper LTB's 34x10.50x15
Wheels: crager soft 8's
Transfer case: terra flex SYE
Drive shaft: tom woods
Stereo: pioneer speakers and head unit
Gears: 4.88
Cb: cobra night watch 29
Antenna: firestick 4'
Interior: Herculined
Exhaust: dynomax cat back
Engine: stock 4 cylinder 153k untouched
Transmission: stock ax-5 153k untouched
Transfer case: NP 231 with SYE
Others: engine driven OBA, ammo box for storage, TJ flares, High lift mount, high lift, dent in hood from roll
Future plans: Winch, Spare tire, locker in rear, matching seats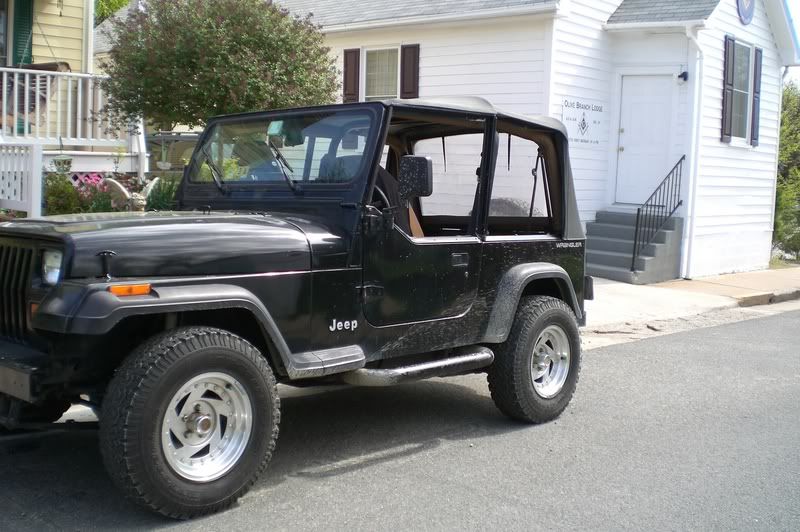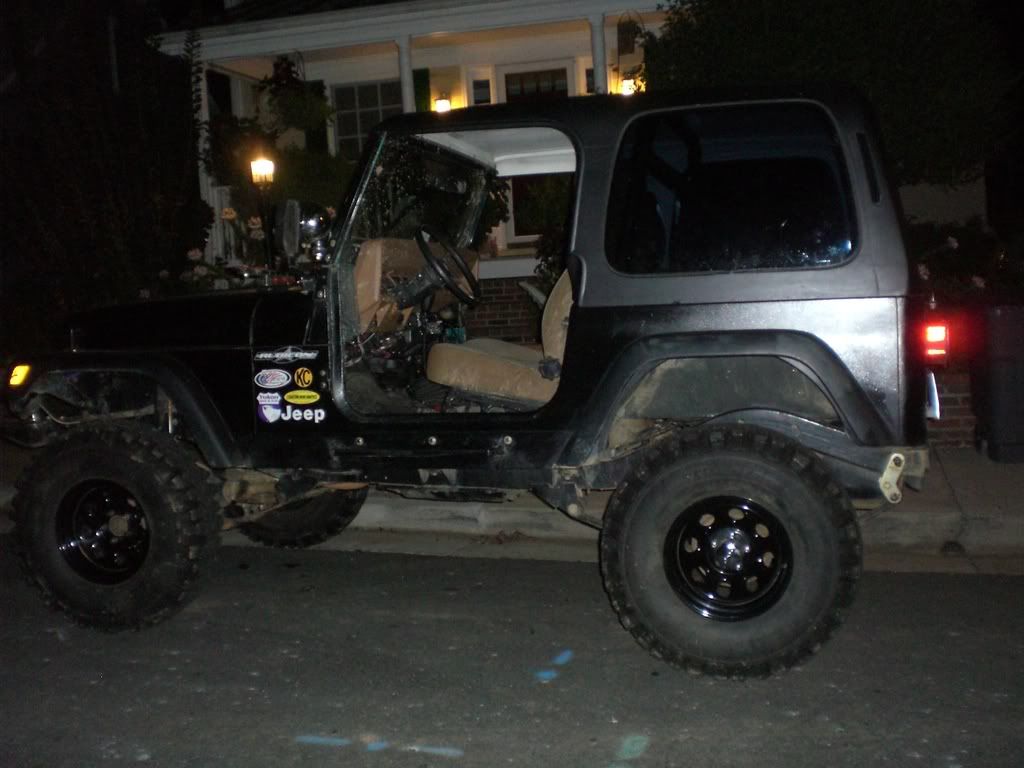 Entry 9: 1 ton yj
specs:88 yj
355 smallblock with tuned port EFI and Crane RV cam
700R4 TCI reverse manual valvebody
Atlas II 3.8
14 bolt rear 5.13 gears and detroit locker
Dana 60 front 5.13 gears, ARB locker and Yukon 35 spl alloy shafts
High Angle Drivelines
3 link front 4 link rear with 14" Fox Racing coilovers front and rear, 109" wheelbase
The Source onboard CO2 system
Full hydraulic steering
Full cage, custom rock sliders
Custom DOM tube front frame section
Warn short-drum XD9000 winch with Winchline.com 3/8" rope
Custom stainless dash with Autometer gauges
RCI fuel cell
Cragar soft 8's with A to Z Fabrication weld-on beadlocks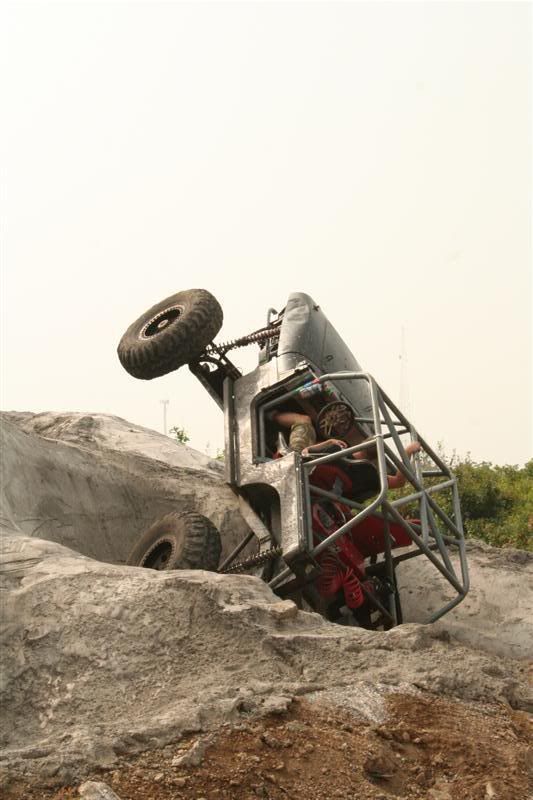 Entry 10: Jaminb
1990 jeep wrangler. 4.2L TBI. 3 speed auto.
2.5" rubicon express lift
Currie shackles
31" BFG AT's
Bestop water proof seats
Xenon fenders
The jeep has been in the family for ten years, was my dad's now it is mine.