Entry 6) Joe's_yj
Specs:
More boom's all the way around
4 inch RE lift
dana 44 rear with yukon 4.88
front 30 regeared to 4.88
Engine driven OBA
34" super swamper LTB's
Tom woods rear shaft
terraflex SYE
pioneer head unit and dash speakers
herculined
Cobra CB
firestick antenna
warn front bumper
4 KC day lighters
Smitty built XRC8 winch
Homemade winch plate
Custom rear bumper and tire swing
back up lights
hi lift hood mount
crager soft 8 15x8
custom rocker gaurds
tj flares
PSC trail cag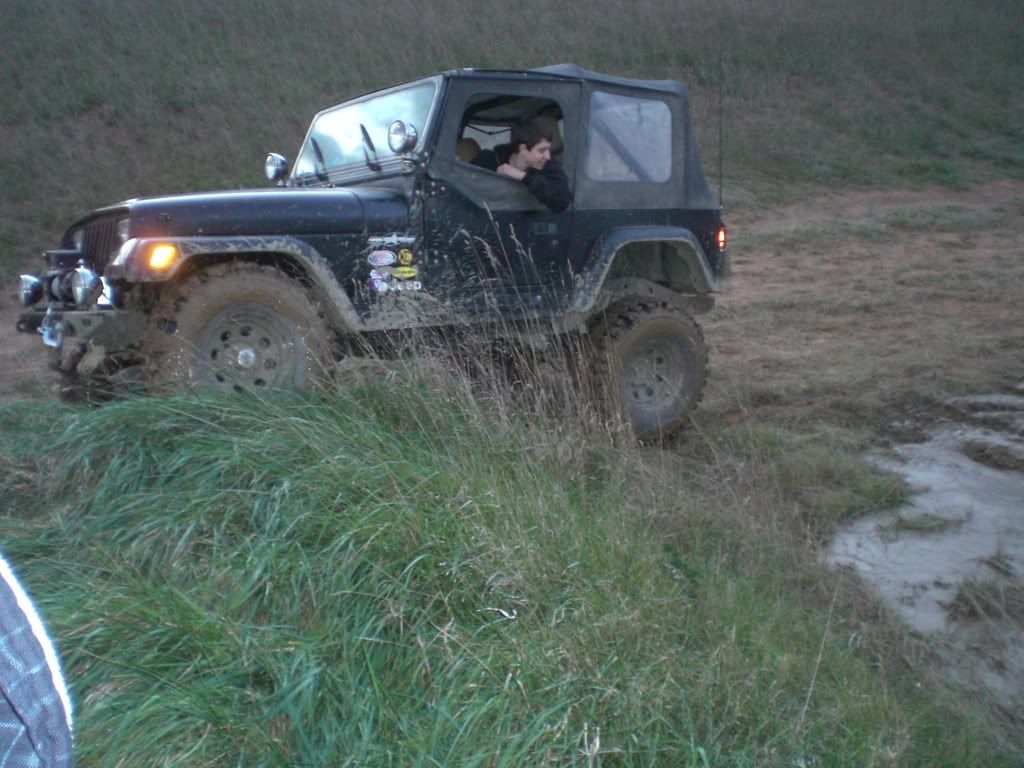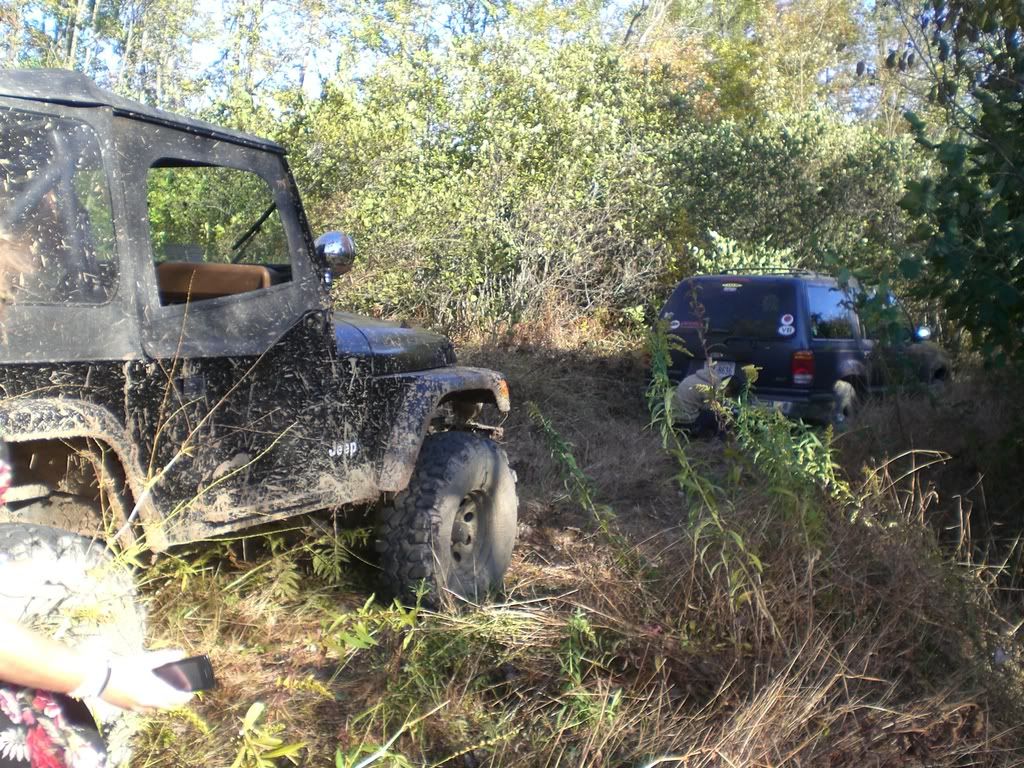 Entry 7) FlyersPh9
Specs:
2.5L 1991 YJ
3.5" Black Diamond Suspension Lift Kit
15" Cragar Black D Window MOAB Rated Wheels
32" MudKing Tires
A-To-Z Fabrication Custom Width Front Tube Fenders covered in Rhinolining (5.25" to be street legal to cover my entire tire)
A-To-Z Fabrication Custom Built Front Bumper and winch plate covered in Rhinolining and D-Rings
A-To-Z Fabrication Rocker Panels covered in Rhinolining
MESA 4x4 LED Flush mount brake lights and side turn signals
Gen Right License Plate relocater with ORO LED license plate light & 3rd brake light
TJ rear bumper flipped upside down (to allow tailgate to swing open with 32" spare), two tow hooks, two reverse lights from Walmart, and CB antenna mount.
Midland CB radio with PA horn hidden in engine bay
Smittybilt XRC8000 Winch
Rusty's Offroad Steering Stabilizer
Aussie Dana 30 locker
SOLID Dana 30 differential cover
DUAL stereo (sorry, don't know the exact model number right now) with iPlug
Two Pioneer four inch speakers (100w each) installed in Sound Bar
Pioneer 12" Subwoofer (TS-W302 R / 800W Max) in custom built boxes
KnuKonceptz 4 gauge amp wiring kit
Two VR-3 Amps
Headlight and grill turn signal guards
Bestop Replace-A-Top
KC Windshield Light Mounts with Walmart Knockoff Lights
Pepboys Seat covers (Don't know the brand, sorry...just some $20 covers)
Why it is special to me: I bought my Jeep the week I got my license with my own money. I have had it for about 2 years now, and my parents have yet put a single dollar into the Jeep, and I like it that way. I take great satisfaction knowing that every single thing on my Jeep has been paid by me with no help from family or friends. I have big plans for my Jeep, as do most Jeepers, but being a freshman in college has limited my work. Usually I work all summer, spending very little on anything, and then in one week blow nearly all of my summers earnings on Jeep parts. This past summer I bought the winch, steering stabilizer, locker, and differential cover at the York, PA All Breeds Jeep Show sponsored by the club I am a member of (PA Jeeps). Luckily, I still had left over money which I am saving for this summers build (Ford 8.8 rear, SYE, NV3550, and SBC 350).
Entry 8) mgtsldr
Specs:
1989 YJ
-2.5L/ 5 speed
-3.5" Fabtech lift
-1" body lift
-1.25" lift shackles
-33x12.5 super swamper TSLs
-15x10 cragar wheels
-Super 35 kit w/ detroit locker
-Tru-trac in front
-4.88 gears
-Rugged Ridge 7" fender flares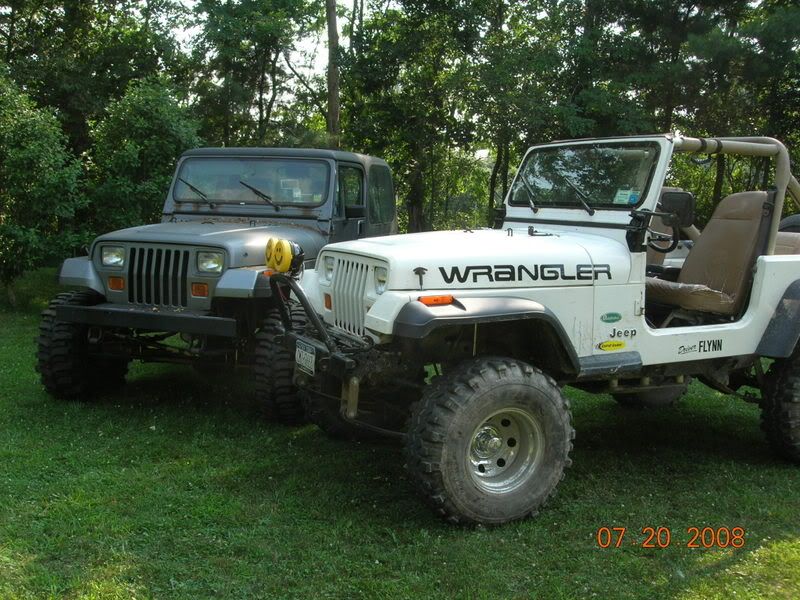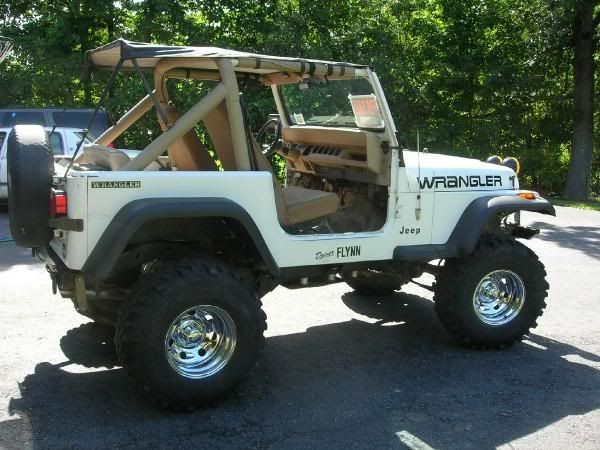 Entry 9) SleddinJeeper
Specs:
Hi my JF name is SleddinJeeper
Ever since I got my learners permit I wanted a Wrangler. Unfortunantly I let my family talk me out of buying one, instead I bought a Land Cruiser. After having a Cruiser for a year it just want right for me. So I started looking around for a TJ or YJ. I drove past a used car dealership and saw a 95 Rio Grande lifted about 6in with 33s. I figured it was way out of my price range due to the lack of rust, but I still convinced my parents to come with me to look at it. Everyone seemed to like it, but the price was too steep. I owe it all to my dad getting the YJ for $1900 under asking price. Well there it was I finally had a Wrangler and I was as happy as could be. I drove it for a couple weeks as is, but I wanted to make it more my own. I started with a simple bumper, then my brother bought a tube bender, so I made a stinger for it. Then I got a little more expirience and built a rear stinger/tire carrier. Currently I'm awaiting some custom rocksliders that are being bent locally. My future plans are an 8.8, SYE, 4.88s and turbo, along with other tube work. I like to go offroading as often as possible, though there isnt a while lot around where I live. Heres a picture of her all cleaned up and one of my first real offroading trip.
Entry 10) skiandgolf
Specs:
In March I picked up a '95 hardtop with 49,000 original miles for $5000.
This was a steal for the Seattle area. Most are advertised for that price
with 150,000 or more miles. From the paperwork I was given, it looks like
this rig spent about 10 years in Fairbanks (has engine block and battery
heaters installed), but I'm guessing it was stored in a garage and only
driven on Summer days. Has a couple small scratches in the exterior paint,
but looks showroom new under the carpets and nearly everywhere else. So
far, I've only done a few things to it: Stereo head unit upgrade, rear tube
bumper with receiver hitch, wired trailer lighting, installed roof tracks to
mount a Yakima rack (pictured). It already had the aftermarket
wheels/tires. I plan on installing a lift and upgrading tires within the
next year, so the shackles would be a nice start to that project.