Jason Crawford
Username: Giggityjeeper
1990 YJ 4.2 Inline 6
Weber carb
Nuttered, and team rush.
Smitty rear corners and 3" flares
SOA with Old man Emu 36R 3.5" lift springs,
5/8 greaseable shackles
Old man Emu shocks
33x12.5x15 TSL SS
Rocky Road OTT high steer
Cavi seats
Custom cage in the rear
Home brew tire mount in the rear seat removed
Few other home brew things, like front flares
In the works are front fenders, 8.8, lock the front, and some 4.88 for the 35s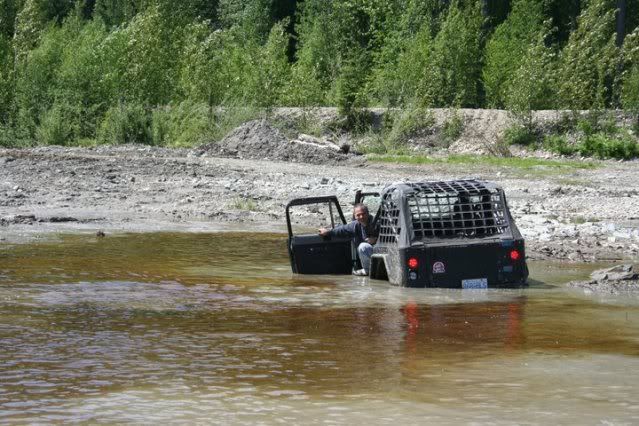 Username: cruiser4life
List of specs and/or modifications: 1995 Sahara 4.0 w/5 speed - Pristine condition inside and out. I got it from a guy that had towed it behind his motor home and the thing that makes it exceptionally special is that EVERYTHING works. Previous owner replaced the stereo. (Also looks to have replaced the passenger fender, at one point in time, because the paint doesn't quite match). I changed to different Jeep rims and added tires (sitting on 31s) along with painting the hinges/bezels black. Going to be lifting it, and modifying, soon, but this is how it sits now.
Username: Rynfw100
1993 Jeep Wrangler YJ
Black with some AZ sun fading
2.5L 4 Cylinder 151ci Engine
AX-5 Transmission
NP231J Stock 21 spline Transfer case +1" Drop
D30/D35 Stock Combo
3.5" Front Silverado Hybrid Leaf Spring pack
2.5" Rear S10 Hybrid Leaf Spring Pack
32x11.5x15 Remington Mud Brutes
15x8" Cragar Black Steel Wheels
Sony XPLOD Deck
2 - 6x9 500W Speakers
TomTom GPS EZ package (Gets me to the trails)
Home brew roll bar High-lift Jack mount
Chevy Suburban Side View Mirrors painted Black and mounted to the Half Doors
Future plans: 5.2L 318ci V8 MPFI engine
AX-15
NP231J 23 spline + SYE kit
MCE "Flatty-Fenders" 3.5" flare (I love the look, the idea, and the durability. I'll buy these)
TJ Trimmed Rear Fenders Rear
Possibly SOA, but let's not get ahead of myself.
Why it's special:
I became the owner of my 93 YJ back in 2009, as a Senior in high school who had no form of transportation due to 2 cars breaking down constantly. Since then, I've stumbled upon websites, including Jeep Forum, that has allowed me to improve my vehicle. Since being in College and working a lower paying job (Not whining I swear), Most upgrades I have done to my YJ have been home built and not bought from Jeep Parts Retailers. The biggest thing I love about my Jeep, is that no matter what, Cold, Hot (115 degrees in summer), or Rain, It has never given up and failed to start. Its had it's mechanical problems that come standard, but It's a love that's only in it's early stages. I have done small upgrades to the Jeep, and I plan on doing one of the harder jobs to accomplish (Engine Swap) once time and funds allow, but this thing is one of the best Vehicles I have driven, and I can guarantee that I won't be selling it... EVER. I don't plan on actually having a chance at winning, due to further down the upgrade trail YJs applying, but I feel that if by some miracle (or lack of entries) My YJ deserves to be YJ of the Month just because it will be greeted with open arms due to the awesome community that the YJ Technical forums have to offer, regardless of it's upgrades. I actually can't wait to see who wins, but I saw that 10 applicants need to apply and by-george some beautiful YJ deserves to be YJ of the Month for it's looks, performance, and capabilities. And if by some reason 10 applicants don't apply, and that YJ doesn't get the spot light it deserves due to that reason, I want to be able to know that I tried to be apart of that 10, so that it will have a chance. Sorry for the long paragraph, and here are some linked pictures. Thanks!
Username: Erik Jordan
This is a 1995 jeep Wrangler YJ.
• Savvy aluminum corners
• Savvy rockers
• SwayLoc front swaybar
• Currie Anti-rock rear swaybar
• Custom mrblaine design suspension
• Fox coilover shocks with eibach springs
• Fox air bump stops rear
• Aluminum fuel cell in the bed
• TJ bump stops front
• Custom steering
• Prototype big brake kit
• Hydroboost braking system
• Blackmagic brake pads on the front
• Superior super 30 front with ARB
• Superior Super 88 rear with ARB
• Tom Woods Driveshaft front
• Tattons driveline driveshaft rear
• Tommy Lee steering box and Ram
• Champion Beadlock wheels 15x7
• Goodyear MT/R tires 35x12.5x15
• Custom roll cage mrblaine design
• Standard safety equipment including first aid, fire extinguisher etc.
• Kenwood HAM radio
• Uniden CB Radio
• Eclipse stereo
• Custom cut and raised rear half frame
• Custom aluminum flat center skid
• Atlas 5.0 transfer case 32 spline outputs
• Warn HS9500i winch with synthetic line 100' -3/8"- Safety Thimble.
This Jeep was purchased stone stock. I have been wheeling the hell out of this rig for the past 7 years all over Southern California. Trails on that list consist of Rubicon, Moab, Hammer's trails, Big Bear, and many more.
Username: SSYJ94
(Shawn)
1994 jeep wrangler
248000miles
Drive train:
- 1998 4.0L with a pacesetter header, flowmaster cat back and rock it intake
- 1998ish AX-15
- np231 with AA sye
- six states front long travel shaft and rear high angle driveline cv shaft
Axles:
- front waggy 44 with 4.10's and ARB
- rear shaved 8.8 with 4.10's, Detroit and 6lug Dutchman shaft
Suspension:
- front custom 3 link with 12" fox resi coilovers and creeper joints
- rear stock yj springs w/extra main SOA with a sams traction bar(soon to be 4link)
Misc:
- homemade 3/8" plate belly pan, front bumper, rear tire carrier and 2x3 sliders
- heim joint steering, diamond plate rockers/corners
Pics: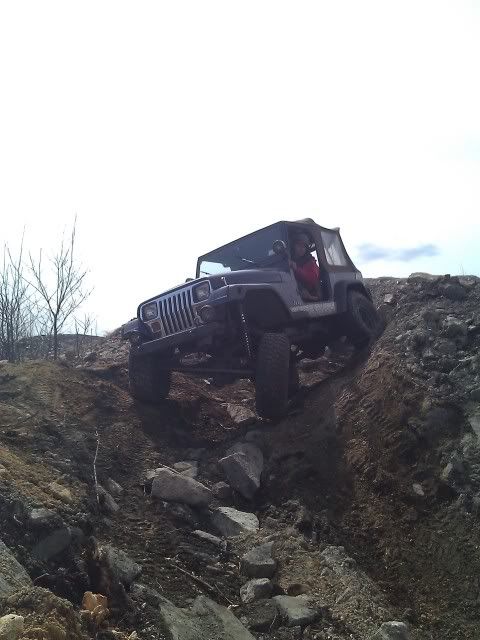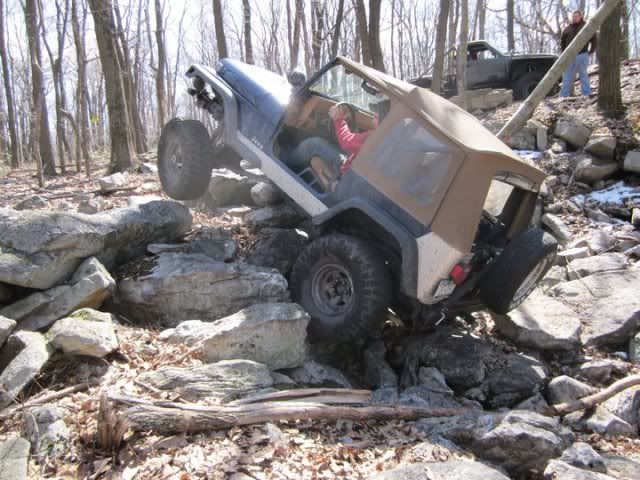 I've owned the jeep for 13 years and over 200,000miles. I think I have changed every part on my jeep atleast once including the frame ha. It's been my DD up until last year and has evolved from bone stock to what you see now.
Username: 91YJcharlie
(Shawn)
Jeep year: 1991
Jeep specs: 4.0L, AX-15, NP231, D30/D35, 3:07, 4 inch lift, steering stabilizer, 33x12.50 Mickey Thompson Baja MTZ, 16" Pro Comp beadlocks, full rhinolined tub, Kenwood head unit.
Jeep name: Dixie
This is our family's first Jeep. We have been wanting one for years and were finally able to get one recently. I haven't had much time to work on it since I'm still deployed to Iraq but have some plans for her once I get home. What makes this Jeep special is of course the personal meaning of finally owning a Jeep (for the whole family) and how great of shape she's in after 183,000 miles (when I bought her). She is amazingly clean and sound for being 21 years old and with that many miles. I am only the 3rd owner of this beautiful machine. She has her quirks but what YJ doesn't? Please consider Dixie for YJOTM!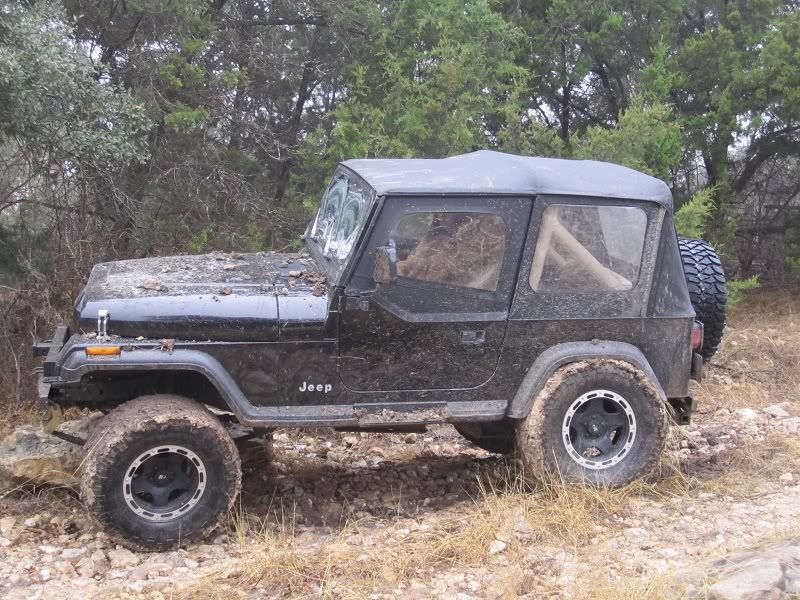 Username: g4x4xgeoff's YJ
(GEOFF HAWLEY)
I'm 21 years old. Taught myself everything I know about jeep repair, and bought this from a junkyard when I was 15. Spent 3 years replacing rusty panels/frame sections etc. enjoyed it for two. Steering box ripped off the frame last march, yearlong rebuilt brought it to this!
It's a 94 YJ, 4.0L bored 40 over, with a 5 speed ax-15 swap, SYE conversion, CV driveshaft, SOA and full custom ballistic 7/8" high steer, with power steering cooler. Sterling 10.25 rear with disc brake conversion, 78 Dana 60 snow fighter front, both with 4.10 gears. E350 master cylinder and dual diaphragm booster from a 2003 Cherokee. Boomerang 1" shackles, custom made differential covers. Four hella 500 lights, flush led tail lights, custom built front and rear bumpers, reverse lights, kill switch, marine audio, bed lined interior and roll cage, CJ-7 tailgate. All sit on 37x12.50r17 pro comp extreme all terrain tires with h2 rims.
Username: jerryjeeper
Here is my 1990 YJ for consideration in the July YJ of the Month contest. My name is Jerry Huber and I have had this Jeep for about 6 years. It gets wheeled in Michigan, Kentucky, Ohio and Canada.
1990 YJ Wrangler with serious off-road modifications including: 350 Chevy V8 with auto transmission, twin stick transfer case, long arm, long travel relocated shocks, unique three point rear axle suspension and springs resulting in about 6" lift. The Jeep has been built for heavy duty durability and performance. One ton rated Dana 44 front axle and GM 14 bolt rear with lockers and four wheel disc brakes. Wheels are 20" American Racing Mojave simulated beadlocks with 39.5" IROCs. Swing away spare tire, on-board air, full roll cage, rockcrawler bumpers, winch and a killer stereo along with storage system for off road recovery equipment and tools. Bestop wide TJ style flares and a custom cowl induction hood scoop/vent make this JEEP a unique ride with great off-road capability and the civility to drive on the street.
Username: hakukamana
1993 Jeep Wrangler
5.2L V8
MT II classics
BFG 32/11.50/15
Ford 8.8 4.10 LSD Rear End
2.5" rancho lift
Dodge Durango Steering box
Custom Rear Bumper & Integrated swing out tire carrier
Custom Autometer gauges & Dash
Ford Explorer electric seats
Rhino Lined interior
Warrior body armor
Bushwacker Flares
LED lighting
Currie Boomerangs
Tom Woods custom rear DS
SYE
Hilo Spring Custom front DS
NV231D
AX15 D
1999 Dodge Dakota R/T Computer
Ford 23# fuel injectors
Harland Sharp 1.7 Roller Rockers
Holley 52mmx2 TB
Username: bmgadg
It's a 92, originally had 2.5l 5 speed with 31" tires.
Here's a list of mods I can think of at the moment...
Engine swap to 96 Dodge Magnum 5.9, AX-15 and NP231
Front axle 76 Ford F150 HPD44 with Aussie locker, high steer, disc brakes, and Warn locking hubs
Rear axle 87 Ford F150 8.8 with disc brakes and open diff
SOA with lift springs in front and Waggy 7 leaf rears
Cragar soft 8's black
Home brew traction bar
Boomerang shackles
Tires 37x13x15 Super Swamper Boggers
10,000lb Atlas Equipment (off brand) winch
Harbor Freight off road lights
Black/gray neoprene seat covers
Home brew front bumper, Procomp rear bumper with d-rings
How it sits now: